Fantasy Hockey
Fantasy Weekly: Young Netminders, schedule implications, Hamilton, Glass, & Malkin
It's all happening much quicker than usual. For those of you in leagues that run two-week playoff matchups, we are quickly approaching the end of regular season play. That means looking ahead to potential matchups and how team schedules will impact how your matchups faceoff.
In this week's version of Fantasy Weekly, we'll take a gander at the schedule maker and target some favourable schedules down the stretch, and help you angle your decisions to reach the top of the mountain.

But first, some risers, fallers and everything in between!
---
Risers
Ondřej Palát, W, Tampa Bay Lightning
Palát has mostly sat on the periphery of fantasy relevancy. Early in his career - when he was scoring at 60, and 69-point paces -- he flashed potential as a major asset. Then the regression came and he landed in that soft 50 or so points zone. Good enough to stream, not good enough to hold.

This season has been a renaissance of sorts, and Palát has Nikita Kucherov to thank for that. In 27 games this season, the 29-year-old has produced 26 points. 12 of them have come in the past nine games. A major part of this is his living next to Brayden Point in all-situations. His inclusion on the team's top power play isn't hurting things either.

Now, Palát's shooting percentage is about five points too high, his secondary assist rate is probably double where it should be, and his spot is overtly tenuous in the long term. However, playing with elite-level mates in a free-flowing, offensive system will provide ample opportunity. I'm going to guess that he doesn't maintain the point-per-game pace for the remainder of the campaign, but something in the 65-70 point pace range is very doable.

Just don't think he's a keeper who can replicate this. Kucherov is coming, and he's going to take his spot back.
Evgeni Malkin, C, Pittsburgh Penguins
Don't look now, but Malkin is back. The 34-year-old was off to an uncharacteristically unsettling start to the season. The questions swirled whether the future Hall-of-Famer had reached the end of the line concerning his fantasy impact. But something just didn't sit right with that logic: Malkin was one of the most impactful players last year when he paced for a miraculous 110-point campaign.

You don't just go from near the top of the league to the basement in a matter of months.
And lo and behold, the big man is back on his bullshit. He's riding an eight-game streak to the tune of 12 points. He has 21 points in his last 20 games. And he didn't even have to wait for Sidney Crosby to go down with an injury to step up!
Most Points Through First 1,000 #NHL Games Among Active Skaters:

Sidney Crosby - 1,278
Alex Ovechkin - 1,118
Evgeni Malkin - 1,094 (931 GP)
Patrick Kane - 1,060 (999 GP)
Joe Thornton - 1,004

— Sportsnet Stats (@SNstats) March 9, 2021
Here's hoping you bought low or didn't sell low on my advice from weeks ago. But if you can still buy him for a playoff run, I'd strongly encourage it. Geno has always been one to get streaky hot and run it for long stretches. He's in one of those spells right now and with the shortened season, it could very well last until the real-life playoffs and beyond.
Fallers
Ryan Suter, D, Minnesota Wild
The Wild are one of the more surprising teams in the league this season. They're fuelled by young and exciting players such as Kirill Kaprizov, Kevin Fiala, and Joel Eriksson-Ek. And yet, the man on the top of the first power-play unit is as icy cold as one can get.
Suter has long been a productive asset, but at 36, it appears those times are slipping away quickly. In 26 games this season, the hulking blueliner has just eight points - all assists. And just one of them has come on the man-advantage. This despite seeing just a whisper shy of three minutes on power play time per game.
At this point, he keeps getting the deployment so the puck luck should come around. That said, I don't often advocate for being too patient with non-elite 35-plus aged players so I won't blame you if you let him hit the wire.
Cody Glass, C, Vegas Golden Knights
The Golden Knights' original golden ticket has been taking his time on the developmental path. Glass came out of the gates red hot scoring seven points in his first eight games of the season. Since then, however, things have not been so rosy.
The 6-foot-3 centre has just one goal and two points over his last baker's dozen games and none in the previous six. This, while seeing around 50 percent of his team's power play ice over that span. It led to a healthy scratch over the weekend.
However, in Monday evening's game, Chandler Stephenson was out and Glass took his spot alongside Mark Stone and Max Pacioretty. He led all Vegas forwards in power play time-on-ice but failed to hit the scoresheet.
Glass is such an interesting player. He has all the physical tools required to be a legitimate top-line pivot, just as he was drafted to be when he went sixth overall in 2017. But it just hasn't happened. Not yet at least.

I'm a sucker for giving big, power pivots a little extra time to make their mark- especially ones I was high on as draft-eligibles. Just because Elias Pettersson (who went one spot ahead of him) has been ripping it up for three seasons, doesn't mean that's the timeline for everyone. Glass has just 59 NHL games under his belt. The learning curve is still bending.
I think we're entering the perfect time to try for the buy-low before the breakout occurs. There is always a risk in that avenue - but if the price is right, that concern becomes mitigated.
I know I'll be making an offer.
**
Changing of the Guard in Dallas
Jake Oettinger has the size; he has the pedigree; he has the draft status. Now it looks like he's got the starting gig in Big D. The 22-year-old has rattled off four of the last six starts and saw relief action in another of those games. He's been a little inconsistent, but that's to be expected. The important thing is that he's been better than Anton Khudobin
Sunday afternoon saw him stop 29 shots on route to a 2-1 shootout victory over the Blue Jackets. And it came on the tail end of a back-to-back. Him starting both ends - giving up four goals in a loss in game one to boot, is very telling with his spot in the organization. I've been championing him as the goaltender of the future and with the age and injury concerns with Ben Bishop and Khudobin in front of him, the wait time could be short. It looks like it'll be very short.

Sure, Bishop will return and likely get a few chances to be the guy again. He's earned that. But Dallas is fighting for their playoff lives right now and they won't have the luxury of bringing Bishop along slowly and accepting the rusty return to play action that will surely crop up.

I'm buying Oettinger now and in the future.
The Kids Are Alright
Oettinger isn't the only youngster paying dividends for his team of late. The top five netminders over the last month are babies compared to the normal group of starters on this list.
The top 5 goaltenders over the past month have an average age of 25.

Incredible what can happen when you give your young netminders opportunities. pic.twitter.com/cMi1XHkkRz

— /Cam Robinson/ (@Hockey_Robinson) March 15, 2021
For the record, I like all of those guys a lot.

Alex Nedeljkovic might be the most interesting just because you don't know what will happen with him. Both Petr Mrázek and James Reimer are on expiring deals. Carolina is a waking giant in the East and is known to have some of the most progressive, forward-thinking brains at work. They could get crazy and give Nedeljkovic a crack at that spot full-time next season.
If this past month has been his audition, I'd say he's passed the test.

Timo Time
There has been a good amount of hand-wringing over Timo Meier's development rate. A 30-goal, 66-point season at 22 will set some expectations up. A slight slip to a 57-point pace last season brought about minor concern. But then a sluggish start in the traditional breakout fourth season has owners concerned. With how bad the Sharks are, I'm not surprised.
Yet, right on cue, the 24-year-old power winger has woken up. He has 11 points in his last eight contests - all while seeing secondary offensive minutes at both even-strength and on the man-advantage. He's still seeing poor puck luck with regards to his personal shooting percentage, but the volume remains. He's been wildly consistent the last three seasons averaging between 2.8 and 3.2 shots-per-game. He sits at 2.9 at the time of writing.
I've never really believed this was a player destined for superstar status, but I still believe he has the goods to be a consistent 30-goal 70-point threat -- or at least he would be if he had more help in San Jose. Their organizational evolution will impact his ceiling considerably.
I'm not buying many Sharks these days, but I have some time for Timo.
Dougie Fresh
Dougie Hamilton was somehow viewed as a slight disappointment early on this season. This despite accruing points at a very steady pace. But the expectations were that of a league-leader and Norris favourite.
He's hitting those markers now.
The 27-year-old is riding the longest point streak in the league at the time of writing with 10 points in his last seven games. That run has pushed him into the top 10 for defenders in the league and clearly, there is even more room to go. His shooting percentage (3.8 percent) remains considerably lower than what he has established over his career (6.9 percent average).
He's shooting the puck less, which could also be seen as an area that is likely to rebound. He's averaged at least 3.45 per game over the three previous seasons, but putting 'just' 2.8 per game this year.
The expectation was a defender capable of pushing a 70-point pace with a flirtatious look at 300 shots. I still believe he can play at that rate down the back half of this season.
Zibanejad With Signs of Life
Mika Zibanejad recorded two helpers during a weekend tilt which gave him eight points in his last 11 games. It's not the 58-goal, 110-point pace he was ticking along at last season, but it's something.

Unfortunately, he didn't keep that momentum rolling in Monday's game against the Bruins.

Regardless, I keep beating this drum, but please do not sell low on this guy -- even in a yearly. It's highly unlikely you'll get anything with nearly the same upside if you move on now.
Schedule Planner
Finding and exploiting an advantage is key in this game. One way to go above and beyond is to start scoping out the schedule early to plan your waiver pick-ups, trade targets and trade chips. We're at the point now where we can predict some easier matchups than others. The home-ice advantage isn't as impactful as it has been in other years, but it's still a factor.
If you're in a league that employs two-week playoff matchups, your first round will presumably run from March 29th to April 11th. Here's a look at the schedule thanks to DobberHockey's Schedule Planner tool from Frozen Tools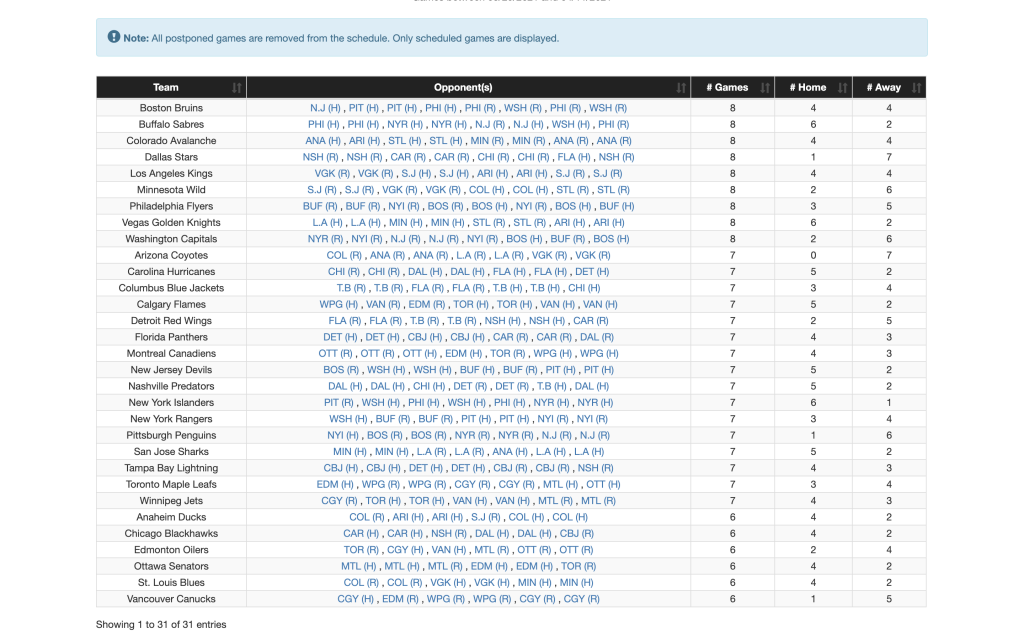 Use this information to target juicy options, like the Flyers for instance. Three games against the Sabres and another against the Rangers? That's not bad. Or how about the Canadiens facing the lowly Senators thrice that period? Tampa with two against Detroit, four against Columbus and one lone tilt with Nashville? Load up.
Conversely, I'm not loving the Blues. Just six games and they're playing the Avalanche twice, the Golden Knights twice, and the Wild twice. That's no easy road.
Scope around, find your specific weeks and get formulating!
You may also be interested in: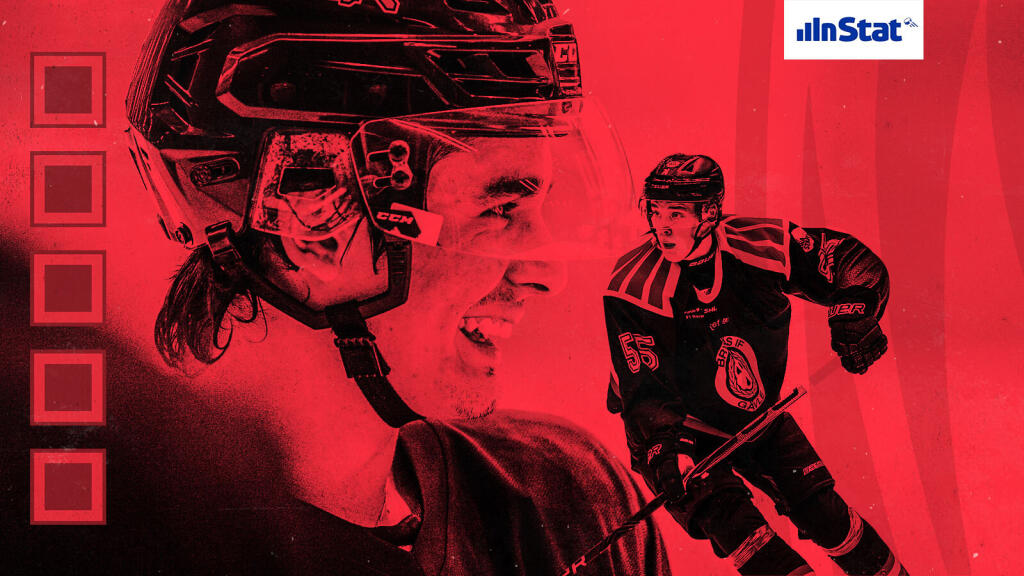 The EliteProspects Rinkside 2020-21 Off-Season Prospect Pool Rankings: the No. 4-ranked Carolina Hurricanes
This article is about: