NHL
The EliteProspects Rinkside Mid-Season (kind of) NHL Awards
We're right around the midway mark of the season (sort of, kind of, just please bear with us) so what better time to get you caught up on the players in the running for each of the major NHL awards that are going to be dolled out at season's end?
The premise is simple: I sent out a ballot request to each of our many writers and scouts, and anyone eager to participate was welcome to submit one for as many awards as they felt comfortable weighing in on. Each contributor ranked the five players they deemed most fitting for each award, with five points going to a first-place vote, four points to a second-place vote, and on, and on until you get to one point for a fifth-place vote.
For posterity, we had 10 different writers contribute to this exercise, and they are Dimitri Filipovic, JFresh, Ryan Lambert, Lauren Kelly, Daniel Gee, Russ Cohen, Cam Robinson, Rachel Doerrie, Lassi Alanen, and yours truly.
What follows are the results.
---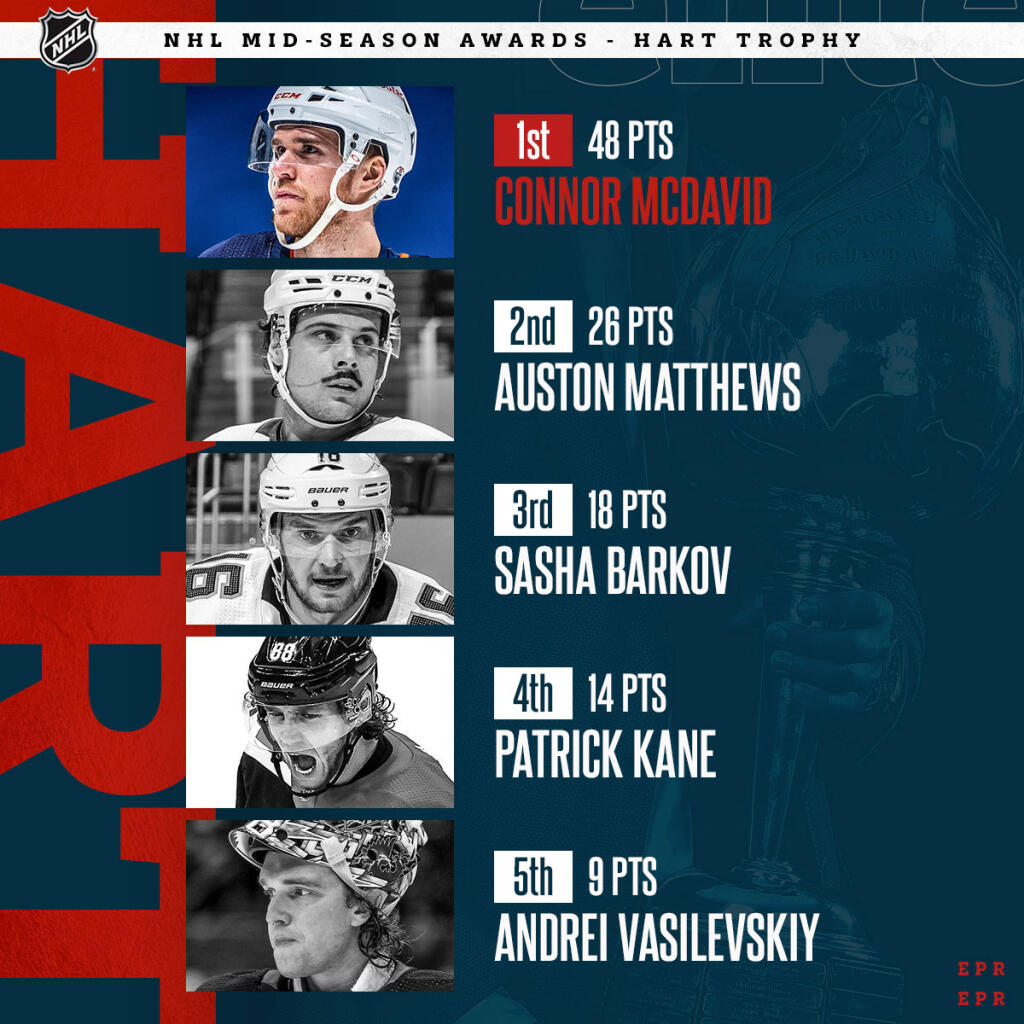 This one wasn't even close. Connor McDavid takes home the mid-season EliteProspects Hart Trophy Award, awarded to the league's most valuable player, in a landslide. The next best was Auston Matthews, with 26 points, a full 22 fewer than McDavid. In total, three players earned first-place votes, with McDavid taking home eight such endorsements while Aleksander Barkov and Patrick Kane each scooped up one for themselves.
This is how the voting shook out.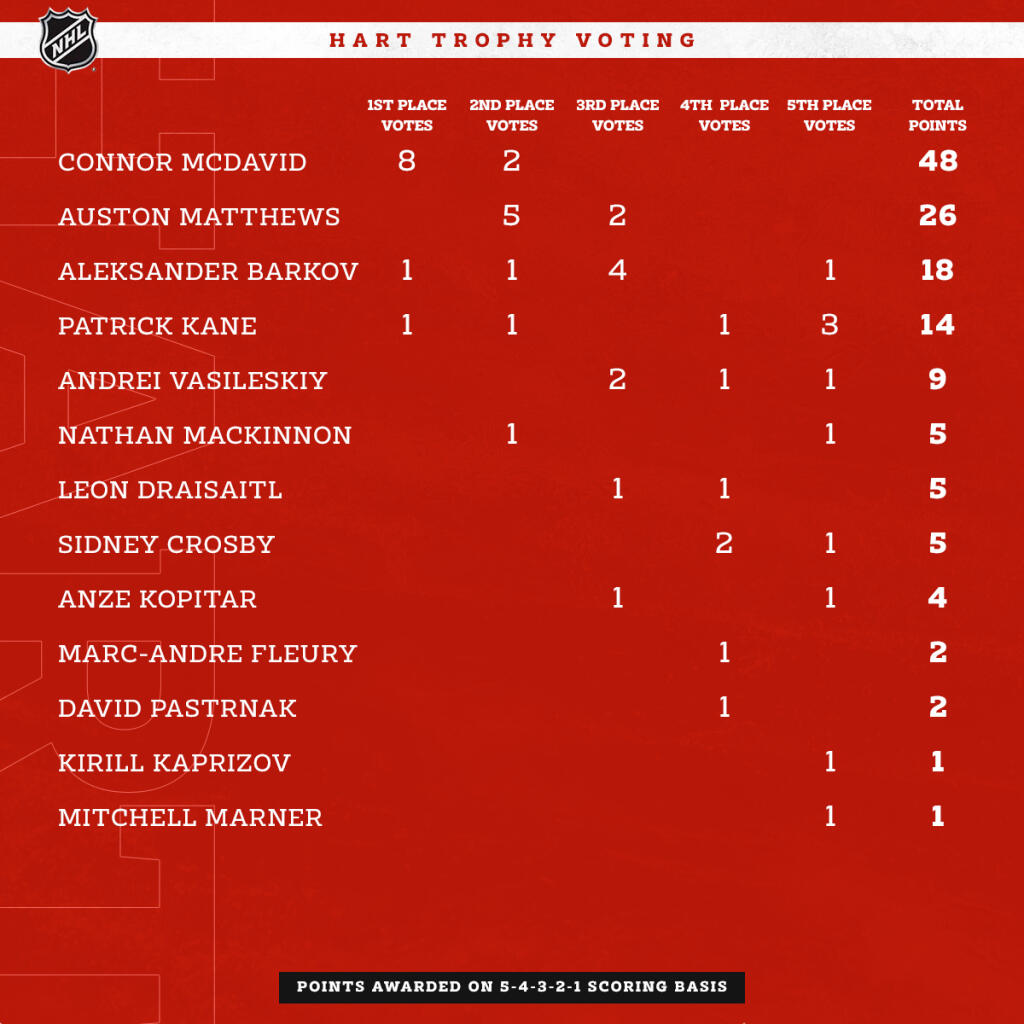 ---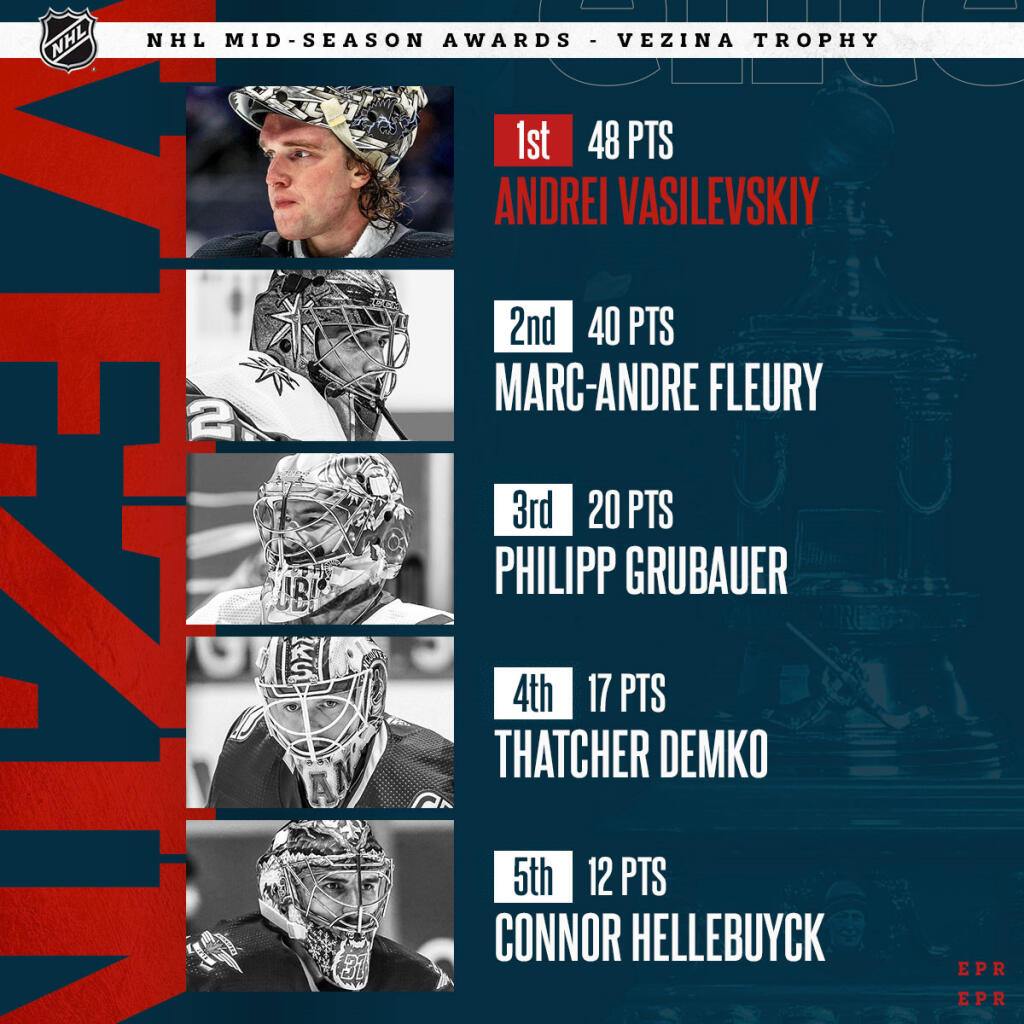 This one was far closer than I anticipated. It seemed as if Andrei Vasilevsky had the Vézina locked up, but two of our voters felt otherwise, granting Connor Hellebuyck and Marc-André Fleury each a first-place vote all their own. The field wasn't especially large for this one.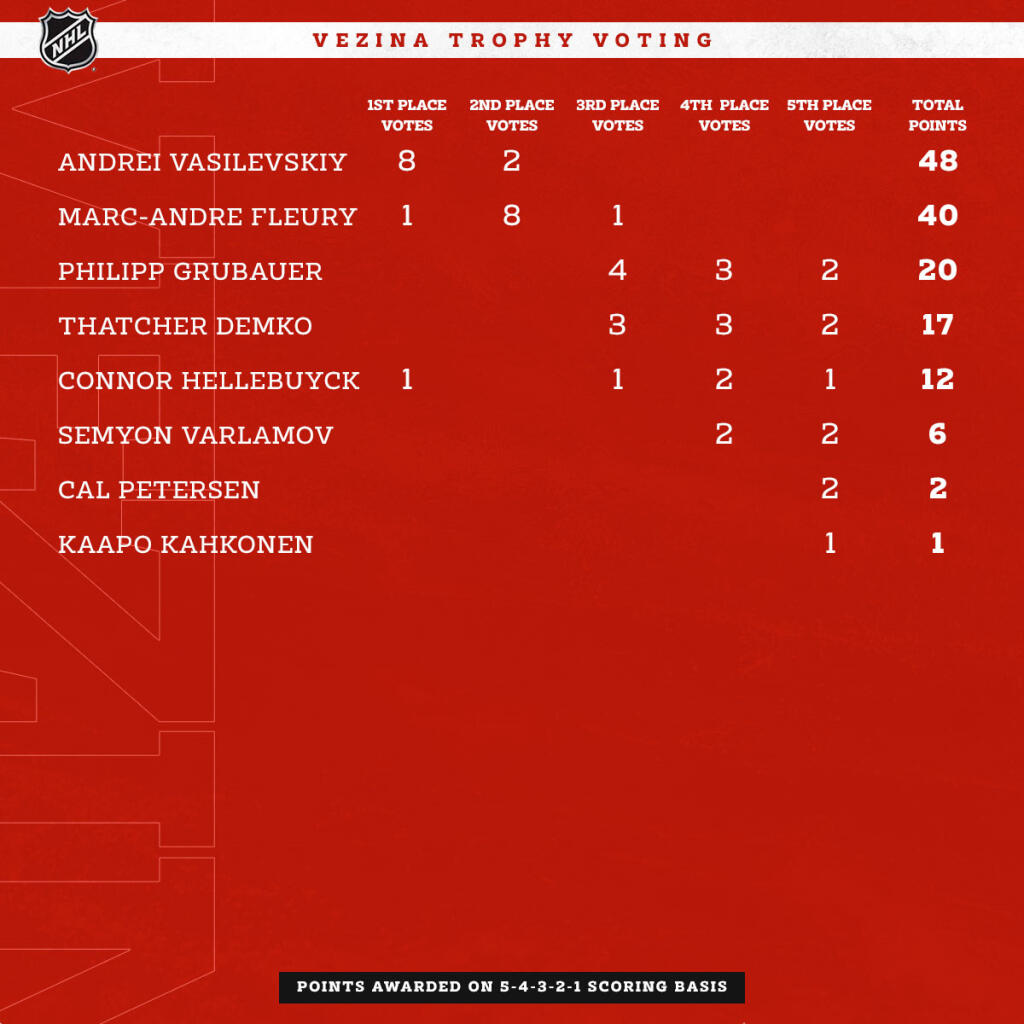 ---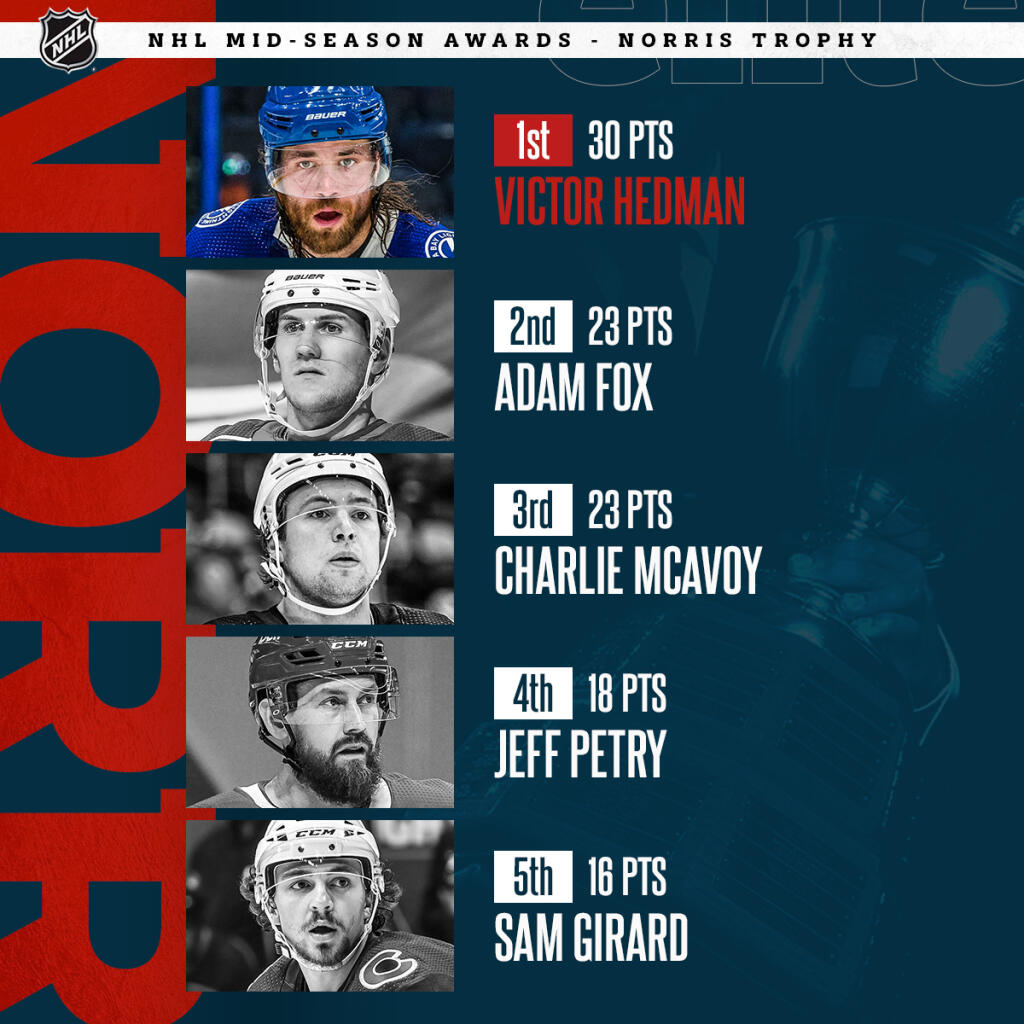 This one was close as can be. Six defencemen left with at least one first-place vote, and as many as 16 entered the conversation in at least some capacity. Ultimately, it was Victor Hedman who walked away with the mid-season Norris trophy, with Charlie McAvoy and Adam Fox not far behind. Meanwhile, Jeff Petry holds just a two-point lead over Sam Girard in fourth-place. Here's something: Three Colorado Avalanche defencemen earned at least one vote in this exercise, and two of them with first-place votes at that. The future on that blue line couldn't be any brighter.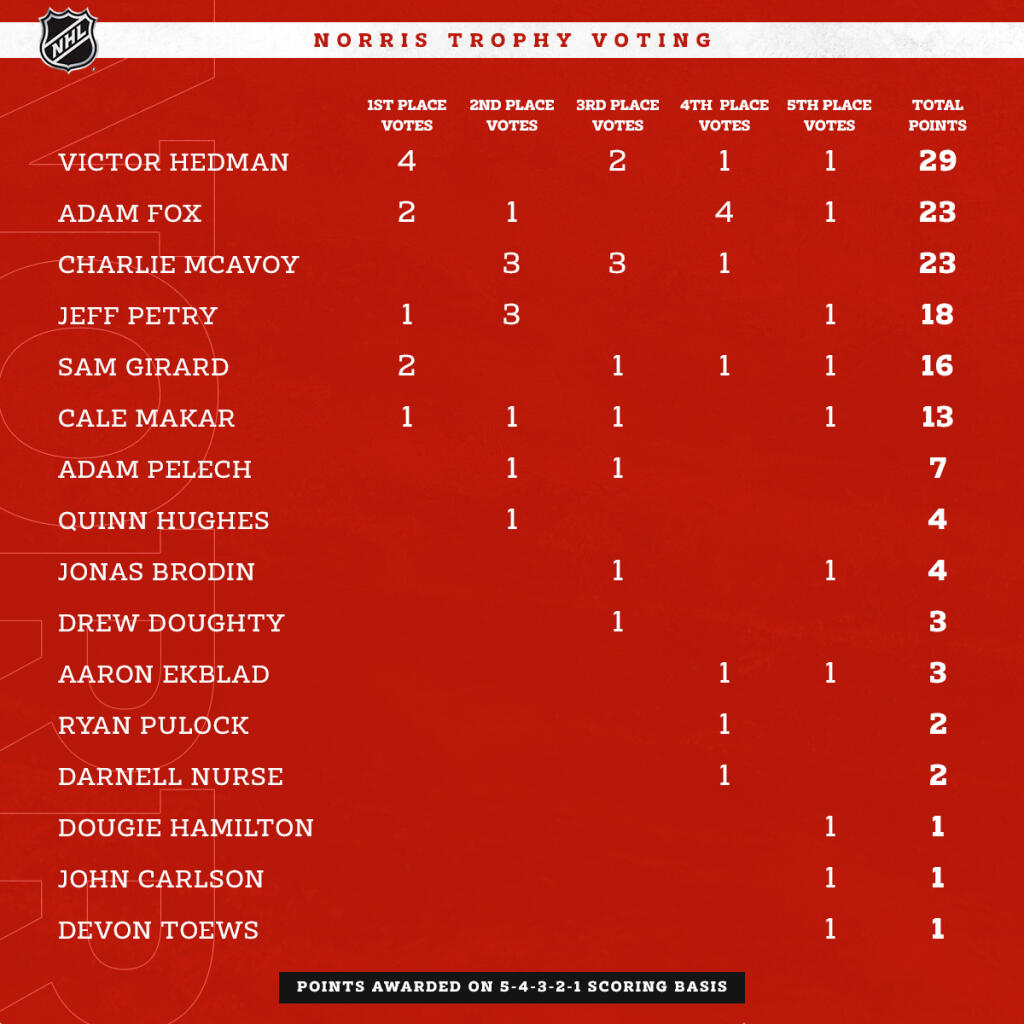 ---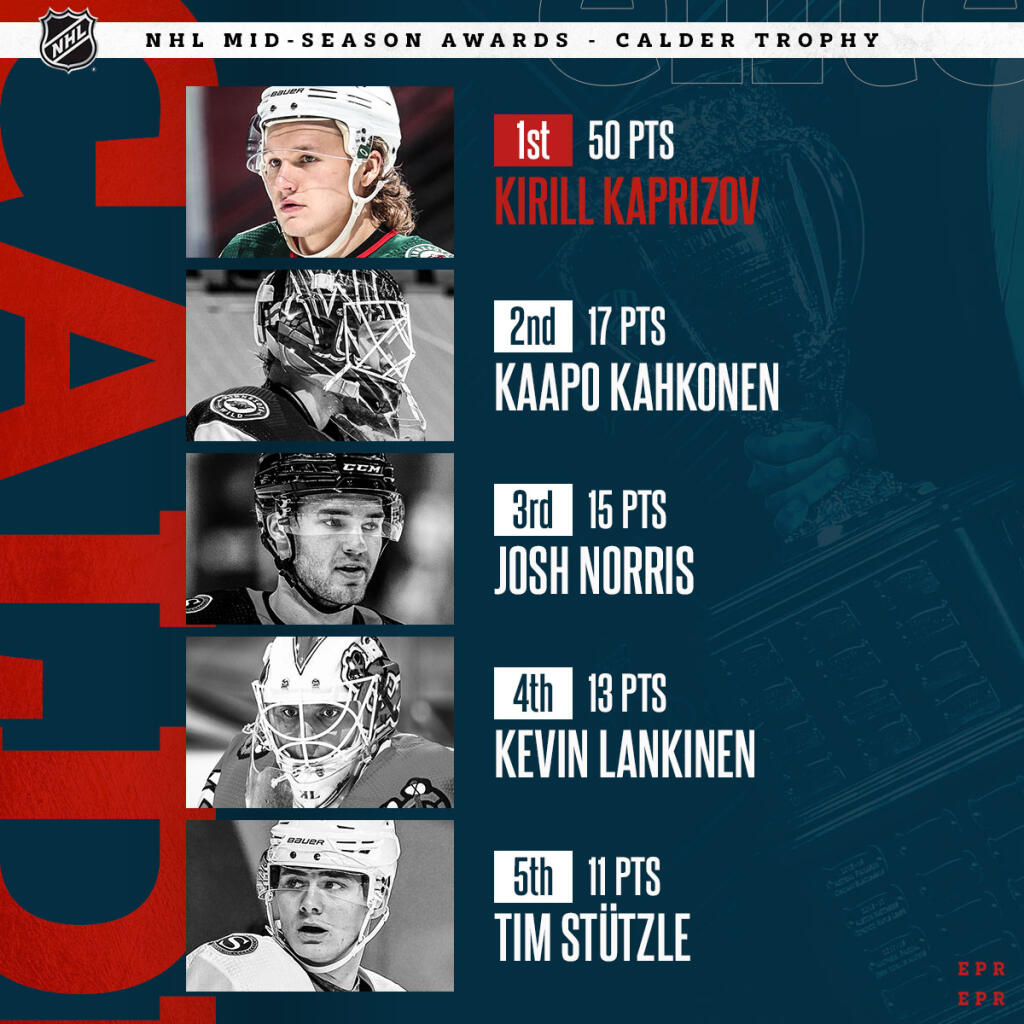 There was one sweep in this entire process, and it belongs to Minnesota Wild wunderkind Kirill Kaprizov. He may be a little on the older side, and he's not short on professional experience, but by the letter of the law, he's a rookie. That's good enough for us. Minnesota Wild fans can take further comfort in the fact that Kaapo Kähkönen is right behind him in second place.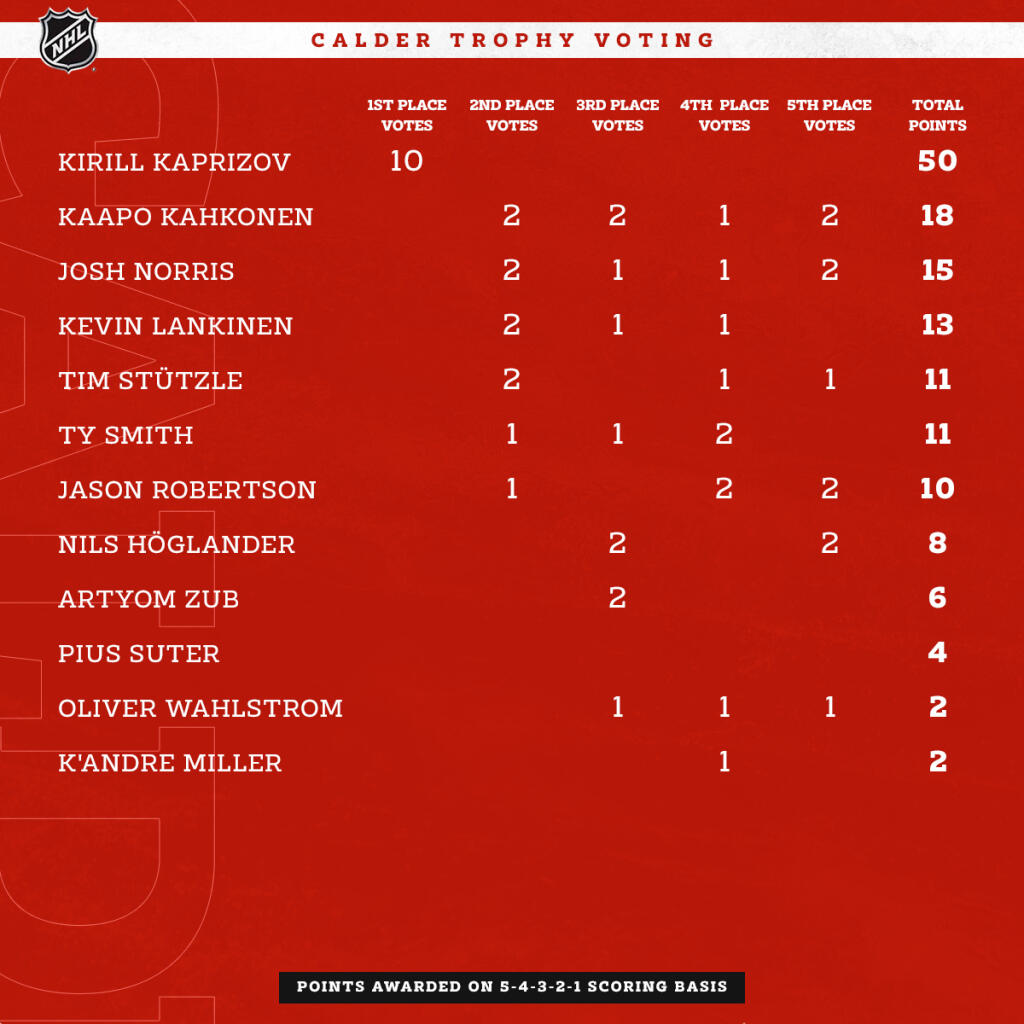 ---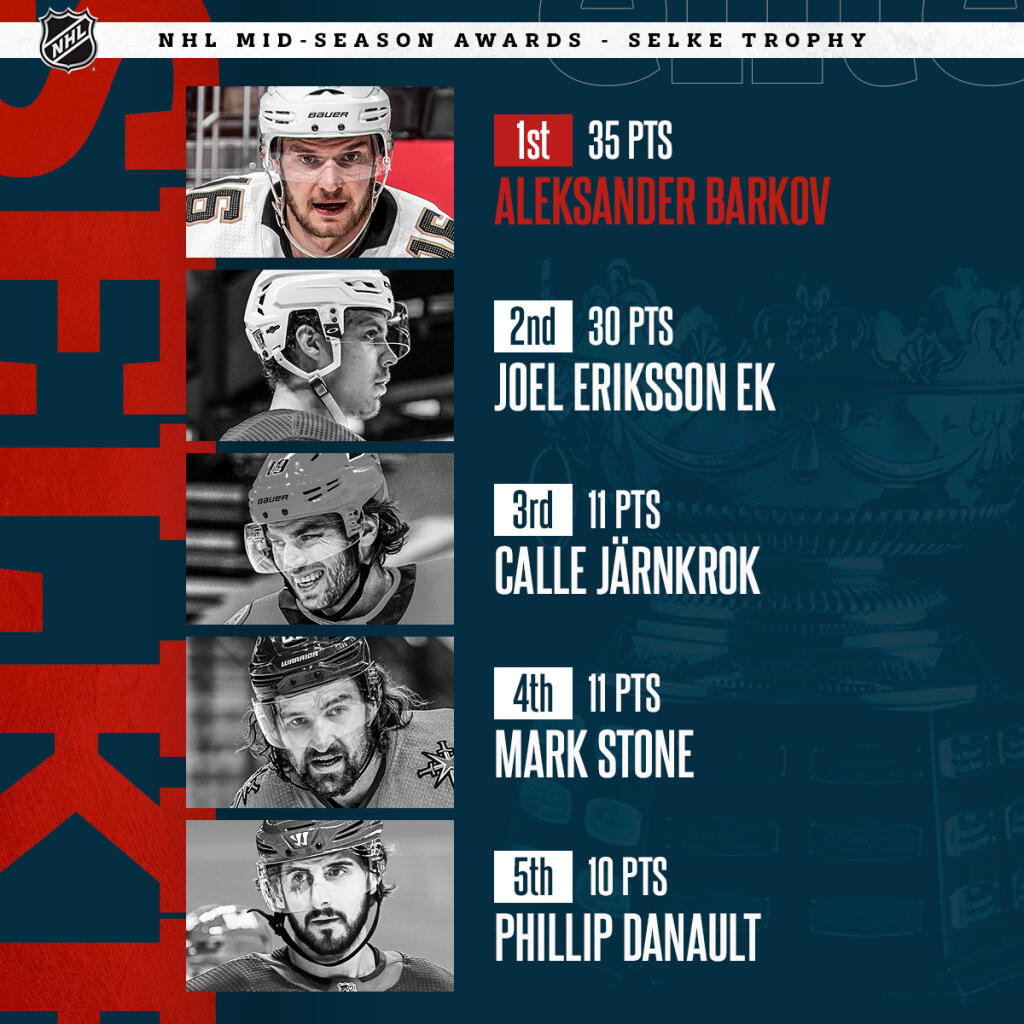 This is always a tough one for voters. It often seems like this particular award is beholden to a set of unwritten rules, such that the best defensive forward in the league doesn't necessarily equate to the player most fit for the Selke Award. Then there's the bizarre dynamic where voters refuse to acknowledge the fine work of defensive wingers in this league.
Whatever the case, EliteProspects was a relatively unified front on this one. Barkov is as just a candidate for the award as anyone, no matter one's position on how to determine as much, and seeing him atop our leaderboard just seems right. As does Joel Eriksson-Ek right below him. The real surprise here? Sidney Crosby clocking in at fifth-place. It's a break from his usual awards trajectory, but fitting considering the season in question.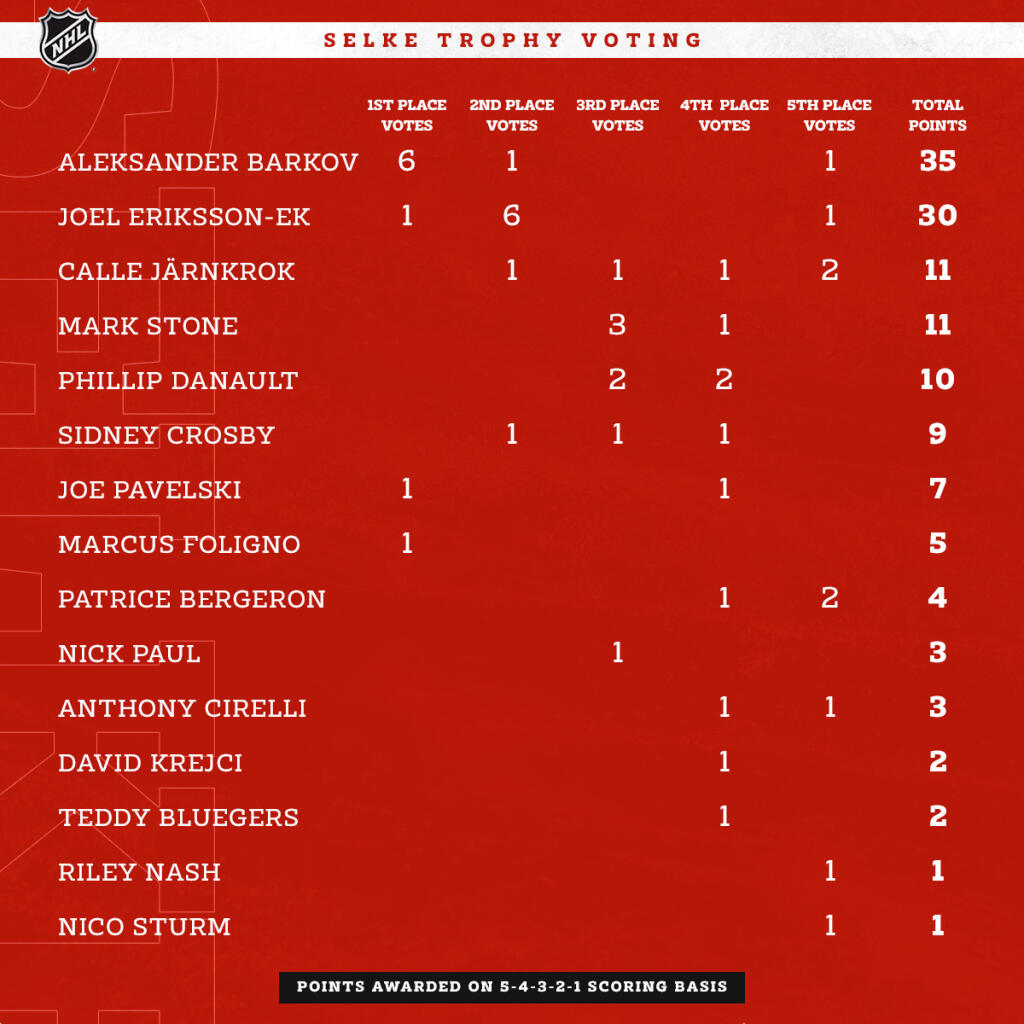 ---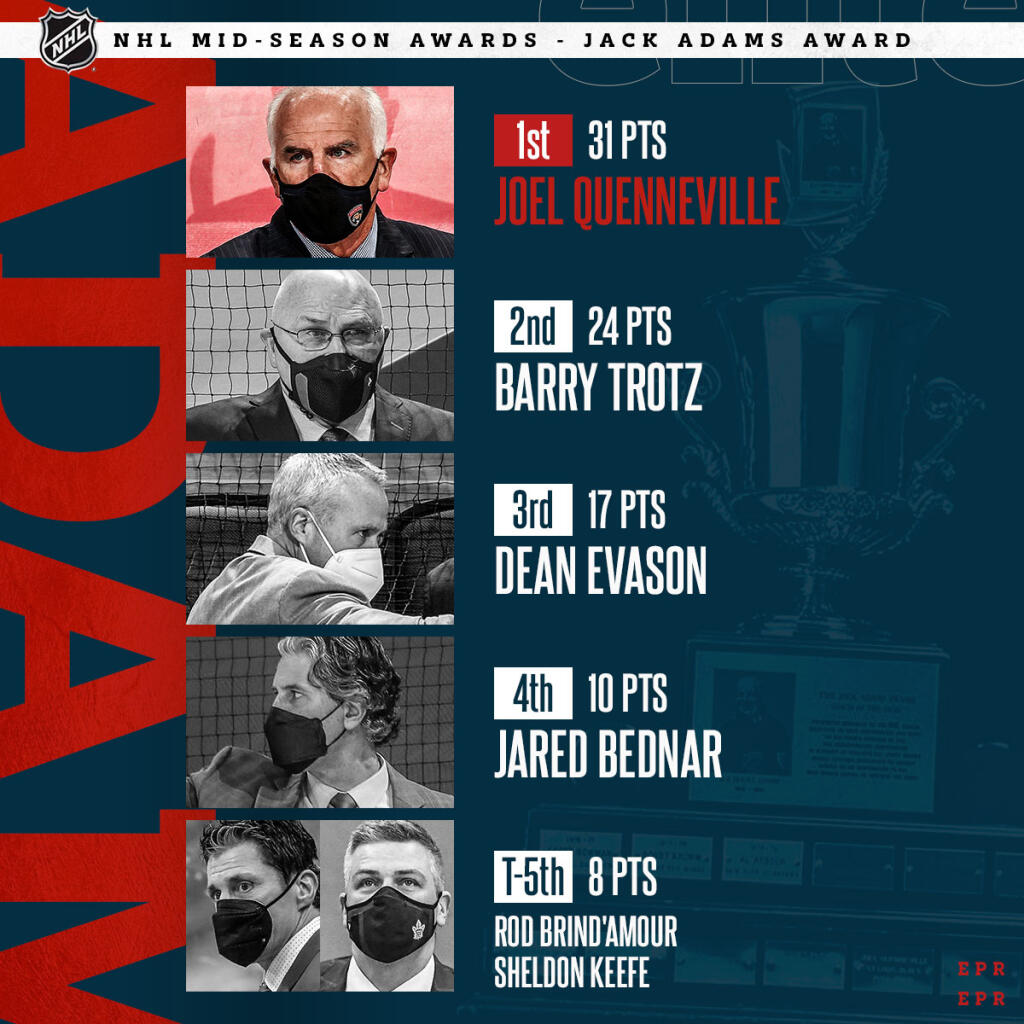 No real surprises here. The turnaround that Joel Quenneville is stewarding in Florida really is something to behold. Really, his work with that team last season was nearly as good, but Sergei Bobrovsky did his best to hide as much, and it seemingly worked. Barry Trotz and Dean Evason each received first-place votes, and Rod Brind'Amour and Sheldon Keefe are in a tie, no matter how one slices it.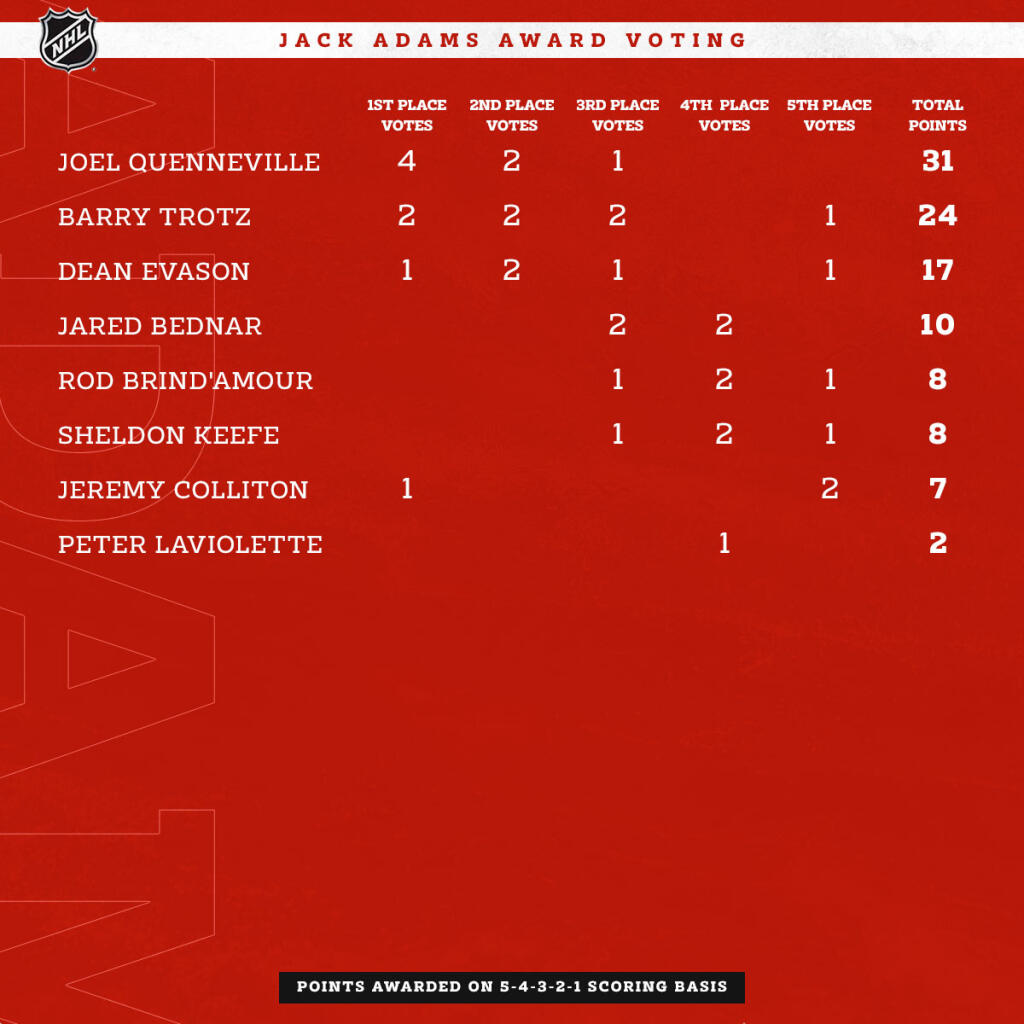 You may also be interested in: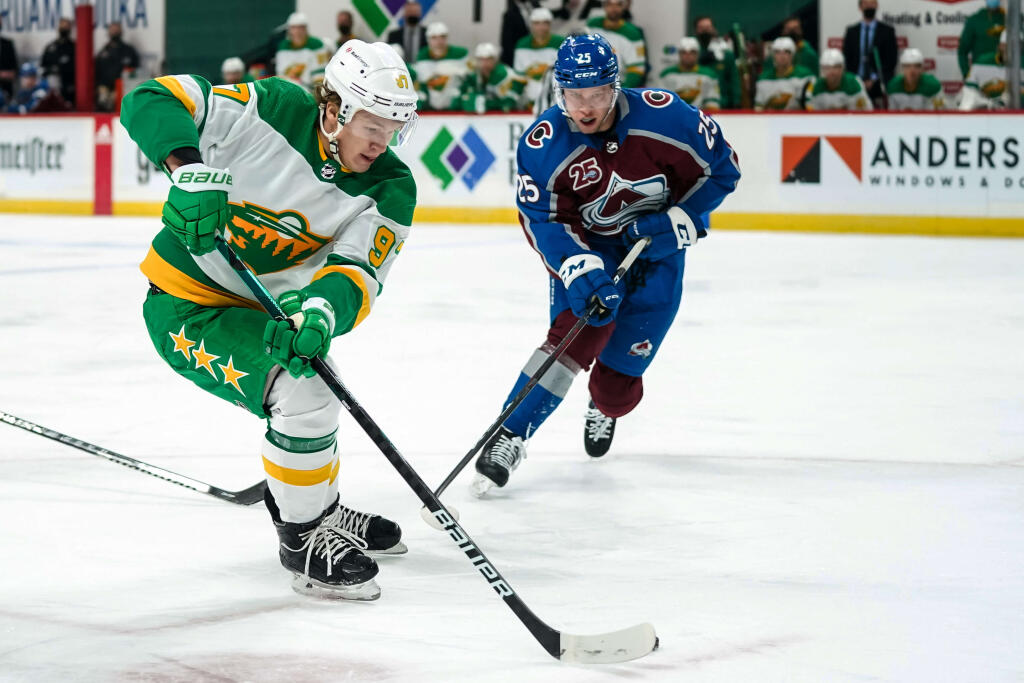 Kirill Kaprizov is singlehandedly changing the complexion of the Minnesota Wild as we know them
This article is about: