2020-21 Trade Deadline
Toronto Maple Leafs acquire centre Riley Nash from the Columbus Blue Jackets for conditional 7th-round pick
The Toronto Maple Leafs performed some administrative manoeuvering in the form of a trade today, acquiring centre
Riley Nash
from the Columbus Blue Jackets in exchange for a conditional seventh-round pick in the 2022 NHL Entry Draft.
TRADE: We've acquired forward Riley Nash from Columbus in exchange for a conditional seventh-round selection in 2022. #LeafsForever

Details » https://t.co/IMZ9IimxhL pic.twitter.com/vEFKLdGn4x

— Toronto Maple Leafs (@MapleLeafs) April 9, 2021
Why is it administrative manoeuvering, you might ask? Well, it's kind of, sort of straightforward. By taking Nash and his $2.75-million salary off of the Blue Jackets books, they're now able to leverage him against their already compressed cap picture by placing him on LTIR (Long-Term Injured Reserve), which will artificially raise the upper limit of their cap picture.
Despite being on IR in Columbus, Toronto still had to fit Nash under the cap before placing him on IR/LTIR.

Our assumption is the #Leafs made a recall, got close to the ceiling, placed Andersen, acquired Nash, then placed Nash on LTIR.

But we're working on confirming all that.

— CapFriendly (@CapFriendly) April 9, 2021
Nash, it should be added, suffered a sprained knee during the Blue Jackets loss last Sunday to the Florida Panthers, and he's expected to be on LTIR for the next four-to-six weeks.
In layman's, the Maple Leafs have added another $2.75-million in cap space with which to operate in the lead-up to the April 12th trade deadline.
The invaluable PuckPedia has summed it up pretty nicely on Twitter, if you find yourself needing further clarification.
The #LeafsForever acquired 31 y/o C Riley Nash ($2.75M then UFA) for cond '22 7th.#Leafs place Nash & Andersen on LTIR, allowing them to exceed cap by $7.5M, leaving them $5.8M more annual cap hit that can be added. This reduces by $5M w/ Andersen back.https://t.co/hB3guKRv0K pic.twitter.com/L8QZuVx9Iv

— PuckPedia (@PuckPedia) April 9, 2021
On top of it all, Nash's salary won't count against the books in the playoffs, should he recover in time to contribute to the Maple Leafs run at the Stanley Cup. Whether Nash will return to his previous form or not -- that's a worthwhile question one considers the severity of the injury currently keeping him from the ice, the long lay-off associated with his recovery, and the lack of familiarity with his new environment -- there's reason to believe that he could carry significant utility in a prescribed, defensively-calibrated role for this team.
Riley Nash, acquired by TOR, is arguably the best shut-down fourth line centre in the NHL. Provides no offence whatsoever - nothing happens when he's on the ice for either team. #LeafsForever pic.twitter.com/kz1vRO8QTn

— JFresh (@JFreshHockey) April 9, 2021
As colleague JFresh's player card shows, Nash isn't going to generate much value in the offensive third, but he's an unrelentingly stingy force in every other corner of the ice. In other words, the platonic ideal of a fourth-line centre.
His regular season is probably done, and he'll finish with seven points in 37 games to his credit.
As for the conditional seventh-round pick going the other way, Sportsnet's Luke Fox is reporting that this pick will escalate to a sixth-round pick in 2022 for Columbus on the condition that Nash plays in a quarter of the Maple Leafs playoff games. Blue Jackets general manager Jarmo Kekäläinen now has another reason to toast to his health.
The seventh round pick Toronto sends to Columbus will become a sixth round pick if Riley Nash appears in 25 percent of the Maple Leafs' playoff games in 2021.

— luke fox (@lukefoxjukebox) April 9, 2021
It ain't much, but the alternative was probably nothing at all. Running an NHL team is an efficiency contest, and it looks like both parties can walk away from this transaction feeling as if they've contributed to precisely that end for their respective clubs.
You may also be interested in: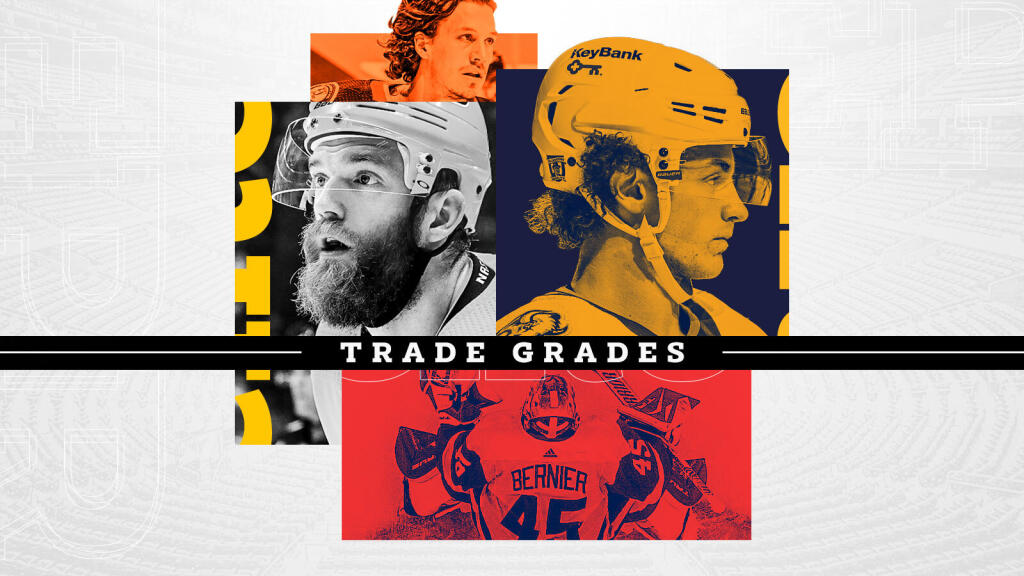 Trade Grades for the 2020-21 NHL Trade Deadline
This article is about: