2020-21 Trade Deadline
Tampa Bay Lightning acquire defenceman David Savard from the Columbus Blue Jackets in 3-way trade with Detroit Red Wings
Reports are circulating in every which direction from every corner of the hockey world connecting the Tampa Bay Lightning to
David Savard
, the Columbus Blue Jackets pending unrestricted free agent defenceman.
As we await details, #CBJ David Savard has been notified he's been traded to #tblightning

— Frank Seravalli (@frank_seravalli) April 10, 2021
The fit is obvious. The Tampa Bay Lightning, last year's Stanley Cup champions, are as credible a contender as exists in the NHL this season, and their right side is the only part of their roster that might qualify as a relative weakness.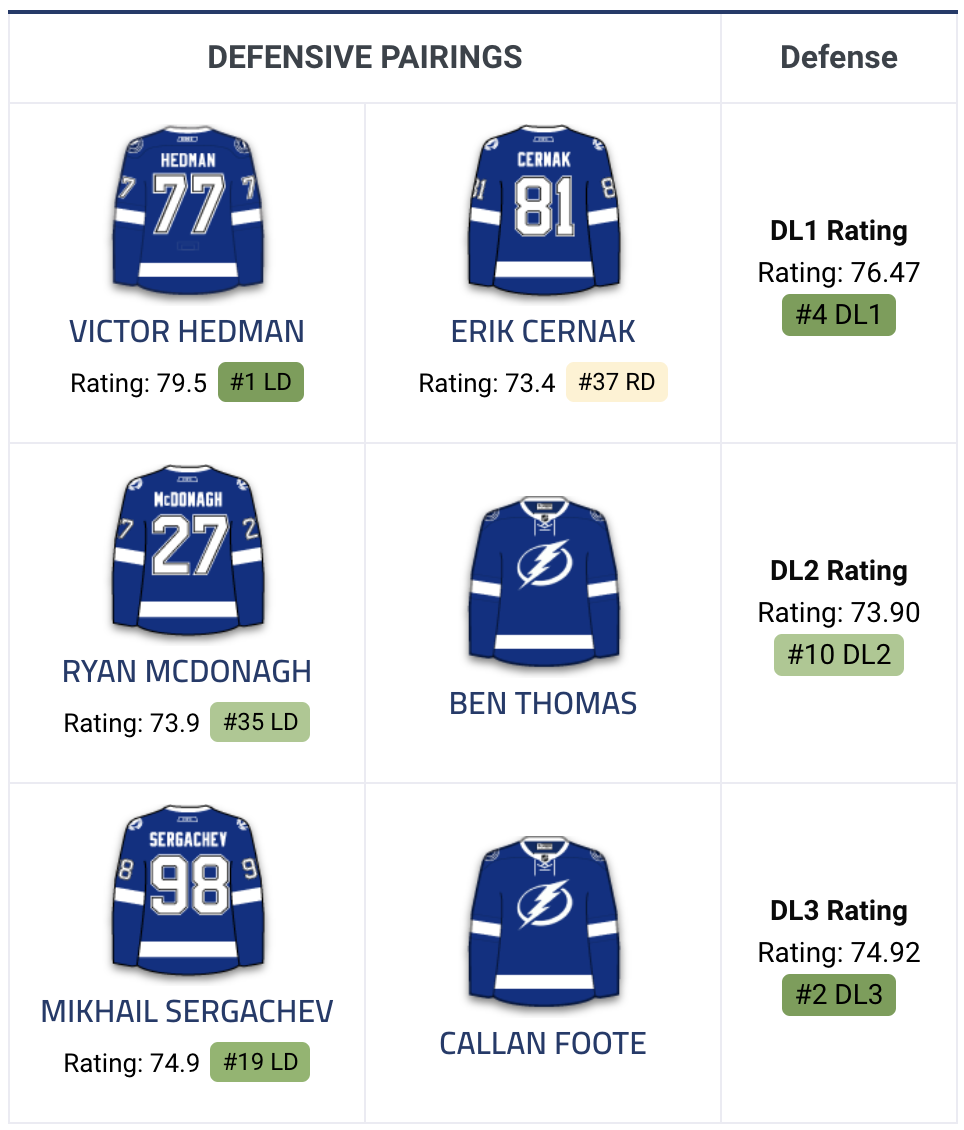 (Image courtesy of DailyFaceoff)
Certainly, injuries are at least partially to blame for that deficiency. Having Jan Rutta and Luke Schenn on the shelf, in particular, seems to have strained their depth. The Lightning have demonstrated time and again their capacity to let young players blossom into their roles but colour me skeptical that Ben Thomas and Cal Foote holding down the right side of pairs two and three is by design.
Should the Lightning pull off this Savard acquisition -- every indication seems to suggest as much -- then he should slot in nicely alongside Ryan McDonagh on the second pair if not opposite Victor Hedman on the first pair.
David Savard, reportedly acquired by TB, is a stay-at-home physical second-pair defensive defenceman who keeps opponents to the outside when he's on the ice. The match with Tampa felt inevitable. #GoBolts pic.twitter.com/aBVBcb6b4O

— JFresh (@JFreshHockey) April 10, 2021
As colleague JFresh notes, Savard's a bit of a throwback; a 6-foot-2 physical defender with a defensively calibrated profile, best suited to keeping pucks from his own net rather than helping place them in the opposition's.
With the likes of Hedman, McDonough, and Mikhail Sergachyov already lining the Lightning's ranks, they've more than enough dynamism in that group to take them to the promised land. Savard's very specific set of skills should prove exceptionally valuable to this group as a counterbalance.
Savard, 30, is in the final year of a deal that pays him $4.25-million annually, and has added six points (one goal and five assists) in 40 games to the cause for the Blue Jackets this season.
No (confirmed) word yet on the return, but it's believed that the Blue Jackets will be getting the Lightning's first-round selection, at the very least, as part of this transaction. We'll provide updates as they're made available.
All kinds of names floating around rumored to be going with @BlueJacketsNHL Savard to the @TBLightning Add Gabriel Carlsson, Nick Foligno and Michael Del Zotto to the mix. Strongly suggested to me there is more than Savard for a 1st. @NHLNetwork

— Brian Lawton (@brianlawton9) April 10, 2021
One package that's being floated by the NHL Network's Brian Lawton has the Blue Jackets landing Gabriel Carlsson, Nick Foligno, and Michael Del Zotto as part of this deal. Seems ambitious, and defies all sorts of cap logic (on its face), but that would kind of fit with the Bolts profile, so let's not rule it out entirely.
---
Editor's note: we've continued this article to reflect new information concerning the trade.
TSN's Pierre LeBrun is now reporting the details on the Savard trade, and it's a doozie. I could write out a detailed explanation, but there isn't really any way I can add value to what's already out there by virtue of LeBrun's report.
Here's the three-way trade between Tampa, Detroit and Columbus landing Savard in Tampa ⤵️ pic.twitter.com/ZCVCpaogkR

— Pierre LeBrun (@PierreVLeBrun) April 10, 2021
So if your impulse was that the Lawton report was a bit rich, then you weren't technically wrong; it's just that the actual deal was pretty bold in its own right.

Instead, the Lightning have acquired Savard at 25 percent of his salary, and ultimately parted with a first- and a fourth-round pick for the privilege. It's a pretty substantial set of assets for a player with Savard's profile, but at 25 percent of his cap charge, who could reasonably take umbrage with this deal?
The goal is to win the Stanley Cup, after all, and the Lightning are so much better-positioned to do that after today's move, with a little wiggle room to spare in advance of Monday's deadline.
The Detroit Red Wings, meanwhile, can walk away from this feeling pretty good about themselves. They got a fourth-round pick in this year's draft, and all they had to do was launder about a million in cap charges for the privilege. That's just good business.
As for Columbus, a first-round pick in this year's draft, along with a third-round pick in next year's, for Savard is a pretty worthwhile return. This team is well past due for a substantial overhaul of their roster if not a full-blown rebuild, and parting with a 30-year-old, pending free agent defensive defenceman for precious draft capital fits that end.
For whatever it's worth, Brian Lashoff is going to stay in Grand Rapids where he dons the captain's C for the Griffins. I know people were on the edge of their seats for that update.
You may also be interested in: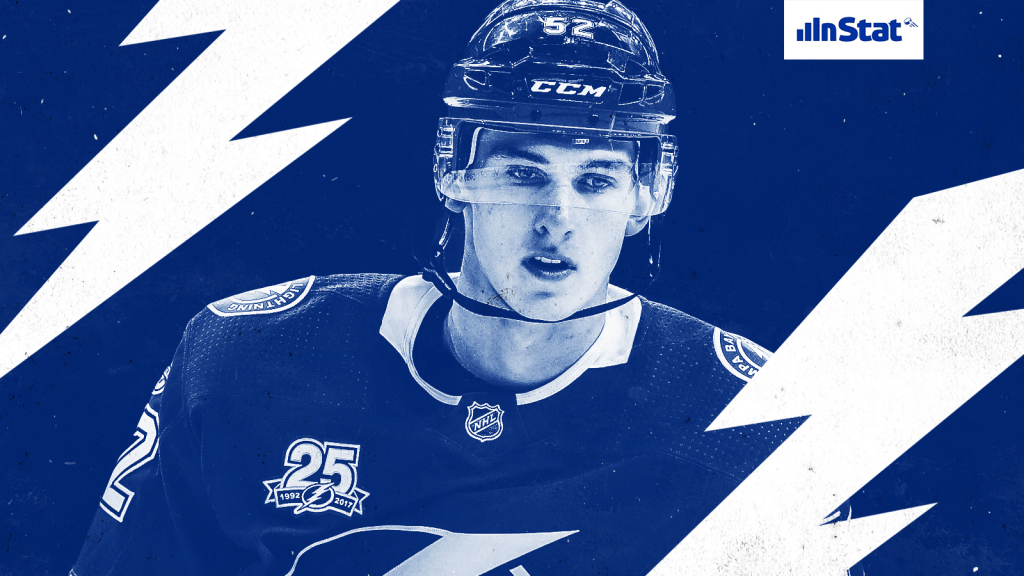 The EliteProspects Rinkside 2020-21 Off-Season Prospect Pool Rankings: the No. 29-ranked Tampa Bay Lightning
This article is about: