2020-21 Trade Deadline
New Jersey Devils acquire defenceman Jonas Siegenthaler from Washington Capitals for 3rd-round pick
The New Jersey Devils have dipped their toes every so sparingly into the buyer's market (kind of?), acquiring Swiss defenceman
Jonas Siegenthaler
from the Washington Capitals for the Arizona Coyotes' third-round pick in the 2021 NHL Entry Draft.
🚨 TRADE ALERT 🚨

We have acquired Jonas Siegenthaler from Washington in exchange for Arizona's conditional third-round pick in the 2021 NHL Draft.#NJDevils | @investorsbank pic.twitter.com/DSBWAXNwIg

— New Jersey Devils (@NJDevils) April 11, 2021
As the Devils team account made clear on Twitter, there is a condition on the pick. It's pretty straightforward stuff: If Arizona decides to forfeit their third-round pick to Jersey for this year's draft, then that's the one going Washington's way; Should the Coyotes retain their selection, then the Devils will yield their own pick.
Siegenthaler, 23, was himself a second-round pick of the Capitals in the 2015 NHL Draft. His trajectory has been consistently ascendant since, from the Swiss NLA, to the AHL, and then to the Capitals in time for parts of the 2018-19 season, before eventually landing a full-time gig in the nation's capital last season.
It's been tough-sledding for Siegenthaler this season though, as the Capitals off-season prioritization of blue line depth has thrust him to the sidelines, where he's remained for much of the campaign, featuring in only seven games.
Jonas Siegenthaler, traded to NJ**, has barely played this season but put up crazy defensive results in a 3rd pairing role in his previous two seasons with the Capitals. High-upside pickup by a team that could really use one. #NJDevils pic.twitter.com/s7Tbxx2KMt

— JFresh (@JFreshHockey) April 11, 2021
As colleague JFresh notes, though, Siegenthaler generated some pretty inspired defensive results in the two seasons prior. It's an observation that is corroborated by the Evolving-Hockey's RAPM (Regularized Adjusted Plus-Minus) metric, which shines as favourable a light as one could on his contributions in the home-third of the ice. In particular, his capacity to limit shot quality stands out as a distinct positive.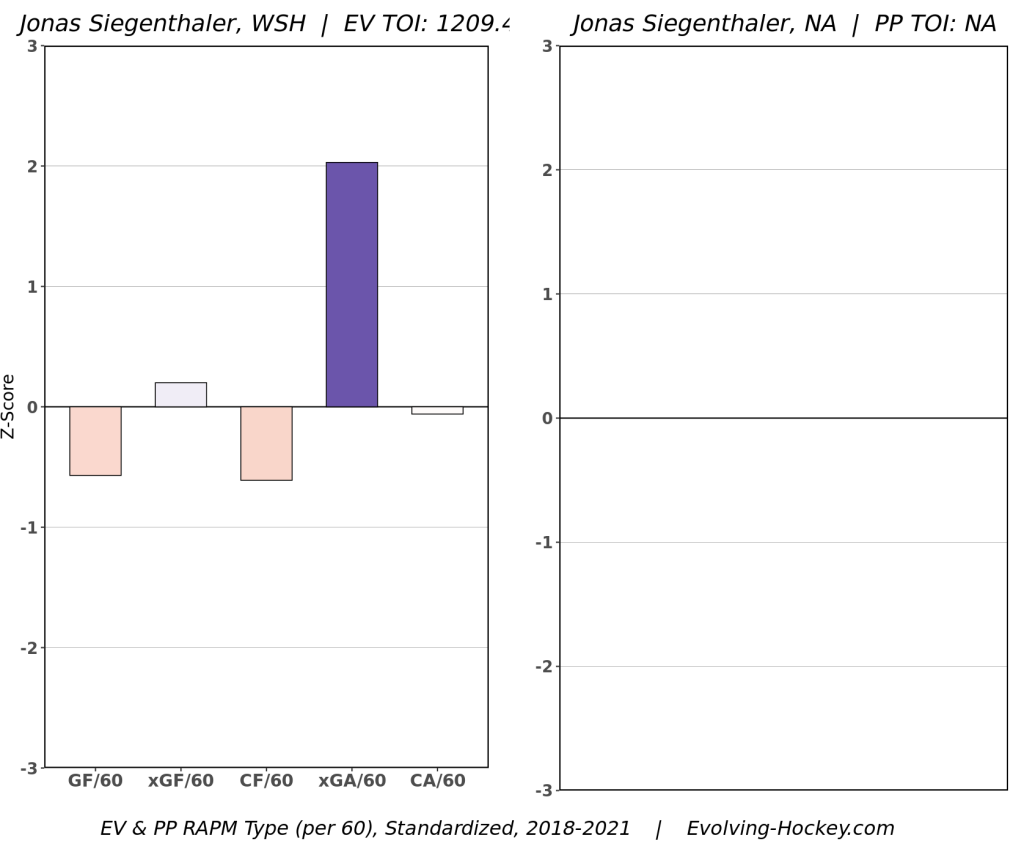 This isn't a traditional rental play either. Not by any means. Siegenthaler is on the home stretch of a one-year pact signed with Washington that pays him $800,000 for the season, setting him up for restricted free agency this summer, but there are another four seasons of cost-control for the Devils beyond this one, a periphery fact which likely inflates his value beyond that of, for example, Jon Merrill, who went mere hours later to Montréal for the relative pittance of a fifth-round pick.
For whatever it's worth, setting the conditions on the Arizona pick as the Devils have is some pretty savvy tinkering around the margins. Every spot in the draft matters -- regardless of what a pick-value generator tries to tell you -- and trying to set a priority on retaining their own selection, which is likely to be ever so slightly higher than the Coyotes, isn't nothing.
You may also be interested in:
The EliteProspects Rinkside 2021 NHL Draft Ranking
This article is about: