2020-21 Trade Deadline
Toronto Maple Leafs acquire forward Nick Foligno from Columbus Blue Jackets
TSN's
Frank Seravalli
reported that the Toronto Maple Leafs are in the process of acquiring forward
Nick Foligno
from the Columbus Blue Jackets in an elaborate three-way trade to launder enough money to make the books work.
Pending trade call. But there is a third team involved to broker the money. https://t.co/dgYenpD62z

— Frank Seravalli (@frank_seravalli) April 11, 2021
And moments after that report, Sportsnet's Elliotte Friedman has confirmed the details of this trade, a doozie of a three-way transaction. Toronto gets Foligno at 25 percent of his salary, and Stefan Noesen; Columbus procures a first- and a fourth-round pick; and the San Jose Sharks get one fourth-round selection for laundering salary to facilitate the deal.
TOR trades a first and two 4ths for Nick Foligno and Stefan Noesen. Though SJ

— Elliotte Friedman (@FriedgeHNIC) April 11, 2021
Foligno, 33, is in the final season of a six-year pact that he'd signed with the Blue Jackets on December 31st, 2014; one which carries a $5.5-million cap charge. His contract featured light trade protection, per the invaluable CapFriendly, which has Foligno submit a 10-team list of destinations he would not permit. Apparently (unsurprisingly) Toronto was nowhere to be found on sed list.
Because the trade took a while to materialize, we were left with a rare opportunity to understand the cap magic in real-time.

Their Friday acquisition of Riley Nash, also from the Blue Jackets, allows the Leafs to dip further into their LTIR (Long-Term Injured Reserve) pool. They'd done so, and that pushed their relief pool to $4.075-million in cap space, again, per CapFriendly.
The Blue Jackets retained the maximum allowable amount, 50 percent of Foligno's deal, to bring the number down to $2.75-million; then the Sharks sent Neosen Columbus' way for Foligno, and they also retained the maximum allowable 50 percent, bringing his number down to $1.375-million.
The Maple Leafs salary situation may have seemed inhospitable, but here they are, with a Foligno to call their own, and they still have about $2.7-million left to work with, if my math checks out.
Like many Blue Jackets this season, Foligno's seen his counting stats hemorrhage, to the point where he's at 16 points in 42 games, which has him running at a 31-point 82-game pace, down from 38 last season.
Nick Foligno, reportedly acquired by TOR, is a defensive specialist top six forward who doesn't bring much of anything offensively whether it's play-driving, production, or finishing. #LeafsForever pic.twitter.com/zdmtglAceN

— JFresh (@JFreshHockey) April 11, 2021
The Leafs, who generate 2.49 expected goals per hour at 5-on-5 (fourth-most in the NHL), probably aren't counting on Foligno to contribute substantially in that final third of the ice anyway. It's his suffocating defensive game, leadership bona fides (Foligno rocked the captain's C for six seasons in Columbus), versatility (he can play all three forward positions), and general pugnacity that was the likely siren song here.
It's a lot to give up for this sort of player, though, and that's where any criticism of the deal will find fertile ground; opportunity cost, and so on.
If the question is "could the Leafs have done any better with the assets forfeited?" I'm not sure how one offers an answer in the negative when reports are swirling of the Buffalo Sabres inability to pry a first-round pick from someone for Taylor Hall (more on that later, I suspect).
Then again, it's not like the Leafs lack the cap space, draft capital, or prospects necessary to pull off such a manoeuvre, even after this acquisition, so... stay tuned!
Opposite them, the Blue Jackets have to be thrilled with the return. General manager Jarmo Kekäläinen secured full freight on a player with relatively advanced age, deteriorating form, and no part to play in a disciplined rebuild, should the Jackets chart that course (and the last few days suggests that this a "Yes!" from them).
The Sharks? Hell, they get a fourth-round pick, and they only had to part with Noesen and launder about a million in salary for the privilege. That's just shrewd business on their part.
You may also be interested in: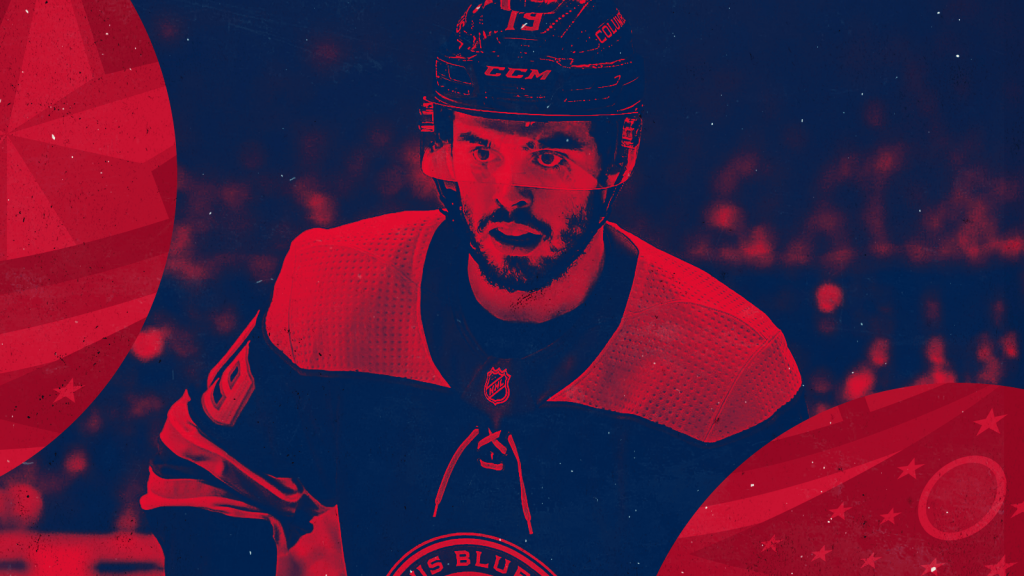 The EliteProspects Rinkside 2020-21 Off-Season Prospect Pool Rankings: the No. 31-ranked Columbus Blue Jackets
This article is about: