2020-21 Trade Deadline
Boston Bruins acquire Taylor Hall, Curtis Lazar from the Buffalo Sabres for Anders Bjork, 2nd-round pick
The Boston Bruins have pulled off an absolute coup of a trade, landing forward
Taylor Hall
from the Buffalo Sabres for forward
Anders Bjork
and a second-round pick. Oh,
Curtis Lazar
is going to Boston, too.
Confirming. Hall and Lazar to Boston for Bjork and 2nd round draft pick.

— Darren Dreger (@DarrenDreger) April 12, 2021
Hall, 29, joined the Sabres as a free agent last off-season on a one-year deal with an $8-million cap charge (the Sabres are retaining 50 percent on his deal to make this work). At which point, his sordid career predictably took a turn for the worse. Hall's leaving Buffalo having scored only twice en route to 19 points in 37 games,
Some (read: a lot) of that is the result of abominable luck. Like, unimaginably bad luck. It's as if Hall signed his one-year pact with Buffalo on a sacred burial ground, committed heinous, unforgivable crimes in past lives, and walked under a ladder to get to his stall in the changing room at the KeyBank Centre.
Sportsnet's Chris Johnston sums it up about as well as one could possibly hope in this tweet. Even worse still, Evolving-Hockey has Hall down for nearly 10 expected goals, about eight more than this actual output.
It seems like a good time to point out that Taylor Hall currently has the seventh-worst single season shooting percentage among all NHL players since 2013-14. The #bruins may be purchasing some regression to the mean here along with his talent at a bargain cost.

— Chris Johnston (@reporterchris) April 12, 2021
We'd heard in the weeks leading up to this point that Hall's value had cratered as a result. It was hard to believe that the Sabres wouldn't be able to pry a first-round pick from a contending team, but here we are, and that is very much so the case. Go figure.
As colleague JFresh wrote in his Trade Deadline Profile piece looking at Hall's game, he's generated plenty of value this season in spite of his dreadful goals count, particularly as a playmaker and a play-driver.
Taylor Hall, acquired by BOS, is an elite playmaker and offensive driver who has been categorically unable to put a puck into a net for the past few seasons to the extent that it's completely destroyed his overall numbers. #NHLBruins pic.twitter.com/U1Dy5zJRHR

— JFresh (@JFreshHockey) April 12, 2021
That the Bruins could get Hall (and Lazar) for such a pittance is nothing short of an absolute coup.
How they will deploy Hall will be an interesting storyline to follow. Hall's shooting percentage woes actually extend beyond this season, and as such, it's fair to wonder at this point if he's just not a particularly efficient scorer. Play him alongside David Krejčí, and that's two-thirds of a line adding up to... four goals on the season. Then again, how does one break up that first line? They don't!
As for Lazar, that's just a good voice in the room and little defensive depth for the fourth-line. It's fine. He's fine.
Curtis Lazar, reportedly acquired by BOS, is a pretty okay defensive fourth liner. #NHLBruins pic.twitter.com/LvuDN0fnr6

— JFresh (@JFreshHockey) April 12, 2021
Lazar, 26, is in the midst of a two-year deal that he signed with the Sabres last off-season, one that carries an $800,000 cap charge for this one and next. It's a little unusual for a deal like this one to include a player with this sort of deal, but the Bruins can comfortably bury the entirety of his salary in the minors if it doesn't work out. He's up to nine points (five goals and four assists) in 33 games for Buffalo.
As for Buffalo, this sort of return fits with the prevailing mood of the season: A mix of dread and emptiness. The second-round pick is the centrepiece of the return package, and it might be more valuable than one anticipates in a season like this one, but then again, maybe not for a team like the Sabres who've hollowed out their entire scouting department.
Anders Bjork, reportedly acquired by BUF, is a low-event bottom six forward who's played extremely soft minutes without generating much of anything offensively. No, despite the WAR% he is not better than Taylor Hall. #LetsGoBuffalo pic.twitter.com/qKiqr9TMAm

— JFresh (@JFreshHockey) April 12, 2021
Bjork, 24, was a fifth-round pick in the 2014 draft by the Bruins. He's contributed ably in a sheltered fourth-line role for the Bruins, with five points (two goals and three assists) in 30 games, and a decent two-way profile to boot. He just might offer some value in that role for the Sabres, too. Who can say? This team has felled better players. Take Hall, for example.
You may also be interested in: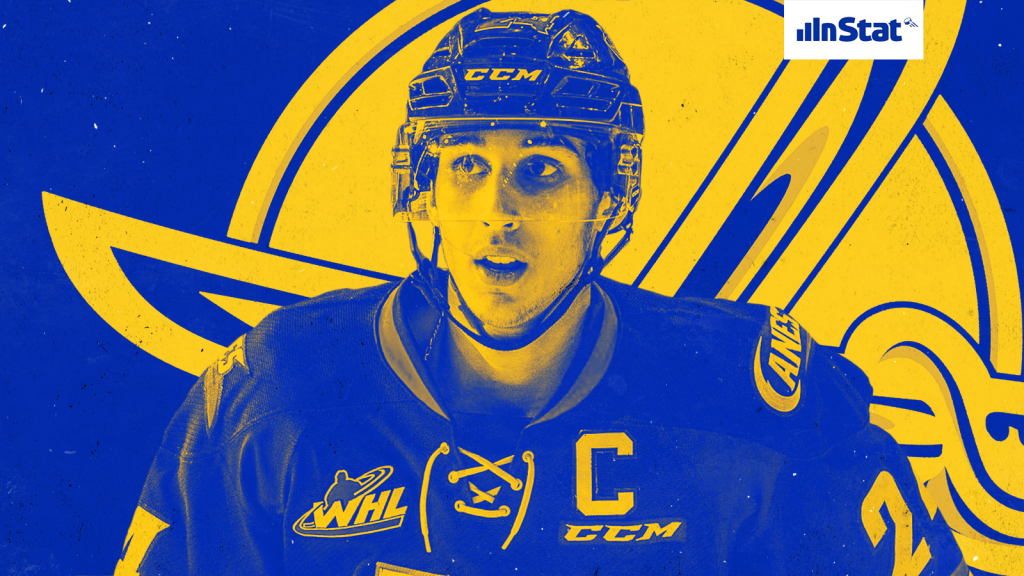 The EliteProspects Rinkside 2020-21 Off-Season Prospect Pool Rankings: the No. 14-ranked Buffalo Sabres
This article is about: