Connor Bedard is hockey's next superstar
It's October 2020. With most major North American hockey leagues on hold, top prospects have begun to fly en masse to Europe for game-action.
Among them, hockey's long-ago-named next superstar, Connor Bedard. Bedard, the WHL's first-ever exceptional status player, led the CSSHL U18 in goals and points at 14 before the Regina Pats selected him No. 1 overall in the 2020 draft.

In Sweden, Bedard started at the under-18 level. He scored and added an assist. The next challenge was the J20 Nationell, the stomping grounds for Sweden's top prospects. He grabbed four points in four games, bolstered by a two-point, 13-shot performance against Växjö's U20 team.
That success in Sweden set the stage for what happened next.
"Seeing that sped my decision-making up as to where I felt he was going to be on our team, and within our league against top players," Dave Struch, the head coach of Regina, told EliteProspects. "My thought process went from 8, 10, 12 minutes a night, then gradually working up to 18 minutes, to starting at the 18-minute mark."
15 games into Bedard's WHL career, he's one of the top players in the league. His 1.87 point per game clip sits second in the league. He routinely looks like the best player on the ice against much older players, many of which are NHL drafts or soon to be. He's 15, not eligible for the NHL Draft until 2023.
---
Ask someone about Bedard, and chances are they won't want to talk about the hockey player first. Instead, they gush about his maturity and humility.
"A very mature young teenager," Struch said.
Ryker Evans, Regina's second-leading scorer, echoed the sentiment. "Off the ice, he's like a man. It's like he's one of the older guys in the room. He's really mature for his age. His maturity and the way he carries himself is unreal."
With the maturity and skill comes a unique level of preparation. Bedard's trained with professionals for years, and his habits show it, according to Struch.
"His preparation, his rest, the way he eats, the way he warms up for practice, the way he practices, the way he cools down after practice – everything that he does is at a pro-level.
"The way he practices is special: He passes the puck hard, he shoots it hard, he plays hard, he works hard, he plays with courage."
Speaking of shooting the puck hard, there's little doubt what Bedard's standout skill is -- it's shooting.
Evans describes Bedard's shot as "one of the best [he's] ever seen." Opponents echoed that sentiment. Scouts described his shot as NHL-calibre, and a tool guaranteed to land among the league's elite with time and strength.
Bedard checks out virtually every box for an elite NHL shooter, including the mechanics, ability to shoot under pressure, and how he finds pockets of space off-puck. With his top hand pushed out in front, the distance between his feet to put downward pressure over the puck, and the incredible speed of his weight shifts, the puck explodes off his stick.
From that base, Bedard curl-and-drags the puck around defenders before seamlessly firing. He catches passes across his hips, putting him directly into his shooting motion, making him one of the most dangerous catch-and-release shooters in the WHL. Shortening or delaying his release allows him to adjust to what the defence gives him while shooting under sticks or through defenders allows him to flip the tables on the defender's positioning. If the goalie's set, he masks his intended placement by indicating he's shooting elsewhere.
Good luck stopping that shot.
Players with worse shots are often just long-range snipers in the CHL. Not Bedard. He takes every possible opportunity to get inside to improve his shooting location. He's fearless, stepping inside to shoot through or around pressure, seemingly at the expense of his safety.
Then, there's Bedard's playmaking. With the shot already garnering so much respect around the WHL, he's weaponized it to set up teammates. He enters a glide, pushes his hands out in front, and stares down the goaltender. Just as the defender and goaltender adjust to the shot, he laser beams a puck to an open teammate.
Then, there's vision and planning. Few players – CHL, NHL, or whenever – make the quality one-touch or quick-possession passes that Bedard does. Pressured or in open-ice, he immediately knows the next play, often hitting moving teammates through traffic, with one-touch feeds that defenders at any level can't read. If the lane's not open, he delays by deceiving or turning his back to pressure to protect the puck, then hitting his teammate with perfect timing.
The skill's obvious to see. What might not be is the improvement without the puck.
"You can see him consciously putting time into defence, making it a concern of his, making sure to do the right thing so he's in the right spot to get the puck," Struch told EliteProspects. "He wants the puck; we want him to have the puck -- he needs to have the puck.
"At this level, and the next level, if you do things the right way, you're doing to have the puck more."
---
By skill, Bedard's clearly a special player. But according to Sturch, "you wouldn't know anything about all of the hype when he's around."
Make note: Bedard's an exceptional status person, too.
The under-18 World Junior Championship starts on April 26th. If the WHL's anything to go by, the 15-year-old Bedard will be a top player at the tournament. He's eligible for two more after this one, too.
You may also be interested in: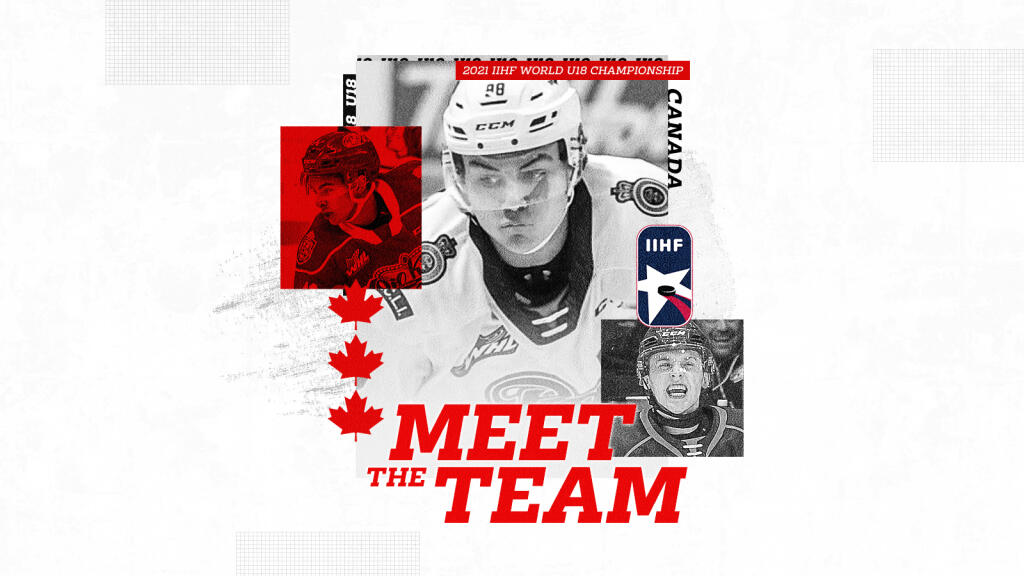 Meet the Team: Canada's Under-18 World Hockey Championship roster
This article is about: