U18 Worlds
Francesco Pinelli bounces back in emphatic fashion for Canada at U18 World Hockey Championships; "I was ready to play"
It's fitting that Francesco Pinelli flew for the Alps Hockey League to play hockey in a competitive league setting this season. He's charting a course rife with ascents and descents alike at the U18 World Hockey Championships.
Today, Pinelli reached one of the tournament's peaks, scoring a hat trick for Team Canada and earning EliteProspects Player of the Game honours as they walked all over the Swiss to the tune of a 7-0 final.
It was quite the feat for the Kitchener Rangers forward; two rebound goals, an overpowering wrist shot tally, and an assist on Brennan Othmann's third period goal for good measure.
"He cares. He's a good, skilled player who cares about what he's doing for the team, how he's affecting things," Team Canada head coach Dave Barr said in the post-game press conference.
"He's always willing to try to do what we're asking him. He understands the role of centremen -- in d-zone coverage when it's in our zone -- and the importance of what his role will be."
It was an inspired turnaround for Pinelli, who took on a spectator's role near the end of Canada's 4-2 win over the Latvians on Wednesday.
The Latvian forecheck, suffocating from start to finish, and their layered defensive structure posed problems for the Canadians, making them earn every part of that 4-2 finish. Perhaps no one struggled more so than Pinelli, though, who was on the wrong end of a number of ugly turnovers.
It was a situation that Barr couldn't abide by, so he used it as a learning experience for the supremely talented OHL forward, EliteProspects' 20th-ranked prospect for the 2021 NHL Draft.
"It's the decision-making," Barr said. "If you turn a puck over in a place where we really don't want that to happen, you're not going to spank a guy for doing that once, but it was something we had talked about with a bunch of our players, and it happened, and I didn't think it was a great decision. We're trying to hold our guys accountable.

"We're asking our guys to do certain things for the team. Francesco is more than willing to do all of it. He's a really good kid. He's super easy to coach, wants to be a player. So, I sat him there, and I really wouldn't have minded putting him back in, but he had sat for so long that I didn't think I'd be doing him any favours."

The bounceback was heartening for everyone involved. Pinelli didn't take it for granted that a roster spot would await him when the puck dropped on Friday night's contest against the Swiss, but he was ready to go when he got the call.
"I stayed focused, I stayed positive, and if coach called on me today, I was ready to play," Pinelli said in the post-game press conference. "I just came out, skated well, moved pucks, and my mindset was a good one going into this game."

Now, as the Canadians take their brief rest before facing a plucky, underdog-type of opponent yet again in the Belarusians on Saturday, Pinelli sits atop the U18 scoring leaderboard, in a four-way tie with seven points (four goals and three assists) in his first three games.
"He cares. He gives a heck. Plus, he's a very skilled player, a good offensive player, and he's got a good shot," Barr said. "He can help us in a lot of ways, both offensively and defensively."

You may also be interested in: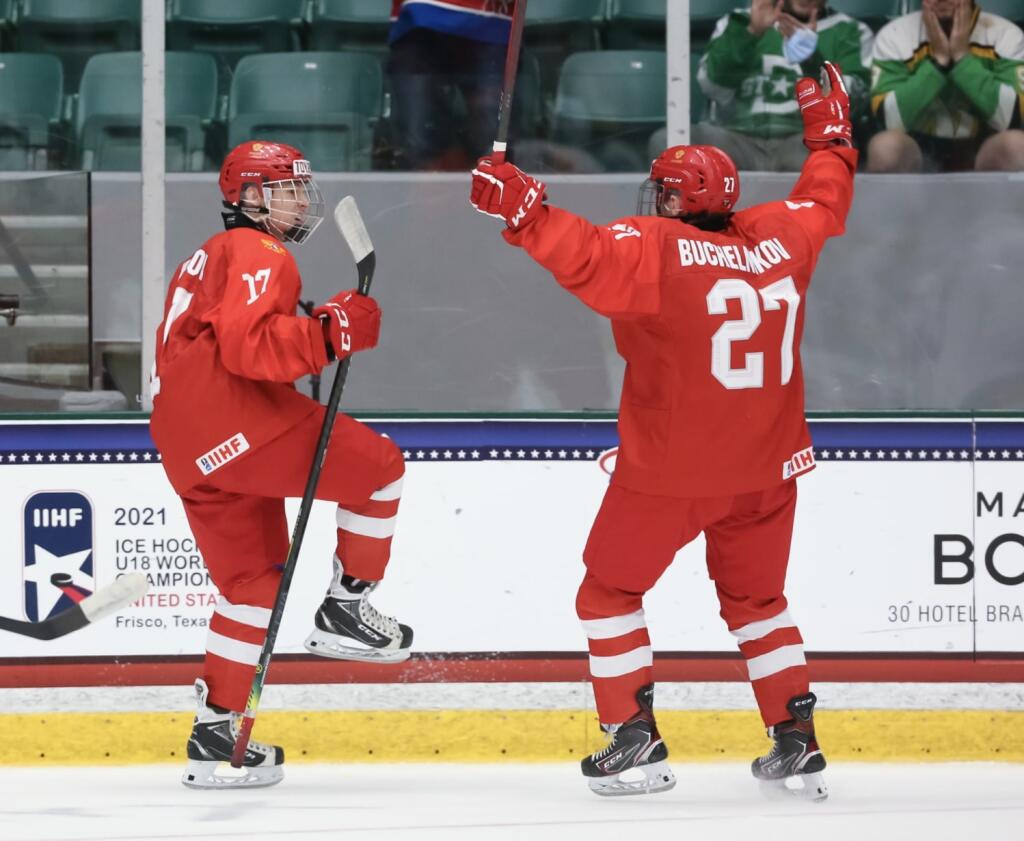 Matvei Michkov turning heads at the 2021 IIHF Under-18 World Junior Championship
This article is about: