NHL
2021 NHL Free Agency Live Blog
So begins a new league year, and it's kicking off just like any other with free agency at the top of the agenda.
Dougie Hamilton is the headliner on this year's ticket, but the list of able contributors extends well past the elite two-way defenceman. Blake Coleman, Ryan Suter, Brandon Saad, Kyle Palmieri, Philipp Grubauer, and Linus Ullmark all spring to mind near the top end of the list, but there is no shortage of secondary options either.
Things would be even more interesting if Gabriel Landeskog and Zach Hyman had made it to market, but the former signed a massive eight-year deal to stay in Colorado, and the latter is pretty much signed, sealed, and delivered to the Edmonton Oilers.
This off-season has already been one of the more exciting ones in recent memory, and free agency is only going to ratchet things up even more. One has to imagine that teams will be eager and ready to spend this year after last year's relatively tame free agent period, one limited by the newly imposed flat cap and a league-wide loss of gate revenue. The gates are open, seats are filling again, and the prospect of a more-or-less normal year has turned the cash spigots in the right direction.
We're going to cover as much of it as we can in this space, a live blog which we'll update as players find new homes in free agency and trades occur. Hell, anything interesting -- we got you.
---
Zach Hyman signs a seven-year, $38.5-million contract with the Edmonton Oilers
Shocking, I know, but free agency started with the Oilers officially locking Hyman up after weeks of speculation, much of which centred on whether they would be able to secure his rights from the Toronto Maple Leafs so that they might sign him to an eight-year deal and bring down the annual cap charge in the process.
Zach Hyman, reportedly signed 7x$5.5M, is a top line complementary winger who consistently drives scoring chances in tight. Combo of term and age is obviously the risk here. #LetsGoOilers pic.twitter.com/VjIUUTh1lw

— JFresh (@JFreshHockey) July 28, 2021
Hyman is an excellent support piece, the platonic ideal of a puck-retrieval and defensive conscience that can hang with any team's top-line. Even if the contract has the capacity to become a serious liability on the back end, particularly given the way players with this sort of profile age, there's no doubt that the Oilers have made a substantial addition to their forward ranks.
When colleague JFresh profiled Hyman, his analysis suggested that there existed a scenario where he could provide roughly even or surplus value for at least the first three or so seasons on this deal. Hell, even the fourth year of the deal isn't quite in albatross territory.
This contract is almost certainly going to hurt the Oilers at some point, but the immediate focus has to be fielding a roster that can do some damage in the playoffs, lest Connor McDavid and/or Leon Draisaitl check out on this franchise. This move helps, at least for a few seasons.
Petr Mrázek signs a three-year, $11.4-million contract with the Toronto Maple Leafs
The Maple Leafs needed to find someone to partner up with Jack Campbell in goal, a high-end backup who's shown himself capable as a tandem starter. They did about as well as one could hope to given that mandate, arriving at Mrázek as the answer to their crease question.
Mrázek, 29, only played in 13 games total last season, 12 with the Carolina Hurricanes and one with the AHL's Chicago Wolves on a conditioning stint. The emergence of Alex Nedeljkovic and injuries limited his playing time in a big way, and now he's onto the next opportunity.
Petr Mrazek, signed 3x$3.8M by TOR, didn't play enough for a card this year, but he has a solid track record. He also saved 9.2 goals above expected in 12 games this season, which is probably not sustainable. #LeafsForever pic.twitter.com/VCky2noGpr

— JFresh (@JFreshHockey) July 28, 2021
Brandon Sutter re-ups with the Vancouver Canucks for one year, at $1.25-million
The Canucks recent blockbuster deal with the Arizona Coyotes created a vacancy in the fourth-line centre spot on their depth, and all of a sudden, bringing Sutter back was an option. And when it comes to Sutter, the Canucks can't really help themselves. Who can forget such timeless classics as the team granting him the first retroactive no-trade clause in league history?
Brandon Sutter, signed 1x~$1M by VAN, is a bottom six defensive centre/winger with a decent shot. #Canucks pic.twitter.com/8AqxQo57MN

— JFresh (@JFreshHockey) July 28, 2021
There isn't much I can add at this point that colleague Jfresh didn't cover in the above-posted tweet. Sutter is a veteran presence, respected in the Canucks room, coveted for his penalty-killing and faceoff ability. He's also proven a pretty high-end finisher over his career, though, he's among the league's worst playmakers. It's a low-risk manoeuvre, and you can't go wrong with this sort of bet at the bottom of one's lineup.
Tyson Barrie re-signs with the Edmonton Oilers for three seasons and $13.5-million
There were rumblings on the eve of free agency that the Oilers and Barrie's camp were engaged on a potential contract extension, and it didn't take long in free agency for the two sides to reach terms.
Tyson Barrie, reportedly signed 3x$4.5M by EDM, is a one-way offensive defenceman whose strong passing ability and powerplay skills are counteracted by being arguably the worst defensive blueliner in the league. #LetsGoOilers pic.twitter.com/GhQLiaaApZ

— JFresh (@JFreshHockey) July 28, 2021
Barrie, 30, joined the Oilers last off-season on a one-year show-me deal, led the league's defenceman in scoring with 48 points in 58 contests, and didn't have to go far to reap the rewards of that bet. Why pass on a good thing, right? It doesn't get any better than playing in an offensively calibrated role on a team with McDavid and Draisaitl, with top power play duties.
Granted, the problem with Barrie is that his offensive output has always come at a considerable cost at the other end of the ice. He's so permissive defensively as to be the first defenceman to lead the league in scoring at his position and not register a single Norris Trophy vote in decades.
Even so, the term isn't outrageous, and the dollar figure is more-or-less reasonable for this type of player. You can live with this deal if you're the Edmonton Oilers, just don't ever confuse him for a matchup defenceman.
Carolina Hurricanes acquire defenceman Ethan Bear from the Edmonton Oilers for winger Warren Foegele
As Barrie re-signed in Edmonton and rumours circulated connecting the team to right-shot defenceman Cody Ceci, it became increasingly clear that there just wasn't room for Bear on the team's right side. Something had to give.
Likewise, Foegele was an arbitration-eligible restricted free agent, and the Hurricanes weren't thrilled with the prospect of being forced to comply with an arbitrator's ruling, should it come to that. His name lingered in the rumour mill for months as a result. And again, something had to give.
Bear, 24, has two-plus full seasons of NHL action under his belt and has performed admirably in that time as a two-way, puck-moving defender for the Oilers.
Ethan Bear, traded to CAR, is a young two-way defenceman who played well in tough minutes as a rookie and improved his results in a more limited role this season. A tough turnover in the playoffs doesn't outweigh that this is a good player. #LetsGoCanes pic.twitter.com/8HnP8Zdb6C

— JFresh (@JFreshHockey) July 28, 2021
Foegele, 25, just wrapped up his third full season with the Hurricanes, where he played a bottom-of-the-lineup role primarily but showed signs that he could handle so much more on a team with less forward depth. He'll get that opportunity in Edmonton, where he'll slot into a far more appropriate middle-six role.
Warren Foegele, acquired by EDM, is a good two-way middle six forward whose only real weakness is finishing - despite that, he still scores at a decent rate because he gets high-quality chances. #LetsGoOilers pic.twitter.com/NpVg7TWMaq

— JFresh (@JFreshHockey) July 28, 2021
Calgary Flames acquire Nikita Zadorov from the Chicago Blackhawks for a third-round pick in the 2022 draft
The Flames had a hole on the left side of their blue line after losing their captain Mark Giordano to the Seattle Kraken in the expansion draft. They've gone out and addressed that with the acquisition of Zadorov from the Blackhawks for a third-round pick in next year's draft.
Nikita Zadorov, reportedly traded to CGY, is an all-defence physical blueliner who won't do anything for you offensively and takes a lot of penalties but was a very good scoring chance suppressor this season. #CofRed pic.twitter.com/f8wcOZ18FQ

— JFresh (@JFreshHockey) July 28, 2021
Zadorov, 26, just finished a one-year deal valued at $3.2-million and is now an arbitration-eligible restricted free agent. He's as one-dimensional a defender as you're likely to ever find. He's a physical middle-of-the-lineup defender with penalty-killing utility; you're not getting much offence out of him, and he's not a particularly strong puck-mover, either.
Dallas Stars sign Ryan Suter to a four-year, $14.6-million contract
The Stars are placing a massive bet on Ryan Suter, tying up $3.65-million of their salary cap in the 36-year-old veteran of 16 NHL seasons until his age-40 season. Given Suter's age, they won't be able to get out from under this deal if things go south, and there's a high likelihood that this will occur at some point over the duration of his contract. Certainly, everything we know about ageing curves suggests that's the betting favourite.
Ryan Suter, signed 4x$3.6M by DAL, is still a solid and consistent offensive defenceman. He's also going to turn 37 halfway through this season. A lot of term but a good player in the short term at least. #GoStars pic.twitter.com/rl05V97ifd

— JFresh (@JFreshHockey) July 28, 2021
In the short term, it's a nice addition to their blue line. Suter can still ably play handle second pairing minutes, and one has to imagine he'll generate slightly better results in a more insulated role on the Stars absurdly deep back end. If he can sustain his level of play or even manage to ward off age only slightly, it's easy to see a scenario where the Stars recoup surplus value from this contract.
Calgary Flames sign Blake Coleman to a six-year, $24.9-million contract
With Landeskog and Hyman effectively off of the market at the start of free agency, that made Blake Coleman the top forward of this year's group. And boy, was he ever paid accordingly, signing for six years with the Flames at a cap charge of $4.9-million per season.
Blake Coleman, signed 6x$4.9M by CGY, is an excellent two-way second-line right winger who scores goals at a very high rate at even strength. Elite defensive results, great speed, forechecking, and scoring chance generation. #CofRed pic.twitter.com/jIWXxJEprX

— JFresh (@JFreshHockey) July 28, 2021
This deal carries considerable risk. Coleman is going to turn 30-years-old two months into next season, meaning this deal will carry him to his age-36 season. Given what we know about how players age and the force multiplier of Coleman's rugged playing style, this has the potential to become a considerable liability.
In the short term, though, Calgary locked up free agency's best forward, and they did so for more than $1-million less than what was being reported as the potential cap charge even as recently as last night. They're inarguably so much better for at least the next two or three seasons, one imagines, for this signing. There just isn't much that Coleman can't do at a high level.
Seattle Kraken sign Alexander Wennberg to a three-year, $13.5-million contract
Here's another distinction between the NHL's newest expansion franchise and their most recent predecessor: The Seattle Kraken are aggressively entering free agency in their debut season. This is only the first of many entries into today's live blog.
The centre position seemed to be the thinnest part of the Kraken's roster coming out of the expansion draft, and they addressed that by locking up Wennberg to a three-year contract valued at $4.5-million per season. It's a nice little pay raise for Wennberg, who went from a buyout in Columbus to a one-year show-me deal with the Florida Panthers for $2.25-million to twice as much annual salary and three additional seasons.
Alex Wennberg, signed 3x$4.5M, is an average-ish middle six two-way centre who went on a wild shooting bender this season (20.7%). #SeaKraken pic.twitter.com/EtaLYOUmhk

— JFresh (@JFreshHockey) July 28, 2021
It's a pretty substantial investment in a pretty middling player, and one who generated middling results last season on the strength of a massive shooting percentage bump. In other words, not the sort of investment that a team purported to be so heavily invested in analytics as the Seattle Kraken should make.
Vegas Golden Knights acquire Evgeni Dadonov from the Ottawa Senators for Nick Holden and a second-round pick in 2022
The Golden Knights aren't shy about big-game hunting in the off-season, and they kicked off the new league year with a pretty big swing, acquiring Dadonov from the Senators for Holden and a second-round pick in next year's draft.
What's really interesting about this manoeuvre isn't necessarily the addition of Dadonov in and of itself, but what possibilities this opens up for the Golden Knights. Particularly, the flexibility it offers them in any negotiations with the Buffalo Sabres for star centre Jack Eichel, a player they've been linked to all off-season long.
The Hockey News' Ryan Kennedy reported on the eve of free agency that the Sabres asking price for Eichel was Reilly Smith, Peyton Krebs, Nic Hague, and a first-round pick. The Golden Knights now have a built-in replacement for Smith, should they part with him in an Eichel trade.
Evgeny Dadonov, traded to VGK, is an all-offence scoring winger. #VegasBorn pic.twitter.com/ALcJ7s19c6

— JFresh (@JFreshHockey) July 28, 2021
The thing is, Dadonov is a hell of a player. He's different stylistically from Smith, who profiles as more of a two-way winger, but is relatively similar in terms of the on-ice value that he brings to the table. He's a little on the older side, but there's only another two seasons on his contract at $5-million per, so the risk is minimal.
Nick Holden, traded to OTT, has almost always put up excellent results in depth minutes. Whenever I post his card it really bothers the fans of whatever team he's on so seems to be an eye test vs. numbers thing. #GoSensGo pic.twitter.com/fLI3yaQm1i

— JFresh (@JFreshHockey) July 28, 2021
Holden, meanwhile, has always performed admirably in a depth role as something of an NHL journeyman. He's onto his seventh NHL organization, and he's provided excellent value in every stop to this point. It's fair to wonder if that will continue given his relatively advanced age as a 34-year-old, but the track record is undeniably strong.
Vancouver Canucks sign Tucker Poolman to a four-year, $10-million contract
Canucks general manager Jim Benning has worked dutifully to clear inefficient salary cap commitments from their books in the last week, paying a premium to send the final year of Loui Eriksson, Jay Beagle, and Antoine Roussel's contracts, and then shipping Nate Schmidt to the Winnipeg Jets on the eve of free agency.
Armed with an additional $12-million or so going into free agency, Benning had to be aggressive to upgrade his blue line. That started with the announcement that the team had signed right-shot defenceman Tucker Poolman to a four-year contract with a cap charge of $2.5-million per season.
Tucker Poolman, signed 4x$2.5M by VAN, has struggled quite a bit in his short NHL career. Often played elevated minutes this season. #Canucks pic.twitter.com/nJf9eo1C02

— JFresh (@JFreshHockey) July 28, 2021
Poolman, 28, is a physical defensive defenceman, and a player who the Canucks surely envision playing something of a shutdown role in their lineup. Vancouver was among the league's most permissive teams defensively last season, and for all of Poolman's limitations in the neutral and offensive zones, he's proven somewhat reliable in his own end to this point in his career.
New Jersey Devils sign Jonathan Bernier to a two-year, $8.25-million contract
The New Jersey Devils shored up their goaltending, finding a veteran backup for Mackenzie Blackwood in Jonathan Bernier, who they signed to a two-year, $8.25-million contract.
Jonathan Bernier, signed 2x$4M by NJ, is an average-ish 1A/1B goalie. #NJDevils pic.twitter.com/kcldUJ8c9S

— JFresh (@JFreshHockey) July 28, 2021
Bernier, 32, played in 24 games for the Detroit Red Wings last season, the final year in a three-year pact he signed with the team ahead of the 2018-19 season. He went 9-11-1 on the strength of a .914 save percentage, a testament to his quality given the porous defensive unit in front of him.
The Carolina Hurricanes acquired Bernier ahead of last week's draft in a trade that sent Alex Nedeljkovic to the Motor City, and there was some expectation that the two sides might come to terms on a new contract. That didn't happen, Bernier hit the market, and the Devils made a savvy investment on as good an insurance policy in goal as one can find in free agency.
Seattle Kraken sign Philipp Grubauer to a six-year, $35.4 contract
The Colorado Avalanche did well to lock up their captain before the start of free agency, but they couldn't agree to terms with their Vezina finalist goaltender, Philipp Grubauer. And now. he's no longer theirs.
The Kraken leapt at the opportunity to snag the top tender on the free agent market, and they sure did pay for the privilege. Grubauer is going to count for $5.9-million against the cap annually in Seattle. Combined with Chris Driedger, that brings the Kraken's crease up to $9.4-million. Clearly, goaltending was an organizational priority.
Philipp Grubauer, signed 6x$5.9M by SEA, is a consistently good but not great starting goalie who received a Vézina nomination this season mostly because he played behind the best defensive team in the NHL. #SeaKraken pic.twitter.com/2pGyBv3gRs

— JFresh (@JFreshHockey) July 28, 2021
Los Angeles Kings sign Phillip Danault to a six-year, $33-million contract
The Los Angeles Kings clearly feel that they're ready to turn the corner. First, they added winger Viktor Arvidsson to their top-six forward group. Now, they've gone out and added the premier defensive centre of free agency to that same unit, signing Phillip Danault to a six-year deal with a cap charge of $5.5-million per season.
Phillip Danault, signed 6x$5.5M by LA, is a top six shutdown centre who has been elite defensively, a top-end playmaker, and a solid offence driver in very difficult minutes with the Habs. #GoKingsGo pic.twitter.com/WWQWiG3Jln

— JFresh (@JFreshHockey) July 28, 2021
Danault, 28, doesn't score much. He only contributed 24 points in 58 regular season contests last season. But he's an ace shutdown piece, one of the league's very best defensive pivots, and someone who earned quite a few Selke Trophy votes as a result. That counts for a lot.
Between Danault and Anze Kopitar, the Kings will boast as defensively conscious a set of centres as possible. That's going to free up some of the Kings many top prospects at centre to play against more favourable matchups and let their offensive gifts shine. It's a shrewd manoeuvre if there ever was one, even if there's some long-term liability on this deal.
Seattle Kraken sign Jaden Schwartz to a five-year, $27.5-million deal
No surprises here. The Seattle Kraken were linked to Jaden Schwartz in the lead up to the expansion draft, with rumours swirling that the two might agree to a contract that would make him their pick from the St. Louis Blues. Instead, the Kraken picked Vince Dunn, and then signed Schwartz to a contract one week later.
Call it a double-dip. It's basically the only shrewd manoeuvre that we've seen Kraken general manager Ron Francis execute in his first week of serious action.
Jaden Schwartz, signed 5x$5.5M by SEA, is one of the top defensive wingers in the league but inconsistent offensively. #SeaKraken pic.twitter.com/EnPIcG7sO0

— JFresh (@JFreshHockey) July 28, 2021
Schwartz, 29, has long been an analytics darling for the St. Louis Blues, producing on-ice value beyond his already impressive counting stats. His touch as a finisher seems to be declining of late, as often happens with players at this age, but he still profiles as a reliable defensive contributor. Whether that will be the case in years three, four, and five of this deal remain to be seen.
Boston Bruins sign Nick Foligno to a two-year contract
No word yet on the details, but Foligno is joining the Boston Bruins on a two-year contract. TSN's Darren Dreger is reporting that the contract will land somewhere in the $3-million range annually, but that's about as specific as these figures get thus far.
Foligno, 33, finished last season with the Toronto Maple Leafs after joining them at the trade deadline. In total, he contributed 20 points in 49 games of action with the Leafs and the Columbus Blue Jackets before that. He's a physical defensive presence, coveted for his versatility and leadership.
New Jersey Devils sign Dougie Hamilton to a seven-year, $63-million contract
The New Jersey Devils went big-game hunting today, and managed to catch the most coveted free agent of the entire cycle in right-shot defenceman Dougie Hamilton. You can't do much better than that, and coupled with the signing of Bernier only a few hours prior, it's been a pretty great day on the whole for this franchise.
Dougie Hamilton, signed 7x$9M by NJ, is one of the league's top offensive defenceman. He's got an elite shot and loves to use it and drives play like few other blueliners in the league. Does have some issues in his own end and has a tendency to take bad penalties. #NJDevils pic.twitter.com/oyKmbcFxyj

— JFresh (@JFreshHockey) July 28, 2021
You may also be interested in: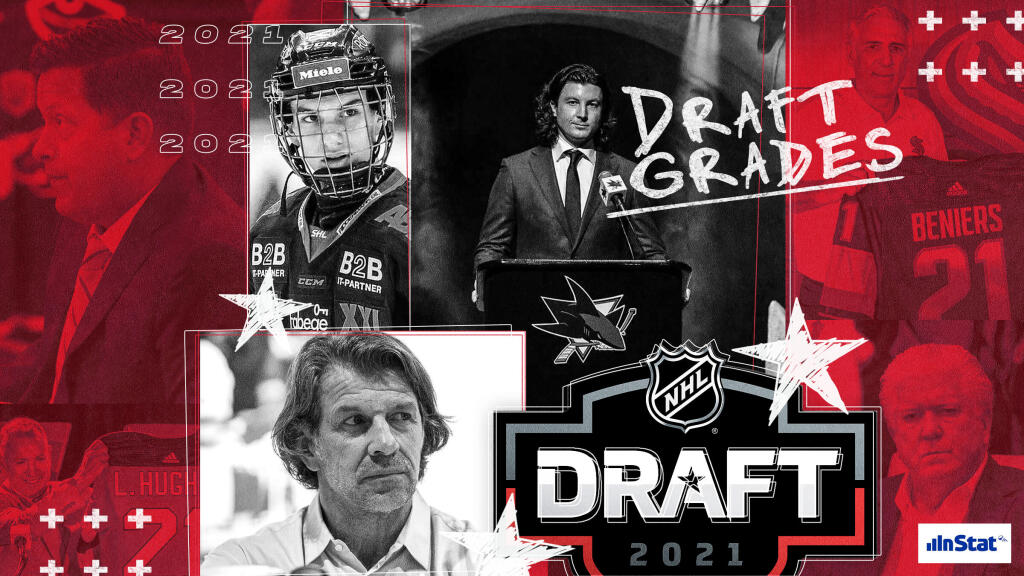 Grades for every team's performance at the 2021 NHL Entry Draft
This article is about: