NHL
Lucas Raymond vs. Alexander Holtz: Who will have more impact early on?
There is always some great discussion that comes a year after an NHL Draft. It's too early to say who was the best player and who isn't going to cut it, but you can figure out who might have the quicker impact in the NHL. Teams are always trying to figure that out so why not? Lucas Raymond and Alexander Holtz are evenly matched in more than a few ways, and they are both right wingers.
It doesn't matter where you were picked. Raymond was picked fourth overall by the Detroit Red Wings, and Holtz was picked seventh overall by the New Jersey Devils.
There is no doubt these two are two of the better picks from the 2020 NHL Draft, but organizations don't always take the best player available. Sometimes they take a player based on organizational needs. A team like the Red Wings, who have so many young, talented prospects, can afford to do that to find the better fit for a player. The Devils have a good stable of prospects as well. So don't read into where these two players were selected.
I give Raymond the edge in skating and stick and puck control. This forward can weave his way in and out of traffic. He's the flashier player for sure, and he wins more puck battles. InStat has Raymond winning 45 percent of his puck battles last season compared to Holtz's 36 percent.
Noted hockey scribe, Kevin Allen, a true Detroit Red Wings insider, said this about Raymond.
"If it were up to the fan base, Lucas Raymond would be in the Red Wings' lineup starting this October. The fan base is most excited about Moritz Seider, but Swedish standout Raymond is No. 2 in their hearts. Fans have high expectations for Raymond, believing he could be the dominating offensive player the offense needs.
"Swedish sources have said they don't believe Raymond is quite ready, but fans would prefer to let him learn on the job. (General manager) Steve Yzerman said his young players won't be handed a job. They will have to earn it in training camp.
"The best guess is that Raymond would be sent down at the start of the season and be called up after 20 games or so."
Holtz is a sniper. The Devils were fortunate to get a player with the best one-timer in that draft at that spot. His wrist shot is almost as good, and he has some playmaking in him. His two-step quickness must continue to get better for sure. His hockey IQ is very good, and that's how he finds those open spots on the ice.
Holtz can set up his one-timer on either side. Not all of them are going to go in. Many will hit the net, and that helps his teammates. As a rookie, he had the confidence to take that shot. Imagine when he's at the NHL level playing with better players. That's when he will be extremely dangerous.
Devils center Jack Hughes spoke to NHL.com's Mike Morreale about Alexander Holtz:
"I know we took him (No. 7 in the Draft) to play with me or Nico Hischier and put goals in the net. So, I mean, we'll see when that is, but we'd like him here sooner than later and being an impact player for us."
Holtz and Raymond both had 18-point seasons, and Holtz got to play in the NHL playoffs and ten games for the Binghamton Devils. Does that give him enough of an edge?
"He has a bright future. You can see why not just the Devils but all of hockey had him rated so highly in his birth year," said Mark Dennehy, who coached Holtz during a stint with the Binghamton Devils last season. "Good shot, he's a shooter. He wants to shoot. He puts himself in positions to shoot. Really good attitude. Always has a smile on his face.
"He was in a tough situation coming in here and I think it was really beneficial for him. He had a long season and probably could have ended his season there. He was able to gauge the difference between a big sheet and an NHL-sized sheet. Much more stop and starts. He left there with a great appreciation for how hard it is. Not just the NHL but the American League. It will motivate him over the summer. All the tools. He has the potential to be a scorer at the NHL level. He can collect and shoot both ways. He wasn't with us for a long time, but you could already see him getting better. His last game was his best and that's always a good sign. It'll be interesting to see the shape he shows up in for camp."
I think Holtz will beat Raymond getting to the NHL. It seems like that path is easier for him to get there faster. I don't think he will have more impact than Raymond once he gets there. The way Raymond handles the puck on the power play, as an example, makes him more of a weapon because you must respect his shot as well as he moves the puck in. Raymond won't shoot as much as Holtz, but he can score.
I think Raymond can affect more facets of the game and is generally more dynamic than Holtz. Both teams are winners, and both got future NHL stars in my opinion.
One NHL scout told me this:
"I think Raymond and Holtz will impact in the NHL this year. Holtz because he's so physically strong and can shoot. Raymond because he's so skilled and creative offensively. I think Raymond is going to be a star."
I ranked Holtz fifth and Raymond seventh in my rankings, but I am flopping here a bit based on what I've seen in the early part of both players' development. I think the overall impact of Raymond's first year will beat Holtz.
You may also be interested in: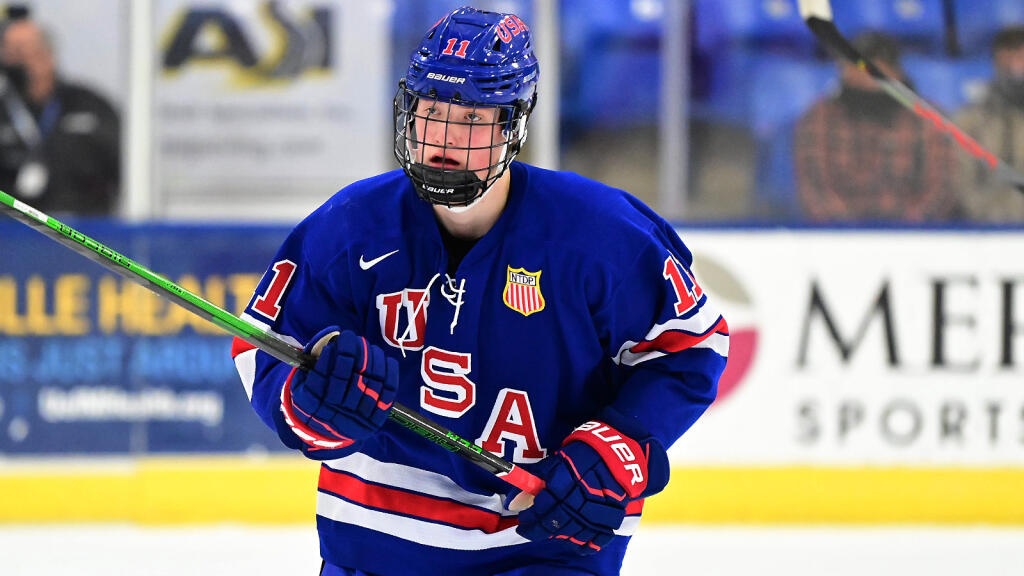 Chaz Lucius may surpass pre-draft expectations
This article is about: