NHL
Carolina Hurricanes tender offer sheet to Jesperi Kotkaniemi
Don WaddellThe Carolina Hurricanes might just be the pettiest team in the NHL.
The 'Canes tendered an offer sheet to restricted free agent centre Jesperi Kotkaniemi on Saturday afternoon, offering a $6.1-million contract and a $20 signing bonus.
No. 20, as you might know, is the number Carolina forward Sebastian Aho wears on the back of his sweater. Two years ago, the Montreal Canadiens, the team that employs Kotkaniemi, signed Aho to an offer sheet.
The Hurricanes even went so far as to tweet the news in French, just to twist the knife. This creates an interesting predicament for both teams, but especially the Canadiens, who now have one week to match the deal.
Les Hurricanes ont annoncé aujourd'hui avoir déposé une offre hostile au joueur autonome avec restriction Jesperi Kotkaniemi des Canadiens de la Montreal. L'entente proposée est d'une durée de un ans et d'une valeur annuelle moyenne de 6,1 millions $.

— Carolina Hurricanes (@Canes) August 28, 2021
"Jesperi Kotkaniemi accepted our offer. He wants to come to Carolina," Hurricanes general manager Don Waddell said in a statement, mirroring the statement from Montreal GM Marc Bergevin in 2019. "He sees the core we've built here and he wants to be a part of that. We're proud, but there's still a waiting period. When you make an offer like that, we saw a vulnerable position. The offer, with the compensation and the core we have, we realized that it was the best chance we had to get the player."
During the Aho debacle two years ago, Bergevin said, "Sebastian Aho accepted our offer. He wants to come to Montreal. He sees our youngsters coming up in the organization and he wants to be a part of that. We're proud, but there's still a waiting period."
The salary cap situation isn't ideal for either of these teams.
If Montreal matches, the Canadiens will be $2-million over their long-term injured reserve exception space. According to CapFriendly.com, the team would be more than $8-million over the cap next season if matched the $6,100,035 offer sheet number. If they decline to match, the Hurricanes will send their 2022 first- and third-round draft picks.
The Hurricanes are projected to have $4,576,417 of cap space next season, so if the Canadiens call Carolina's bluff, the Hurricanes would be $1,523,598 over the cap.
Kotkaniemi, the No. 3 overall pick in the 2018 draft, hasn't quite lived up to his draft-year billing. The 21-year-old Finnish centre had 34 points (11 goals, 23 assists) in 79 games in his rookie season, but has struggled to stay in the lineup over the last two. He was the Habs' No. 2 centre during the Stanley Cup Final but was a healthy scratch in an earlier round.
Should they choose not to match, the Habs could take that draft capital and flip it for another centre. Montreal has been rumored to be in the mix for Buffalo Sabres centre Jack Eichel. They could be just as petty as Carolina and end up upgrading to a top-line centre.
It will be fascinating to see how it unfolds. For now, enjoy the Twitter trolling.
August 28, 2021
You may also be interested in: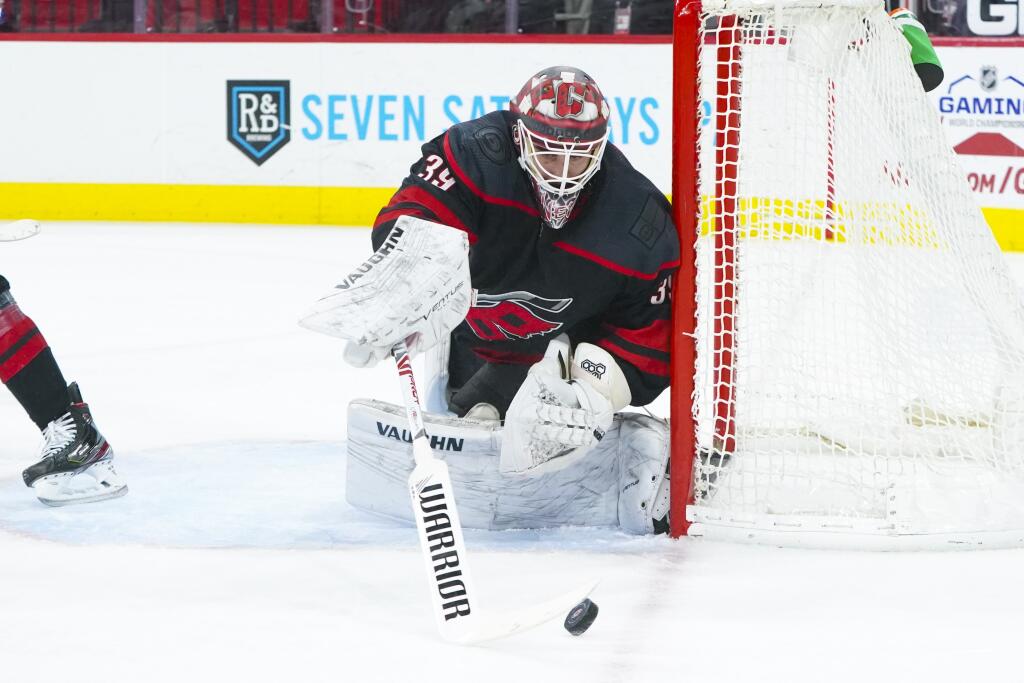 Trade Analysis: The Detroit Red Wings acquire Alex Nedeljkovic from the Carolina Hurricanes
This article is about: