NHL
Trade Analysis: The Detroit Red Wings acquire Alex Nedeljkovic from the Carolina Hurricanes
The league-wide trade freeze was lifted Thursday afternoon and we didn't have to wait long for
a fascinating transaction
to sink our teeth into. The Detroit Red Wings went out and acquired
Alex Nedeljkovic
, sending
Jonathan Bernier
's rights back to the Carolina Hurricanes in what amounted to a goalie swap for the two teams.
While it's hardly surprising to see the two names involved in a transaction this offseason given the uncertain contract status for each of them respectively, the specific nature of this move qualifies as one. Let's try to unpack it here, and make sense of what each team was thinking when pulling the trigger on this trade.
---
The Red Wings Perspective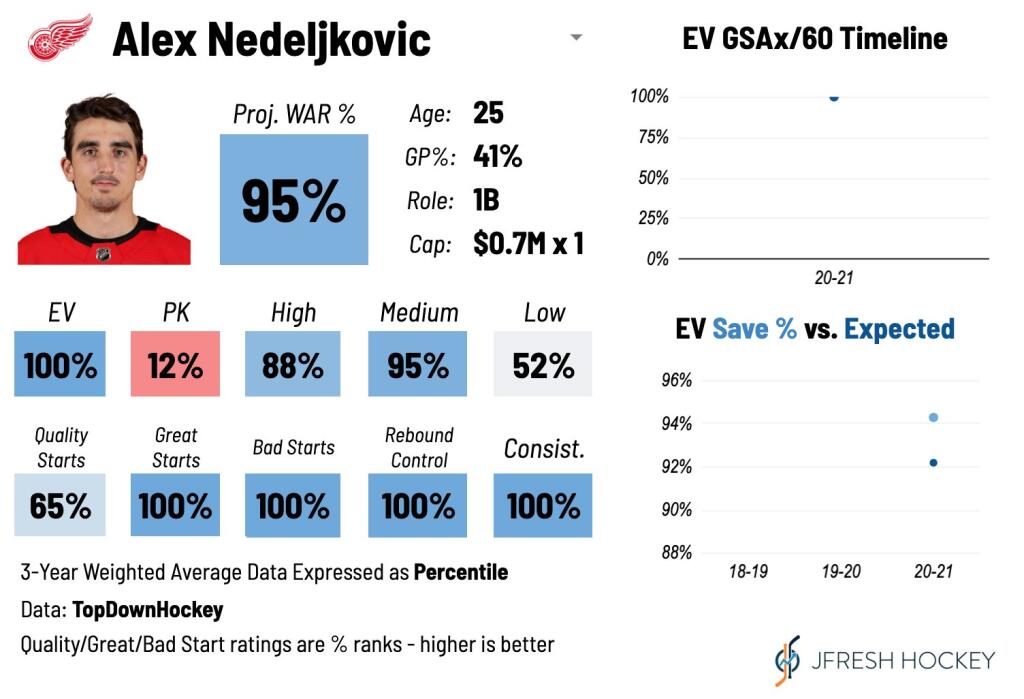 Nedeljkovic is coming off of a terrific rookie campaign, in which he finished third in Calder Trophy voting behind just Kirill Kaprizov and Jason Robertson. The recognition was highly deserved because even though he may have appeared in just 23 regular season games, they were 23 tremendously impactful ones for the Hurricanes.
Here's where he graded out in the most important goalie metrics amongst his peers (with more than 10 appearances):
Not bad for a goalie who had to patiently wait his turn after getting sent down to the taxi squad to start the year and having to pass through waivers unclaimed. After Petr Mrázek got hurt early on, he certainly made the most of his first real extended opportunity in an NHL net.
It's impossible not to love this bet by the Red Wings. While I'd typically say that investing resources in a goalie for a team that's as far away from competing as they are isn't especially prudent (that should ideally be one of the last pieces of the puzzle), this was too good to pass up.
The acquisition cost is meager, to say the least. Even after you subtract the third-round pick they sent to the Hurricanes, they still have five picks in the first three rounds of the upcoming draft (including their own 3rd, because the one they traded belonged to Vegas), and ten picks total. We just saw the San Jose Sharks pay a second-round pick for Adin Hill, who is the same age as Nedeljkovic but has markedly less encouraging results at this level thus far.
Nedeljkovic is still just 25 and has plenty of room to keep growing with the team in front of him over the next couple of years. Trading what they did for him on even the off-chance that he's their goalie of the future is a significantly more appealing alternative to investing a top draft pick in a goalie prospect that'll take years to even appear in a game, which is what people have been clamouring for them to do over the past couple of years because of the lack of talent at the position in their pipeline.
It presumably changes the calculus for a team that was linked to Jesper Wallstedt (conveniently the 6th ranked prospect in our Elite Prospects Draft Guide) with their 6th overall pick, freeing them up to more comfortably take the best skater available.
The lesson here, as always, is that if Steve Yzerman is calling you, you probably shouldn't answer. I'm not sure how many more examples we need before other teams wise up to this, but trading with him is generally a bad idea. A good strategy for anyone running an NHL team is to identify the weak links amongst the 31 other general managers and keep calling them until they trade with you. Dealing with Yzerman at this point is essentially doing the exact opposite of that.
The Red Wings still face quite an uphill climb, as a team that's coming off of a historically poor season only two short years ago. They need more talent pretty much everywhere, and it's going to take time to acquire it. But they're on the right track, and calculated high upside value plays like this one are plenty of reason to remain encouraged about the future outlook of the organization.
The Hurricanes Perspective
This one is much less clear, and based on the initial optics, quite a bit tougher to stomach. It's fair for them to be cautious about buying into Nedeljkovic's performance after such a small sample of game, as is generally being reluctant about investing heavily into such a volatile position.
But we're not exactly talking about Carey Price or Sergei Bobrovski financial figures here. They were reportedly wary of being stuck with the tab in an arbitration settlement, which could've climbed to the ballpark of $4-million or so per season. He and his camp apparently were looking for $3.5-million, and settled for $3-million per season with the Red Wings (making $2.5-million in year one, and $3.5-million in year two).
That cap hit makes him the 25th-highest paid goalie in the league heading into next season, and that's before a handful of his peers sign for more in free agency this summer. It seems like a perfectly reasonable ask, which makes it even more puzzling that the Hurricanes found it to onerous to match themselves.
Where they go in net from here is an interesting question. They'll presumably try to retain Bernier by attempting to negotiate a new deal before he hits the open market when free agency begins July (if they haven't already). I've got a lot of time for Bernier, after how admirably he performed under highly adverse playing conditions over the past two seasons.
He's an excellent option as one-half of a timeshare, so it makes sense that the Hurricanes would identify him as such for the opening they have at the position moving forward. If that is indeed the case, then we'll see if they bring back Mrazek to split the crease with him. If not, there's no shortage of other intriguing options that should be available for a reasonable price.
Whether it's signing someone like Jaroslav Halák on the cheap, or trading for a Darcy Kuemper, there is any number of ways they figure to be fine in net. Whoever plays in net for them will be stepping into an advantageous situation, where they'll be able to put up good numbers.
Because of that, I don't want to make it seem like it's all doom and gloom here for the Hurricanes, because it's certainly not. Frustration is justifiable is because this ties into a bigger picture concern about the franchise and the way it operates financially. They've come under scrutiny for their seeming reluctance to spend top dollar in the past. This won't help quell any of that noise.
The reality is that every team is going to operate under a different internal budget, and the pandemic has complicated matters by making most clubs conscientious about how they spend. But the Hurricanes have the roster of a team that should have legitimate aspirations to compete for a Stanley Cup and should be acting accordingly as a result.
As we just saw with the financial gymnastics the Tampa Bay Lightning - who ironically beat the Hurricanes in round two - performed all season, that can be an expensive venture. But if you're not willing to do what it takes to achieve the ultimate goal, then what's the point of being in the league to begin with?
It's a shame that this is a real talking point for a group that has as bright of a future otherwise as the Hurricanes seem to have.
You may also be interested in: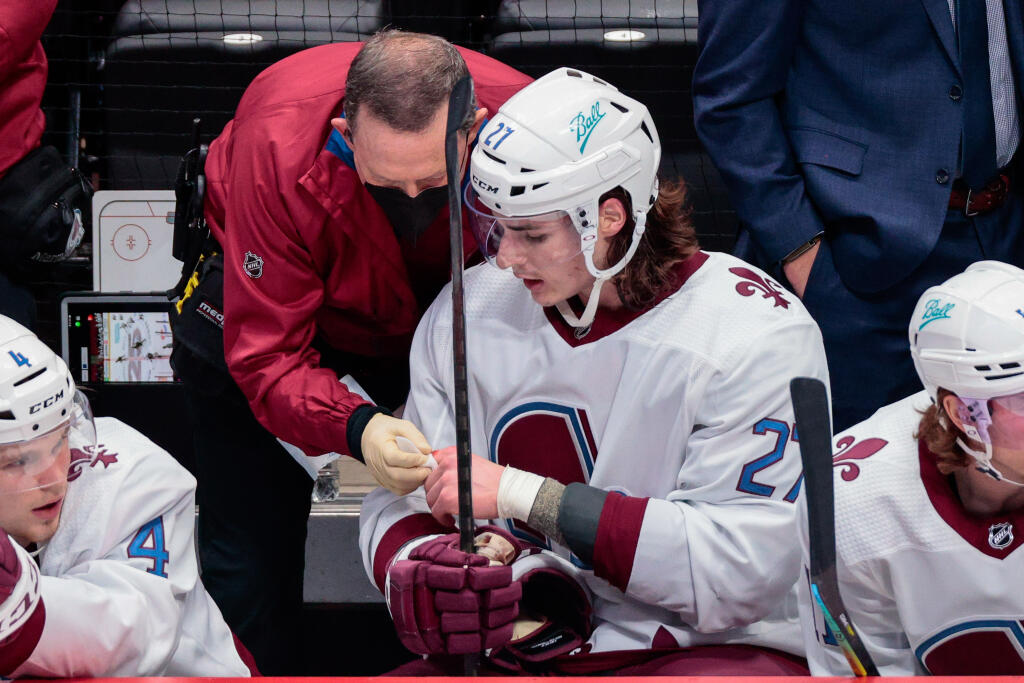 Trade Analysis: The New Jersey Devils Acquire Ryan Graves from the Colorado Avalanche
This article is about: