NHL Prospects
New York Rangers are banking on Braden Schneider and Nils Lundkvist long-term
NHL teams are always looking for a right-shot defenceman. The New York Rangers already have a Norris Trophy-calibre one in Adam Fox, and soon they will be adding Nils Lundkvist and Braden Schneider, both are right-handed as well.
Lundkvist is 21, and playing overseas has been great for his development. Last season with Luleå HF, the blueliner had 14 goals and 18 assists in 52 games. When he starts his NHL career, the likelihood of him being on the power play is slim, so other parts of his game are going to have to shine for the Rangers to want him to remain with the team out of training camp.
"It's been a good couple of weeks competing hard and now playing games against Philly. Some high intensity with a lot of skilled players" Lundkvist recently told EPRinkside. "It's going to be good going to main camp."
This talented Swede has a knack for holding on to the puck to make the right play. He's patient. There was a time when he would make a risky pass but based on what I saw in the preseason games against the Flyers, he's not doing that now. And don't worry, he has moves as well. He can shake 'n' bake the opposition.
Lundkvist will move in if you give him the room and bury a goal. He did that in the second Flyers-Rangers rookie game and got the game-winning goal.

"It's a bit of an adjustment here. It's been fun. It was fun to score that goal when it was 2-2. It was a great win for the group, and that will give more confidence," he said.
There was a point on the ice when Lundkvist had the puck, and Philadelphia Flyers prospect Samu Tuomaala was trying to get it. He waved his stick at the puck a few times, and Lundqvist curled and made the play with confidence. That was a teachable moment for both players, but it's clear the Rangers' prospect has a greater sense of what he can do at this level.
Schneider is known for his punishing hits and solid defence. Even though he's 6-2, 202 pounds, he's only 20 years old so his man-strength isn't quite there yet. He's a massive competitor, and that can get him far even this season. In the pair of rookie games, the rearguard was smooth up the ice. He had his head up, and his passing was accurate.
There is more to playing in the NHL than that, but it shows that he's making a transition.
"I want to show that I can play at the highest level. It's my first camp, so it's a bit of a learning experience. I want to show that I can play with the big boys," Schneider said. "The intensity is high, and so the physicality is high."
Development camps are full of instruction, and that's great, that's a way for an organization to get players to be more structured as a group. To get in these two games to follow that up is very valuable, and some players can highlight more of their attributes that way.
"The full game atmosphere is what really brings out my game, I think. I like being strong on the D side of things, and I like being physical. Scrimmages help my game a bit more," Schneider stated.
Schneider is very committed to playing great in his own zone and taking a hit to make a play is a big part of that. Knowing that you can't always be the aggressor, sometimes you must win puck battles and get the puck going the other way to jump-start the offence. This prospect only played in 39 games in total last season. Not all with the same team, so that probably wasn't the ideal development model, but he played, and in the end, that's what matters.
InStat had him down for 59 percent in winning puck battles, and he took 0.68 hits per game. Don't worry, he dished out 0.93, but the main point is, most of the time, he's coming away with the puck.
Schneider just turned 20 so being behind Lundkvist in development is fine. He's not that far behind, but you could tell who had more experience by the types of plays they made in these games. Both will never be paired with each other unless the other switches sides, but both could be a nice addition to a Rangers blueline that's getting better every season.
I am pencilling in Lundkvist to make the Rangers out of camp. He will probably start on the third pair, and that's fine. Let him work his way up. New head coach, Gerard Gallant will appreciate his hockey IQ and the fact that he never panics on the ice.
Schneider will start the year with the Hartford Wolfpack and play in all situations including the penalty kill. He did play a couple of games last year in Connecticut, and this year he can be a big cog for that team.
So while there is always that chance for a call-up, I doubt that's the plan. A full year in the AHL will let his game develop. Especially a physical game. His offence is underrated that will be interesting to see how effective that part of his game will be at the AHL level.
The Rangers have a lot of young defensive talent. They used their picks wisely and once these two fully develop, watch out.
You may also be interested in: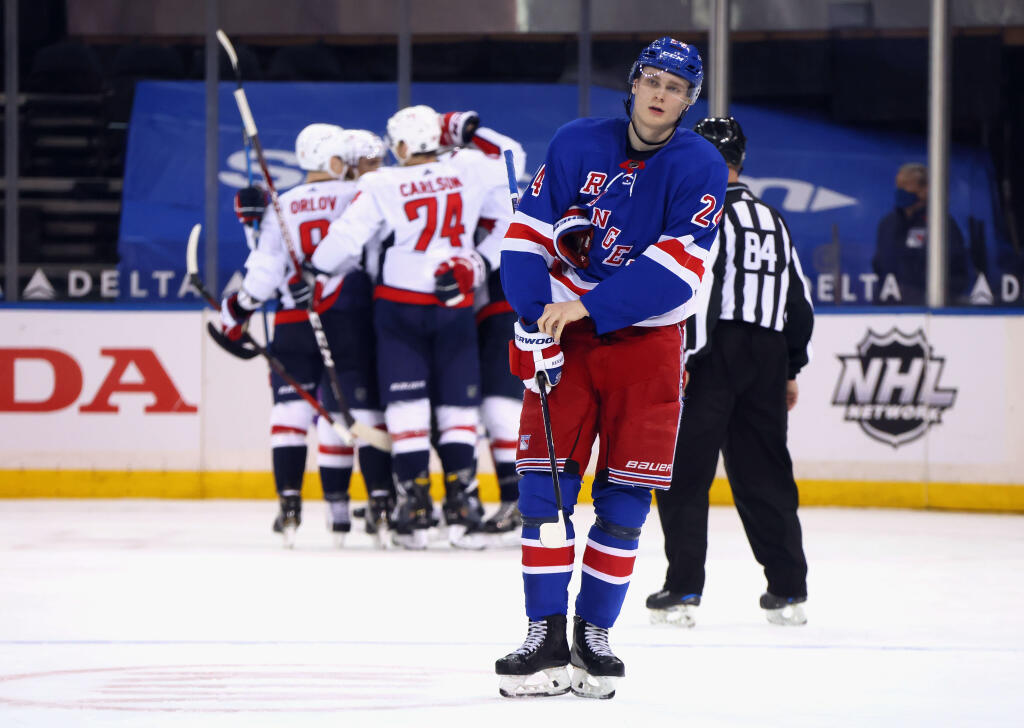 The Path ahead for the New York Rangers
This article is about: