NHL
Finally: In blockbuster trade, Vegas puts it all on Jack
After all these months, maybe the deal was always going to be underwhelming, but the Buffalo Sabres have finally traded Jack Eichel to a thunderous response of, "That's it?"
The star center, who will soon have his preferred disc replacement surgery, and a 2023 third-round draft pick, is heading to the Vegas Golden Knights for the surprisingly small package of Alex Tuch, Peyton Krebs, a top-10 protected 2022 first-round pick and a 2023 second-round pick.
Clearly, this was a situation where the centerpiece of the deal was damaged goods, the Sabres' insistence on not retaining salary, Eichel's trade demand and the protractedness of the entire saga no doubt further hampered the return.
Nevertheless, to get a player of Eichel's quality for the cost of a strong prospect in Krebs (rated first in Vegas's 17th-ranked farm system, and considered the 11th-best prospect overall), an also-injured top-six winger in Tuch, and a couple picks that aren't likely to net the Sabres another elite prospect? Golden Knights general manager Kelly McCrimmon pulled off a tidy little trade for himself.
On the other side of the trade, well, Buffalo got a few things. Perhaps most notably, they got out from under Eichel's contract and a long-brewing PR headache, without sending him to an Eastern Conference rival. But Adams also got a strong prospect in Krebs who should be a contributor for them for years, a player in Tuch he can either keep for a while (he's signed through the next five seasons and is two years away from trade protection) or flip at some point in the future to further aid the rebuild.
Tuch is, however, still recovering from late-July shoulder surgery and will be out until mid-January or so.
They also receive a first-round pick in the draft next June. Given the slow start for the Knights (fueled in part by the litany of injuries they are dealing with that both allowed for and necessitated that they take on Eichel's contract), the fact that Buffalo will not receive it this year if Vegas somehow ends up with a top-10 selection is just further proof of how limited the market really was.
The rumored package out of Calgary that was making the round 12ish hours before the trade to Vegas went through was significantly stronger and reportedly included Matthew Tkachuk, but one now imagines it might have been someone trying to juice the return out of Vegas.
The problem for Vegas is that there's no telling for sure whether Eichel's preferred surgery will work, but if it does and he returns to his previous levels of effectiveness, the Knights finally have a true No. 1 center.
Eichel between Mark Stone and Max Pacioretty has the potential to quickly get into Best Line On The Planet territory and moving both Chandler Stephenson and William Karlsson one spot down the lineup only makes them more dangerous come playoff time. Of course, they have to get there first and the way things are going, that's not exactly guaranteed.
But given what we knew of Eichel's injury and his age, this was always a win-in-the-not-too-distant-future move, no matter who got him. It will also likely necessitate future moves to accommodate his sizable cap hit. In the meantime, if nothing else, they get to bask in the glow of being the team that won the Eichel sweepstakes and sell a bunch of No. 9 jerseys.
Not a bad way to start a Thursday morning.
You may also be interested in: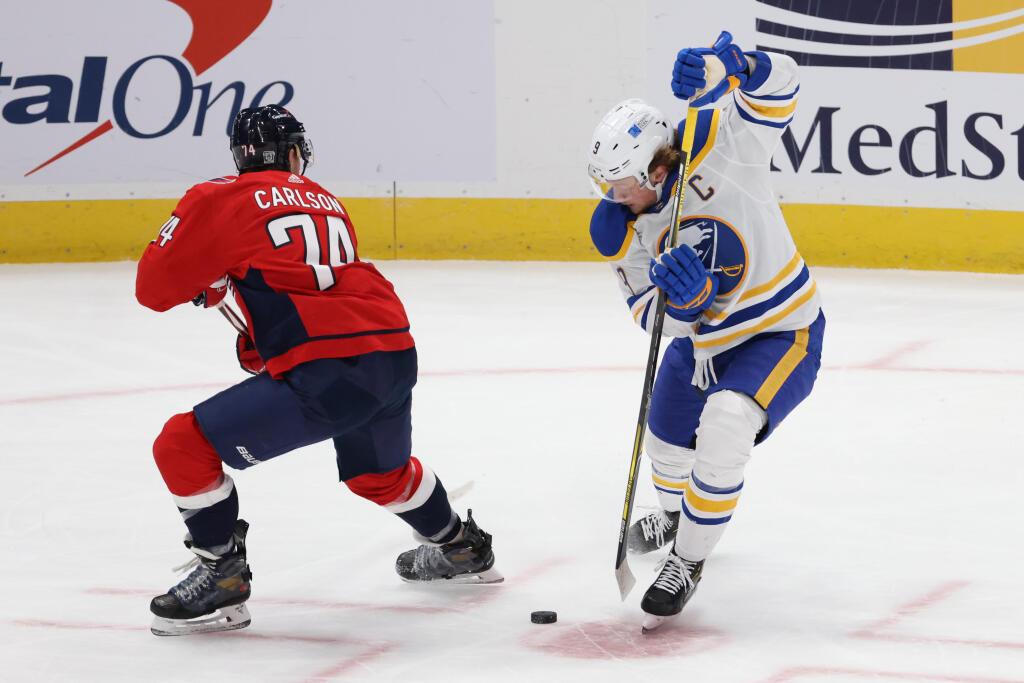 EP Rinkside Mailbag: Jack Eichel's destination, All or Nothing, and whether this season is fake
This article is about: