2022 NHL Entry Draft
Frank Nazar is one of the most exciting prospects in the 2022 NHL Draft
Frank Nazar is a top prospect and a centre for the USNTDP U18s, a collection of the best under-18 hockey players in American hockey. Standing out on a squad like that can sometimes prove difficult. That hasn't been the case for Nazar.
He's yet to play a shift when I was in attendance that didn't have me leaping out of my seat, his creativity with the puck on his stick the usual culprit.
For opposition coaches, it's a code to crack. They like to have their defenders limit time and space to take away scoring opportunities; to limit a skater's chances at creating a highlight-reel play; to frustrate them.
Nazar doesn't get flustered. Even if the opposition takes away a slick pass or intercepts an opportunity around the net-front, it's right back to business the very next shift. You can practically see him going into the lab on the bench, scheming for his next shift. And it rarely if ever fails. There's always something worth jotting down in my scout's notebook.
I've had a lot of viewings of Nazar this year, many of them live. The difference with watching him live is the feeling you get when you see him perform. You can feel his energy. He has good speed and he's able to keep the defence on their heels. Nazar moves them back on a lot of shifts.

The combination of his pro-ready build and game-breaking ability make Nazar a nice compromise between a safe bet and a home run swing. That'll probably place him somewhere between fifth and 15th overall when it's all said and done at the NHL Draft in Montréal this July.
The scouts who were at the 2022 All-American Game in Plymouth saw something special from Nazar. During the game, he was selfless, trying to set up his teammates. It's an All-Star game and he didn't try to overdo it. When the shifts came in overtime, that's when he started to spread his wings.
Something kicked in during that extra frame. He showed terrific technique on his faceoffs. His game speed showed with that extra space on the ice. Nazar was now an offensive weapon and that's something he will do at the next level. It's a bonus like when Mathew Barzal gets those situations with the New York Islanders. I'm not using him as a comparable, but we all see how Barzal can take command in overtime.
Right after the game, I asked a scout about this emerging pivot.
"Frank is a speedy centreman that can make plays off the rush and competes with energy and tempo at both ends," the NHL scout told EP Rinkside.
Nazar's bag of tricks is overflowing in the offensive zone; I've even seen him shoot the puck from his knees on occasion. He can take it from his own end and create, too. And if you're on Nazarr's line, keep that stick down at all times -- there's always a chance he can find you with the puck.
The Mount Clemens, Michigan native is already a perfect second-line centre candidate long-term. That's what he's been playing this year. He must continue his solid puck retrieval and overall two-way ability.
Another pro ability in Nazar's toolkit has is the art of drawing penalties. With the offensive abilities at his disposal, getting on the power play is a must, a force multiplier on an already exceptional skill set. According to InStat, Nazar has drawn 26 minutes worth of penalties. That's a massive value add, and knowing how good his team is on the power play, this is a key point that has led to more than a few wins, I'm sure.
Ultimately, though, it's Nazar's skill as a distributor that is best of all. The impressive part of this video is the patience of the pass. Yes, it's a 2-on-1, but it's easy enough to make a mistake and against a team like North Dakota, the ease with which Nazar looked off the defender and then slid the pass perfectly to Isaac Howard was pro quality.

Don't discount his ability as a finisher though, either. The stickwork on this play and his battle are evident. The quick release on his shot doesn't hurt. To say the opposition had trouble containing him is an understatement.
Nazar will be one of those players that pundits look back on when they re-draft 2022 and decide that too many teams passed on him and then wonder how it happened. He's that good.
You may also be interested in: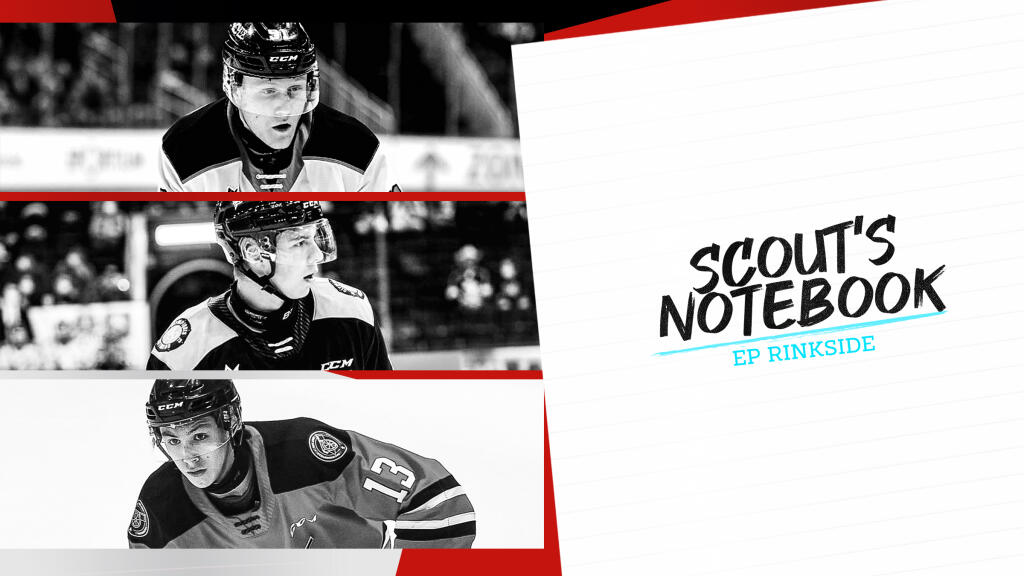 Scout's notebook: The progression of 3 QMJHL prospects for the 2022 NHL Draft
This article is about: