2022 NHL Entry Draft
Brad Lambert believes playing up in age will pay off
Brad Lambert is one of the most interesting players in the 2022 NHL Draft. He could be a top ten pick when it's all said and done. A lot of that will depend on how his season finishes out with the Pelicans in Liiga. Lambert believes in his game and thinks the best is yet to come.
Lambert was with JYP and eventually left. He had a good reason for making that decision.
"It was fine there. Nothing bad happened. I had great coaches and teammates there," Lambert said. "I think it was more the Pelicans needed a player, and they were in a playoff position. Playoffs are my favourite time of the year. I thought this would be a great opportunity. I'm trying to help this team make the playoffs. It's my hometown team, and I knew most of the players beforehand. Everyone I talked to had nothing but good things to say about the Pelicans. That helped me make my decision."
As for his time with the Pelicans, it's still developing. Lambert expects good things to happen, and there's no reason to think otherwise.
"I think my season is going pretty well. We've been playing pretty well. We can improve a lot. We won some big games and lost some others. It's been good, and the coaching staff has been great, teammates are great," Lambert stated. "I haven't personally scored as much as I've wanted to. I have some bad puck luck going. I'm hoping that I can get it going towards the playoffs. I want to go as far in the playoffs as possible."
The Pelicans have an interesting mix. There are a lot of NHL prospects on this team and not as many older veterans.
"We have a few young guys on our team and maybe not as much experience as some other teams. We're a fast team. Young and energetic," Lambert said with pride. "I think we can use that to our advantage."
You can't deny Lambert's talent base. Scouts know what he is capable of, and the tools are all there. It's just a matter of time for it all to click.
"Lambert: superior athlete. Blazing speed. Quick hands. Dangerous shot. A real game-breaking offensive talent," a scout said. "Needs to use his teammates more consistently. Should be a dynamic 1-on-1 player, goal scorer. ... NHL fans will see him routinely beat defenders with speed and score on the fly."
Lambert moves fast, but he has great hockey instincts when playing at speed. His vision is something that is a cut above. Those are two things that scouts look for and it seems like it's hard-wired into Lambert's brain especially when he brings the puck up the ice.
"It's about trusting your instincts. You practice pretty much all your life. When you get into that game situation you can't overthink it. You make a play that you see open and make it quick," Lambert reiterated. "I don't overthink stuff. You see the ice, and if you have a few options open that you see on the ice. You decide which is the best one and which one opens up the most. It depends on how the opposition plays it.
"Sometimes something you weren't looking for opens up, and it's the best play. You make that decision quickly and make the play. I go with what feels right. Playing with men this year and last. Maybe if it's late in the third going around a guy and trying to beat him one-on-one isn't the best play. You dump it in and make the same play. If it's a tie game, I'm an optimistic thinker. I want to be the guy who scores not the guy who makes the mistake. I'd rather be the hero than the guy afraid of making a mistake."
The IIHF World Junior Championships were going to be big for Lambert. In two early games, he had five points. And then the tournament was cancelled due to COVID-19.
"The men's league is a lot more physical. When you play against your own age group it can be a bit of a step down," Lambert feels. "When you're used to a more physical faster-paced game, and then you get to play with your own age group. You get more confidence like the World Juniors. I struggled a bit earlier in the season and then got to play with (Samuel) Helenius and (Ville) Koivunen. We were really good from the first practice. It translated into the game. It was a good first two good games, and then unfortunately it got cancelled."
Lambert continued, "I was sad that the tournament got cancelled. I thought we had a great team atmosphere. I thought we could have gone pretty far. You have to put your health first. It's a decision they made, and it was upsetting. It was tough to see it end."
The tournament has tentatively been rescheduled for August. It will be completely restarted, so none of the previous statistics will count.
"I'm hoping they find a way to make it happen," he said before it was announced.
Playing under pressure is something hockey players are used to, but some feed off it. Lambert loves when the spotlight is brightest, and that's a trait that can drive a player.
"I've always been that way," Lambert said. "I can raise my game when the game is big. I always seem to play well when the pressure is on in a big game or a big tournament."
North American ice could help Lambert. Sometimes changing off the bigger sheet and be a big positive for a player.
"I think the North American ice is better for my game than the big ice," Lambert admitted. "My explosiveness and my puck handling and tight turns in the offensive zone. You are in more positions to shoot. Any time you are in a smaller rink you are closer to the net. I think it will help me."
Lambert will have to win some corner battles when he comes to North America, and he's not going to shy away from that contact. He now weighs 178 pounds, and he has big shoulders that can support more muscle in the future.
"That's something I've been working on the past couple of seasons," Lambert said. "Playing with men, getting stronger, and being able to win those one-on-one battles. I think I'm doing a good job of that with the Pelicans. Winning battles in the defensive and offensive zone. I'm trying to improve so I get to have the puck more."
Like any young player, Lambert watches a few players in the NHL. Both are centers, and that's probably the position he wants to play at the next level.
"I like to watch Mathew Barzal and Nathan MacKinnon and those are guys I try to learn from. Maybe try and play a little like them."
Playing in a men's league can be a struggle to get points rather than playing against his age group. Lambert believes the struggle is worth it.
You may also be interested in: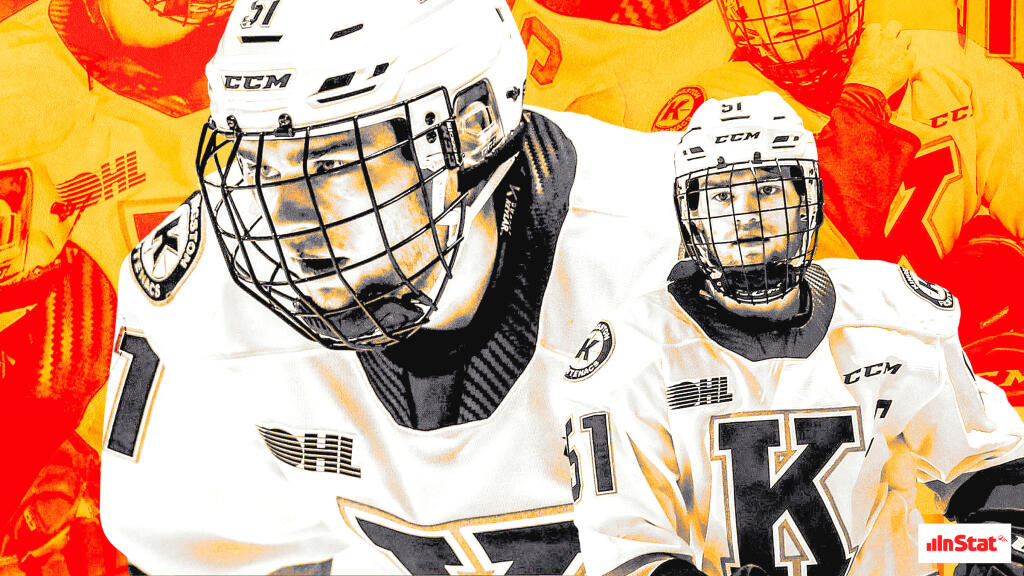 The many challenges with Shane Wright's projection ahead of the 2022 NHL Draft
This article is about: