NCAA
Frozen Four Game 1: Denver locks down Michigan en route to OT win
BOSTON — This is not the game Michigan would have wanted, for reasons beyond just the final score.
The Denver Pioneers came in as the underdogs against the No. 1 team in the nation, with its galaxy of future NHL stars, and held that super team to just 21 shots on goal in almost 75 minutes of hockey in the national semifinal. They won 3-2 on Carter Savoie's overtime game-winner.
"No words to describe it," Savoie said. "Best feeling ever."
It's really hard to talk about this game in terms of how good Denver was, because while they were quite good, it was more about how the Wolverines were noticeably bad. Say they were forced into that poor play by Denver, if you'd like.
The Wolverines' best players — Matty Beniers, Brendan Brisson, Kent Johnson, etc. — these guys came alive in OT after having been missing in action for most of regulation. But as the extra period wore on, Denver began to reassert the control it held for most of the game.
So while Savoie's winner wasn't exactly against the run of play, it did seem to come out of nowhere. On a brutal defensive zone breakdown.
i'm not even exaggerating when i say this goal might feature one of the most costly and catastrophic DZ breakdowns i have ever seen pic.twitter.com/fHlKOqk058

— Lauren Kelly (@laurkelly24) April 8, 2022
Throughout, the finer points of Michigan's game, with all the precision you might have come to expect, were missing for much of regulation. There were plenty of rush chances negated by careless offside violations, numerous scoring chances put wide of the net, careless penalties, passes to no one, and so on.
Denver, on the other hand, more or less set up anti-tank defences in its own zone and rarely let the Wolverines get near the net even when they could enter with possession. They also didn't commit a single penalty in the game and, against a team with as much obvious talent as Michigan brings to the table, that's a big reason why this game was so close for so long.

"You don't see teams win 6-4 in games like this generally," said Denver head coach David Carle. "You have to be comfortable in tight, checking games. And for me it was a really exciting hockey game because you saw a lot of talented hockey players commit themselves to playing team defense on both sides. And it was hard to score goals tonight."
This is a Denver team that thrives at 5-on-5 (with a shots-for percentage coming into the game at more than 61 percent, and more than 68 percent in even-strength goal share) and scored more power play goals than anyone this season. The fact that they could hold this Michigan team to so few chances is therefore not really that surprising, even given the quality of opponent.
One of the stated goals for Michigan — so skilled, so deep, so highly touted — coming into the game was to get off to a fast start and pressure the Denver defence. But this is why they have all those sayings about the ultimate futility of planning: The Wolverines' first shot on goal came more than 14 minutes into the first period. And they were already trailing; a well-placed Justin Lee shot produced a big rebound (a rarity for Wolverines goalie Erik Portillo, who made 30 saves in the loss), and Brett Stapley was there to skillfully pick up the pieces, casually tucking the loose puck into the goal.
Brett Stapley (#GoHabsGo) opens the scoring at the #FrozenFour for @DU_Hockey, sending the rebound past Erik Portillo for the 1-0 goal.

Jack Devine (#2022NHLDraft) and Justin Lee the assists on the play. pic.twitter.com/IGBS790KWL

— EP Rinkside (@EPRinkside) April 7, 2022
That was a problem, because Denver entered the game with just one loss from the 22 games in which they scored first. Giving a team like the Pioneers the chance to climb into the driver's seat like that is hardly ideal.
But early in the second period, it quickly became apparent that Michigan had regrouped during the intermission. After a few probing efforts got close to the net, Jimmy Lambert opened the Wolverines' account with a nice follow on Nolan Moyle's net drive off the rush.
For a meeting between teams that finished second and fifth in the nation in shots on goal per game, and first and third in goals per game, one might have imagined this one would have been a little more, shall we say, high-octane. But this is playoff hockey and to any coach on earth, the preference will always be to win 2-1 or 3-2. Thus, it felt more like a matchup between the teams that finished seventh and 10 in goals against per game.
As such, things remained even through 40 minutes and the teams had a whopping 25 combined shots on goal.
Early in the third period, Cameron Wright gave Denver the lead back, tipping in a point shot from Michael Benning a good distance out from the net. And that, finally, pressed Michigan into taking the game by the scruff of the neck. Faced with a third period deficit against a team that doesn't give up a lot of goals, Mel Pearson's team began using that massive collection of talent to its fullest extent.
Suddenly, Magnus Chrona (20 saves) was spending a lot more time tracking the puck as it careened wildly through the Denver defensive zone. The Wolverines were skilling it up and maintaining more possession than they had for large stretches of the first two periods. Then the breakthrough; Thomas Bordeleau levelled at 9:09 of the third on a rush chance from Michael Pastujov.
Thomas Bordeleau (#SJSharks) scores on the counter play to tie this game up at 2-2 for @UMichHockey.

Michael Pastujov the assist, and credit to Mark Estapa for the shot block that made the play happen. pic.twitter.com/3efRBB68CG

— EP Rinkside (@EPRinkside) April 7, 2022
But two more late penalties for Michigan put a damper on its continued assault, and Portillo was once again making a lot of saves from dangerous areas around his goal. The end of regulation offered the Wolverines a welcome reprieve from the renewed onslaught.
"They're fantastic," Pearson said. "You need seniors to lead your team. Not only did they score those goals, they were the leaders and handling all the expectations and the young people. They played their best hockey when they needed to. They stepped up."

Now the Wolverines face an uncertain future. They have a coach whose contract is up and unlikely to be renewed. They have a litany of pro-ready players who could bolt for the NHL and forgo at least a year or two of NCAA eligibility by the end of the weekend. They will no doubt lose players to the transfer portal. Much of the architecture of one of the most talented college hockey teams ever assembled will be gone, stripped almost to the studs.
Meanwhile, Denver goes on to the national championship because it forced that maybe-the-best-NCAA-team-ever-assembled well out of its comfort zone and dictated terms for the vast majority of this penultimate game of the season.
Everyone plays from October to April to make it to the national title game. Only two teams get to do it. And being No. 1 for most of the year doesn't mean anything. Denver earned it. Michigan didn't. It really is that simple.
You may also be interested in: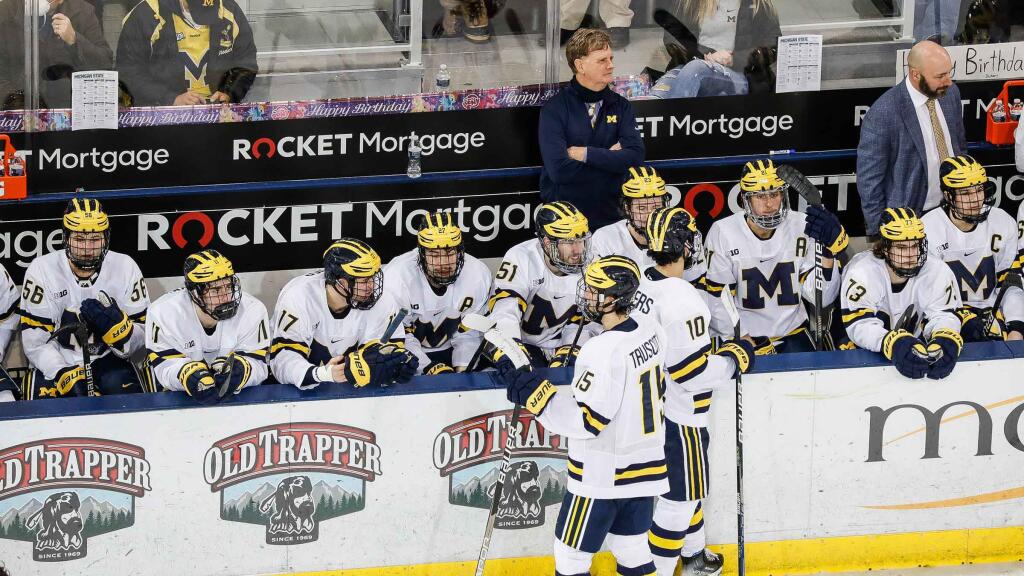 NCAA Tournament Takes Day 4: Minnesota rolls, Michigan squeaks by en route to Frozen Four
This article is about: