NCAA
NCAA Championship: Monster third period powers Denver to record-tying ninth title
BOSTON — For the vast majority of the game, the Denver Pioneers found themselves in an unfamiliar and uncomfortable situation.
It wasn't just that they were trailing against a dangerous opponent; they had done that more than a handful of times this season. But it was more that they were being suffocated. Through 40 minutes, they had just eight shots on goal, and it felt fortunate that they were only down a single goal.
But then an avalanche: Two goals in the space of 2:47 midway through the third period, and then a back-breaking rush goal soon after. Final score: 5-1, including a pair of empty netters, with all scored in the space of about 13 minutes in the third period.
A seeming impossibility through 40 minutes, the Pios were national champions for the ninth time in program history, tying Michigan for the all-time NCAA record.
This is the Pioneers' second title in the last four tournaments, and fourth in the 21st century. At just 32-years-old, coach David Carle is the fourth-youngest championship bench boss in NCAA history.
Denver's Michael Benning was the unlikely hero. He took the penalty that led to Minnesota State's only goal, but he also had the primary assist on Denver's tying marker, then scored the game-winner himself.
Michael Benning (#TimeToHunt) gives @DU_Hockey their first lead of the game, 2-1 over Minnesota State in the third period. #FrozenFour

Assists to Shai Buium (#LGRW) and Cam Wright pic.twitter.com/KOSUjjNmfJ

— EP Rinkside (@EPRinkside) April 10, 2022
"Yeah, [taking the first penalty] really pissed me off, I'm going to be honest," Benning said. "But I just felt I had to contribute in a way, just keep on going piece by piece."
But it took quite awhile to get to that point. At the other end of the ice, it had to be said that Minnesota State got the game it wanted for about 45 minutes: They dominated the Pioneers. Denver's high-danger chances were in the low single digits for most of the game, and while the Mavs would have liked to add to their goal total, well, there's a reason Denver was also one of the most dominant and structured teams in the country all season long.
About that first goal of the game: Given that neither team committed a single penalty in their semifinal games, it felt instantly momentous when Benning committed that first penalty of the game. A real "uh oh" moment, almost right out of the gate.
After a slow start, the Mankato power play got going, passing around and into the box but not really generating anything all the way across the ice. Then about 90 seconds in, Magnus Chrona (27 saves) conceded a big rebound, Lucas Sowder corraled with aplomb and passed to Sam Morton, who had a wide open net to shoot at. He didn't miss.
And while the Pioneers drew a penalty soon after, and were able to work the puck close to the net, they couldn't actually get any dangerous shots on Dryden McKay (15 saves) which, as it turned out, was the theme for the vast majority of the night.
Both teams are excellent at creating traffic and, in turn, jamming up that traffic. Shots through 20 minutes were just 8-3 for the Mavericks, and attempts were 22-12. Denver's top two lines, one of which features the leading scorer in the country, didn't put a single shot on goal despite having a full two-minute power play.
Much of the early going in the second period was a bore; just six shots in eight minutes, including only one for Denver. Apart from a Pios power play after a too-many-men call (which resulted in one Mankato shot and none for the team actually on the man-advantage), there was little of consequence happening at either side of the ice.
So, halfway through the game, shots were 14-4, and while it wasn't like Mankato looked especially dangerous beyond the occasional flash, Denver just couldn't generate much at all, anywhere on the ice, in any game situations. And when they did somehow manage to do so, the offence wasn't exactly what you'd call "sustained."
Minnesota State, meanwhile, had a handful of chances to double its lead and push the game out of reach, but never succeeded in doing so. A couple missed opportunities on Grade-A chances, a shot off the post, a few absolutely critical saves from Chrona. They all ended up keeping the dream alive.
At the other end, the Pioneers were credited with a few shots in there somewhere, including one really nice chance from Carter Mazur late in the period. But others included a dump-in that wound up sliding lazily into the crease, and a rush attempt that hit the side of the net but was counted as a shot on goal anyway. Shots through two periods (credited, not actual), and I can't believe this is true: 18-8. And again, that's being generous, but attempts in the second period were at least a dead-even 16 apiece.
So things were trending in the right direction for the Pioneers — 16 attempts is more than 12, five shots on goal is more than three. But if we're being serious, even into the third period, nothing ever felt like it was going to be enough to actually crack this suffocating Maverick five-man defense.
That is, until it did.
"I think it was just, obviously, like, they were outplaying us, but at the end of the day they were only up 1-0," Barrow said. "So one shot changes the entire outlook on the game."
All it took was one actual, high-quality chance where a Pioneer didn't have three Mavericks around him. Jack Devine turned a 3-on-2 into a low-angle shot that McKay couldn't corral, and Ryan Barrow banged in the rebound.
That tied the game, and then just 40 seconds later, things unravelled for Minnesota State. Morton was whistled for an obvious tripping call. That elite Denver power play went back to work and generated a couple looks. Then Benning absolutely blasted a puck into the net from the left circle just four seconds after the penalty expired.
In the space of just under three minutes, a game that felt like a walk in the park was anything but. And what was really interesting is that it didn't just feel like a game again, it was that the paradigm had completely shifted.
"I thought I gave up a rebound on that [first] one," McKay said. "They capitalized. Then we took a penalty shortly after. It was just a bad bounce. And then a guy makes a nice shot on the power play. All of a sudden it's 2-1, and just never really recovered. It would have been nice to make a few more saves for the guys, keep it at one or two, but it just didn't happen."
Now Minnesota State, even as it tried in vain to chase the game, couldn't get particularly close to Chrona, and was giving up scoring chances, and found itself spending too much time chasing the puck in its own zone. So it was hardly a surprise when Mazur and Massimo Rizzo generated a 2-on-1, then converted it with ease.
Massimo Rizzo (#LetsGoCanes) has @DU_Hockey firmly in control of this hockey game, leading 3-1 late in the third period.

Assist to Carter Mazur (#LGRW) pic.twitter.com/4sv4Htlnps

— EP Rinkside (@EPRinkside) April 10, 2022
Minnesota State got a couple last kicks at the can during its extended extra-attacker time, but none got past Chrona and Denver had the game in cruise control. Two empty-netters later, and it was over.
"We tried to adjust some things as far as getting back to us being four lines," said Minnesota State coach Mike Hastings. "And we just couldn't find a rhythm again. And I want to give Denver credit for keeping us out of that. And they kept the game simple. And I thought we started to press. And when you press, you can create offense for the other team."
Much of the postgame conversation was about Denver's historic title: It was the school's fourth since the turn of the century, won under three different head coaches, which pushed them into a tie for the all-time record (after having beaten the team that stood alone atop that mountain just two days earlier).
"The ultimate goal is to be the first one to 10, I will tell you," Carle said. "Winning Thursday against Michigan, the team at nine, was a huge step in that direction. And obviously tonight is an even bigger step."

Barrow put it best: Players come to Denver to win national championships, and in a game where he set the all-time school record for games played, they did so.
Might not have been the most impressive way to get a 5-1 win on the grandest stage in college hockey, but to beat that Minnesota State juggernaut by four goals and get a big trophy at the end? You take that every single time.
"We were always one shot away from it," Carle said. "Did our guy have to make some saves? Absolutely. Were we playing our best? No, we weren't. We did get a couple looks. Not nearly as many or sustained pressure or sustained looks as we would like. And again they played great. I give their staff and their team a lot of credit.
"And sometimes it takes all 60 minutes. And we utilized the last 20 to our fullest advantage."
You may also be interested in: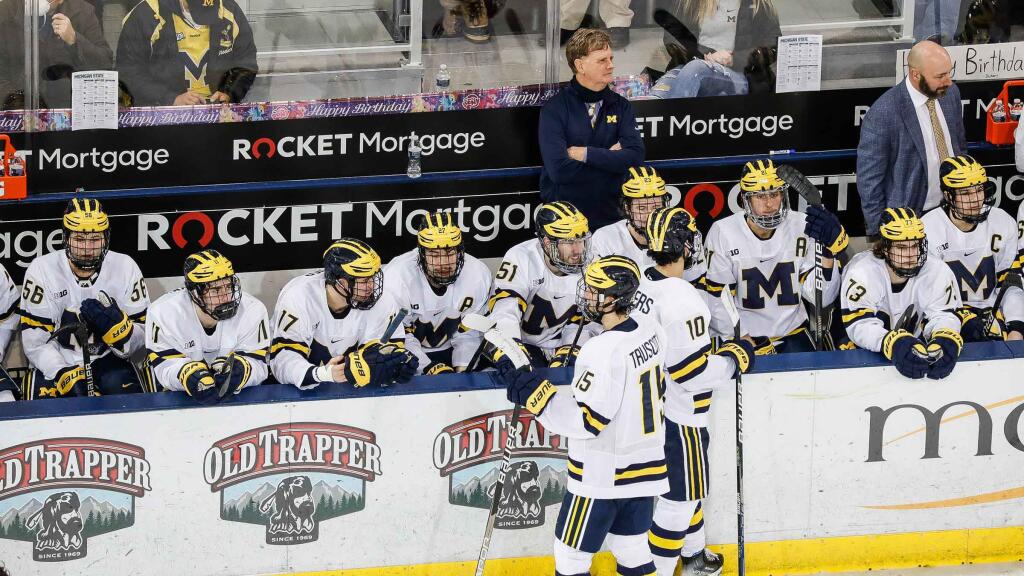 Frozen Four 2022: Historically dominant teams highlight exciting matchups
This article is about: