2022 NHL Entry Draft
Jordan Gustafson found a way to develop through trying circumstances
Jordan Gustafson is authoring a terrific season for the Seattle Thunderbirds with 50 points in 55 games in his second season of WHL action.
He was one of the lucky ones that got to play during the pandemic a year ago. It wasn't easy though. He searched for places to play and found a few teams before the abbreviated Thunderbirds season started.

"Going back to Fort Saskatchewan was awesome for me. I played there for a lot of my youth and minor hockey. I have nothing but really good things to say. That year was good for me. I think I played only six or so games, but it was really nice to get out on the ice," Gustafson told EP Rinkside. "It was nice to stay at home. I had a chance to finish my schooling at home, and I got some extra time with the family before I went to Seattle.
"A lot of junior hockey players were pretty worried last year. I know the Western League pushed to just get that short season in. Not all junior hockey players had a chance to do that. It was really big for us to go to Seattle and get that extra ice time in. I didn't know what we were going to get. That's what it was like for all of us. We were waiting at home for the phone to ring. Waiting for a call for like four-to-five months. It was all up in the air. It was awesome to get the call and get back on the ice. It meant the world to us."
It's fair to say if he didn't find that ice time last season, this season could have been different.
"Last year was a really good season for me. To have that shortened season in Seattle was important. I kind of got my feet wet," Gustafson emphasized. "I learned a lot of things from the older guys last year. I came into the season a lot more confident. I've always looked at myself as an offensive player. I think I can have a good offensive impact on a game, and I came into this season with a lot more confidence. I think that helped me a lot."
Sometimes players sound like coaches when explaining what position they play, and you can count Gustafson among the group that fit that description.
"I view myself as a centre. I grew up playing wing, centre, and a little defence. I've played mostly centre this year. I view myself as a forward. Playing defence helped my two-way game. 100 percent. It stays in the back of your head. Whether you're backchecking or covering for the "D". It helps a lot. I have an older brother, Blake who is a pretty good defenceman and plays for the Red Deer Rebels. He's always been there to give me defensive tips over the years too," said Gustafson.
Home games have a lot of fans once again and that affects the players.
"We really missed them when they weren't here for the COVID-19 year. But now that they're back, it means the world to us. We notice when we have a good crowd outside and that brings out a little extra in our game," Gustafson admitted.
Seattle has a good team, and Gustafson feels good about their season going deep into the playoffs.
"It's great to clinch a playoff spot, and it's one step closer to our end goal of winning the whole league," Gustafson said. "I feel like we have a really special team here. A really good group of guys. A good group of guys off the ice too. It's another piece of the puzzle and I'm looking forward to the playoffs."
A funny thing about going deep into the playoffs. That would mean he wouldn't get a chance to show off his stuff at the NHL Combine since the dates conflict because of the scheduling challenges the NHL had this season.
"I'm super excited for the NHL Combine. It will give me a chance to show off how I am an athlete off the ice," Gustafson said with pride. "I'm looking forward to training for that. In all honesty, hopefully, I don't get a chance to go because I hope we're still in the playoffs. If we're in it I won't get a chance to go. Which would kind of be a bummer but I want to win a championship."
Gustafson has excellent speed and is a playmaker. Those two things, whether he tracks as a centre or a winger, are two important skills to have to play modern hockey at a high level.
"I feel like speed, playmaking, and just being able to play in all areas of the game. Being a good 200-foot player," Gustafson explained.
His play on the power play is different than many others. He never sits in one spot. He's constantly moving around.
"Our team is big on not having set spots. We just make sure we have puck possession rather than set spots. It helps us for retrieving pucks and making sure we keep the pucks in the o-zone. I feel confident playing any spot on the power play. Playing up top or near the net. I feel like it's more lethal by being able to play in different areas."
Playing on that power play with another highly touted 2022 draft-eligible offensive defenceman, Kevin Korchinski has added to his point totals for sure.
"Korch is awesome. He's one of the best players I've ever played with. Unreal player, an unreal guy. He's such a hard worker off the ice," Gustafson revealed. "He's one of the hardest workers I've played with. He's great on the power play. Really deceptive. Great skater and a super good guy too. Someone I would trust with my life. He's a really good buddy."
As a man of many talents, Gustafson ran track in high school and moved away from long-distance running to shorter races with hockey in mind.
"I moved to the 100 and 200 meters, the quick sprints, I felt that helped me on the ice too," Gustafson noted.
Gustafson was invited to Hockey Canada's U18 development camp last summer. That could mean an invite to the re-scheduled World Junior Championship.
"Those camps are really good. You can see where your game is. All the best guys around your age are there. I realized that I'm right there. Some guys will stand out. If you keep working hard, you can do anything. It was a big eye-opener for me. I learned a lot of little details," Gustafson remembered.
Gustafson is making an impact, and he will hear his name called at the NHL Draft in Montréal later this year.
You may also be interested in: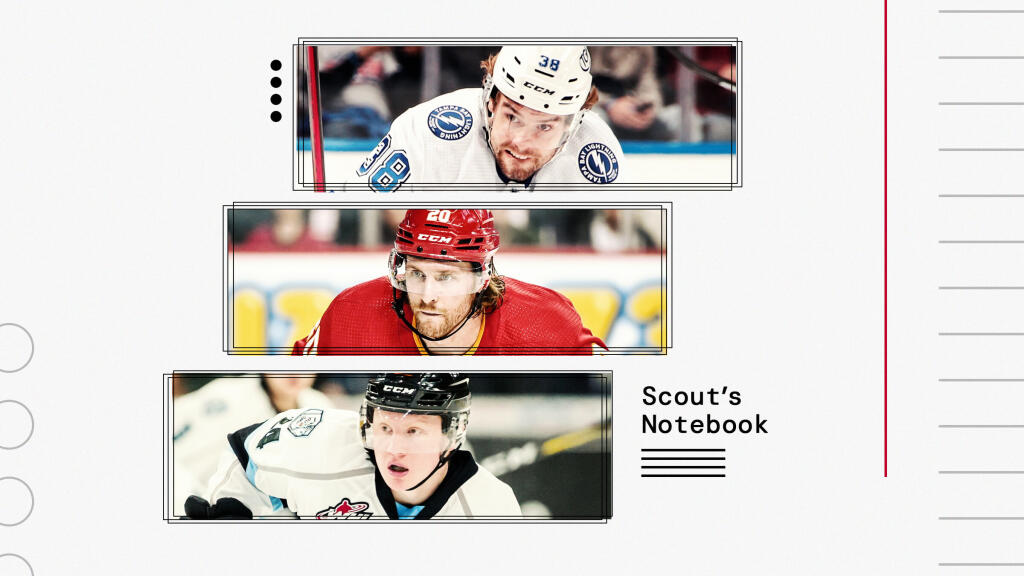 Scout's Notebook: Drafting the next Brandon Hagel and Blake Coleman
This article is about: