Elite Prospects news
Standout performances from the inaugural Elite Prospects Pre-Draft Invitational
The inaugural EliteProspects Pre-Draft Invitational tournament took place earlier this month at Colorado College, with some of the best '06 birth years in the country playing against each other with a chance to prove their mettle ahead of the USHL Phase I draft in a couple of weeks. The tournament was also a great opportunity for college coaches to get an early look at some of the kids who could potentially be key players on their rosters in years to come.
The Invitational took place over the course of three days and featured two teams, Team EliteProspects and Team Verbero. Each group featured a star-studded staff too, with coaches from the USHL, BCHL and US National Team Program lining the benches. While Team Verbero ultimately won the best-of-three series, there were a number of players from each team who had impressive showings and certainly boosted their stock going into the Phase I draft. With that, let's look at some of the players who made good impressions.
Paul Spino, D, EliteProspects (Colorado Thunderbirds)
Spino was really impressive through these three games. He's a skilled defenseman who has fantastic vision of the ice, particularly on the breakout and in transition. Spino does well to read layers of the forecheck and makes excellent passing decisions that put his teammates in positions to create offensively. Without the puck, he stays involved in the play and jumps into the rush when appropriate. He's always finding ways to be active and will be a good fit in the USHL.

Jake Merens, F, EliteProspects (Chicago Mission)
I could go on for pages about Merens' game. He was clearly the best forward of the tournament, Merens is an undersized winger with dynamic skating ability and high-level creativity. He's exceptional at using his hands to deceive defenders and open up routes for playmaking. Merens attacks defensive triangles and has the speed to blow by opponents if he has a lane. To me, he's got USNTDP written all over him. To have such raw skill and smarts for such a young player is pretty rare, it'll be fun to see him develop.

Connor Bewick, D, Verbero (Team Illinois)
I promise this isn't my Team Illinois bias speaking; Bewick is the real deal. He's is a strong, physical d-man with high-level skating ability. He has a certain poise with the puck in his own end and has the hands to evade the first forechecker before finding an outlet. His shot is equally impressive, he's got a quick release on his snapshot that he used to earn a nice goal. It will be interesting to see where he goes in the upcoming draft.

Roy Chung, D, Verbero (Los Angeles Jr. Kings)
Chung was certainly one of the more intriguing prospects in this tournament. He's got a huge arsenal of moves and tricks that stood out as some of the craftiest plays of the weekend. His edgework is a strength and he constantly employs changes of speed and weight shifts to bait opponents and explode out the other way. I'm curious to see how far these tricks will get him, and whether he'll be able to adapt these to the next level. He's fun to watch, that's for sure.

Jason Davenport, D, EliteProspects (Little Caesars)
Davenport was one of my favorite players in the tournament. He's everything you could want in a defenceman: big, mobile, smart — the list goes on and on. Davenport doesn't pop off the stat sheet, but he's exceptional in his own zone and consistently gets controlled exits. He's a smooth skater, especially with the puck, and looks to get involved offensively without possession. With time, Davenport is going to be a force to be reckoned with in whatever league he decides to play in.
Fortune was another player who didn't pop off the stat sheet in this tournament but was constantly trying to make things happen. He's got a super high activity rate; his feet are always moving with and without the puck. With possession, he looks cross-ice to feed streaking teammates in high-danger areas or will attack defenders himself. Without, he works to find pockets of space where he can fire off a quick shot on net. In summary, Fortune is a workhorse. He backchecks hard and is always in motion. Fortune has some edge to him too, which is nice to see from an undersized guy. He'd be a useful addition to a USHL roster, especially if he can grow a little and put on some weight.

Colin Frank, F, Verbero (Anaheim Jr. Ducks)
Frank is a power forward with good speed and mobility. He protects the puck well in small areas, shifting his weight and extending his reach to prevent opponents from laying checks on him. Frank's a bit of a one-man show in the o-zone, there's not a ton of delegating with the puck even when there are open options, but he has the capacity to advance the puck in transition. An intriguing player for sure.

Tommy Prendergast, F, Verbero (Colorado Thunderbirds)
Prendergast is another fun player to watch. He uses the lateral crossover exceptionally well to challenge defencemen head-on and then burn them in the other direction. There were a few occasions where he was able to turn the corner on opponents through this technique. Prendergast's speed makes him an impact player in transition as well, he works to pick up opposing forwards on the rush. His speed is his biggest asset, but there's a lot to like here.
Caleb Mahar, F, EliteProspects (Dallas Stars Elite)
Mahar was another exciting player in this tournament. He's got an exceptional set of hands and has next-gear straight away speed. He's a responsible player on both ends of the ice and did a great job in his own zone winning his battles and moving the puck to safety out of scrums. In the offensive zone, he put himself in dangerous spots and used a variety of rush patterns to set up teammates for nice chances. Should be a high pick in the Phase I draft.

Jonah Jasser, F, Verbero (Dallas Stars Elite)
A rangy forward with a good motor and fluid skating mechanics, Jasser showed exceptional two-way ability and played especially well in the neutral zone, hitting teammates in stride with cross-ice feeds and chips into space. His strength and big frame made him a worthy opponent in board battles and difficult to knock off the puck. Not all of his passing plays connected but he demonstrated some mature decision-making and processing ability. It will be interesting to see how he transitions into a league where he's not one of the bigger guys.

You may also be interested in: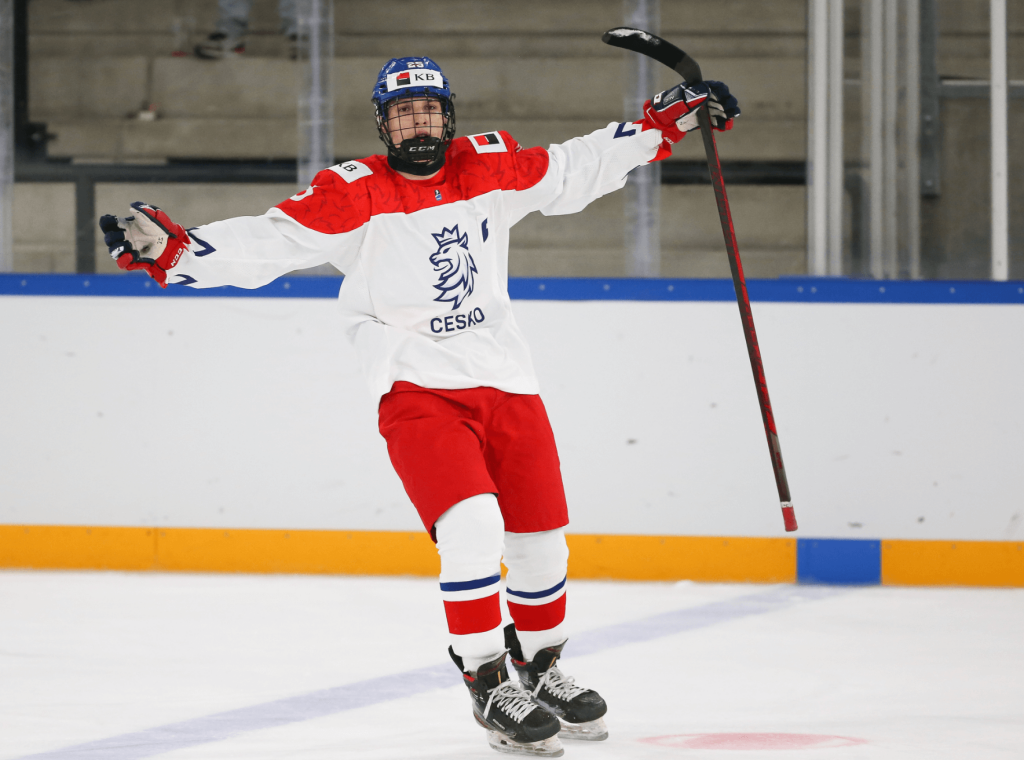 U18s Notebook: The rising stock of Jiří Kulich
This article is about: