NHL
First impressions of Owen Power, and the future of the defence position
Last week, I had the good fortune of being able to attend Darryl Belfry's coaching workshop in Florida, where he shared a lot of insight into how he thinks about the game. The focus of the event was technically how he trains the players he works with (a list which includes Auston Matthews, Nathan MacKinnon and some of the very best the NHL has to offer), but everything he talked about ultimately came back to a few central principles that his work revolves around.
The uniting theme of those concepts is the pursuit of optimizing offence by creating competitive advantages that allow you to score in a more efficient and sustainable manner. Some of that is skill-based, but a lot of it honestly boils down to game theory that should be exploitable tactically by anyone that's interested in doing so.
Watching Owen Power's first handful of games in the NHL with the Buffalo Sabres, it's been impossible not to notice how the unique habits he's already showing mesh rather neatly with that very approach.
He was the No. 1 overall pick in last year's draft for a reason, blessed with various tools that are hard to come by. He's a 6-foot-6 defender that moves smoothly, and you can't teach that. But his approach and the way he plays instinctually are arguably just as impressive as all of the other physical traits to me.
He's stepped right into the best league in the world and immediately started making high-level plays to drive positive results.
Let's take a look at some video that helps illustrate those tactics in action, and show exactly why people should be awfully excited about his game. If the first impressions are any indication, he's going to be one hell of a player.
---
1. Positional interchangeability in the offensive zone
Personally, my favourite thing I've seen from him so far is his activity in the offensive zone and the way he gets involved in whatever action they have going on. The way he moves around is terrific, serving as a clear sign that he's seeing the ice at an elite level. His reads allow him to play off of his teammates by moving into open spaces to either provide an outlet for a pass, or help extend plays by pouncing on rebounds and loose pucks.
Watch how he circulates, never really becoming stagnant throughout the entire possession. Even if he never gets the puck, just that movement alone creates a headache for the opposition. They'd much prefer for everyone to just stand in their assigned spot because that makes everything that much easier to defend.
Once players start moving around and popping up in random spots on the ice, all of a sudden that creates chaos. That causes miscommunication, which leads to blown assignments that result in open looks from prime scoring areas.
I can't tell you how frustrating it is to watch defencemen stay glued to the blueline when their team has the puck. I get that they're scared of making a mistake or having the puck get past them, but that type of rigidity functionally takes them out of the equation as a real scoring threat. It also poses no real danger to the other team's defensive structure, because it allows them to get set and contain everything far more easily.
That's why the best offensive teams in the league share the common trait of constant motion in the attacking zone. They have five-man units that play in a synchronized manner, riffing off of each other beautifully. It's not as much about positionless hockey as much as it is about the concept of positional interchangeability.
Defencemen in the modern game need to be comfortable playing in different areas of the ice, and that's something Power has already shown he's more than happy to do:
I figure it'll take some time for his teammates to properly adjust to the way he plays, and take full advantage of it. Obviously, if he's venturing deep into the zone, then a forward will need to shift over to cover the space he's left behind.
Doing so in a timely manner is a key part of the process, because a failure to do so will undoubtedly lead to a prohibitive number of rush chances against. When you see Cale Makar skate around the net, you'll also see Nathan MacKinnon follow suit by popping up near the blueline to cover for him. Sabres forwards will get better at that, benefitting from more time playing together and a further infusion of talent as they continue to integrate top young players into the mix.
That level of involvement in the attack extends to transition opportunities as well. Here he is jumping up into the rush, and making things good happen by doing so. A lot of it honestly just comes down to properly filling the lane and finishing the route, rather than just stopping short at the blueline like there's an imaginary forcefield out there preventing you from going any further.

In just six games, count how many times Power has already played a pivotal role in either directly creating or at least helping facilitate a dangerous scoring chance off the rush. And how many times he's either worked his way down low or into the slot because that's what was available to him. In the first video, he draws two penalties: one is below the goal line, and the other is right in front of the net.
You almost need to re-train your eyes, because you're just not used to seeing a defenceman pop up in those areas so casually. He's probably already done so more times in this short cameo than many blueliners will over the course of a full campaign typically.
There were a few whiffs in there that prevented goals, but that's not the point. If he keeps putting himself in those spots, the offence will eventually come. That makes him such a special player to watch, and one that I can't wait for a full year of next season.
2. Defending early by skating forward instead of backward
As you'd expect from any young defender that's adjusting to the quality of competition you regularly face in the NHL, there's been a few occasions where Power has been burned by an opponent. Vladimir Tarasenko took him to school off the rush, beating him 1-on-1 en route to a highlight-reel goal. I know it doesn't look good, but I wouldn't be remotely worried about it unless it becomes a regular occurrence. He'll learn from it, and get better at using his reach to snuff those kinds of plays out.
Defending at this level is incredibly hard to do if you're having to do it consistently, which is why it's so important to limit the number of times you actually expose yourself to those types of situations to begin with.
If you closely watch someone like Devon Toews for example, you'll notice how good he is at keeping the play in front of him. No one is ever going to mistake him for Cale Makar as a skater, but it's remarkable how rarely he ever gets beat by speed despite not being the fleetest of foot. That's because he routinely puts himself in advantageous defensive positions, where he's able to skate forward to break plays up before they ever really start.
That starts well before you ever get to the defensive zone. It kind of counterintuitively starts in the offensive zone instead, the second the other team gets the puck. Rather than conservatively sagging back and allowing your opponents to build up speed, you need to jump up and cut them off. One way to do just that is by pinching aggressively and never really allowing them to exit the zone cleanly in the first place.
Here are some notable examples of Power doing just that expertly. He aggressively reads where the puck is going, closing off the wall and keeping the puck in the zone. That helps extend the possession, buys Buffalo potential further scoring opportunities, and prevents them from having to skate backward defensively.
Something Belfry said about this at the aforementioned workshop really stuck with me: The offensive zone used to be viewed as an area of the ice that was fun because you'd be able to slow the game down and catch your breath. But for the best teams, that dynamic has changed.
There are certainly good times to be had, but now it's also become a place where the hard work begins. You need to be the first to the puck, and keep winning battles to extend possessions. If you can manage that, then you won't even have to worry about the other end of the ice. It's essentially short-term pain for long-term gain.
I don't think it's a coincidence that Power is already showing an innate ability to drive play and help generate positive shot impacts for his team. With him on the ice at 5-on-5, the Sabres have controlled 55 percent of the attempts, 52.6 percent of the shots on goal, and 51.6 percent of the expected goals.

He's accomplished that while being thrown right into the deep end, being asked to eat up a high volume of minutes from the jump. The 18:01 he's been playing at 5-on-5 is behind just Mattias Samuelsson for the team lead, as is the 2:39 he's been averaging on the penalty kill.
While those early numbers are a good sign, we're obviously working with a fairly small sample size still at this point. But the general process is what's most encouraging about his play so far.
Based on the little things he does in both the offensive zone and in transition, there's plenty of reason to believe that he's going to continue being the type of player that churns out strong underlying results consistently. That's a tremendous luxury, and not saying you'll often say about a 19-year-old defenceman.
3. Manufacturing additional offensive opportunities
One further wrinkle for the Sabres to keep experimenting with is the possibility of pairing up Power and Rasmus Dahlin situationally in an attempt to manufacture additional scoring chances for the team.
I'm not sure it's in their best interest to use them together straight up over the course of a full game, but in short spurts, it's such a tantalizing combination that there's surely a time and a place to play that card strategically. That could be in an attacking setting when they're lining up for a faceoff in the offensive zone, or if they're down on the scoreboard and pushing for a late goal.
We've only seen it on a couple of occasions so far, with the two of them out there for six offensive zone draws and just 8:28 of total 5-on-5 ice time. But it's provided us with a tasty appetizer for what they could be capable of, and how advantageous it could be for the Sabres if used properly in the future.
Here's one such shift against the St. Louis Blues, in which you get a sample of what that type of skill level and creativity is capable of when given the opportunity:

This type of tactical deployment isn't necessarily a new phenomenon, because we've seen smart teams try to squeeze extra offence out in this manner before. The Dallas Stars used to load up Miro Heiskanen and John Klingberg for draws in the attacking zone with relative frequency, which provided a huge boost for a team that needed to scrounge for goals wherever they could find them.
In the 2019 postseason, the two of them lined up together for 131 offensive zone faceoffs, compared to just 25 in the neutral zone and 19 in the defensive zone. In those 97:13 5-on-5 minutes, the Stars outshot opponents 92-39, out-chanced them 63-11, and turn all of those looks into 12 goals. It provided them with a legitimate weapon, and they sure took full advantage of it.
Of course, they immediately stopped doing that after Rick Bowness took over from Jim Montgomery because he doesn't seem to have the same creativity as others behind the bench. In his 170 combined regular season and playoff games coaching the Stars, Heiskanen and Klingberg have totaled just 100:52 minutes together at 5-on-5.
This piece is largely focused on Power and the player's perspective, but the significance of coaching in enabling a positive playing environment shouldn't go overlooked here by any means. After being inundated with Ralph Krueger's outdated strategy, Don Granato's mentality has certainly been a breath of fresh air in Buffalo.

It's no surprise that we've seen Dahlin completely blossom under his watch, now that the training wheels have been taken off and he's been encouraged to play to his strengths.
And it's highly reassuring that Power will similarly enjoy such a boost moving forward as well, especially since Granato has already given him a full green light to keep doing what comes naturally to him, without micromanaging or trying to fundamentally change what makes him special to begin with. It's allowed him to directly transfer the skills that made him successful at lower levels to the NHL, which is at least partly why we've seen these kinds of instant results.
That's so nice to see because far too often we see the development of prospects get stunted by coaches who ask them to do things they're simply not best suited for. Power hasn't had to worry about that under Granato, who has helped make his transition to the NHL far more seamless than it otherwise could've been if he'd fallen into the wrong hands.
The Sabres have been a really fun story down the stretch here. They're about to miss the postseason for the 11th straight season, which would understandably turn anyone that's still paying attention into a cynic by now. But there are legitimate reasons for optimism moving forward, beyond just false hope of a different future.
We've already seen enough flashes from young players like Power and Dahlin to reasonably feel like there's something to legitimately build off of now. The way they've been playing provides a strong starting point heading into next season. That alone represents a massive shift from where we were at with them at this point last year, and for much of this decade of disappointment.
You may also be interested in: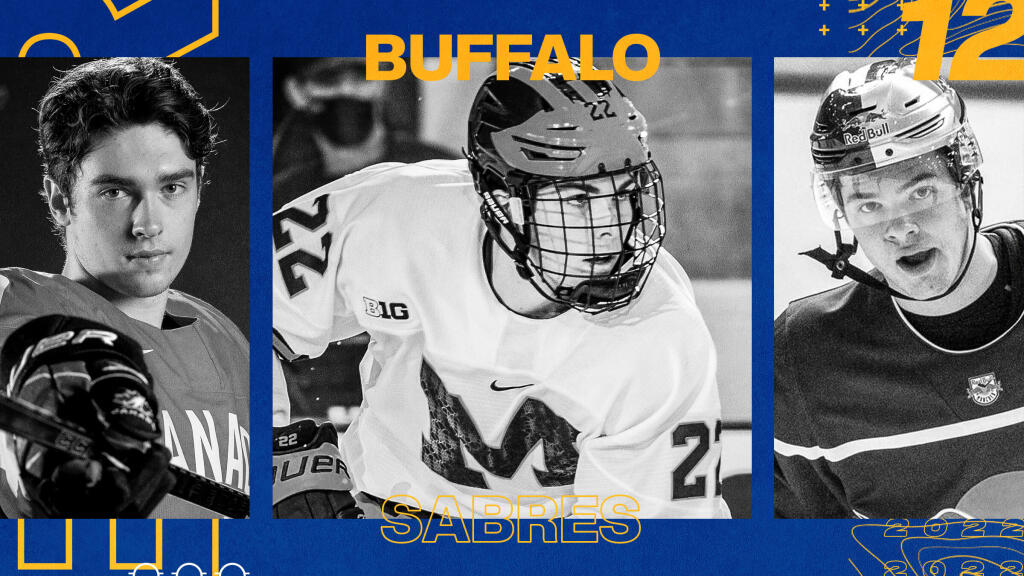 EP Rinkside 2021-22 Prospect Pool Rankings: No. 12-ranked Buffalo Sabres
This article is about: