2022 NHL Entry Draft
Matthew Savoie treats hockey like a discipline he hopes to master
Positivity just flows through Matthew Savoie on and off the ice.

A top prospect in the 2022 NHL Draft, being positive is half the battle; being adaptable may be the key to his future success.
In 2021, when the Winnipeg Ice wasn't playing because of the COVID-19 pandemic, he played in the AJHL for the Sherwood Park Crusaders, and the Dubuque Fighting Saints in the USHL. He made sure he was out on the ice somewhere, and it helped set up a big 2022 season for the talented forward.
Towards the end of the 2022 regular season, Winnipeg had to have a change of plans in April. They had to leave the city because of an impending snowstorm. They fled to Regina. That's part of being adaptable.
"We don't expect that this time of the year. No, definitely not. We had to postpone some games and change up our travel plans to come to Regina because of a pretty bad snowstorm," Savoie said.
Savoie finished his season with 90 points, good for seventh in the WHL scoring race. He makes other players better. Savoie spreads the wealth, and he understands what teamwork is all about. A lot of players have talent, but he has the mind of a coach.
"It's been a really good season from the start. There's been a progression. We've been through a lot. Coming in, we had a deep team. A highly skilled team. We knew we would be able to make a run in the playoffs," Savoie said. "As the season has progressed, we came together a lot more. We worked on our systems and developed a lot of chemistry. We're in a really good spot. Mentally and physically."
The former first-overall pick by the Kootenay Ice in the 2019 WHL Bantam Draft plays center and has a strong grasp of the position, though a move to the wing may come at some point in his development.
"Center is a really important position. Just supporting down low in your defensive zone. Hustling back making sure you pick up the third guy. For the past few weeks, I've been on the wing," he said. "It just recently heading into the playoffs. That's the look we're going to go with. For most of the year, for the majority of 50 games, I was at center. I'm very comfortable at both positions.
"Our assistant coach, Josh Green, has helped me a lot with that this year. At the start of the season, I was at 47-48 percent. I think last month I was up to 51 or 52 percent. It's only a 3-4 percent difference, but when you're taking a lot of face-offs that can be huge," he explained.
The fact that he's 5-foot-9 will be talked about. Personally, I don't think it's even a factor with Savoie for a host of reasons.
He knows when to be physical. He got blown up on the ice when he was 15, and since then he's done a good job of avoiding potentially catastrophic hits mainly with his speed and his high hockey I.Q.
"With my size and the speed that I play at, I finish checks, and I'm aggressive in doing that. I'm not afraid to go into the corners and battle. It's not like I'm throwing my weight around, but I like to think I'm a pretty strong guy," Savoie said. "I think I can hold my own. Playing the game fast, being able to avoid checks. Slip away from bigger players. His hockey awareness is a big part of it. Knowing where the opponents are. Knowing where the pressure is. Being able to break it. Those are two areas that I put a lot of focus on being a smaller guy."
If Savoie doesn't make it as a center, there's a great chance he could be that a playmaking winger in the NHL in the Mitchell Marner mold. These wingers have been appearing more and more in the NHL since the arrival of the Toronto Maple Leafs star.
"Even on the wing, you can push a defenseman back to possess the puck in the neutral zone," he said. "I think I grew into that role since being put on the wing. Just using my speed to drive the defense back. Being an option in the neutral zone to possess the puck or carry the puck. Being to be able to distribute the puck or take the shot. Whoever has the best chance."
Having a decisive shot is important. If you hesitate goalies at all levels will close the gap and make it very hard to score. Savoie knows when to pull the trigger and he has a quick shot.
"My shot release is the biggest part of that. I've been working on that this season and the past couple of summers," Savoie said. "Just being to be able to get it off quick. Put it where you want it. Having that accuracy on your shot. Pick the corners and beat the goalie. That's been a big part of it this year."
When Savoie decides to shoot, he doesn't have one sweet spot on the ice and that's something that makes it hard to contain him. Teams try to do advanced video work on him and many times it fails.
"It's good to be a multi-dimensional scorer. Sometimes a team will look at video and take away a specific skill that you like to use in a game or something that's been effective. I have a lot of tools in my toolbox," he said. "Keeping your options open in the offensive zone is huge. You're not always going to have the best opportunity to score, and you must be ready to pass or shoot and see what options you have."
With the 2022 NHL Draft just around the corner, there will always be narratives created about players that get talked about on a lot of radio shows and podcasts leading up to the event. Rather than having me create one, I gave him a chance to create one about himself.
"I play a fast game. My speed is what stands out. My ability to carry the puck and push the d-men back," Savoie said. "My brain and hockey sense is a big part of my game. Being able to make plays. Being a step ahead of the defenseman. Making the right reads to find the open guy. Infiltrate teams. That's the biggest part of my game."
His biggest change in the last few years might surprise you.
"I think my hockey sense has moved at a pace faster than the others," Savoie said. "Just being able to make quick, flip passes. Making reads when defenders are closing in. Just being able to visualize that and dissect the defense."
Keenly aware of his strength, there is a balancing act to keep him fast and strong at the same time.
"I usually play around 170-175. I'm 175 right now. That's the balance to keep my cardio at a high level while maintaining a lot of strength," Savoie said.
Savoie doesn't let any moss grow under his feet in the offseason. He's always doing something.
"I play a lot of golf. A lot of basketball with my friends. I'm a bit of a movie guy too. I like having the guys over and turning on a "flick". Love being around my friends. Love the outdoors."
His older brother, Carter Savoie, an Edmonton Oilers prospect, just won a NCAA Championship with the University of Denver. He plays golf too, and there is a healthy competition going on.
"He just ordered some new clubs. So, we will have to see come spring," Matthew said. "Last summer I think I may have had the edge on him by a couple of strokes. Maybe that's why he got new clubs, but his were getting old, so it was time for some new ones."
Matthew is serious about his hockey. NHL teams will be impressed to see how much he's explored and fine-tuned his game. He won't have to wait a long time to hear his name on draft day.
You may also be interested in: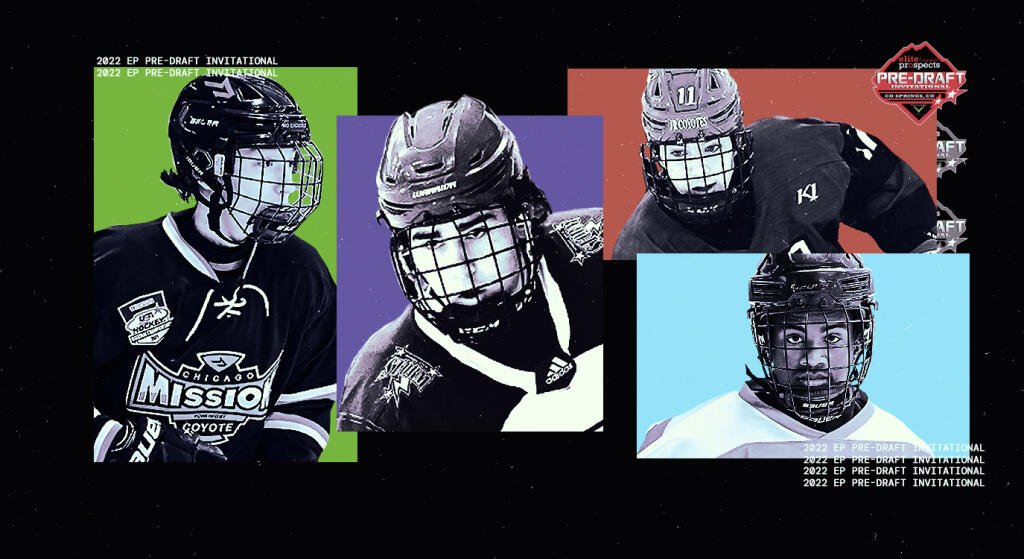 Standout performances from the inaugural Elite Prospects Pre-Draft Invitational
This article is about: