NHL
Trophy Watch: 2022 Vezina finalists
The NHL is announcing the finalists for all of the major individual awards over the next two weeks. As they leak out, we're going to break the races down and try to figure out whether the voters ultimately got the picks right.
We started with the Norris Trophy. This time, we're going to unpack the Vezina Trophy conversation. The top three is Igor Shesterkin, Juuse Saros and Jacob Markström. While the final results should ultimately be a landslide, each of them had uniquely fantastic years. Let's take a brief break from the current playoff programming to reflect on all of it.
---
Igor Shesterkin
It's a shame that the most recent image we have of Shesterkin is him being pulled in back-to-back playoff games in Pittsburgh as the New York Rangers struggle to keep their season alive against the Pittsburgh Penguins because it's not at all representative of the transcendent year he's had. It's also obviously hardly his fault if you've been following the series closely.
The Penguins puts the boots on the Rangers in Game 4, pummelling them to a pulp. Money Puck had the expected goals at 5.29 to 0.88, and Natural Stat Trick had the high danger chances at 22 to 2. The ones that got by Shesterkin were pretty much all either Grade-A looks to tips that he didn't have a chance on.
But when your strategy is to hold on for dear life all game, hoping that your goalie will just bail you out time and time again, that'll eventually happen. Even as great as he is, he's just human, and eventually, some of them started to get through. Once the dam finally bursts, it looks ugly.
Honestly, it shouldn't come as a real surprise, and the only reason why it's actually so jarring to see is just because of how we'd become trained to expect the miraculous from Shesterkin all regular season. Scoring was up all across the league this year, and the average save percentage for goalies dropped to .907. That's the lowest it's been since 2006-07, and yet Shesterkin seemed impervious to it all.
He stopped 93.5 percent of the shots he faced, which puts him in some rarified air. The only goalies that have done better while playing in 41 or more games are Tim Thomas (.938 in 2010-11) and Dominik Hasek (.937 in 1998-99). In his 52 starts, he shut the opposition out completely six times and held them to one goal or less 23 times. He gave up 37.2 fewer goals than expected based on his workload, which is the sixth-best total we have record since 2007 (via Evolving Hockey). The only ones ahead of him are Henrik Lundqvist (2008-09, 2009-10, and 2011-12), Sergei Bobrovski (2016-17) and Carey Price (2014-15).
Not only did those seasons result in Vezina Trophies, but some Hart Trophy love as well. Price won the award, while Bobrovsky came in third in MVP voting that year. We'll see how voters compare Shesterkin's resume to the top skaters in the game, but it's clear that he was peerless in his own position group this season.
Juuse Saros
Not that it put me out on much of a limb, but in our preview of the round one matchups, I devoted my section on the Predators to appreciating just how important Saros was to whatever success they enjoyed this year. It's important that we contextualize that fully because the raw numbers don't completely do it justice.
No team used their goalie more frequently than Nashville did with Saros, starting him 67 total times (a number that surely would've been even higher if he hadn't missed the last few with injury). Only Connor Hellebuyck faced more shots and made more saves. Evolving Hockey has him down for 12.6 goals saved above expected, which was the ninth-best figure.
But Clear Sight Analytics had him second behind just Shesterkin at plus-26, and that's most likely closer to the truth.
Because of the way the Predators chose to play, they needed Saros' unique set of skills. They gave up a fair number of odd-man rushes, and fortunately for them, according to Clear Sight Analytics' model, no goalie graded higher than Saros in that regard. They also had them ranked 26th in defending lateral passes, which is a nightmare for most goalies. But because of how quick Saros is, he was routinely able to go post-to-post to square up on those shots.
Not that it would've ultimately made a difference in their round one matchup against the Avalanche because of how dominant the opponent was, but it's a real shame that his season ended the way it did. It would've been fun to see him compete against that type of offence, and see what kind of heroics he would've been able to muster in at least a couple of the games. He was that good all year and gave the Predators a chance to win on a lot of nights where they probably didn't deserve to. If I had a ballot, he'd have my second-place vote for this award.
Jacob Markstrom
It's nice to see Markstrom get recognition here, because part of me was worried that he'd get docked points for being on a Darryl Sutter team. The environment certainly helped, because the Flames were predictably terrific defensively. Here's where they finished up in some key team metrics:
Fifth fewest shots against
Second fewest high danger chances against
Second fewest expected goals against
Third fewest actual goals against
But Markstrom played a valuable role in that process. He led the league in shutouts (nine), while finishing tied for second in save percentage (.922), and fifth in goals saved above expected (16.1). I wouldn't have argued too hard if he had been bumped down a spot by one of the names we'll get to in the honourable mentions, but he's deserving of love here for the totality of his work.
The Rest of the Field
There's two obvious names that warrant some consideration here. The first is Frederik Andersen, who seemed like a good bet to wind up on this list of finalists for much of the year. By traditional metrics, he looks quite deserving of being in the top three. He won 35 of the 52 games he played, stopped 92.2 percent of the shots he faced and was a big part of the crew that won the Jennings Trophy for the Hurricanes. Evolving Hockey also has him down for 28.5 goals saved above expected, which is second best after Shesterkin.
I've been somewhat dubious of just how accurate that number is all year, however. The public defensive metrics for Carolina don't quite line up with our perception of their personnel, or how they look when you watch them play. I know that they give up breakaways and odd-man rushes because of how aggressively they play in the offensive zone, but there's still something a bit off. My working theory is that there's a blind spot in the shot data.
They're giving up chances that register as dangerous ones because of where they're happening on the ice, but in reality, they're not nearly as threatening because of the way they defend. They contest everything, with active sticks that limit time and space for shooters. An opponent might be getting something off from the slot, but they had to do so in such a rushed manner that it wound up being much easier to stop than you'd think just based on location.
It's interesting that Clear Sight Analytics had him ninth at 16 goals saved above expected. Still, a tremendous year for a goalie that the Hurricanes ostensibly took a flier on this past offseason. But that context does make it more reasonable for him to finish top five in awards voting, rather than the top three.

The other is Ilya Sorokin, who slid under the radar because of the miserable season his team had. But he was one of the few individual bright spots for the Islanders in a lost year, finishing second in save percentage (.925), and third in goals saved above expected (21.6). I will be quite curious to see how he does moving forward, following the team's recent coaching change.
Not only is Barry Trotz leaving, but Mitch Korn could be going with him. Sorokin is quite an athlete, with a track record of past success, but the defensive environment in front of him should theoretically be quite different.
It'll be a test to see just how impactful Trotz and Korn are as a duo, with years of evidence to suggest that they do wonders for their goalie's stats.
You may also be interested in: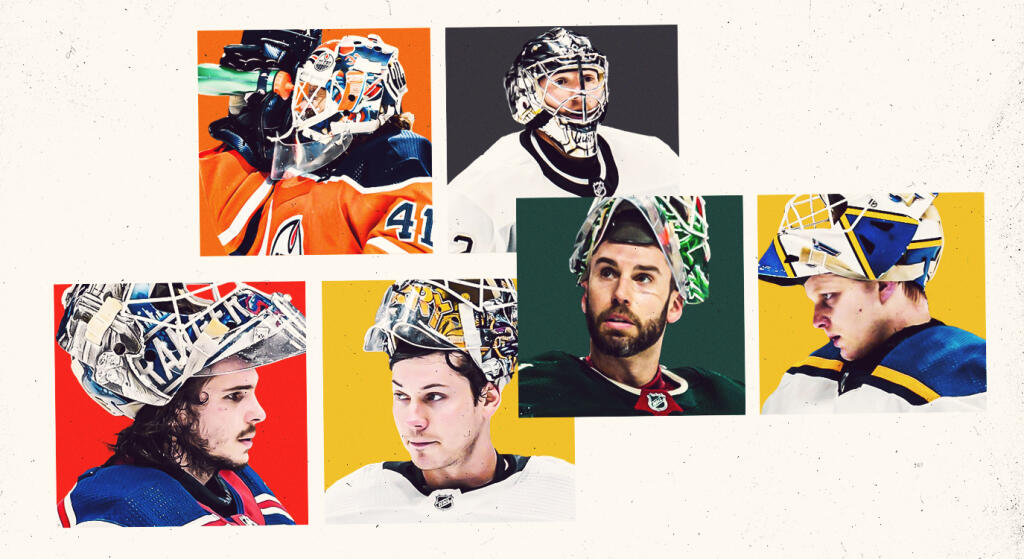 A guide to all of the goalies in the 2022 Stanley Cup Playoffs
This article is about: