NHL
Round 2 Takeaways: How the Oilers and Lightning won their series
Just like we did following the opening round of the 2022 Stanley Cup Playoffs, we're going to be analyzing how each series was won in round two as they finish up.
To get a better sense of what fundamentally pushed the advancing teams over the top, we'll highlight one key factor that served as the ultimate difference-maker.
That could be an individual player that dominated, a whole unit that came together nicely to take over, or a stylistic thing the team did generally to exploit a weakness of their opponent. In each case, there will hopefully be some kind of actionable information that we'll be able to keep in the back of our minds as we continue deeper into the postseason.

This time we're going to focus on a pair of geographical rivalries that wound up being wrapped up more quickly than most of us surely expected. Here's how the Tampa Bay Lightning were able to sweep the Florida Panthers, and how the Edmonton Oilers were able to bounce back from a sloppy opener to win four straight against the Calgary Flames.
---
The Connor McDavid and Leon Draisaitl Show
There are a number of reasons why the Edmonton Oilers were able to beat the Calgary Flames in five games, regrouping after a throwback 9-6 loss in the opener where goaltending was entirely optional.
But there is really only one story here, and it's what Connor McDavid and Leon Draisaitl are doing this postseason.
Let's start with Draisaitl, who has visibly been hobbled by an ankle injury that ostensibly has him operating on just one functional wheel. The first five games of the postseason were a struggle for him, with it clearly making it difficult to handle his usual responsibilities of centering his own line.
In the 60:10 5-on-5 minutes he'd played up until that point in his usual spot down the middle, the Oilers were outscored 6-1 by the Los Angeles Kings while controlling just 34.2 percent of the expected goals. Not having him playing at his usual level was undoubtedly a big reason why Edmonton was pushed to the brink of elimination at that point.
In an attempt to help make life easier for him and maximize his production, Jay Woodcroft shifted him to McDavid's line ahead of Game 6. Since then, the Oilers have won six of their seven games, with the two of them combining to outscore whoever the Kings and Flames threw out against them by a 16-5 margin in 103:19 5-on-5 minutes.
Just based on the numbers, you sure wouldn't know that Draisaitl has been physically limited. He completely went off against Calgary, putting up 17 points in just five games. 15 of those were assists, and he saved his best performance for last. He finished the clincher off with 10 shot assists at 5-on-5, four helpers and directly set up McDavid's overtime winner.
I'm no doctor, but to my eye, it looks like his injury bugs him most when he's trying to load up for that patented one-timer of his from the right circle. He looks a bit uncomfortable planting and hasn't been getting the same type of zip and precision on it that we've come to expect. That could apply to shooting in general, which may potentially explain why he's attempted just 25 total shots at 5-on-5 so far this postseason (which is only the 11th most on his own team, after taking 265 such attempts in 80 regular season games).
It makes sense that he's shifted his focus to passing in the meantime. The fact that he's found a way to work around it, and still make his impact felt in other ways as a lethal distributor instead is what great players do. Draisaitl is just that because he can beat you in a bunch of different ways.
Here, he used his size to hold off defenders and protect the puck, neutralizing whatever deficiencies he had with his mobility. It's got him up to 26 points in 12 games so far in these playoffs, which is good for a tie with McDavid for the league lead.
This brings us to McDavid, who continues to play an entirely different sport than anyone else. He's an absolute freak, and every time he steps onto the ice a part of me expects either a goal or at least a good chance that comes close to it.
He's been on the ice for 25 of the team's 35 goals at 5-on-5 so far, and 38 of the 52 they've scored overall. To put that number in perspective, the Avalanche are the only team that's scored more than 38 goals this postseason (40). The 38 goals the Oilers have scored in McDavid's 267:49 are tied with the St. Louis Blues for third most, except they've taken 671:40 to get to that total.
As you'd expect the Oilers shooting percentage is high right now, but it's not as wild as you'd think given the context of how they're getting there. A good chunk of it is being fuelled by McDavid, and the looks he's creating for himself and everyone else. He's tied with Zach Hyman for most high danger chances so far this postseason (34), and fellow teammate Evander Kane is third (26). No one else has more than 22.
At 5-on-5, McDavid leads the league in both individual high danger chances (27) and shot assists (71). If you look at the distribution of how the Oilers are getting their shots, McDavid has set up 71 of them, Draisaitl has set up 46 of them himself, and no one else is above 20.
So while shooting percentage can fluctuate and be random over short periods of time, the fact that such a significant portion of their team's attempts are either quality ones or at least being created by two players that have historically been elite drivers of scoring certainly helps explain a lot of the success they've enjoyed so far. While Markstrom wasn't good in round two, it seems to be unfair to be overly critical of his performance when accounting for what the Oilers offence was doing to the Flames defence in front of him.
If Darryl Sutter was able to have a do-over, I imagine he'd start with trying to hard-match Mikael Backlund against McDavid far more actively. He didn't really make an effort to do so until the final game when he used last change to get him out there for more than half of McDavid's 5-on-5 time on ice.
Backlund was their best option to try and corral McDavid to whatever extent is humanly possible at this point, and the minutes when he was on him versus all of the others looked wildly different for the Flames. For the two games played in Edmonton, the Oilers made a point of trying to get their top line out against Calgary's top line, and they handily controlled that matchup.
In the 34:30 that McDavid went head-to-head with Elias Lindholm, the goals were 7-2 and the high danger chances were 14-9 for the Oilers. In the 28:06 that Backlund played against McDavid, Edmonton's top unit only managed two goals and high danger chances were 4-2 for the Flames. It's perfectly reasonable for Sutter to have the utmost faith in Lindholm after the year that his line had (which helped earned him a nod as a Selke finalist), but the eye test and numbers both confirm that it was a rough matchup for them throughout.
I can't think of any better way to finish this segment off than with a four-minute mixtape of Connor McDavid doing cool things in round two. Enjoy. Win or lose, i'm confident we'll have enough material for another one of these following the next round.
Andrei Vasilevskiy is a machine put on this earth to stop pucks
Andrei Vasilevsky did what Andrei Vasilevskiy does yet again. At a position that's known for its unpredictability, there's no more sure thing going right now than him. During this three-year run of postseason success where no one has been able to beat the Lightning four times in seven games, Vasilevskiy has been hockey's version of the best closer in the game.
He's ruthlessly put away every opponent that they've come across, shutting the door when Tampa Bay has had an opportunity to end the series. Here's what he's done in the ten clinching games they've won during this stretch:
Game 5 vs. Columbus Blue Jackets, 2020: Stopped 37 of 41 shots
Game 5 vs. Boston Bruins, 2020: Stopped 45 of 47 shots
Game 6 vs. New York Islanders, 2020: Stopped 26 of 27 shots
Game 6 vs. Dallas Stars, 2020: Stopped 22 of 22 shots
Game 6 vs. Florida Panthers, 2021: Stopped 23 of 23 shots
Game 5 vs. Carolina Hurricanes, 2021: Stopped 28 of 28 shots
Game 7 vs. New York Islanders, 2021: Stopped 18 of 18 shots
Game 5 vs. Montreal Canadiens, 2021: Stopped 22 of 22 shots
Game 7 vs. Toronto Maple Leafs, 2022: Stopped 30 of 31 shots
Game 4 vs. Florida Panthers, 2022: Stopped 49 of 49 shots
That means that he's given up eight total goals-against in ten games, with six of the ten resulting in shutouts (all of which have come in the seven most recent appearances). He faced 27.5 expected goals worth of workload in that time, which puts him at 19.5 goals saved above expected. He's stopped 306 of 314 total shots against, turning away 68 of the 72 ones that were deemed as high danger ones (via Natural Stat Trick).
The most recent one against the Panthers was the most impressive of the bunch. Florida had by far its strongest showing with their season on the line, finally starting to aggressively pinch and try to sell out to create some offence. But by then, it was too late, because Vasiliveskiy made sure their last-ditch efforts would be all for naught. They peppered him with 49 shots and 3.9 expected goals but weren't ultimately able to get a single one by him along the way.
For the series, the Panthers were able to muster just three total goals in four games, with just two in 182:07 5-on-5 minutes. They threw 154 combined shots at Vasilevskiy, but he stopped 98.1 percent of them, giving up north of 10 fewer goals agianst than expected. Sergei Bobrovski wasn't even bad at the other end of the ice, but he just simply couldn't match that level of play.
Let's give the Lightning skaters some credit here. They did an excellent job of neutralizing the high octane style of offence we'd seen from the Panthers throughout the regular season. They gave them entries into the zone and shots from the outside, but perfectly executed their defensive strategy of building walls in the middle of the ice. Florida wasn't able to break through into those areas with any consistency, and that's reflected by the difference between the quantity and quality of looks created for the series.
The Panthers outshot the Lightning 154-126, but lost in both expected goals and high danger chances (both of which the Tampa Bay had 53 percent shares of).
I don't really understand what the Panthers' plan was heading into this series. It's almost like they didn't watch the previous series because they didn't try to incorporate anything the Maple Leafs did to give Tampa Bay trouble in pushing them to the brink. They weren't pressuring up high at all in their own zone, allowing the Lightning to pass the puck up to their defencemen with impunity.
In the first round, we saw Toronto create one odd man rush after another by attacking them the second they tried to do so. The Panthers also didn't really attempt to do any of those high flips into the neutral zone, which the Leafs used strategically to try and put into the skates of Lightning defenders, allowing their forwards to skate into foot races.
Florida seemed to have no such plan. They basically just tried to keep playing the way they have been all along, attempting to build up speed by passing the puck up the ice. When that didn't work, they really had no meaningful adjustments besides mixing up the line combinations.
I'm not sure whether it would've ultimately mattered because the Lightning are really good, but that certainly didn't do the Panthers any favours. They never stood a chance with the game being played on those terms, and Vasilevskiy handled the rest.
You may also be interested in: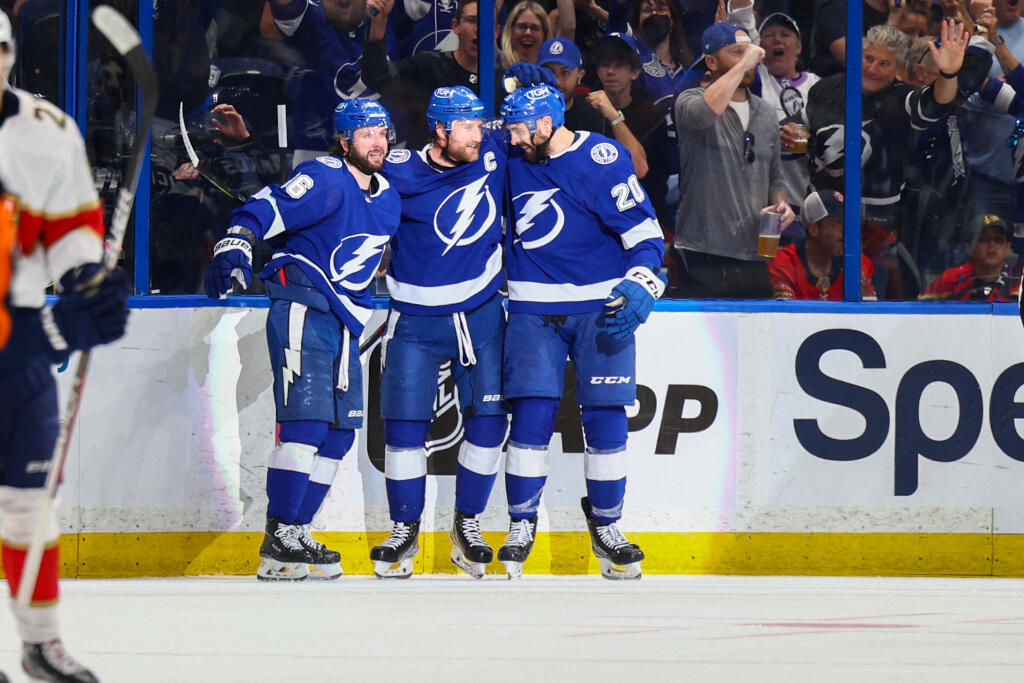 EP Rinkside mailbag: Where does this Lightning team rank?
This article is about: