NHL
Round 2 Takeaways: How the Avalanche and Rangers won their series
Just like we did following the opening round of the 2022 Stanley Cup Playoffs, we're going to be analyzing how each series was won in round two as they finish up.
To get a better sense of what fundamentally pushed the advancing teams over the top, we'll highlight one key factor that served as the ultimate difference-maker.
That could be an individual player that dominated, a whole unit that came together nicely to take over, or a stylistic thing the team did generally to exploit a weakness of their opponent. In each case, there will hopefully be some kind of actionable information that we'll be able to keep in the back of our minds as we continue deeper into the postseason.

We've already taken a look at how the Tampa Bay Lightning swept the Florida Panthers, and how the Edmonton Oilers overpowered the Calgary Flames. This time, we're going to focus on how the Colorado Avalanche finally got over the hump by beating the Blues, and how the New York Rangers came back yet again to beat the Carolina Hurricanes in seven games.
---
All Hail Cale
The Colorado Avalanche are loaded, and there's no shortage of players we could highlight here to shine a light on what makes them special as a team. But what truly separates them from the competition continues to be their prolific blue line, which acts as a tremendous catalyst for them offensively.
Their defencemen excel at transitioning the puck up the ice effectively without losing any momentum in the process, which organically fuels the way they want to play. It allows them to attack in relentless waves, which eventually overwhelms any opponent's best efforts along the way.
Everyone that plays them knows exactly what they're going to do, and what they themselves need to do to try and slow them down. Turning that game theory into actual on-ice execution is an entirely different thing though, and it's a lot easier said than done.
The Nashville Predators and St. Louis Blues learned that the hard way in the first two rounds, showing no real ability to establish any semblance of a consistent forecheck against them. The result was a largely open runway for the Avalanche to skate through, building up speed en route to one rush chance after another. Here's a breakdown of how their defencemen have fared so far this postseason, whenever they've had a chance to move the puck out of their zone during 5-on-5 play: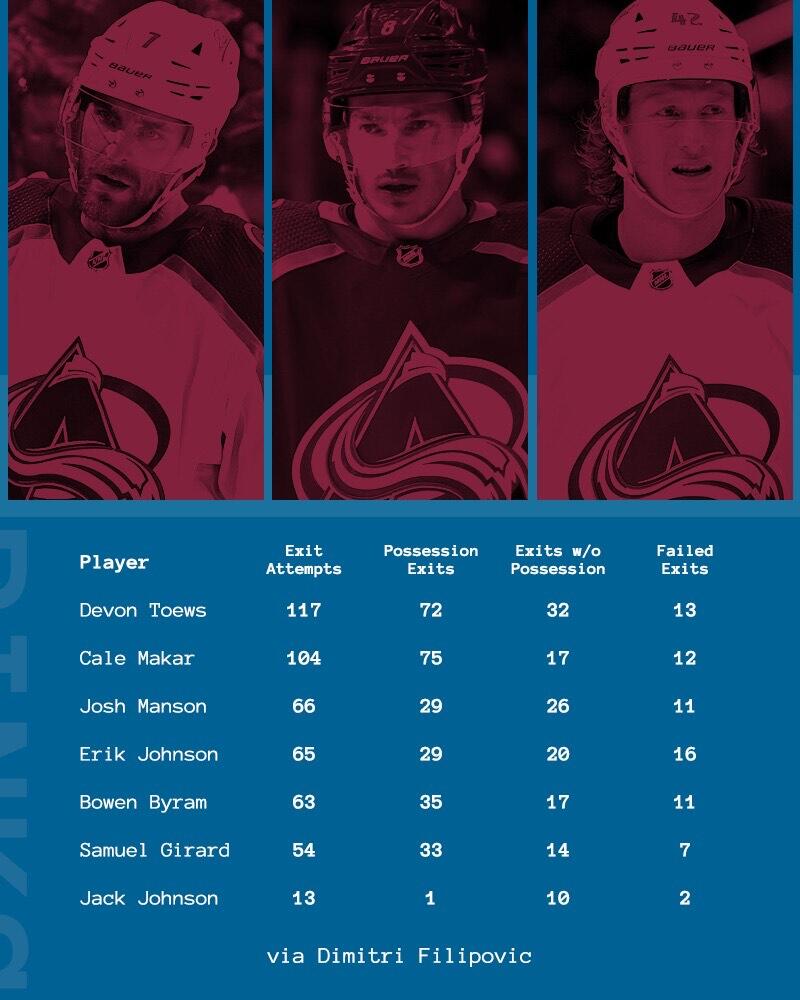 Cale Makar didn't quite have the same counting stats in round two as he did in the previous series, after he shredded with the Predators with three goals and ten points in just four games. He wound up with "only" three assists in these six games, but that doesn't remotely begin to accurately capture his impact. He was still brilliant against the Blues despite the lack of points, showing his worth by asserting himself in a way that's unique to him as the series went along.
I've tracked a lot of games over the years, and the one he played in Game 3, with the Avalanche coming off a loss and stepping into a hostile road environment, was about as good as clean as it gets in this regard. He attempted 10 zone exits and completed every single one of them with possession.
In a similar situation for Game 6, he finished with 12 successful zone exits (on 15 attempts), while being out there for 21 shots for and just five against in his 22:15 5-on-5 minutes. By the end of the series, his final on-ice impacts were equally dominant. With Makar, the Avalanche controlled 65.5 percent of the shots, 65.9 percent of the high danger chances, and 66.4 percent of the expected goals.
The combination of the volume he's chewing up, and the efficiency he's maintaining under the weight of those opportunities is what makes him such a weapon at the position. He functions as a one-man offence, capable of taking the puck and immediately creating something out of nothing all by himself. We almost take it for granted because we've seen him do it so often by now, but it's worth remembering that it's not really a normal thing that other defencemen do.
It's so fun watching him zoom around the ice and make things happen from scratch with his effortless skating form. Here are countless examples of it, through just two rounds worth of games:
One final note while we're on the topic: the loss of Samuel Girard was obviously a sizeable one, particularly in the transition game. The good news for the Avalanche is that they have Bowen Byram, and if his play immediately following Girard's injury is any indication, he sure seems ready for the additional responsibility.
He stepped up in a big way in the final couple of games against the Blues, jumping up from being Colorado's fifth most frequently used defenceman at 5-on-5 to third (behind just Devon Toews and Makar). As you can see above his exit numbers have been excellent, but he's almost been even slicker with the puck during in-zone settings. He's already set up a couple of glorious scoring opportunities for teammates by patiently holding onto the puck and waiting for the right lane to open, before threading the needle. He's also been similarly effective defending his blue line against zone entries as well.
When you put it all together, you get a highly impressive start to the postseason for Byram. The Avalanche are up 11-4 with him on the ice at 5-on-5, while accounting for 34 of the 48 total high danger chances that have happened. Most of that has come with Erik Johnson as his regular partner, but they've also started to experiment with the occasional shifts where they put Byram and Makar together situationally.
We've seen it for just 19:20 so far, but Colorado has already scored three goals in that time while outshooting opponents 21-4. It doesn't make sense for them to do full-time because of how beautifully Makar and Toews play off of each other, but it's a nice option to have in their back pocket for future use.
Regardless, it's great to see Byram healthy and playing after what he went through this season. The fact that he's been this effective is just gravy for the Avalanche, and it's come at a time when they could really use it.
Sticking to the Formula
Most of the intrigue for the round two matchup between the Rangers and the Hurricanes hinged on how statistically different their respective profiles were. New York was always going to get outshot and outplayed territorially at 5-on-5 by Carolina. But they also figured to have distinct advantages in two high leverage areas - goaltending, and the power play.

In that sense, this series was highly satisfying because that's exactly how it wound up playing out over the course of their seven games. The Hurricanes wound up with 38 more high danger chances (118-80), 52 more shots on goal (235-183), and 103 more shot attempts (469-366). But they wound up with seven fewer goals (20-13), reflecting the imbalance in those two specific aforementioned areas.
Let's start with the power play, which much like the Rangers, took some time to get going here. In the first two games, they only had 6:54 of play with the man advantage, and didn't muster a single goal. In the next five games, they scored seven times in 25:43, including two huge ones in the first period of Game 7.
In a series this tight, outscoring the Hurricanes' power play 7-2 in roughly an identical amount of opportunities made a huge difference. Carolina's penalty kill had been one of their biggest strengths all year, but it was clear that they were playing with fire by having to do it so many times. In a matchup against the fourth most efficient unit we saw this regular season, it wound up hurting them at a very inopportune time.
Much like the power play, Igor Shestyorkin was in fine form. Unlike in round one where he had a few hiccups along the way, he put together an essentially immaculate series from start to finish here: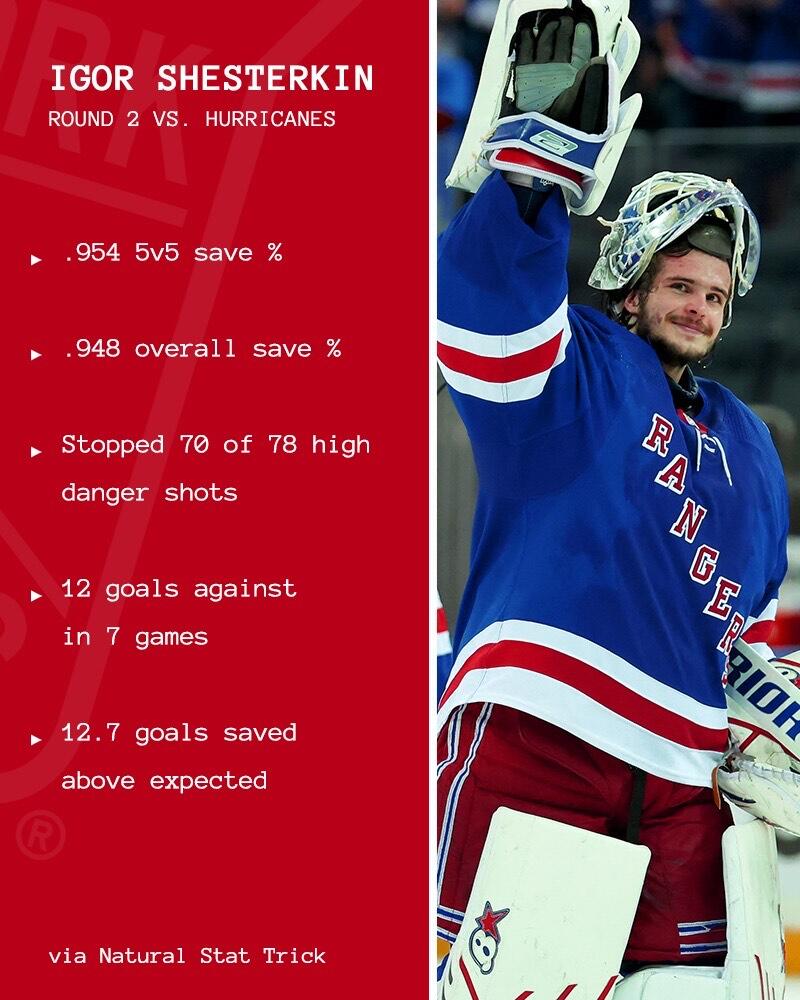 What he's doing this year in totality is just preposterous. If you combine the regular season and playoffs, he's up to 67 games so far. In that time, he's given up 56 fewer goals against than expected, and stopped 93.3 of the shots he's faced. If you remove the two games in which he was pulled in Pittsburgh, he's got a .942 save percentage in the other 12 contests he's played in this postseason.
The level of competition at the other end of the ice figures to ramp up dramatically in the following round. After facing two teams that didn't have their usual starter available, the Rangers will now face Andrei Vasilevsky, who just penned a masterpiece of his own in round two. While Shesterkin had a .949 save percentage and gave up just 12 goals against in seven games here, his next counterpart is coming off a series in which he stopped 98.1 of the shots he faced, while giving up three goals in four games to the best regular season offence we had this season.
It's not quite Connor McDavid against Nathan MacKinnon, but it's a head-to-head matchup that's still quite appealing. They're the two very best the league has to offer by any measure, and come into it playing at the top of their game.
You may also be interested in: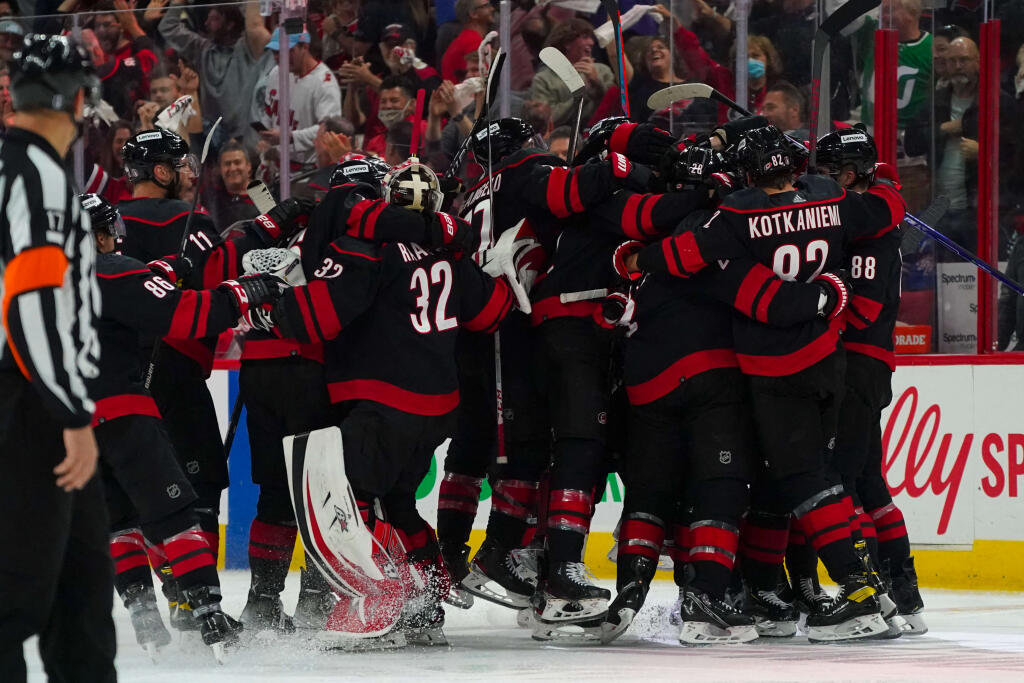 What We Learned: How much will home ice matter for Carolina in Game 7?
This article is about: