2022 NHL Entry Draft
Film Room: Investigating Jagger Firkus' elusive, gun-slinging style
Once upon a time, the path to the NHL was a wide one. The only issue was that you needed to be large enough to fill that path in order to get through. There was virtually no room for an undersized, underdeveloped player to leapfrog his way into the big leagues based purely on speed and skill.
Fortunately, that truth has shrunk to the point where five of the top-15 NHL scorers this past season were either under 5-feet, 11-inches tall and/or under 180 pounds. And those now act as the trailblazers for a player like Jagger Firkus.
Background
When the Moose Jaw Warriors selected Firkus in the fourth round of the 2019 WHL Bantam draft, the Alberta-native stood just 5-foot-5 and weighed 125 pounds. He was coming off of a highly productive under-15 campaign where he scored 33 goals and 65 points in just 30 contests. Still, the size concerns were justified and played a role in his later selection.
His transition to the Western League took time because of those concerns. He was used sparingly during the bubble season in 2020-21. And as a result, Firkus, who now stands 5-10 and weighs 154 pounds, was rated as a C-level prospect by NHL Central Scouting to begin the season. That's a grade given to a player who is likely to be selected in the mid-to-late rounds of the NHL draft, if at all.
Well, Firkus sure had something to say about that rating this season.
His 36 goals were tops among draft-eligible skaters in the WHL. He averaged 2.97 shots per game. And his 80 points in 66 games trailed only Winnipeg ICE center, and consensus top-15 pick, Matthew Savoie from the 2022 class. If that wasn't enough, Firkus maintained his impressive output in the post-season, scoring six goals and 12 points in 10 games while averaging four shots on net per outing.
The tight-checking postseason didn't affect his style.
The Analytics
We at EP Rinkside are fortunate to have access to the many many (many) hours of manually tracked data from our very own Mitch Brown. The data is comprehensive and holds a substantial sample size - especially since it's just one man recording all the information.
When looking at Firkus compared to his draft-eligible WHL peers from the past six seasons, the picture is clear. He's a high-end generator of expected goals and holds his own in expected primary assists as well.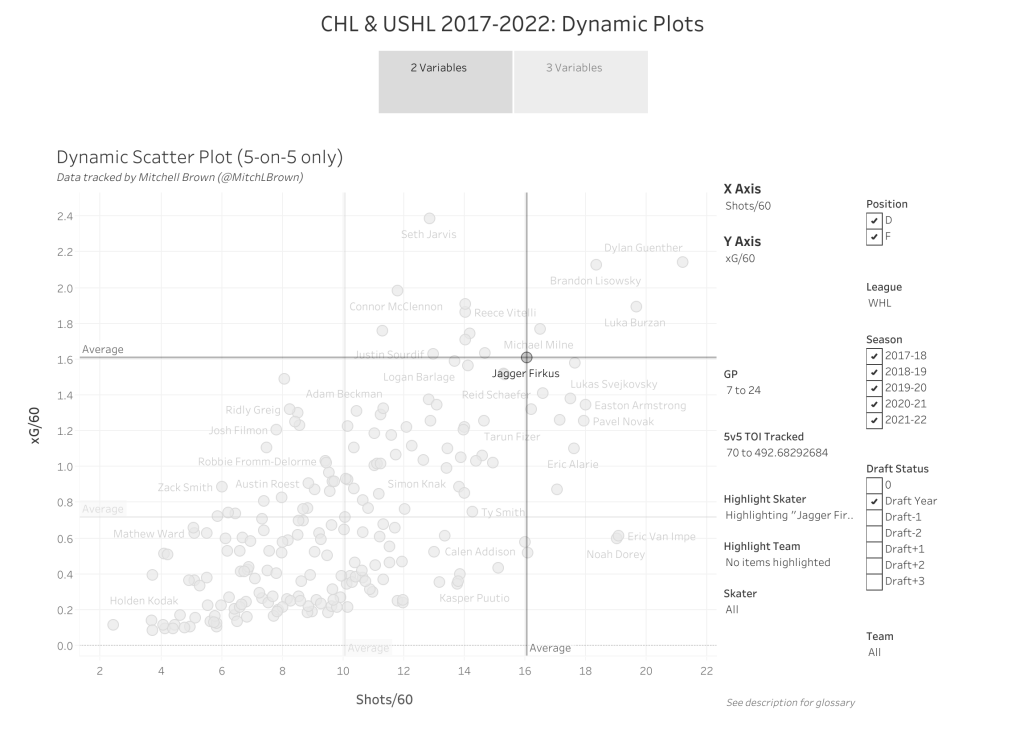 Additionally, his ability to transition the puck out of the defensive zone with possession and into the offensive end - also with possession, stack up extremely well against his peers.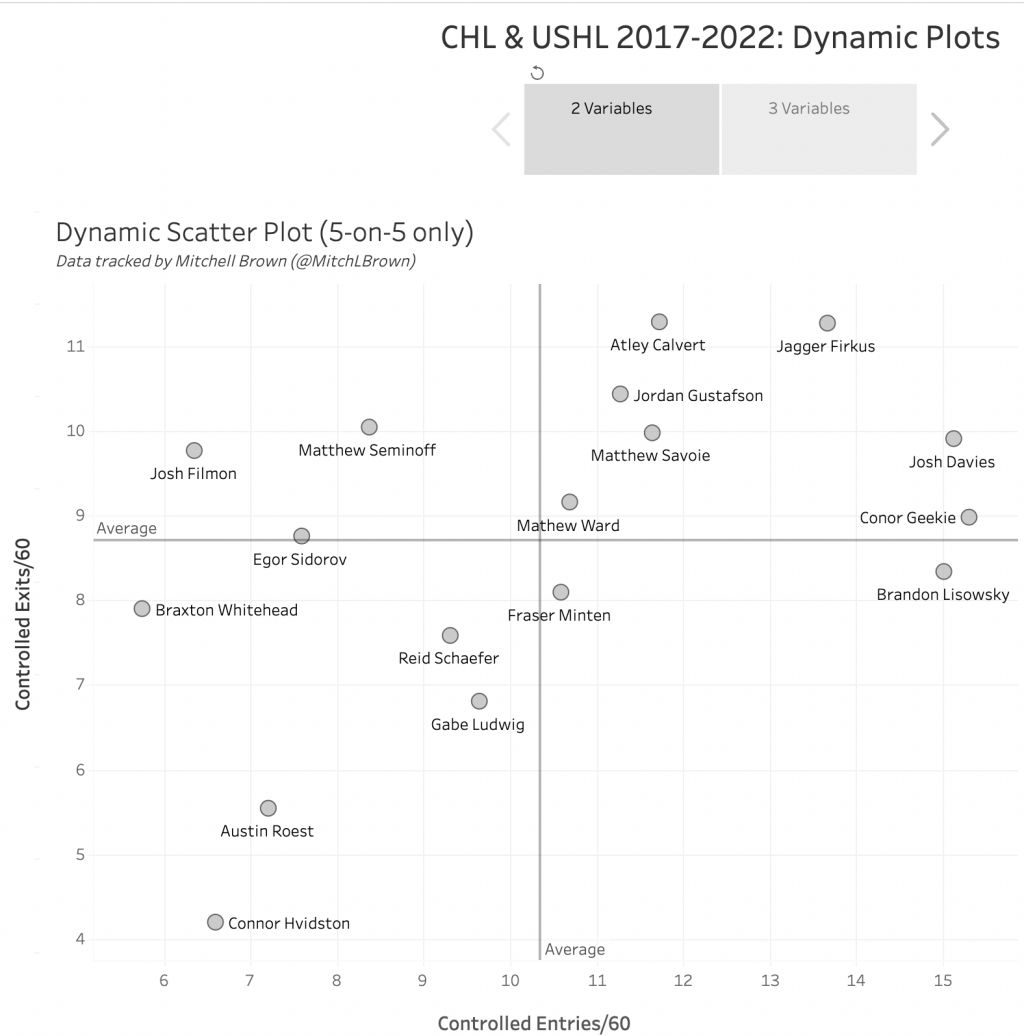 Finally, considering all North American prospects from the CHL and USHL, those same elements to his game stand out, as does his shot generation. It's only his defensive data that lags behind, which isn't the most shocking element when watching the Canadian forward play.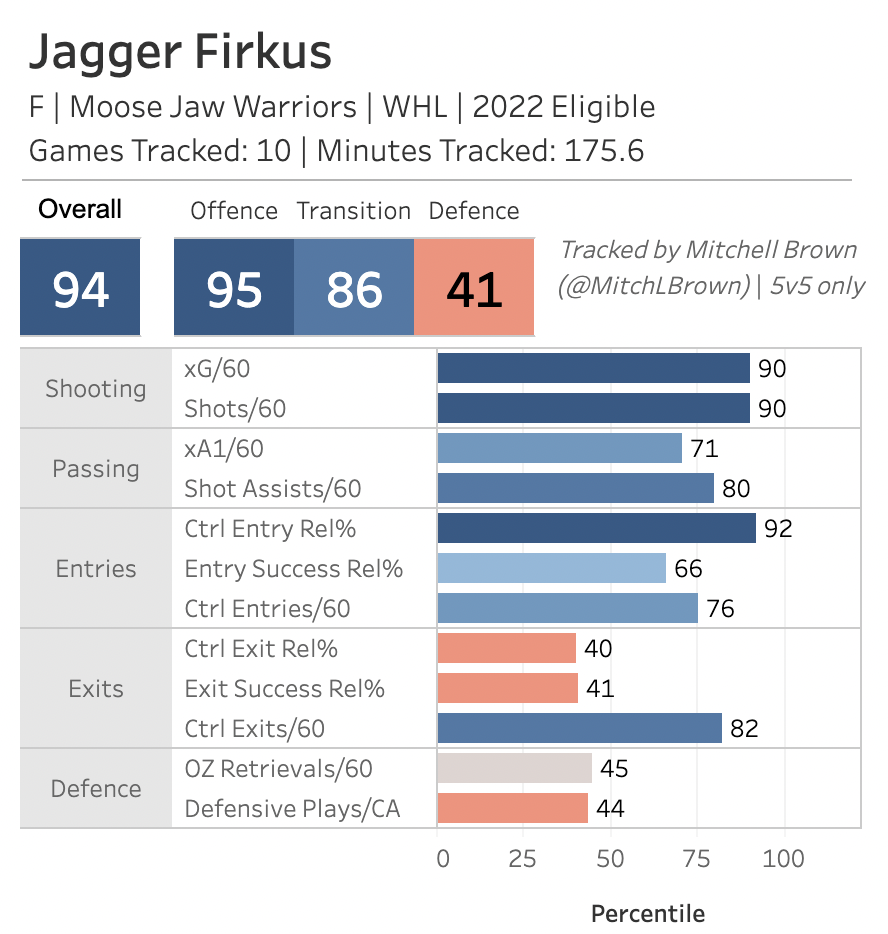 Digging slightly less deep, on a production level, Firkus performed admirably as well. According to Pick224, among draft-eligible CHLers, Firkus sat second for primary points per-60 on the man advantage. He was sixth for even-strength primary points per 60 minutes. He was third in the CHL for even-strength goals, fourth for power-play goals, fourth for power-play assists, and fourth among all CHL skaters in points-per-game.

These are not insignificant placements among the 2022 CHL crop of talent.
Despite these numbers, Firkus is often cited as the sixth- or seventh-best prospect in the Western League let alone the entire CHL. Now, let's dive into some of the pros and cons that have led to his being placed as the 22nd ranked draft-eligible player by EPRinkside
The Shot
The first thing you think of when you watch Firkus play is his release. This is a player who, despite weighing just 154, is able to create incredible downforce on his stick and the result is a quick, heavy release. His ability to alter puck positions, create shooting lanes, and work inside traffic enables him to unleash his number one weapon with deadly precision even in tight-checking situations.
The 18-year-old led all draft-eligible WHL skaters in goals with 36 in 66 games. 24 of those goals came at even-strength, where Firkus relies on his great edgework and quick hands to get the defenders and netminders moving to open up holes.
On the man-advantage, he's notoriously threatening from the point or the top of the left circle where he can maneuver around and have his forehand release already situated on the inside.
In the clips above, we get a look at how Firkus is able to get his hands out in front of his body to help align his body mechanics ahead of creating that downward force on the shaft of his stick. We see the forward use creative lines to get the defensive scheme and netminder moving before uncorking.
We also see an ability to adjust and adapt his body position for less-than-perfect passes while still being able to generate power and accuracy, subtle release point changes, masking his intentions, utilizing a variety of shot selections and simply beating netminders from out high.
The best part? All but one of those goals were scored at even-strength.
Here's a quick look at the variety of ways Firkus can score on the man-advantage.
At the end of the day, Firkus' ability to release it in-flight of the rush or off a curl, his ability to get to the inside, and to utilize a variety of shots to score in junior represents an excellent set of traits that often lead to NHL triggermen. The question is whether or not a player of his stature is capable of replicating these situations and advancements at the NHL level.
Skating
Of the six traits we at EP Rinkside judge a player on (skating, passing, shooting, puck skills, intelligence and physicality) Firkus' skating ranks ahead of only his physicality. And that shouldn't come as too much of a surprise for a player who is demonstrably outweighed by the vast majority of junior-aged players.
The 18-year-old does have moments of proper depth to his posture that leads to proper extension and recovery. His ability to cut back, sprinkle in punch turns, shifty crossovers into the dotted line area, and even use all his edges to open up 10-2 or to spin off of coverage show his nuanced skating skill.
However, his lack of lower body strength is highly evident much of the time. He's unable to stay low in his skating posture for a long stretch and when he ends up standing higher, his extension shortens, and his power and speed are impacted, as is his balance.
In the compilation below, we get two looks at his lack of full stride extension, and then a glimpse into his fancy footwork as he meshes backward crossovers while moving laterally into forward, accelerating crossovers to gain speed and force the defenders to adjust to his pace and route.
At times, it's easy to look at Firkus' overall posture and mechanics and think he's maybe going to wash out as an NHL-average skater if things progress. However, some further factors have to come into play. First of all, the strength.
If he has a chance to be an impactful NHLer, then he's going to be playing with at least 20 more pounds on his frame. Much of that will be coming from the lower half. That alone should help his ability to stay low in his stance and added explosiveness and sustained stride length deep into shifts. It will greatly aid in his ability to withstand physical pressure and improve on a very weak balance that plagues many of his opportunities.
Secondly, despite being just an average junior skater, he uses an array of intelligent strategies to maximize the impact. He knows when to delay at the right times. He sees the ice well and pre-scans and scans regularly. He understands the timing of arriving at soft spots to maximize the potential to strip a puck or receive a dangerous pass. Away from the puck, he uses his movements effectively. He takes strong routes to loose pucks or to cut off defenders on the forecheck.
All of these decisions come together to help mask some of his weaknesses.
Puck skills
When watching Firkus play, the shot stands out. The mind stands out, but maybe most noticeable in nearly all of his shifts is his highly deft handling of the puck. The Alberta-native owns some seriously nifty hands and possesses the one trait that all high-end handlers boast: poise.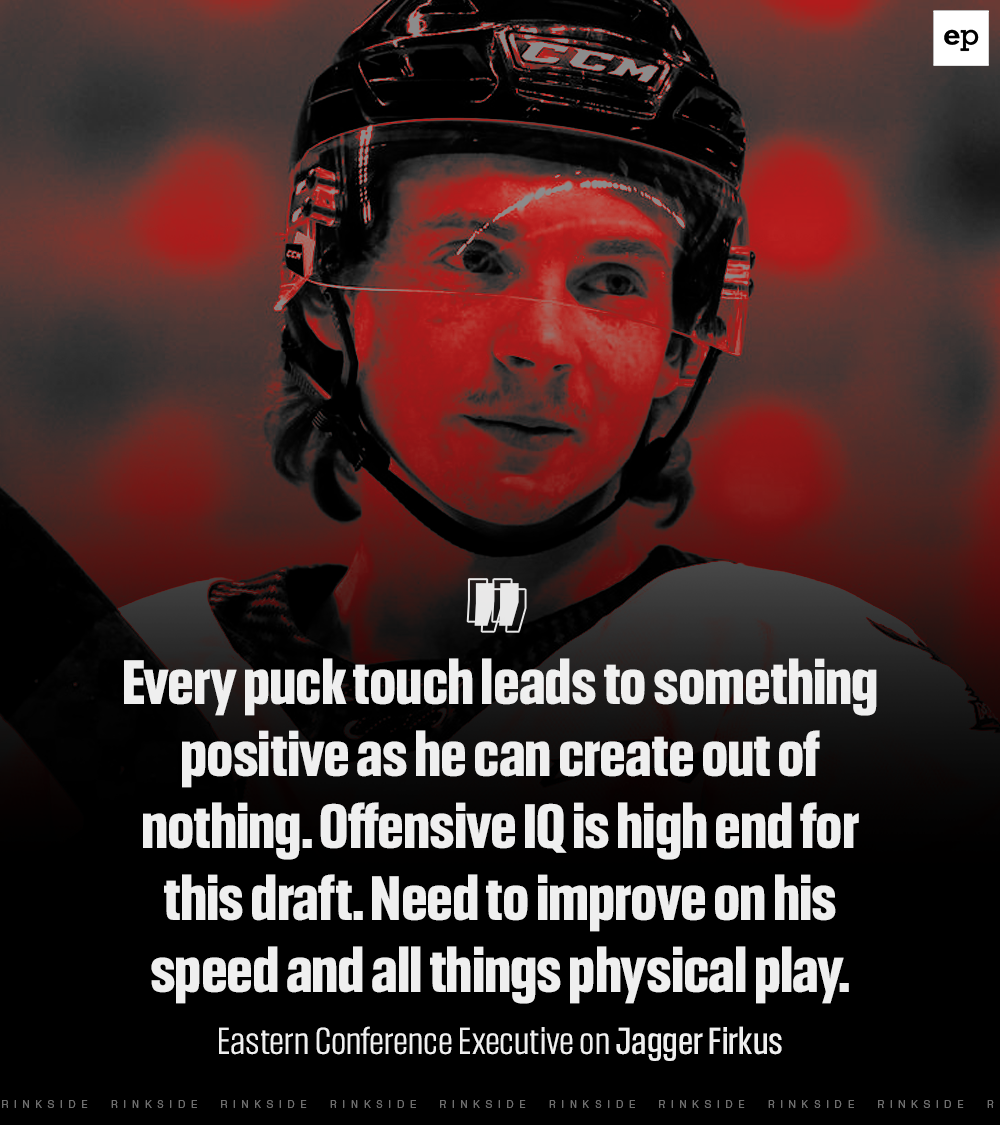 Whether he's coming at top speed through the neutral zone, or at a standstill in the corner with a defender closing in, he always has his head up and remains calm and controlled in his movements. This allows him to wait for an extended stick to be offered up to move the puck through, for a defender to commit to attacking at a certain angle so he can cut back against the grain on him.
And, of course, it allows him to set up and complete complex, multi-pronged dekes that can leave defenders looking silly and get the fans out of their seats.
Firkus employs a very soft touch on his stick while maneuvering the puck. This soft bottom-hand grip allows him a wider range of motion to maneuver the puck fluidly in a wide arc around his body or to bring it back to the inside and quickly. He's fluid at the top half of his body, allowing his shoulders to mesh with his arms and hands.
Additionally, he doesn't telegraph his movements and will often complete his deke at the last moment, further exemplifying his confidence and composure even while under duress.
In the clips below, we see a comprehensive look at many of his handling skills.
Amongst those clips were several examples of the Western Leaguer attacking the dotted line area of the ice. Here's another example of him showing his willingness to attack the net front despite the threat of physical harm.
However, there is some pause for concern when watching Firkus against strong competition that eliminates his time and space quickly and leans on him. He can find himself shying away from that type of game, the game that will be waiting for him at the next level. The need for fearlessness will become more demanding and will be aided by increased strength and maturation.

This is likely the biggest reason he isn't a locked-in top-15 prospect in a class that is light on high-end skill. Teams will question how effective he'll be against NHL defenders and schemes. And that's justified. It's an area that needs improvement.
What the Scouts are saying…
"His skill level is phenomenal. I don't think it's a stretch to call his hands among the best in the draft. He might take a while to make the NHL though since he's so far from physically ready." - Eastern Conference scout
"A terrific release and knows how to create space to get it off. Thinks the game at a high level. Can be completely neutralized against physical play though. Needs a lot of strength." - Western Conference scout
"I just don't think he'll get to the inside enough at the next level. I wouldn't take him in the first two rounds." - Western Conference scout
"Playmaking forward with excellent skill, sense and passing ability. Excellent release and accuracy on his shot. Every puck touch leads to something positive as he can create out of nothing. Offensive IQ is high-end for the draft. Need to improve on his speed and all things physical play." - Eastern Conference executive
"Highly creative with the puck and has a rocket of a release. I like him a lot." - Western Conference scout
Conclusion
A WHL scout I spoke with earlier in the season described Firkus as, "Aleksi Heponiemi if he had an elite release." At 23 years old, Heponiemi has yet to establish himself as an NHL regular. That could certainly be the future for Firkus as well, but his ability to score is without question a separator between the two slight, WHL point-producing machines. His ability to cut into the middle of the ice and make plays in traffic is also a separator.
This is a player who has grown five inches and added 30 pounds in less than three years. There's a very real possibility that Firkus could end up growing a bit more before finally settling at a height and then mindfully attaching further muscle to his frame.
He'll likely never be a 'big' player, but with his game built on shifty, elusive routes, nifty pucks skills, strong vision and a wicked release, he won't need to be. He will need to prove capable of handling the rigours of pro hockey and time and space are limited and dekes are less likely to work. If he can do that, then there is a top-six forward group waiting for him to add dynamic elements.

This is a player that could realistically hear his name called anywhere from just outside of the top-10 all the way to early on Day 2. All it takes is one team to buy in on his upside. But if general managerss become wary of his comparables, then it could be a long wait.
Regardless of when he goes, he's very likely to have an extended wait time as he physically matures.
You may also be interested in: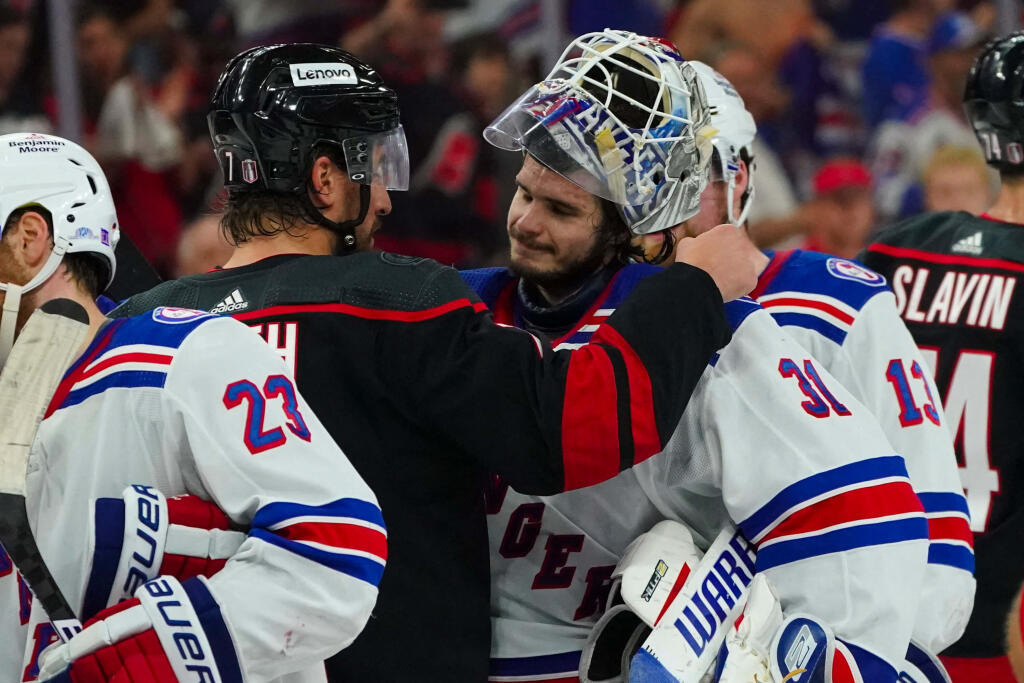 Round 2 Takeaways: How the Avalanche and Rangers won their series
This article is about: