NHL
The 2 biggest stars of the Stanley Cup Final are Cale Makar and... Valeri Nichushkin?
DENVER — If you were to ask members of the Colorado Avalanche who the best and most consistent player on both ends of the ice for them is, you'd probably expect them to say defenceman Cale Makar. Maybe Mikko Rantanen or world-class center Nathan MacKinnon.
Valeri Nichushkin, the player they call "Choo Choo," probably wouldn't come to mind.
But maybe he should.
"Since coming here, I don't know, I haven't seen a level of play from a guy consistently, a 200-foot game offensively and defensively like I've been seeing from Val," Avs forward Andrew Cogliano said following Game 2 of the Stanley Cup Final on Saturday night at Ball Arena.
While Makar had his first Stanley Cup *moment* in Game 2, it's Nichushkin who seems to be stealing the show as the breakout star after the first two games.
Nichushkin had another two-point night, his second in as many games, in Colorado's 7-0 route of the Tampa Bay Lightning, scoring twice to become one of seven players since 1990 to record multiple points in each of the first two games of a Stanley Cup Final. His teammates Rantanen and André Burakovsky also made that list, joining Chris Kunitz (2017 with the Pittsburgh Penguins), Justin Williams (2014 with the Los Angeles Kings), Mario Lemieux (1992 with the Penguins) and Raymond Bourque (1990 with the Boston Bruins).
"I think he's built for this time of year. That's my take on it," Colorado coach Jared Bednar said. "He's not doing anything different than he hasn't done first for the better part of two seasons at least. I mean, I've said it before. big, long, strong, fast, tenacious, hungry, relentless on the puck. Finishing off the chances he gets, he can play with top guys, you can move him up and down the lineup, plays power play, penalty kill. I mean, I don't know what else to say about the guy."
You can say he's come a long way. And as a pending UFA, he's going to get paid.
It's tough to remember that the Dallas Stars waived him in 2019. The 27-year-old looks like a completely different player, having finally found the offensive part of his game to go along with the defensive prowess. In the regular season, Nichushkin set new career-high marks in goals (27), assists (27) and points (52).
Val Nichushkin seeing a loose puck pic.twitter.com/PjjwS5DuZ7

— Dimitri Filipovic (@DimFilipovic) June 19, 2022
"I think in Dallas it was maybe just a different scenario. I don't think he was comfortable with different things going on," said Cogliano, a former teammate of Nichushkin in Dallas. "Honestly, I can't even describe the type of player Val is. He's phenomenal. He's just a guy that drives the play all night, he's relentless on the forecheck, he's been scoring. But it's the details of his game. In Dallas, he was always very good defensively, I just think he got in a rut scoring-wise."
It's clear that he found the right fit in the Colorado system. And skating with elite linemates like Landeskog and MacKinnon, as well as offensive forwards like Makar and Devon Toews, will naturally lead to more scoring chances.
But Nichushkin has steadily improved since he has been in Denver.
After failing to score a single goal in 2018-19 and getting bought out by Dallas, he had to earn a role with the Avalanche in 2019-20. He signed a one-year, $850,000 deal and did exactly that. He was re-upped for two years after showing strong play on both ends of the ice and went from playing on the third line to the first.
Bednar was somewhat surprised with how quickly Nichushkin flourished in Colorado, but he knew the big winger wanted it. He's spent the last three days lauding his work ethic, tenaciousness and demeanor.
"This is a guy that is highly dedicated, highly motivated, and that he puts in a lot of work and he's one of our hardest working guys," Bednar said. "He kind of follows in Nate's path there. I gave the example before, like I'll be cutting video after a game, trying to get some work done to lighten the load for the next morning and I'll be the last one there, the trainers are leaving and I'll be walking out of the room and I'll see Val walk out of the room, he's just getting done lifting."
Are you following Elite Prospects on TikTok??@AbbeyMastracco is in Denver for the #StanleyCupFinal and wants to know who will win the Conn Smythe! ?

Reply with your pick before puck drops on Game 2 tonight! ⤵️ pic.twitter.com/7wa8dVKJVb

— Elite Prospects (@eliteprospects) June 18, 2022
But the real star of the show (at least so far) has been Makar. This isn't exactly surprising given the fact that he's the odds-on favorite to win the Conn Smythe Trophy, but the Bolts did a good job of limiting him in the first game.
That wasn't the case in the second, when he scored the sixth and seventh goals of the night for the Avs, effectively completing the touchdown and the PAT.
His shorthanded goal just over two minutes into the third period was indicative of how the first two games have gone for Tampa Bay.
The Lightning's historically dangerous power play is 0-for-6 and is barely even generating any chances. A puck came off the wall and found Makar in the defensive zone, he took it back the other way and shot it over a diving Victor Hedman, past Andrei Vasilevsky.
"I feel like everybody's on the same page for the penalty killing. We're trying to take away some key options that they maybe capitalized on prior," Makar said. "Good teams like them, they're going to find ways to exploit you so we always have to be ready for anything. Overall, I don't know if it was Cogs made a good play batting the puck down or whatnot, and then we were 2 on 1. But just felt like I had an ability to shoot it, had a little bit of space and fortunately it went in."
Makar has 24 points through 16 games, which is two more points in nine fewer games than Hedman in 2020 when he won the playoff MVP award.
It's tough to imagine a former NHL castoff overshadowing a Norris Trophy finalist like Makar on the game's biggest stage, but through two games that's exactly what's happened for the Avs.
You may also be interested in: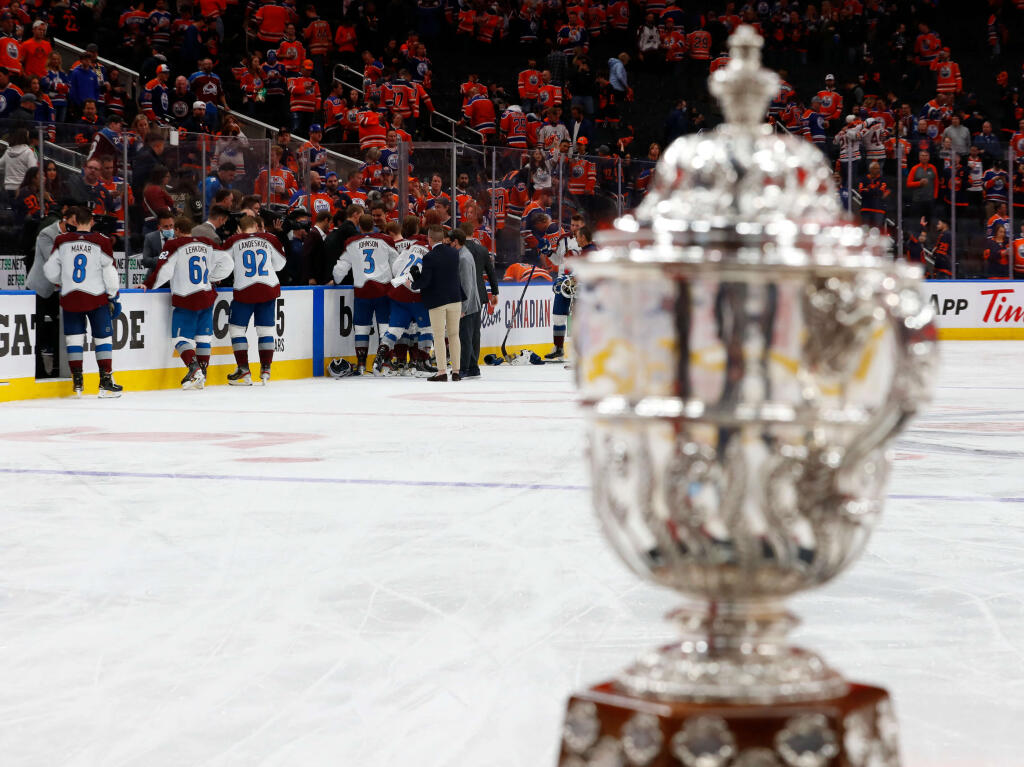 Stanley Cup Final Preview: Colorado Avalanche vs. Tampa Bay Lightning
This article is about: