2022 NHL Entry Draft
"That's where I see myself:" Shane Wright, 2022 top prospects take lessons from the Stanley Cup Final
DENVER, Colorado — The Colorado Avalanche are a prime example of what happens when teams scout well and draft even better. Cale Makar was a lottery pick. Nathan MacKinnon was the first overall pick in his class.
The Avs' two first-round picks from 2019 are both playing on the power play in the Stanley Cup Final. Their first pick in 2016, Tyson Jost, was flipped to the Minnesota Wild for Nico Sturm, who has had to play a big depth role in the Final round with Nazem Kadri injured.
This is not lost on some of the top prospects of the 2022 NHL Draft class. Each year, the NHL brings a handful of top draft-eligible players to the Stanley Cup as a way to introduce them to the media and inspire them for the future. Shane Wright, Conor Geekie, Matthew Savoie and Cutter Gauthier were in attendance for Game 2 of the Stanley Cup Final series between Colorado and the Tampa Bay Lightning over the weekend at Ball Arena, and suddenly they saw a glimpse of what they could help a team accomplish.
"Obviously the draft really impacts the structure of a team and the trajectory of a team and where they want to go," Wright said. "Tampa and Colorado both had first overall picks a number of years back and now they're finally contenders. Well, Tampa the last couple years, but Colorado more so this year is now a contender, one of the best teams in the league. Definitely, it takes a couple years to build those draft picks up and draft the right pieces and get the right pieces in place, but it's definitely cool to see, for sure."
Development is a non-linear process and each organization handles it differently. Colorado and even Tampa Bay have been model organizations when it comes to helping their prospects grow into top contributors. The Bolts have long relied on scouting to identify talent in the later rounds since organizations that are perennially contending don't often have a lot of draft picks or prospect capital to work with.
Former third-round draft pick Brayden Point is a player that made an impression on Savoie. An undersized center like Point, Savoie looks at players like him and understands how the game has changed and is now trending toward favouring some smaller, speedier forwards like himself.
"I think we both play a fast game, we're smaller guys who like to possess the puck," he said. "I think those are our biggest comparables and similarities, but I'm just really excited to get a chance to watch him."
But while Savoie, Gauthier and Geekie will benefit from the trip and getting to meet with the players, it was Wright who was the focus (though Gauthier momentarily had a large scrum when he said he told teams at the combine that he would compare himself to a shark as the "king of the sea").
The projected first overall pick is coming for the NHL next season and he's not shy about making it known. Wright says he's ready for hockey's highest league.
"I think I am. I really do," he said. "Just based off watching out there, it's fast. It's going to be an adjustment at the start. I think the biggest thing is going to be the speed and just kind of learning the league, as well. But I think that with a lot of work this offseason and with a lot of training and developing in training camp as well and learning a lot from the coaches and other players,
"I think I can step in to really make a difference, and that's where I want to be. That's where I see myself and I think that's the goal I set for myself for next year."
it's here and it's beautiful ??

The Elite Prospects #2022NHLDraft Guide is officially available NOW!

Don't be in the dark on draft day, check it out!!

?: https://t.co/uK2CXmvcOC pic.twitter.com/CQ4RbsS7ZE

— Elite Prospects (@eliteprospects) June 15, 2022
Wright recently met with the Montréal Canadiens, the team that holds the No. 1 pick, at the NHL Scouting Combine in Buffalo. He had dinner with the staff and said he understands their vision for the future but also what the team's history means to the city.
He understands what a Stanley Cup would mean to the Habs faithful, and now having seen a Final game, he understands a little more of what it takes to get there.
"I think just being here, being in the Stanley Cup Finals, that's what you work for your entire life," Wright said. "You work to be in the Stanley Cup Finals and have the opportunity to be in the Stanley Cup Finals and have the opportunity to win a Stanley Cup. It was definitely inspiring to see those guys here, see how hard they worked and see what it takes to make it at this level here."
You may also be interested in: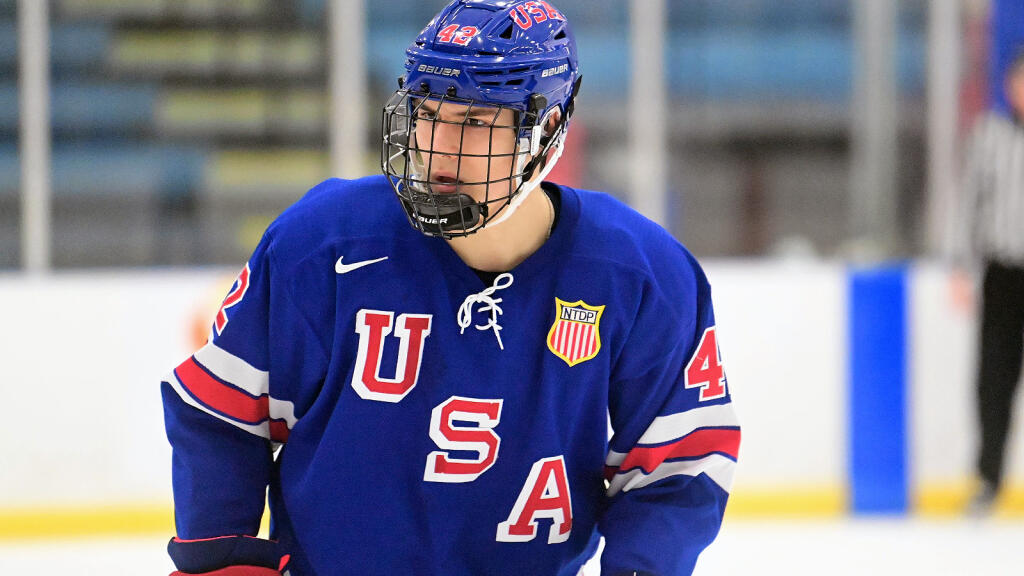 Cutter Gauthier's versatility sets him apart
This article is about: