NHL
'Sneaky P:' How Ondřej Palát went from a last-round draft pick to Stanley Cup star
DENVER — Ondřej Palát wasn't quite Mr. Irrelevant back in the 2011 NHL Entry draft, but he was pretty close. Drafted at No. 208 overall in a draft of 211 people he was four spots shy of being named Mr. Irrelevant, to be exact, but who's counting?
Certainly not Palat, who scored his 12th game-winning goal of his postseason career on Friday night in Game 5 of the Stanley Cup Final at Ball Arena. The 3-2 win over the Colorado Avalanche staved off elimination and forced a Game 6 in Tampa on Sunday.
The Lightning became the second team in NHL history to win at least four consecutive games while facing elimination, all by a one-goal margin. The last team to do it was the Chicago Blackhawks, doing so two years in a row in 2013 and 2014.
"That guy does everything for our team," Lightning winger Corey Perry said. "He's out there at the end of the game. He's on the power play, he's penalty killing. He's a warrior, that guy."
Palat's goal game at 13:38 in the third, about 11 minutes after Cale Makar's rebound banked off the skate of Erik Černák and bounced underneath Andrei Vasilevsky to tie the game at 2-2.
This was the second time in as many games the Avs tied the game at 2-all early in the third period. Game 4 in Tampa went into overtime and this one had the makings of another overtime game as well.
There was a sensational stretch of action that featured quality chances traded back and forth, tremendous individual efforts, clutch defensive plays, speed, grit, determination and just about everything else you could ask for from an elimination game. There was even a slightly ironic too many men on the ice call against the Avalanche in the third period, much to the chagrin of the Bolts.
But with three Avs players around the post, Palat was left alone in the slot. Mikhail Sergachyov sent a feed to Victor Hedman, who went up to Palat to complete the tic-tac-toe sequence. Palat beat Darcy Kuemper, with the puck sneaking underneath his pad.
ONDREJ FREAKIN' PALAT pic.twitter.com/wmdL8tirfg

— Tampa Bay Lightning (@TBLightning) June 25, 2022
"He scores a lot of big goals, this time in the playoffs, it's pretty remarkable," Lightning captain Steven Stamkos said. "I just saw a stat he has 12 game-winning goals or something, we always joke with Pally that he just finds a way. Sneaky P found a way to put one in there, obviously a really huge goal for us. We extend the season, that's what we wanted to do. We talk about one game at a time, it was a grind but we found a way, great effort. Now we've got to do it again."
Over 150 people attended a watch party for him in his hometown of Frydek-Mistek, Czechia, staying past 2 a.m.
It validated Pat Maroon's assessment of the 30-year-old Palat.
"He's a star," Maroon said. "In this league and he's a big-time player in this league and he shows up in big moments."
Palat didn't seem destined for stardom when he when was drafted out of the QMJHL 208th overall in 2011. He's been quietly consistent since he entered the league in 2012-13, but he doesn't score 30-40 goals a season so he's often been overshadowed by bigger, brighter stars on a roster laden with them.

But coach Jon Cooper, who was then the head coach of the AHL's Norfolk Admirals, remembers thinking "there's something about this kid." The club kept him in the AHL in 2011-12 instead of sending him back to his junior team and he helped the Admirals win the Calder Cup in 2012.
"When I was drafted and I went to the NHL for first time I was just trying to work hard, play every game same way and stay in the NHL," Palat said. "It's been working so far."
The Bolts always saw the potential for this, even if the rest of hockey didn't. This is a club that has shown an ability to mine talent in later rounds and Palat is an example of this.
"When we got him in, what you're seeing today is what we saw in him," Cooper said. "And he's always just been the guy that just doesn't get the publicity."
More than just Palat will be getting publicity for this win. Owner Jeff Vinik chartered a plane for 150 Amalie Arena and Lightning staffers to Denver for the game. They created a small, but vocal cheering section that could be heard when the life was taken out of the home crowd after Palat's goal.
But the Bolts will mostly get recognition for being tough in the face of adversity and finding a way to win yet again.
"That's what teams do. That's what good teams do. You find a way," Stamkos said. "Keep plugging along. And I mean this is fun. This is what hockey's all about, different guys stepping up at different times."
Jan Rutta opened the scoring for the Lightning, going five-hole on Kuemper at 15:23 into the first period. Just over five minutes into the second period, Valeri Nichushkin scored his fourth goal of the series, tipping in a Makar rebound. But Nikita Kucherov gave the Bolts back the lead three minutes later with a massive slapshot on a 4-on-3 power play, scoring his first of the series.
Jared Bednar on Darcy Kuemper's Game 5: "He was OK. I'd like to see him get the first one, obviously."

— Chris Johnston (@reporterchris) June 25, 2022
"Little bit of a slow start, doesn't help when you're killing penalties right off the bat," Colorado coach Jared Bednar said. "Kind of gave them their skill guys and their top guys a little momentum took us a little bit a while to find it. But we're getting to the net, there was a bunch of scrambles again. Some good looks."
The series will shift back to Tampa for Game 6. Colorado can clinch its first Stanley Cup championship since 2001 with a win Sunday at Amalie Arena.
"I think if you look at this series, was it meant to go six or seven? Damn rights it was," Cooper said. "It's two damn good hockey teams here. We're looking forward to seeing you guys in two nights."
You may also be interested in: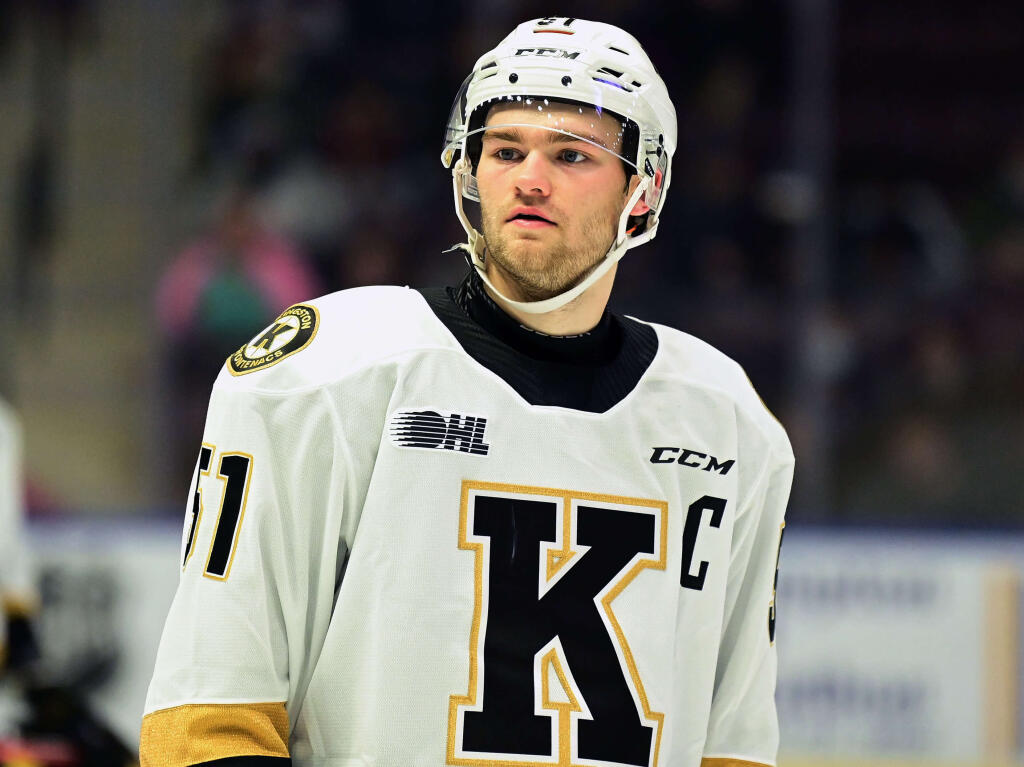 "That's where I see myself:" Shane Wright, 2022 top prospects take lessons from the Stanley Cup Final
This article is about: