2022 NHL Entry Draft
Reid Schaefer's power forward profile makes him one of the 2022 NHL Draft's late risers
Expectations were tame for Reid Schaefer when he started his draft year with the WHL's Seattle Thunderbirds. Even the most diehard T-Birds fans and Schaefer backers didn't expect too, too much from the young power forward.
"That kid has improved as much this season as any Seattle player I can remember," said Ryland Spencer, longtime season ticket holder. "If you would have told me he was going to have 30-plus goals this season I would have laughed at you. I was just hoping to get 20 points out of him at the beginning of the season."

Instead, Schaefer potted 30 goals en route to 58 points in 66 regular season contests, helping the Seattle Thunderbirds go on a decent run to the WHL Championships, where they eventually lost to the Edmonton Oil Kings. That may not have been the ending Schaefer or the Thunderbirds hoped for, but his 21 points in 25 games were a nice way to cap off a breakout year for the 2022 NHL Draft prospect.
"It was a good season both from the individual and team standpoint. We had a lot of team success that contributed to my success," Schaefer stated. "I utilized the last offseason to get better. Catch up on my skills. I just went into this season a lot more confident and a lot more positive. That allowed me to play my game a bit more. That contributed to my offensive success. When our team was winning games and I was on the scoresheet, and I was a physical presence. It added to the team and physical success."
Schaefer had a chance to play with some power play studs in Seattle. Players like Jordan Gustafson and the power play specialist, defenceman Kevin Korchinski, fellow 2022 NHL Draft prospects, helped him build one of the WHL's most formidable man-advantages.
"Gustafson and Korchinski are really good players. If I find some open ice, I know they'll get me the puck. It's a matter of getting open and using my shot to my advantage," Schaefer said with confidence. "I believe my wrist shot is my best. I just use my slap shot for the power aspect. It's harder for goalies to stop and handle the rebound."
When you start scoring the opposition changes the way they used to play against you.
"It started around Christmas. I felt like I was turning some heads. When more were noticing me, it made me more eager to keep going. After that first half, I had some reflection and said to myself that I wanted to be better in the second half," Schaefer revealed.
In 2019-20 when the WHL eventually shutdown, Schaefer was able to play in the AJHL for the Spruce Grove Saints. AJHLers stick together and have a kinship. When Cale Makar won the Conn Smythe, Schaefer felt good about it because of a similar start to his career as well.
"It's awesome that an AJHL product won the Conn Smythe and a Stanley Cup. He was an AJ' guy and so was I," Schaefer reiterated. "I am a hometown boy in Spruce Grove. Playing for my hometown was special. That was a fun year. As a 16-year-old, I tried to use that as a development season."
Grant Fuhr is a legendary goalie who played for the Edmonton Oilers among a few other teams. He's a hall of famer and the most famous person to come out of Spruce Grove, Alberta. So, it would make sense that Schaefer said that's one of the big attractions in town.
"I would say the Grant Fuhr Arena. He was a legend in the hockey world. He represented our town well," Schaefer cited.
Saying you're a power forward is nice, but actually doing the work to earn that qualifier is another thing entirely. Schaefer walks the walk.
"I didn't hit my growth spurt until I was 16. I take pride in winning my wall battles. I'm a bigger guy (6-foot-3). I try and use my size to my advantage," Schaefer said. "I try and use my strength to my advantage, so I take pride in winning battles, and that's a key factor to my offensive success.
"I like to go to the net. I like to go to the paint and drive to the net. I can score some crazy goals sometimes. I'll take any goal that I can whether it's an around the paint goal or a deflection. I take pride in getting to the net and getting greasy."
Schaefer has bottom-six tools. Before the year started, he wasn't even on the draft radar, and now he's being considered a decent bet to play in the NHL someday.
Part of the reason for that acclaim is his growth as a two-way player. It's been a focal point for the Thunderbirds winger.
"I hate getting scored on. I will do anything I can to keep the puck out of our net," Schaefer said passionately. "If it requires blocking shots or being good on the half wall. I embraced being that two-way power forward."
Increasing his explosiveness by doing lateral jump exercises is a big area that he's working on. Doing those lateral jump movements increases their lower body explosiveness. He's working on his overall speed as well.
"I'm a pretty good skater for my size. I have worked on my explosiveness and my lateral jump will help next season and for seasons to come," Schaefer revealed.
By initiating hitting the other team will back off at times to give him some space.
"I play with an edge. I like to play on the edge. Physical and hard. Opposing teams are now looking for that, and I try and do that consistently," Schafer added. "Playing that physical game adds space for myself and my teammates. Once I finish a check and come out with the puck, I have a lot more room and can utilize my linemates more. That can translate into more offensive rushes."
When Schaefer's season ended. He stayed away from the ice for a very short time. On the way home, he had one thing on his mind. A cheat day.
"I ate lots of chips and fast food on my way home back to Edmonton. I at least had a good cheat meal."
Schaefer will be at the draft. He just wants to hear his name called. Like any player, he wants to get selected as high as he can be, too. That's understandable. There's sure to be some players who get passed over, but not Schaefer. He checks too many of the right boxes for a lot of NHL teams.
You may also be interested in: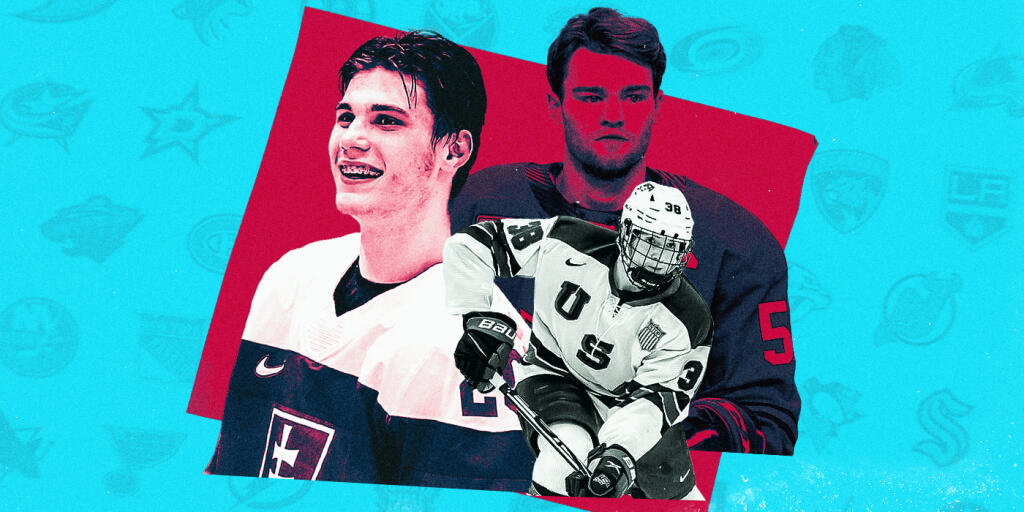 Mocking the first round of the 2022 NHL Entry Draft
This article is about: