2023 NHL Entry Draft
Adam Fantilli is another 2023 draft eligible player teams will line up for
Adam Fantilli is currently projected to be one of the first few players taken off of the board in the 2023 NHL Draft. There's a great chance that the talented centre could go second. What's not being talked about enough is why teams are hoping to get this player.
When you're on the same team as Connor Bedard, the projected first overall pick, you can get lost in his shadow. That didn't happen in the recent U18s in Germany. Both played for Canada, and both shined. They were 1-2 in team scoring and they both made the power play very formidable. Bedard had seven points and Fantilli had six.

"It was great playing with him. He's a great guy. He has that ability that everybody sees when he plays the game. You guys all see it, and it's the same for us at ice level," Fantilli said. "Great guy. I had no issues with him. It was fun to be a part of it."

Fantilli is known for his scoring prowess, but his playmaking abilities came out while playing for Canada.

"That was our goal. Do what we do best for a greater goal than ourselves. I think we did a great job of sharing the puck and working off each other. Doing what we could out in Germany," Fantilli said.

Fantilli made his mark in the USHL with the Chicago Steel winning a Clark Cup and getting Clark Cup MVP honors in his first season. In his second season with the team, he was second in scoring with 37 goals and 37 assists.

"I couldn't have been happier with Chicago as a whole. The way they develop players and interact with everybody, every day. Their development model process is something special there," he said. "It's such a diamond in the rough right now. A lot of people are going to really notice it. Especially with who they've got. Coaches come in and set everybody up for success."

This is what one NHL scout had to say about this future star.

"He's the prototype. He's huge. He's long. He's explosive. He's fast. He's powerful. He's skilled. He can wire pucks and score. Something people should know about him too is his competitive intensity is off the charts."

Some players are good around the net. It comes naturally. Fantilli has that, but he's mixed that with some statistical analysis. That has made him a very dangerous scorer.

"When you look at the way goals are scored on a chart. The number is something like 48 percent of all goals are scored around the net. A lot of times the puck will find you," he said. "You can shoot through defenders, with screens, it's a really good way to get the puck in the back of the net. "
According to InStat, Fantilli has gotten 61 percent of his shots on net this season. When I told him about the great stat, he wasn't surprised.
"It's something that I focus on a lot," Fantilli admitted. "It's about getting your shots off. When you get your shots off there's a chance of it going in especially if you hit the net. I took quite a bit of shots this year and I was fortunate a lot of them went in. I watched some games where Nathan MacKinnon had 14 shots on net. I've looked into where players enter from. What works on righties and lefties. What areas of the ice pucks go in the most. You can see it on certain websites."

This talented center understands using deception to get the puck on net. He has had a chance to watch players like Toronto Maple Leaf's star, Auston Matthews doing it among many players in the NHL. There is a similarity and height and build as well.

"Getting the puck through is more important than how hard you get it on net," he said like a veteran. "Obviously, you want to get it off quick and beat the defender or wait it out and get around the guy."

Being "the man" means being almost indispensable. What that usually means out on the sheet is playing a lot of minutes. More than most of the forwards on your team.

"This is the best game in the world. I like playing it as much as possible. There were some games where fortunately I was relied upon quite a bit," Fantilli said. "It was in big situations, so I got extra minutes. I loved the extra minutes. I loved how much I got in Chicago."

Fantilli turns 18 in October. He respects the challenge that's ahead of him in Michigan, but he's not worried about it in the least. This fall, he will be walking into Yost Arena as a true freshman. That means he'll be facing older and some stronger players. He's used to playing up in age, but this is a tall task.

"I'm excited. Owen Power did it the same way and so did Matty Beniers, both in their draft year. It's an exciting time and it's a challenge," he said. "I'm excited about that."
Fantilli chose his hockey path carefully.
"I have a late birthday, so that was a major determinant for me. Three years before I was eligible for the draft in the CHL and then playing in the NHL at 18 is a tall task, so I didn't think that was the best development route for me," Fantilli said. "Also, my older brother (Luca Fantilli) committed to Michigan so he's there too."

Being a physical player and a scoring threat is something that can get you to the NHL faster than others. He's working on it for sure.

"Physicality is a part of my game. I like to incorporate that into every single game," Fantilli said. Physicality wears teams down. I have to insert that a little bit more. All over the ice. It's really helpful at the end of games."

Fantilli grew up in Nobleton, Ontario. I asked what it's known for.

"Not much, two good bakeries and the rink. When I first moved down there it was a lot of farmlands," he chuckled. Among other dishes, he mentioned good chicken wings and ribs for some treats when he isn't training.

With his early birthday, I think it's probable that he will play two seasons at Michigan. After that, the skies the limit based on his future development.

You may also be interested in: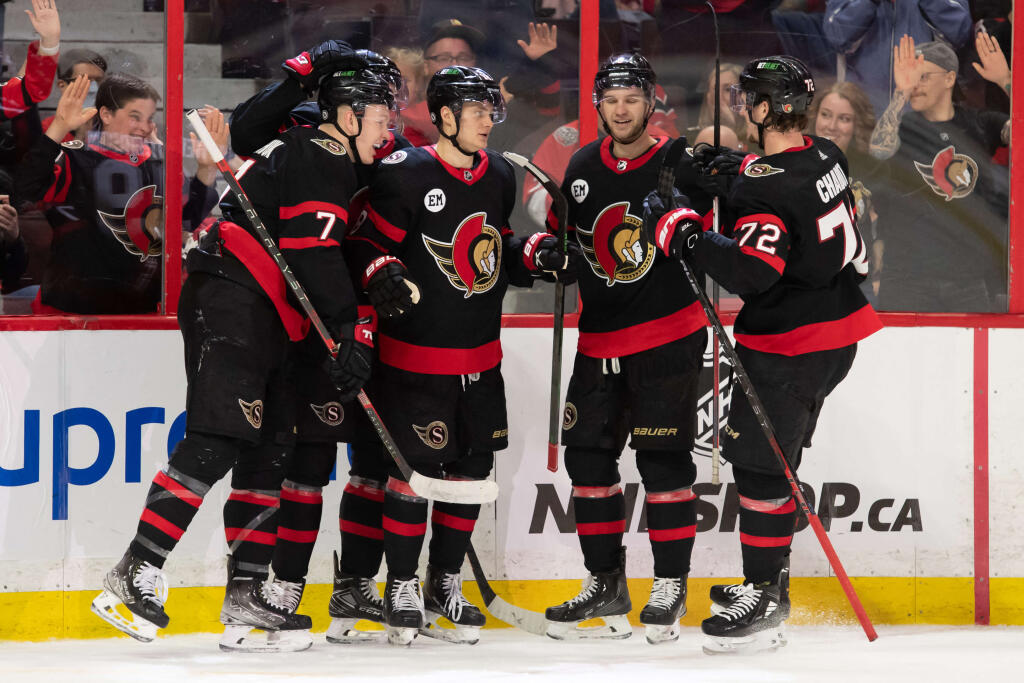 What We Learned: Have the Ottawa Senators opened a window?
This article is about: