2023 NHL Entry Draft
Zach Benson has his sights set on a top 10 selection in 2023 NHL Draft
We always talk about what makes a player better than others. Some have size, some have amazing skill, and some have that hockey sense. Zach Benson brings just about all of those qualities to the table, but his best one may be his desire to get better every game.
That never-take-a-day-off ethos could pay off for Benson next June in Nashville. It's the Winnipeg Ice forward's draft year, and he's already putting up the numbers you'd expect from a top pick.
In their first eight games, the Ice are off to a 7-1 start. Considering the road ahead, the Ice got off to a start like that with Benson third on the team with 10 points can't be overlooked. Tough starts can doom a season, and getting out of the gate quick can be the start of something really good. The 5-foot-10 forward has done his part to stay the former and spur the latter.

"Yeah, it's been a great start. I'm not too sure of the reason, but we started on the road for 13 games has been a little tough, but we've battled through," Benson told EP Rinkside. "A little adversity has never hurt anybody. It's been good for team bonding."
Being able to play on the rush is a big deal at any level. If you want to find some space, it's one way for a player to find some space out on the ice. Benson has known that for a long time.
"Ever since I was little, I loved to play off the rush. Create off the rush. And play with lots of speed," Benson said cheerfully.
Saying you play a two-way game is one thing but studying how is a way to excel at it. The offence is fun but being responsible takes more practice.
"I practice it quite a bit and watch videos on it," he added. "I take lots of pride in my defensive side of the game. I think it's extremely important, and it's a huge tool for the next level."
Scoring on the power play is important, but a lot of power plays need movement to make it work. Some players like their spots, but the ones who are willing to go to different areas can find some extra points throughout a season which makes it harder for the opposition to game plan against.
"I'm willing to go anywhere. I like my one-timer side blank, but with that said, I'm ok going anywhere on the power play," Benson reiterated. "I like taking the puck behind the net. To be honest, it's game speed, but at the same time, I'm trying to wade off defenders and look for an open guy."
There's a way to get pucks to the net. Some shots never get a chance of getting through. Well-thought-out shots can have a greater impact. That's easier said than done, but young players seem to be practicing that.
"I don't like shooting when there's not an open lane. So, getting my shots off quick and creating rebounds for my teammates is something I take lots of pride in."
Benson has speed on the wing. Everybody has their own training methods for it, and Benson was more than happy to offer his up.
"I've worked on it a ton. Ever since I was little, I was in power skating camps. Still to this day, this summer, I worked with Barb Aidelbaum and just wanted to get a quicker first step and lengthen my stride a bit," Benson said. "Whenever you can work on it, it's the most important thing in today's game. Absolutely, you can never be too good at it. Every summer I try and improve every facet of my game."
Getting pucks puts players on the path to scoring. No matter the player, there will always be a few points in the game where they will have to go into the corner and come out with the puck. Benson may be 5-foot-10, but he doesn't worry about those battles because he's hungry to score.
"I take lots of pride in getting pucks. It's extremely important to get the puck back and get possession," Benson said like a coach. "I'm not afraid to go into the corners. I want the puck. I'll do whatever it takes to get the puck."
Many times, players talk about who they like to watch in the NHL. But to say they take parts of their game and utilize them is a tall order. In this case, I think Benson has absolutely done that with a Chicago Blackhawks legend.
"(Connor) McDavid is McDavid, Brayden Point is extremely smart and plays a strong two-way game. Another guy is Patrick Kane. I have similar traits to him. He's an elite player if you watch the little things he does. That's what sets him apart from everyone else. I think I have similar traits to him. He's an elite player. I'd love to be him one day. You just take little things from his game, and I try to make it work in my game."
Benson is aware this is his draft year, and he has no intention of letting that affect the way he plays. His confidence is evident, and there's little to no chance of him going into a slump. He is going to roll into that draft coming off the best year of his career barring any injuries.
"I think my hockey IQ is pretty good. And I think that's what sets me apart from everybody in this class," Benson announced. "Just thinking the game sets me apart. The game is played at a fast pace. I can think of things beforehand to find the right spot. I watch two or three NHL games a night. I think you can learn so much from watching them."
When Benson goes into the 2023 NHL Combine for his final interviews. He will ace them. A lot of teams are going to want his services. His numbers will be gaudy, and his desire to be the best is there, and that's what teams love. If you tell him to work on one thing, he'll work on two. He's always improving, and his play is his proof.
You may also be interested in: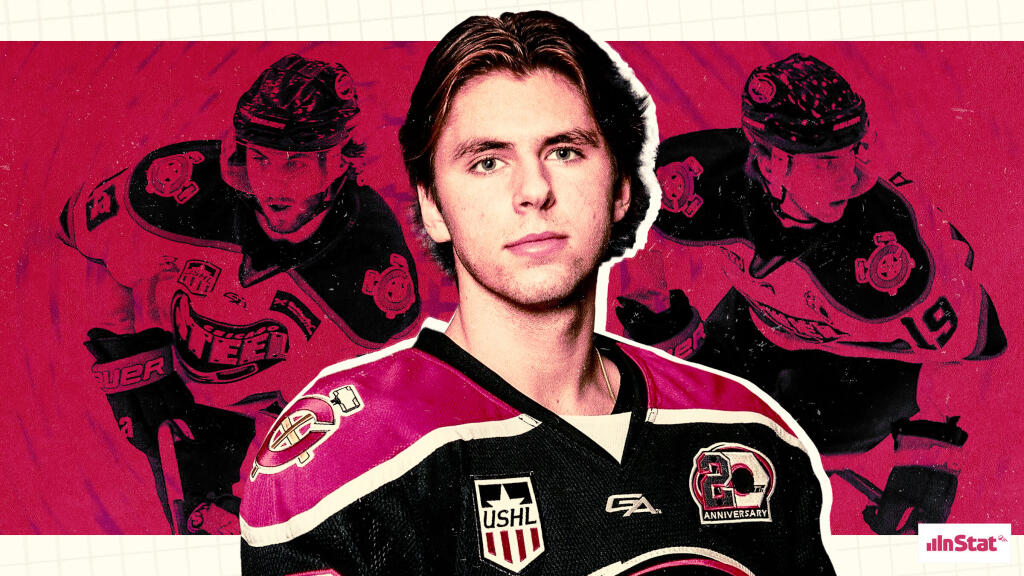 Film Room: Adam Fantilli could become the NHL's next great power forward
This article is about: