NHL Prospects
Draft Retrospective: How Elmer Söderblom became an outlier success story
It's not telling tales out of school to point out that teams usually go out of their way to add length and strength at the NHL Entry Draft, often overlooking productive but smaller prospects in the process. Even the analytics revolution making its way to the draft floor hasn't shaken teams from this tendency.
This wasn't the case in 2019 though. The entire league passed on the then-6-foot-6 Elmer Söderblom at least once by the time the Red Wings scooped him up out of Frölunda's system in the sixth round. Barely three years later, he's skating in Detroit's bottom-six.
What's perhaps most perplexing about Söderblom's draft-day tumble is that he wasn't exactly a hidden gem. He towers over his opponents when steps onto the ice, and he played in 86 regular season, playoff, and international contests by the time his draft year was all said and done. That's a lot of viewing opportunities.
Still, Söderblom failed to convince most of the league's decision-makers, doubts about his ability to translate his unpolished game to the NHL keeping teams from calling his name. At best, most in the sport saw him as a prospect. Even the Red Wings only snagged the gargantuan winger with their eighth pick of the draft.
After rightfully calling him "huge" a couple of times at the draft in 2019, Red Wings Dir. of European Scouting Håkan Andersson offered his view of Söderblom's game:
"He's a good skater and has good hands, but he's suffering from being 6-foot-6 at the age of 17. Very few guys are fully coordinated at that time. I'm hoping with time and good training, that he could become a forward who does good things with the puck."
The following seasons would prove Andersson right. Söderblom rapidly improved. He became a dominant junior player, a useful SHLer the season after, and then a productive one in his last year with Frölunda. His development wasn't just visible on the score sheet, either, but also on his overall impact on the ice. Our reports on his game became more and more positive over the years, as our confidence in his projection grew.
"He's more of a gifted puckhandler with unusually soft mitts for someone his size than a sort of bruising net-front presence," my colleague J.D. Burke wrote of Söderblom in our 2020 prospect pool ranking series. "If anything, Söderblom will need to learn to play to his size a bit better to carve out a full-time professional career in Sweden, and then eventually scratch and claw his way into the NHL."
"It's not just the hands that make Söderblom such a compelling prospect. He's also an uncommonly sound skater for someone his size, with more flexibility through his knees, ankles, and hips than we're accustomed to seeing from this sort of player," Burke wrote again in this year's writeup. "He can legitimately move, and not just for his size. Söderblom's also developed a projectable game as a playmaker. At present, Söderblom looks like he has a solid chance of being the next late-round find by the Red Wings."
Now in 2022, after a strong preseason that saw him score three points in four games playing in a middle-six role, Söderblom is taking his first few steps with the Red Wings and routinely showing the abilities that Andersson described in his draft year.
This sequence, one of the first Söderblom in the NHL, encapsulates what he now brings to the team.
Söderblom maintained possession of the puck for 21 seconds total, divided into three separate sequences in this shift. He did it by protecting the puck with his body and long reach, by using the net's frame and his teammates as obstacles, with his edge work, by cutting through the space of opponents, and with creative handling moves, including a behind-the-back puck toss and one-hand manoeuvring of the puck, not with his top one, but his bottom one.
Each time he got the puck, despite the heavy defensive presence on his back, he always managed to keep it in control of his team by finding a good outlet for it.
Few players in the NHL could replicate this sequence – and none who share Söderblom's profile.
And Söderblom is more than a board presence and puck protector, too. He's also a high-end handler who consistently adds new moves to his repertoire and is an improving net-front player.
Not only can Söderblom bring a Zdeno Chára-like presence to the front of the cage, making it impossible for goalies to see the puck, but he also has the speed of hands necessary to catch and put in rebounding pucks, something Chara himself couldn't always do.
The unique blend of physicality, comfort at the net-front, and stickhandling skills in Söderblom's game should allow him to maintain his spot on the Red Wings Redwood Line. His most probable career outcome is now that of a regular NHLer – not bad for a player who was seen as more of a long shot only a few short years ago.
In hindsight, knowing what would happen with his development, Söderblom should have been selected several rounds earlier at the 2019 Draft, likely in rounds one or two.
A draft retrospective can't only be based on hindsight analysis, however, as the goal of such an exercise is to inform the projection of future prospects with Söderblom's profile, as few as they may be.
All prospects follow a different development path; it's not because one prospect of a particular profile reached the NHL that the next ones will. Adjusting a scouting process based on the development of a single player can be dangerous, as such a change could lead to more misses than hits in a larger sample size. Context is always important.
While it remains curious that teams shied away from Söderblom at the draft considering his favourable size, it's easier to understand why when looking at the historical data.
Many defencemen above 6-foot-7 end up playing in the NHL for years, but the list of forwards who have accomplished the same feat is a short one. Some time spent parsing the Elite Prospects database reveals that the only other active NHLer who matched Söderblom's height over the past five years is Tage Thompson. We have to go back to the 2015-16 season to find another one: John Scott. And while Scott may be an NHL All-Star, he's not exactly a good example given his reputation was built on what he did between the whistles rather than during the game itself.
The lack of comparables to Söderblom is likely part of the reason why he dropped at the draft. That, and his production: 17 points in 44 games in the J20 Swedish league, a stat line that didn't exactly evoke a future NHLer.
Söderblom is very much an outlier. That's important to understand. It's more likely than not that we will have to wait years to see another player with his profile succeed. But there are still lessons that we can take away from his development, lessons that could help us project the next lengthy players that will come to the draft, and not just 6-foot-8 ones but also the more common big men who stand 6-foot-3 and taller.
The value of skating ability
The first one is the value of skating ability. Even in his draft year, Söderblom had a projectable NHL stride – rare for a player his size. Taller prospects usually pay a high price for their elastic-man abilities. It's harder for them to fold their long limbs into a proper skating stance, one that is conducive to speed and explosiveness. But Söderblom was different.
While he didn't complete his extensions, he hit most of the right notes with his posture. His knees advanced past his toes, his back and shin leaned forward at a good and similar angle with the ice, and his upper-body movement (his torso twist and arm swing) remained relatively consistent.
It's possible to give too much importance to posture when evaluating skating, but usually, the players with better stances can more easily transfer the strength they gain into speed. It's what happened with Söderblom. Today, he has NHL-grade speed and quickness. While he won't ever beat Connor McDavid in a race, he can quite easily follow and match the pace of the play.
Smaller-area stickhandling skills
Many oversized danglers like Söderblom make it seem like their length is more of a curse than an asset when they're in their draft years. Their effectiveness would actually improve if someone shrank their arms and legs and allowed them to handle the puck closer to their body in a less exposed position. But Söderblom was the exception to the rule He truly made his size an asset.
His top elbow wasn't glued to his hip; it moved freely away from his body, giving him both range and small-area precision. His technique enabled him to extend the puck far from his body, near the stick of defenders and, as they tried to knock it away, pull it back into his own feet. He could also slip passes behind the feet of opponents and spin on himself near the walls to shield possession from them.
His draft year featured many highlight-reel plays, but his stickhandling wasn't just creative – it was functional. It offered him a lot of solutions to defender pressure.
Just like Anderson said, his coordination kept improving in the years following his draft, to the point where he now looks like an above-average handler even in the NHL, where his time and space have been largely reduced.
Physical play
Another positive indicator that Söderblom was going to develop into an NHL candidate was his early physical play.
NHL coaches tend to require more physical play out of their larger players. And it goes double for someone like Söderblom who literally overshadows every opponent. To earn a role in the NHL over other prospects, the Swedish forward couldn't just be an open-ice dangler; he had to learn to use his size to fulfill future demands.
Even if the execution wasn't always there, draft-year Söderblom already had the right ideas when it came to playing along the boards and in net-front battles. He drove there as hard as he could and tried his best to win possession by slamming his body between opponents and the puck. After establishing body positioning on a puck, he also kept his feet moving to try and bring that puck out of the scrum.
Fast forward to today, and, after adding close to 30 pounds to his frame, Söderblom is now a fierce puck protector, with the potential of becoming one of the very best in the NHL. The shift from his first game against Montréal (the first video in this article) is a good example of what he could accomplish regularly during games in his prime.
Conclusion and looking ahead
At the time of his draft, we could safely assume that Söderblom had more development runway in front of him than the average prospect. His never-ending growth spurt made him fall behind in terms of strength and coordination development compared to his peers.
Yet, as Anderson noted, his advanced technical ability at his age gave him a solid base for his subsequent development. As he filled up, added strength, and got more reps – Söderblom only got bottom-six minutes in the J20 – his skills started to shine more and more. His overall impact increased, and with it, his production and upside.
Söderblom can't stop his development there, though. Despite all the improvements he already made, there is still work ahead.
In the NHL, the forward's game suffers from the same awareness problems as in his draft year. He occasionally misses open teammates and defensive rotations. The NHL game demands even more vision and processing speed than the SHL one and it could take some time, and maybe a couple of AHL stints before the winger becomes adjusted to his new environment.
There is one last element that we didn't talk about, however, that should give everyone confidence in Söderblom's ability to overcome his current issues: his ability to consistently improve his game. It's likely one of the biggest reasons why Detroit gave him their vote of confidence at the draft and why they have seen him develop into the player he is now.
If the last few years are any indication, Söderblom will find ways to develop into a unique force for the team who saw in him what others missed.
You may also be interested in: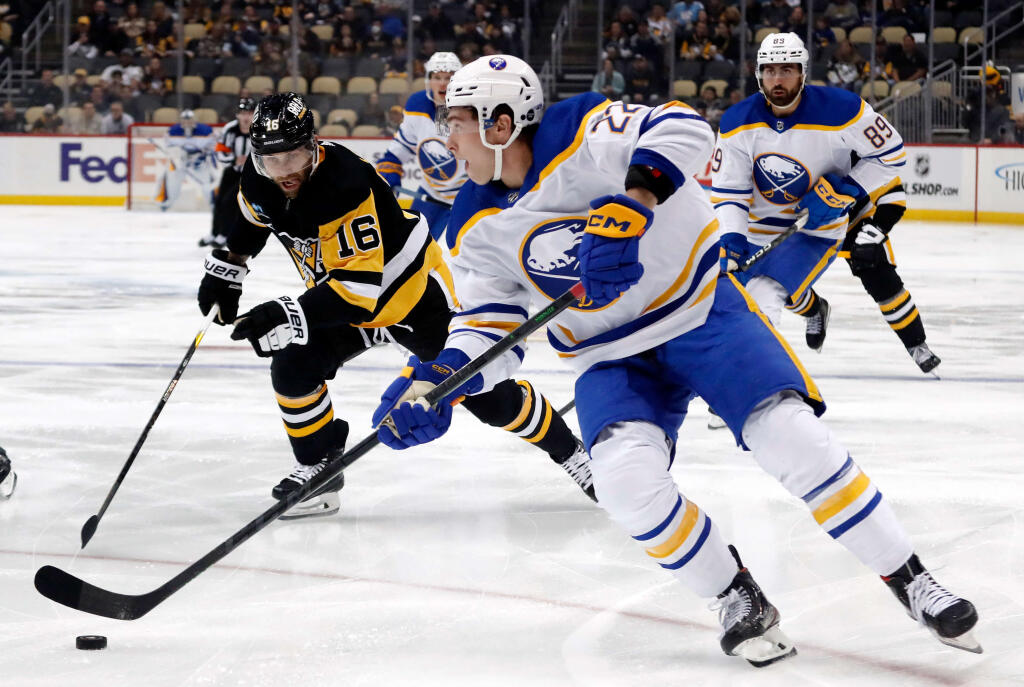 Reviewing the preseason performance of each team's top prospects in the Eastern Conference
This article is about: