Prospect Pool Rankings
The EP Rinkside 2022 Prospect Pool Rankings
An offseason staple at EP Rinkside, the prospect pool ranking series is live, starting a countdown from the league's worst system to its very best.
This series is the culmination of years worth of time spent tracking these players, most of them going all the way back to their first year of draft eligibility. We stockpile game reports, consult with industry sources, crunch the numbers, and determine which ones are best equipped to be impact players three, four, or five-plus years down the road.
It's also the continuation of a process that starts when these players land on our radar in the year(s) leading up to their draft. A way of following through on our evaluations right to the end, whether these players graduate to the NHL in a full-time capacity or fall short. Either way, there's a lesson to be learned with each one.
For the purposes of this exercise, a prospect is any player who is still eligible for the Calder Trophy as the NHL's best rookie. If you need a refresher on how the NHL determines Calder eligibility, here's how they definite it on their own website:
"To be eligible for the Calder Memorial Trophy, a player cannot have played more than 25 games in any single preceding season nor in six or more games in each of any two preceding seasons in any major professional league. Beginning in 1990-91, a player must not have attained his 26th birthday by September."
As for determining how to rank these players, we start by calculating each player's Future Value (or FV for short). Once we've sorted that out, we look at the cumulative Future Value grade of the top 15 players in each system and set our board according to that. From there, we'll tinker with the odd ranking, move teams up and down the board according to other factors like system depth beyond the top 15 players, star potential, etc. and create our board.
If you're unfamiliar with how Future Value works, I would suggest following the link in that last paragraph to an explainer. If you're not that interested, then this handy graph ought to help give you a baseline understanding of what each FV tier means when you see it next to a prospect from your favourite team's prospect pool.
The tools grades operate on the same 1-to-9 linear scale, so this also works for contextualizing what a 5-grade or a 6-grade skater means in this space. It's all pretty straightforward stuff.
This article is going to act as a landing page for the series, hosting links in descending order as each team's prospect pool is revealed in the ranking countdown.
Our top 100 affiliated NHL skater prospects articles are a good place to start before you get into the prospect pool rankings. David St-Louis got the ball rollin' with his writeup on the players ranked between 100 and 51; Mitch Brown handled the players between 50-26; and I took on the writeup for the top 25 prospects.
---
Editor's note: This project doesn't happen without the hard work of people like Mitch Brown, Jimmy Hamrin, David St-Louis, Lassi Alanen, Cam Robinson, Joey Padmanabhan, Lauren Kelly, Daniel Gee, Cat Silverman, Russ Cohen, Dylan Griffing, and Hans S. Even if they don't always get a spot in the byline, they're present in every one of these articles.
You may also be interested in: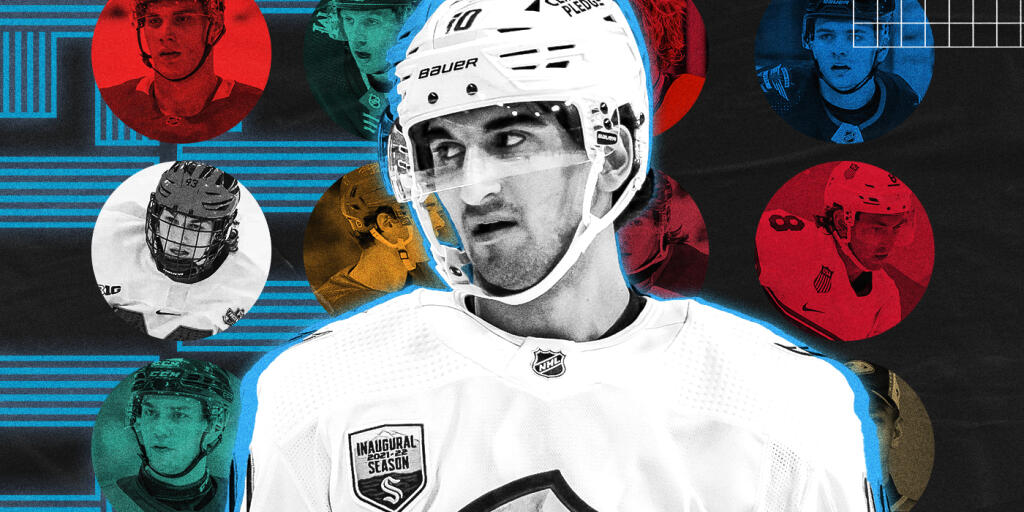 Ranking the NHL's top 100 affiliated prospects in 2022: Skaters 25-1
This article is about: