NHL Prospect Report
AHL Stock Watch: The rise of Connor Zary
It's always a good sign for an organization when three of its top five AHL scorers are 21 and under. And it's an even better sign when those three players are close to or breaking the point-per-game mark.
The Calgary Flames must be proud of the work of their farm team, the newly named Wranglers. This season again, the team is positioning itself as one of the top offensive formations in the AHL. Not only have many of their prospects improved their scoring pace, but they are, for the most part, progressing in both their individual and collective play.
In this article, we will look at the performance of some of their top players, Connor Zary, Jakob Pelletier, and Jérémie Poirier, and rate the performance of the other notable prospects of the AHL's Pacific division.
Stock Rising
Connor Zary, LW, Calgary Wranglers (Calgary Flames)
Zary about doubled his production rate this season, going from 25 points in 53 games to 21 in 20. His game seems to have received an influx of swagger, the consistent scoring giving him the confidence necessary to pull off plays he wouldn't even dare to attempt last season. The manipulative playmaking skills that we came to expect from him in his junior days are back in his game. Now, he makes many more complex plays on the attack, dangling into shot fakes instead of getting rid of the puck early by passing it to veteran teammates.
Zary is playing like an offensive driver, while also consistently displaying many other NHL qualities. He anticipates and supports rotations, drives the net, and steals pucks on the forecheck.
Jérémie Poirier, LW, Calgary Wranglers (Calgary Flames)
The at-times disjointed environment of the Saint John Sea Dogs never really allowed Poirier, an offensively gifted but relatively loose defenceman, to develop the skills he needed to translate his game to the NHL. His spotty defence and slower backward skating remained weaknesses.
Now outside of that environment, Poirier seems to be on an upward trajectory with the Wranglers. He's becoming a more physical defender, a more attentive one, and also a better puck-mover.
He still attempts the same creative dangles and he still carries the puck around the offensive end, but now he treats the puck with a lot more care in transition, moving it quickly to open teammates before lanes close.
If he can further improve his rush defence, Poirier could earn himself a try-out with the Flames sooner than later.
Oskar Olausson, LW, Colorado Eagles (Colorado Avalanche)
Usually, when players move from the OHL to the AHL, their play dips because of the tougher competition. The opposite is happening with Oskar Olausson. He looks more at ease in his new role with the Colorado Eagles probably because of the team's more rigid structure.
Although he still feints opponents with a combination of weight shifts, abrupt skating cuts, and handling moves, he doesn't force as many plays. He uses his multiple skills in the right situations – to get the puck out across the defensive and offensive lines and to strip it from the opposition. He has gotten much better at using his teammates before the defence collapses on him.
These improvements have led to a respectable 0.5 point-per-game production for the Swedish winger and a debut with the Colorado Avalance. And if he continues to improve his play and overall decision-making, the extra minutes he will earn will only lead to even higher scoring numbers.
Stock Steady
Jakob Pelletier, LW, Calgary Wranglers (Calgary Flames)
If we took into account his last three years of play, Pelletier would have featured in our "rising stock" category. Over that time, he outperformed our expectations and improved his status as a prospect. His offensive game developed. He better anticipates the plays of teammates and adapts to them. In the AHL, you now see him downshift to stay in passing lanes or accelerate to meet them and use more feints to create lanes for himself.
But, overall, there hasn't been a significant change in his playstyle over the past seasons. He remains more of a pressure-forward, who scores by forcing the opposition into mistakes with his speed, by funnelling pucks on net with rapid passing plays.
This is an effective playstyle in the AHL and it also projects well to the NHL, but many other forwards also bring similar elements. Just like at every other level before this one, Pelletier will have to continue to prove that he provides more than his internal competition to earn a call-up to the Flames.
Philip Broberg, LD, Bakersfield Condors (Edmonton Oilers)
Just like for Pelletier, Philip Broberg's appearance in the "stock steady" part of this article is not a slight against him. It's just that the AHL can't teach him much anymore at this stage of his career.
For two seasons, the ninth-overall pick has performed up to his potential with the Condors. He's no longer just a long-limbed puck rusher, but a legitimate two-way force. He activates down the offensive zone, moves to open shooting and passing lanes at the point, imposes himself physically on opponents off the rush, and attaches himself to his check in the defensive zone.
Occasional poor passing decisions and late rotations still show up in his tape, but overall, Broberg looks like a defenceman who is ready for a bigger challenge – a main role with the Oilers. It could take him a bit of time to get used to his NHL duties, just like it took him a few months to internalize his AHL ones, but with enough trust, he could become another core piece of Edmonton's defensive corp.
Stock Falling
Raphaël Lavoie, RW, Bakersfield Condors (Edmonton Oilers)
Raphaël Lavoie has the tools to score in the AHL and the NHL. Using his 6-foot-4 frame, he can pick up pucks on the walls of the offensive zone and outmuscle defenders on his way to the net. He can also dangle opponents 1-on-1 and place passes precisely on the stick of teammates in transition.
What has kept his production down is his minutes. He is not a player the coaching staff has trusted all that much since the start of his AHL career. His lack of awareness and lower pace of play have held him back. Lavoie needs to learn to identify his next play and the defensive pressure before he gets the puck. Too often, he takes his first touch on it toward traffic instead of away from it. Improving his defensive game would also increase his ice time.
The clock is ticking; Lavoie is on the older side for an NHL prospect. If he wants a legitimate shot at a top-nine role with the Oilers, he will need to change his game quickly, before the organization decides to move on from him.
You may also be interested in: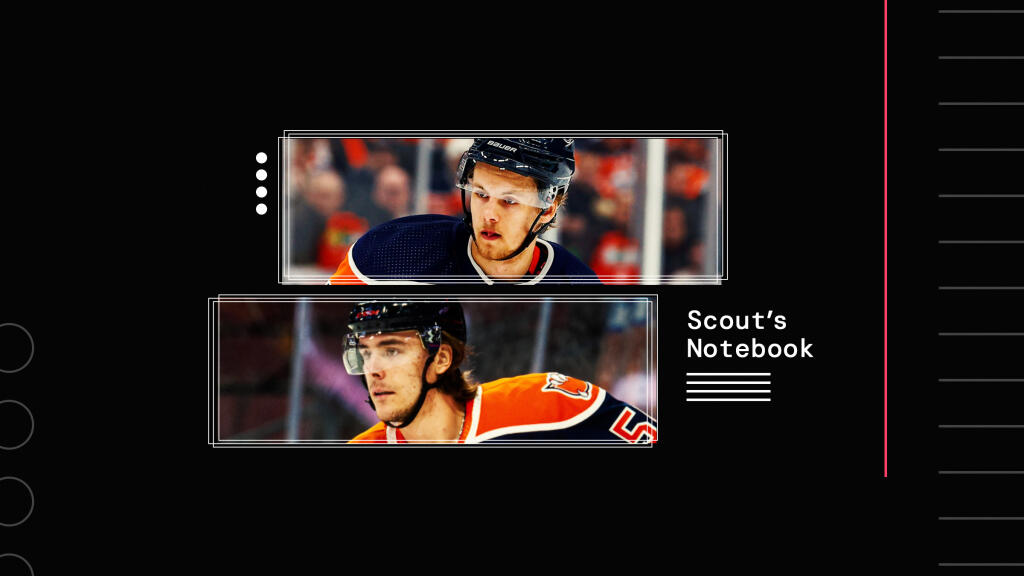 Scout's Notebook: How Raphaël Lavoie and Philip Broberg could help the Oilers in the future
This article is about: