World Juniors 2023
Hockey Canada announces final roster for the 2023 World Junior Hockey Championship
Hockey Canada held their National Junior Team Selection Camp over the weekend, bringing a group of 29 players with them to Moncton, New Brunswick, to compete in practices and a set of scrimmages to shape their 2023 World Juniors roster.
Today, they announced their cuts and finalized the 22-man roster that they'll take with them to Halifax and Moncton to defend their gold medal.
Hockey Canada has released their finalized 2023 World Juniors roster.

🔗: https://t.co/B573ugwGS6 pic.twitter.com/EmeLTR9bxe

— J.D. Burke (@JDylanBurke) December 12, 2022
Forwards: Shane Wright (Seattle Kraken), Dylan Guenther (Arizona Coyotes), Brennan Othmann (New York Rangers), Caedan Bankier (Minnesota Wild), Connor Bedard (2023 NHL Draft), Colton Dach (Chicago Blackhawks), Zach Dean (Vegas Golden Knights), Adam Fantilli (2023 NHL Draft), Nathan Gaucher (Anaheim Ducks), Zack Ostapchuk (Ottawa Senators), Joshua Roy (Montréal Canadiens), Reid Schaefer (Edmonton Oilers), Logan Stankoven (Dallas Stars)
Defence: Brandt Clarke (Los Angeles Kings), Nolan Allan (Chicago Blackhawks), Ethan Del Mastro (Chicago Blackhawks), Tyson Hinds (Anaheim Ducks), Kevin Korchinski (Chicago Blackhawks), Jack Matier (Nashville Predators), Olen Zellweger (Anaheim Ducks)
Goalies: Thomas Milic (2023 NHL Draft), Benjamin Gaudreau (San Jose Sharks)
Cuts: Owen Beck (Montréal Canadiens), Zachary Bolduc (St. Louis Blues), Jordan Dumais (Columbus Blue Jackets), Ryan Greene (Chicago Blackhawks), Riley Kidney (Montréal Canadiens), Carson Lambos (Minnesota Wild), Evan Nause (Florida Panthers), Ethan Samson (Philadelphia Flyers), Tyler Brennan (New Jersey Devils), William Rousseau (2023 NHL Draft)
Let's start by looking at some late additions. Though their NHL commitments prevented them from participating in the selection camp, Shane Wright, Brandt Clarke, and Dylan Guenther each received permission to play for Canada from their respective NHL clubs, and they'll each take on massive roles at this tournament. Their additions represent a massive boon to Canada's chances at defending gold on home soil.
Wright and Guenther will be joined up front by Bedard, Fantilli, Othmann, and Stankoven as the team's go-to players offensively. That's a ton of firepower for a World Juniors roster, and it should prove sufficient to medal, but you can't help but wonder about just how much more potent this group would look with Conor Geekie (Arizona Coyotes), Matthew Savoie (Buffalo Sabres), Jagger Firkus (Seattle Kraken), Owen Beck, and Ryan Greene in their ranks.
Clearly, Canada covets picking certain players for specific roles – trying to find a nice mix of scorers, grinders, and so on – and they've found some great hard-skill and defensive players to complement their stars up front. Whatever one thinks of the strategy, it's hard to argue that the likes of Colton Dach, Zack Ostapchuk, Nathan Gaucher, and Reid Schaefer won't bring something to the table in every phase of the game.
It's difficult to overstate how much Clarke's addition means to this blue line. This group, with or without him, would be the envy of most nations, but it's probably one of their less distinguished groups in recent memory relative to the absurd standard for Canada at this tournament.
If there's one takeaway looking at this blue line, it's that the Canadians prioritized puck-moving ability and physicality – there's only one sub-6-foot defenceman in the entire group, Olen Zellweger.
The one glaring omission has to be the absence of Denton Mateychuk (Columbus Blue Jackets), and if this blue line group struggles to generate much in the offensive zone, you can look to his omission from this roster as one of the biggest reasons why. He wasn't even given a camp invite, though, so I suppose there's nothing new on that front.
To Canada's credit, I don't think anyone is going to second-guess how they formed their goaltending battery. The Goalie Guild™️ seems to think well enough of Milic and we even ranked him toward the end of our board for last year's draft. Ben Gaudreau, meanwhile, was a no-brainer.
Here's what my colleague Mitch Brown, Elite Prospects Dir. of North American Scouting, had to say about this roster:
"Looking at the camp roster, it was all but clear that for Canada's standards, the bottom six could be thin. After cutting Owen Beck, Zachary Bolduc, and the high-scoring Jordan Dumais, those suspicions were cemented. There's a group of six forwards ahead of the pack — Shane Wright, Connor Bedard, Dylan Guenther, Adam Fantilli, Logan Stankoven, and Brennan Othmann — with the rest trailing behind significantly.
"That's not to say the bottom six is a bad group, far from it. Zach Ostapchuk, Zach Dean, and Nathan Gaucher have the skills to play up and down the lineup, playing different roles and positions. Those three could be the real breakout prospects for the tournament.
"Of Canada's seven defencemen, six drive their value by joining the play. Of course, none more so than playmaker Brandt Clarke and the reigning WHL defenceman of the year, Olen Zellweger. Ethan Del Mastro, Jack Matier, Kevin Korchinski, and Tyson Hinds are all 6-foot-3-plus defenders who love to join the play. Nolan Allan's getting more daring, too.
"Given the roster choices, Canada's best bet for winning back-to-back tournaments will emphasize offence from the blue line. Not just firing pucks on net and sustaining the cycle, but looking to get their blueliners into every play and take on primary playmaking roles. If the secondary scoring is as thin as it looks, the defence could offset it, provided they're given the green light to do what they do best."
You may also be interested in: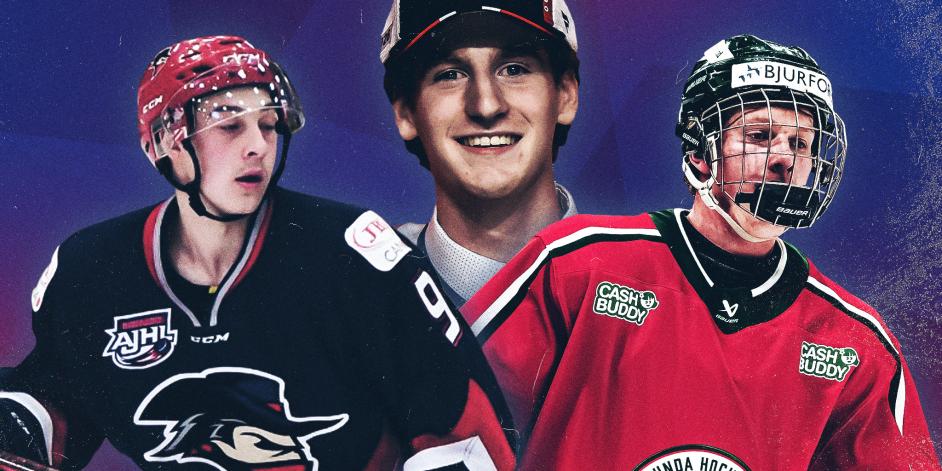 Previewing the 2022 World Junior A Challenge
This article is about: