World Juniors 2023
Scout's Roundtable: Setting the stage for the 2023 World Juniors
The puck drops on the 2023 World Junior Hockey Championships today, with Finland and Switzerland starting things at the Avenir Centre in Moncton and wrapping up with the host Canadians taking on Czechia at the Scotiabank Centre in Halifax.
It's the most wonderful time of the year, with the 2023 World Juniors set to start on Boxing Day in Halifax and Moncton.@Hockey_Robinson sets the stage in this preview, looking at each roster, the schedule, each group, etc.

🇨🇦🇺🇸🇸🇪🇫🇮🇨🇿🇸🇰🇩🇪🇨🇭🇱🇻🇦🇹

🔗: https://t.co/GvzkqkuRxS pic.twitter.com/NsHeDsrdXi

— EP Rinkside (@EPRinkside) December 23, 2022
As one might expect, that's a pretty big deal around these parts. You can bet that the entire EP Rinkside team is going to be following this tournament closely, taking it in from puck drop to the gold medal ceremony, filing scouting reports, producing written and video content in this space and on our YouTube channel, and having a damn good time in the process.
To start things off, I've summoned our scouts to a roundtable discussion centred on this year's World Juniors.
J.D. BURKE: Alright, so the big day is finally here, and the World Juniors are about to start. Eventually, we're going to get to the fun stuff and talk about who we're most excited to see at this tournament, but before we get there, why don't we pour one out for the players who were left behind? So, who is the player you were most upset to see snubbed from their country's respective World Junior roster and why?
DAVID ST-LOUIS: LAUREN KELLY: Owen Beck deserved to be there. Canada already had plenty of firepower, and Beck could have filled nicely in their bottom-six. He's an expert on draws, strong defensively, and can also provide some offence.
LAUREN KELLY: I don't think anyone will be surprised to hear me rant about this one, but given the other players who did end up rounding out Canada's bottom-six, it's borderline criminal that Beck was cut from Canada's roster. Yes, he's only 18, but this year's tournament was an opportunity for him to gain crucial experience at the international level and for the 2024 tournament.
He would have made an excellent defensive impact as a third or fourth-line centre, provided support to linemates, won critical defensive zone draws, pushed the pace with his high motor, killed penalties, and potentially chipped in with some secondary offence, too. It was likely his lack of production at selection camp that hurt his chances to make the team, but the fact that he'd played his way into the conversation to make the team after having no prior international experience is a testament to the offensive strides he's taken this season, combined with his defensive prowess. The team ultimately went in another direction, but Beck could have been a really effective and underrated two-way force for Canada.
CAM ROBINSON: Since Beck is already taken, I'll go with Denton Mateychuk. The Canadians decided they wanted one puck-mover and one defensive specialist on each pair, but did they have to go with four identical pairs? Putting Mateychuk on the roster, even if he's your No. 7 opens up a ton of possibilities. Brandt Clarke or Olen Zellweger get hurt? No biggie, they've got a plug-and-play replacement at the end of their bench! Need some activations at even strength? Mateychuk has you covered!
Yeah, yeah, it's a 19-year-old tournament, and he'll be there next year. He should be there this year, too. The team is going to have virtually no returnees next year. It would've been prudent to have included for impact now and a larger impact later.
SEAN SHAPIRO: I'll wade into this scout conversation (honestly just using info I picked up editing all of you) and make a case for Sasha Pastujov missing the cut for Team USA.
He was part of this team last time around, had decent success in a depth role and should have been given chance to build on that. Also, Ty Voit not being there certainly feels like Team USA had an anti-OHL slant when building the roster…
MITCH BROWN: Voit should be at the World Juniors, full stop. He's the OHL's best playmaker by a large margin at this stage. Few prospects create as many high-danger looks in as many different ways. And that's not to mention the other areas he's impacting the game – the off-puck game to get open, how he pressures to create turnovers in the defensive end, and anticipation on the forecheck. He can fill a number of roles, providing a playmaking touch on the top-line or being the driving force in the middle-six.
ST-LOUIS: Voit hasn't gotten the attention and recognition he deserves over the past two years. I agree with Mitch. Yes, he's a smaller player, but he has been even more valuable to his team than Pastujov so far this season. He's a great playmaker who could have complemented some of the team's power forward and scorers well with his speed and ability to manipulate defenders.
Every year, there is a bit of drama around the lack of QMJHL players on Team Canada. Zac Bolduc is a great scorer; his shot is one of the best in the QMJHL. His playmaking game also improved over the past two years. The team can already count on similar players, however, and he probably didn't distinguish himself enough at the team's selection camp. As for Jordan Dumais...Well, he has many fans, but his limitations remain – his skating and physical play. He's an open-ice playmaker who creates by manipulating defenders and sneaking past them around the net. He would have certainly fared well next to Connor Bedard or Logan Stankoven, but the players that will fill the team's top-nine generally have a more well-rounded game than him. The one player he could have logically replaced was another one from the QMJHL: Joshua Roy.
BURKE: Well, that took some expected and unexpected turns. I'm going to borrow a page from David who jokingly answered on Lauren's behalf and stomp on Mitch's bit. That's right, I'm advocating for Shai Buium to have made Team USA. He's been downright excellent in my Denver viewings this season, building on his foundation as a cunning, skilled offensive activator with the addition of a more translatable defensive game. He's never going to be a shutdown presence like Jack Peart or safe with the puck in the same way that someone like his Denver teammate Sean Behrens would be, but Buium's handling skill, creativity with the puck, and ability to take the game over with an end-to-end rush is matched only by Luke Hughes on this blue line.
Some have pointed to the lack of size on the American blue line as an area of concern, and the 6-foot-3 Buium would certainly help in that department, too -- though one's mileage may vary on whether that really matters or not. I can understand why Team USA would leave a risky, sometimes gaffe-prone player like Buium behind in a tournament where one bad giveaway or mistake can result in elimination. I get it. As the saying goes, though, safe is death.
ST-LOUIS: I personally would have loved to Will Smith there. Logan Cooley, a similarly creative playmaker, did well in a secondary scoring role last year. It's one Smith could have filled well this year, too. Looking at the roster, he would likely have been the second-best, purely offensive player on that team. I do understand that the calibre of play is higher than the USHL and Smith isn't the fastest, but this forward group probably needed a bit more skill to beat Canada. We'll see.
BURKE: Alright, so it looks like our European colleagues are feeling a bit shy right now. That or they're struggling to come up with anyone who was wrongly left off of their country's roster. So let's shift this conversation towards the fun stuff and talk about the players we're most excited to see at this tournament. Obviously, I think the default answer for everyone is Connor Bedard and/or Adam Fantilli, but it would be kind of boring for us to all go in that direction. So instead, why don't we let Mitch tell us why Bedard is going to be appointment viewing at this tournament? Then Cam can take things away with Fantilli. The rest of us will have to get creative.
BROWN: Yeah, Bedard's an easy one: the skill's on another level. His shot already lands among the NHL's very best. The hands are nearly as impressive, capable of breaking down entire defences at full speed. And how about his playmaking growth? He's still a volume shooter, but now he's added an impressive delay game in transition, cutting back to find space before setting up a teammate with a ridiculous pass. This might be the only glimpse of what Bedard's game with high-skill linemates this season. Will he play more of a solo-centric attack, or will he lean heavier on the quick-possession, give-and-go game that emphasizes those incredible off-puck scoring instincts we rarely see with Regina because he's forced to be so puck-dominant? If it's the latter, I have no doubt he will the tournament's best player.
ROBINSON: If the pre-tournament action tells us anything, it's that Fantilli is going to be playing all out in all three zones. Against the Finns, he was decisive with the puck and relentless without it. Adding snarl to the forecheck and battling hard at the net front. His role on the second line will provide loads of even strength offensive opportunities, but being on the second unit power play likely limits the pure production upside. Regardless, talent evaluators and fans are going to get a nice long look at this future horse. Playing on the wing will afford him some more freedom to fly and take some responsibility off of his defensive game - this will be important in the medal rounds. But don't be surprised if he gets some looks at centre if things aren't clicking or if an injury arises.
LASSI ALANEN: Axel Sandin Pellikka is definitely someone I'm very excited to watch at this event. He's been getting more and more comfortable in the SHL, leveraging his elusiveness to break down forechecks on breakouts and activate off the rush and in-zone. Given how he's trended this season, a strong showing here could solidify his status as a top-15 prospect and a strong contender, if not front-runner for the title of top defenceman in this year's class. Obviously, a lot is going to depend on how much usage he gets, but I wouldn't be surprised to see him work his way to sizeable minutes sooner or later.
BURKE: Well, I just may have answered with 2024 NHL Draft super prospect and contender for the first overall pick in that draft, Aron Kiviharju, but according to The Athletic's Corey Pronman, he's among the last cuts to Finland's roster. Real Grinch Who Stole Christmas vibes there. You really hate to see it.
[Read more: Aron Kiviharju the next super talent in Finnish hockey]
In lieu of Kiviharju, I'm going to stump for the entire Czech first line of Jiří Kulich, Matyáš Šapovaliv, and Eduard Šalé. They were nothing short of brilliant at last year's U18s, and they've only improved their games in the time since. I'm also hoping that Šalé can have a lights-out tournament so I can give our scouts a hard time for ranking him so lowly on our first board – the last meeting I miss!
You may also be interested in: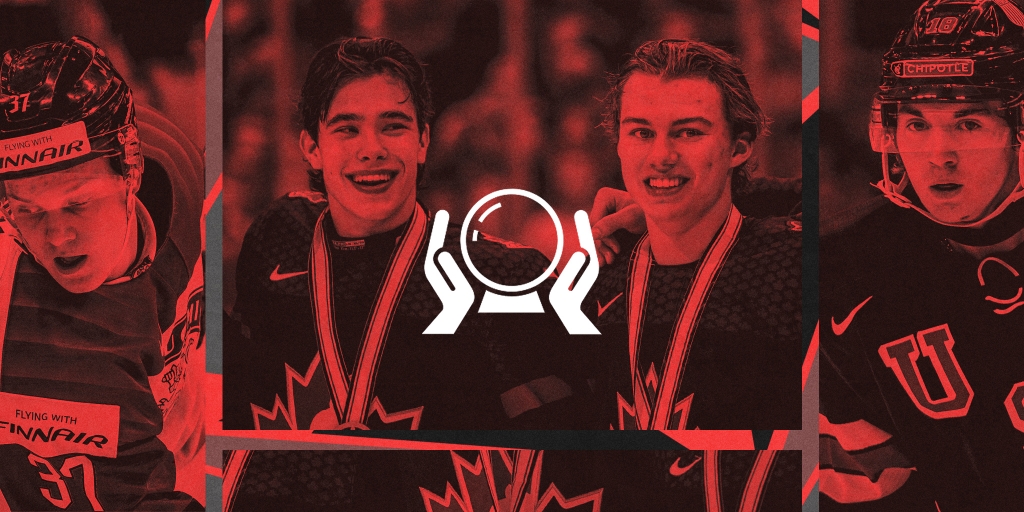 Predicting the 2023 World Junior Hockey Championships
This article is about: