NHL Prospect Report
OHL Stock Watch: Ty Voit's newfound translatability resulting in league-leading scoring
The start of the 2022-23 OHL season has been nothing if not eventful.
The Ottawa 67s rattled off nine straight wins to start the season, lost the 10th game, and then repeated the process by winning their next nine games and losing the 10th.
After finishing at the bottom of the conference last season, the Saginaw Spirit have been one of the best in the west. Meanwhile, the Guelph Storm have faltered and are among the conference's basement dwellers.
And although the league's trade deadline isn't for several more months, multiple teams pulled off blockbuster deals in the season's first two months.
With so much movement around the league and unpredictable starts to the season, some players have risen to the challenge, while others have seen their stocks fall.
Stock Rising
Ty Voit, C/LW, Sarnia Sting (Toronto Maple Leafs)
The biggest concern surrounding Ty Voit in his draft year was his decision-making. We only had his draft-minus-one tape as a reference point, and in those viewings, Voit had a tendency to force plays and lacked spatial awareness.
The technical skills and tools were an asset, though, and have served him well since. Voit currently leads the league in scoring and was the first player to reach the 40-point mark this season.
His playmaking has risen to new heights; Voit manipulates multiple defenders at once, sends passes through tight seams, and executes one-touch passes, all while maintaining his high-pace play.
Voit has added another gear defensively, too. He anticipates, wins races for the puck, supports his defenders, and pressures opposing players into turnovers or dump-ins.
His stock has never been higher than it is now, and Voit shows no signs of slowing down anytime soon.
Owen Beck, C, Mississauga Steelheads (Montréal Canadiens)
It was difficult to imagine a scenario where Owen Beck wouldn't improve on his production this year. His work rate, transition play, and tools all lent themselves to the belief that he was capable of finding the scoresheet far more often in his draft-plus-one than in his draft year.
Now 12th in OHL scoring, Beck leads all Steelheads players in points and is projected to push for 100 total by season's end.
The biggest difference with Beck's offence has been his shot. His release looks faster, he's shooting more from high-danger areas, and already has four multi-goal games this season.
All of his offensive success comes after impressing at Canadiens training camp, and he's likely played himself into the conversation to make Canada's 2023 World Juniors team.
What is more impressive, though, is that his off-puck consistency hasn't suffered as a result of his increased production. His attention to detail is remarkable, and defensively, he's never looked better – and that bar was already set quite high after last season.
With the increased goal-scoring, Beck has blossomed into a dual-threat player. His high floor is now complemented by a ceiling higher than we had anticipated at the end of last season.
Michael Misa, C, Saginaw Spirit (2025 NHL Draft)
It's safe to say 15-year-old Michael Misa has played up to expectations.
Misa was October's Rookie of the Month, scoring twice in his league debut and recording points in 10 of Saginaw's 13 games.
He co-led the league in goals before taking off to play at the World U17 Hockey Challenge. He still leads all rookies in points despite not playing the first two weeks of November.
Misa creates his own chances shift after shift and wastes few opportunities to land on the scoresheet. His ability to process plays and adapt to changes is so impressive for a 15-year-old.
He may not be NHL draft-eligible until 2025, but the sky's the limit for Misa in his first OHL season, and he can only get better from here.
Honourable mentions: Pavel Mintyukov (Anaheim Ducks), Connor Lockhart (Vancouver Canucks), Nolan Burke (Nashville Predators), Luca Pinelli (2023 NHL Draft), Colby Barlow (2023 NHL Draft)
Stock Steady
Vinzenz Rohrer, RW, Ottawa 67s (Montréal Canadiens)
Last season, Vinzenz Rohrer blended physicality and finesse to become an effective checker in the OHL.
The offence, specifically at 5-on-5, has caught up to his already well-rounded game. As a result, Rohrer is set to nearly double his point totals this season.
Playing on the league's best team this season has its benefits, but Rohrer has looked dominant on every shift. He creates more under pressure, plays between checks, deceives defenders on rush patterns, and can dangle his way through the offensive zone.
His defensive game remains a strength, as Rohrer is constantly scanning for threats, using his speed to remain in constant pursuit of the puck, and plays an effective support game.
If he can continue to add to his production this season while maintaining his excellent off-puck habits, Rohrer should be among his team's scoring leaders, if not near the top of the league.
That's not bad at all for a third-round pick.
Filip Mešár, RW, Kitchener Rangers (Montréal Canadiens)
Midway through October, the Kitchener Rangers were drowning. They lost their first five games of the season, couldn't keep the puck out of their own net, and couldn't score. They needed a spark.
Enter Filip Mešár.
Mešár made his OHL debut with a bang, recording a goal and four points in Kitchener's most dominant win of the season up to that point. The next night, his two-goal performance included the OT winner.
His production has been a little sporadic since his debut weekend. There are still moments where he looks invisible, or overwhelmed at times on shifts.
He's had to adapt to different rush patterns, but when he gains the middle, he's a threat to create chances. He'll have to be more consistent at making space for himself.
Ultimately, though, Mešár's development and long-term projection remain on course, and that's all the Canadiens can ask for.
Stock Falling
Hunter Haight, C, Saginaw Spirit (Minnesota Wild)
Hunter Haight has the tools and skill set to be a top producer in the OHL.
Unfortunately, Haight is only on pace to record 10 goals and 29 points this season, which would be a disappointingly steep drop-off from his draft-year production of 41 points.
Barrie has struggled to score, and most of their production has come from overagers. But it is very surprising Haight has yet to reach double digits in points.
But Haight's production issues once again are rooted in his low work rate and pace, and it now looks like a hindrance to not only his ability to have success in the OHL but at future levels as well, making it hard to envision a scenario where he will be an effective professional player.
However, a recent trade and fresh start in Saginaw could be exactly what Haight needs to turn things around offensively.
[Read more: Hunter Haight's flashes of unconventional, creative brilliance]
Cameron Allen, D, Guelph Storm (2023 NHL Draft)
Few 2023 NHL Draft-eligible players have had a rougher start to the season than Cameron Allen.
Originally projected to be a top-15 pick in 2023, Allen hasn't lived up to expectations.
Allen's production struggles are surprising for a defender who plays in all situations for the Storm and is averaging around 30 minutes of ice time a game. His opportunities to create offence haven't panned out, as he struggles with executing plays and lacks confidence when the puck is on his stick.
He's been turnover prone, seems distracted in his own end, has continued to take unnecessary penalties, and hasn't displayed the level of confidence you would expect from a team's number one defenceman or a high NHL draft pick.
At times, it looks as though Allen tries to do too much to help his team win. However, there is still time for Allen to figure things out, and hopefully, 2023 will bring better results for both him and his team.
You may also be interested in: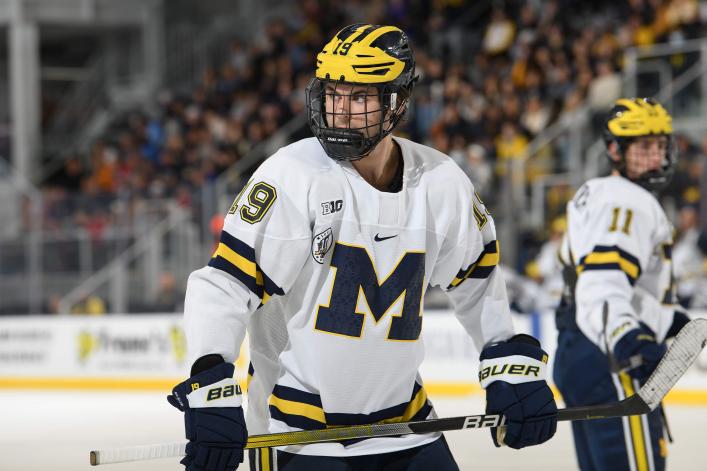 NCAA Stock Watch: Adam Fantilli's historic production leads the way
This article is about: