World Juniors 2023
EP Rinkside's 3 Stars from Day 2 of the 2023 World Juniors
HALIFAX, Nova Scotia – What was on the line in the late game of day two at the 2023 World Juniors between Czechia and Austria?
It depends on whether you looked at the score or listened to the crowd. Sure, this one got out of hand quickly, but sportsmanship was in the air as the crowd at the Scotiabank Centre cheered on the Austrians late in this contest. What started with bemoaning Austrian penalties and Czech plays rapidly accelerated to ovations for zone exits and rapturous cheers for plays as mundane as a faceoff win.
That's more like it - the Metro Centre gets a full-throated "LET'S GO AUSTRIA" chant going and erupts on the PK puck freeze. pic.twitter.com/7K2haITI60

— JFresh (@JFreshHockey) December 28, 2022
A presumably drunk fan even threw a Czech flag on the ice in the third period – who knows where he got that from.
Meanwhile, the Czechs improved to 2-0 with a dominant 9-0 victory in which they held the presumably relegation-bound Austrians to only eight shots. Stanislav Svozil (Columbus Blue Jackets) continued to dominate offensively, adding three assists to his tournament-leading total of five.
He's mostly known for a strong defensive game, but attributes his sudden development in this area to his opportunities with the WHL's Regina Pats, who selected him in the 2020 CHL Import Draft "we've had a great PP and first line, so we've had two years to form a connection."
To say Czech goaltender Tomáš Suchánek was bored would be understating it. "I hate this type of game where you're just standing there, and there's no shots."
The Czech forwards, meanwhile, had a totally different experience – they were living it up! Buffalo Sabres first-rounder Jiří Kulich saw the success his future teammate Isak Rosén was having in this tournament (particularly yesterday) and decided to show him up with a hat trick performance. The crowd mostly kept their hats to themselves, keeping with the theme of cheering on the out-gunned Austrians.
The Austrians were reserved about their fate. Captain Vinzenz Rohrer even thought it might be a "pity party to kind of make fun of us," when the Canadians cheered them on. But their coach told the group that the crowd appreciated that they "stick with it and still block shots in the third period and PK and didn't want to give up, so the score is tough, but it's nice to have that feeling."
Meanwhile, the Czechs have embraced the hate. "It felt really good," smirked Suchánek. "That they start screaming for Austria – it was really nice. You know, it put more energy into the game and yeah, I guess they don't like us, but at least it was louder than yesterday."
Next up for the Czechs after an off-day is a meeting with Sweden, a game which will likely decide the winner of Group A. For the Austrians? A much-needed rest ahead of a date with Canada with plenty to prove.
The Daily Scoreboard
Finland 5 - 2 Slovakia
Sweden 1 - 0 Germany
Switzerland 3 - 2 Lativa (SOW)
Czechia 9 - 0 Austria
1. Nikita Quapp, G, Germany (Carolina Hurricanes)
This was a performance for the ages. Were it not for Quapp, Sweden could've easily built a multi-goal lead by the first intermission. But nearly every time the Tre Kronor pressed, Quapp was up to the task, making lights-out saves, often in bunches, to keep his team in this hockey game.
It's officially the Nikita Quapp (#LetsGoCanes) show in this one, as the 🇩🇪 German 🇩🇪 goaltender continues to stimie the Swedish attack.

🎥 : @TSN_Sports pic.twitter.com/HRpjqkrbTN

— EP Rinkside (@EPRinkside) December 27, 2022
Quapp's play was so impressive that the predominantly Canadian crowd that nearly sold-out Scotiabank Centre in Halifax started "MVP" chants and was obviously, audibly cheering on the underdog Germans.
"It was awesome. It was pushing us, especially at the end, and we loved it here," Quapp told reporters after the game. "Actually, I thought they were saying something in German, 'geh auf die Knie.' It means 'get on the knee,' so I actually heard that. But it was good."
Perhaps most impressive was Quapp's almost effortless stop of Fabian Lysell's penalty shot attempt. "I saw him coming up the middle and thought I may be a bit deep," the German goaltender said. "Then he tried to go five-hole, and I got a piece."
Fabian Lysell (#NHLBruins) draws the penalty shot for Sweden after being interfered with on the clean break.

Nikita Quapp (#LetsGoCanes) stands tall though, shutting the door and keeping 🇩🇪 Germany 🇩🇪 within a goal of tying this one.

🎥 : @TSN_Sports pic.twitter.com/Wa6x1623Ui

— EP Rinkside (@EPRinkside) December 27, 2022

Here's what Elite Prospects resident goalie expert Greg Balloch had to say about Quapp's performance:
"Quapp had a World Juniors performance for the ages on Tuesday, stopping 43 of 44 shots in a 1-0 loss to Sweden. It was exactly the kind of game that you would want to play under the spotlight. Quapp was absolutely peppered with shots from every angle, stopping all but one Adam Engstrom shot along the way.
"The unsigned 6th-round pick of the Carolina Hurricanes took away the lower portion of the net very effectively and fell back on some great habits to achieve success. He was able to make great use of his massive 6-foot-4 frame/long legs by sealing the ice quickly. This was especially evident on wraparound plays and low-to-high passing plays developing from below the goal line. He didn't track the release of every single shot, but he was consistently able to rely on his smart positioning to make the save.
It's officially the Nikita Quapp (#LetsGoCanes) show in this one, as the 🇩🇪 German 🇩🇪 goaltender continues to stimie the Swedish attack.

🎥 : @TSN_Sports pic.twitter.com/HRpjqkrbTN

— EP Rinkside (@EPRinkside) December 27, 2022
"His hand positioning while in his stance is also very reminiscent of Connor Hellebuyck's: Low and thrust forward. This is a common trend that you are starting to see among taller goaltenders to cut off the puck's trajectory. His hand discipline complimented his ability to take away the bottom of the net perfectly, which simply smothered Sweden when they were unable to raise the puck quickly. Although the rest of his skillset remains quite raw, Quapp has a lot of the makings of an emerging prospect."
2. Carl Lindbom, G, Sweden (Vegas Golden Knights)
Meanwhile, opposite Quapp, Lindbom was putting on quite the show in the Swedish goal. The Golden Knights prospect stopped all 28 of Germany's shots, giving him two straight shutouts to start the tournament on 41 shots total.
"The first game against Austria – you have to be mentally sharp, you have to be ready when the puck enters the zone," Lindbom said of the difference in playing a game like this one with 28 shots as opposed to the 13 that Australia mustered. "But obviously against Germany you have more pucks coming towards you – I prefer to get a lot of shots, it's more fun."
It wasn't exactly what you'd call a back-and-forth affair. Many of the 28 shots Lindbom faced were from the perimeter or without a screen. Still, he was sharp when Sweden needed him to be, like on this Grade-A scoring chance from Robin van Calster when Julian Lutz (Arizona Coyotes) turned an offensive zone puck-retrieval into a pass into the slot for a clean look.
Julian Lutz (#Yotes) with some crafty stickwork turning this offensive zone retrieval into a scoring chance for Robin van Calster...

But Carl Lindbom (#VegasBorn) stands tall and shuts the door to preserve 🇸🇪 Sweden's 🇸🇪 one-goal lead.

🎥 : @TSN_Sports pic.twitter.com/mdQcsRoAp5

— EP Rinkside (@EPRinkside) December 27, 2022
"They're taking bodies away, helping let me see, blocking shots, getting the puck out," Lindbom said, deflecting any praise sent his way towards his defencemen. "It's very helpful. We have good cooperation back there with our team – it's good."
Even so, we shouldn't lose track of just how well Lindbom's played to this point in the tournament. The 6-foot-1 tender has gone two games without giving up a goal, and according to the data that our colleagues Mitch Brown and Lassi Alanen are tracking, he's stopped 1.225 goals above expected in those two contests – second only to, you guessed it, Quapp.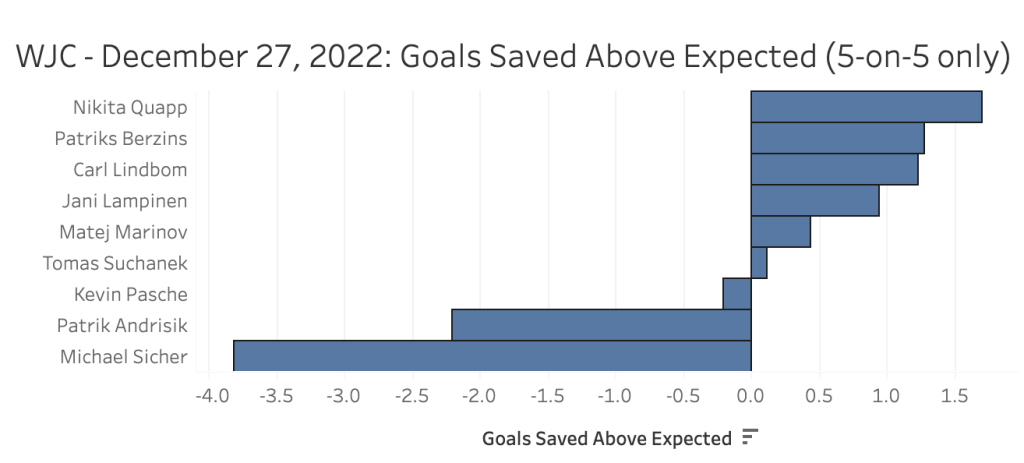 3. Jiří Kulich, RW, Czechia (Buffalo Sabres)
Well, if there was ever any doubt that Kulich would pick up right where he left off at the U18s after failing to pick up a point in yesterday's 5-2 win, he quickly put that notion to bed. The Sabres' first-rounder scored early and often in this one, eventually finishing with three goals on seven shots through 17:13 of all-situations play.
Jiří Kulich (#LetsGoBuffalo) doubles the 🇨🇿 Czechia 🇨🇿 lead to 2-0 over Austria with a laser top-corner.

Stanislav Svozil (#CBJ) and David Špaček (#MnWild) the assists on the play.

🎥 : @TSN_Sports pic.twitter.com/u4C6PbMz8D

— EP Rinkside (@EPRinkside) December 28, 2022
This performance was vintage Kulich. You had the catch-and-release wrist shot on the first goal, the trademark howitzer one-timer for the second one, and then a sprint with a slick dangle to finish off the hat trick.
Jiří Kulich (#LetsGoBuffalo) completes the hat trick, going in alone on the breakaway and scoring the 8-0 goal for 🇨🇿 Czechia 🇨🇿

David Jiříček (#CBJ) and Matyáš Šapovaliv (#VegasBorn) the assists on the play.

🎥 : @TSN_Sports pic.twitter.com/4ro9ByxcGZ

— EP Rinkside (@EPRinkside) December 28, 2022
"We try to be leaders on the ice and in the dressing room," Kulich said after his team's emphatic 9-0 victory over Austria. "We're a team, and we have to stay humble. Every guy is a leader."
They're playing like the best team in the tournament, more to the point. They've now beaten the defending gold medallists and pulled off the second-most lopsided victory in the tournament through its first few days. If Kulich can keep playing at a high, high level for the rest of the tournament, they may just medal for the first time since 2005.
---
Tomáš Suchánek, playmaker?
Put your hand up if you expected Suchánek to have more assists than Connor Bedard, Adam Fantilli, and Logan Cooley combined through the first two days of the tournament. Yeah, that's what I thought. And no, I'm not particularly interested in hearing about "games played" or anything else. This is cool as hell.
🇨🇿 goaltender Tomáš Suchánek (tied for 2nd in the tournament in assists with 3) offers his advice on passing to the forwards on his team:

"Put the puck out fast and then hope that the shooter's going to score a goal"

— JFresh (@JFreshHockey) December 28, 2022
It wasn't enough that Suchánek backstopped Czechia to their daring 5-2 win over Canada on Monday and followed that up with a shutout of the Austrians. No, he's also been one of Czechia's best playmakers through the first two days of World Juniors action, racking up three assists and stopping x of y shots.
The extra point is good! Gabriel Szturc (#2023NHLDraft re-entry) gets his second of the game, finishing the passing play to give 🇨🇿 Czechia 🇨🇿 a 7-0 lead.

Jaroslav Chmelař (#NYR) and Tomáš Suchánek the assists on the play.

🎥 : @TSN_Sports pic.twitter.com/Yo8Jr0Dk9Z

— EP Rinkside (@EPRinkside) December 28, 2022
We heard your feedback about not including Suchánek on our 3 Stars from yesterday, and we hope this makes things right. Certainly, he's been one of the best stories of the tournament thus far, stars or otherwise.
Highlight of the day:
You know what? Dans Ločmelis may not have scored on this play, but he picked up the first Latvian goal of the game to tie it at 1-1, scored again in the shootout, and generally had a hell of a performance against the Swiss. He also led Latvia with a 1.475 game score rating.
Dans Ločmelis (#NHLBruins) puts the Swiss defence in the spin cycle but fails to convert to win the game for 🇱🇻 Latvia 🇱🇻

🎥 : @TSN_Sports pic.twitter.com/rCdYNQfwEv

— EP Rinkside (@EPRinkside) December 27, 2022
Your World Juniors stats for the day: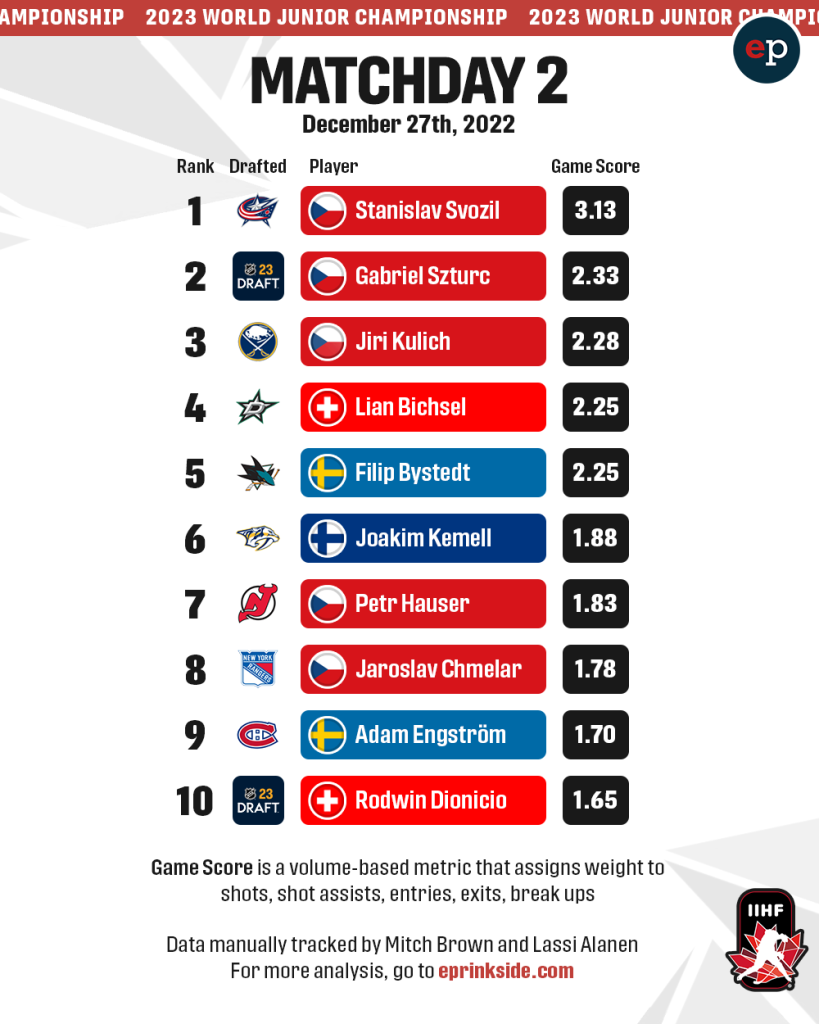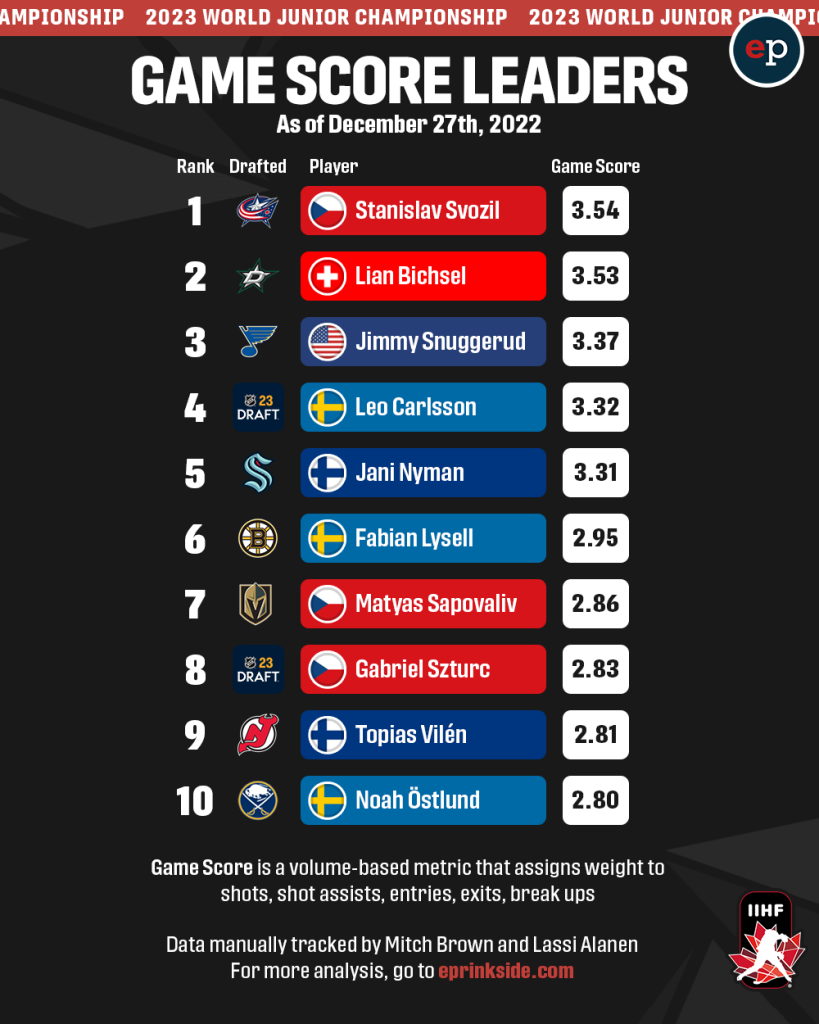 You may also be interested in: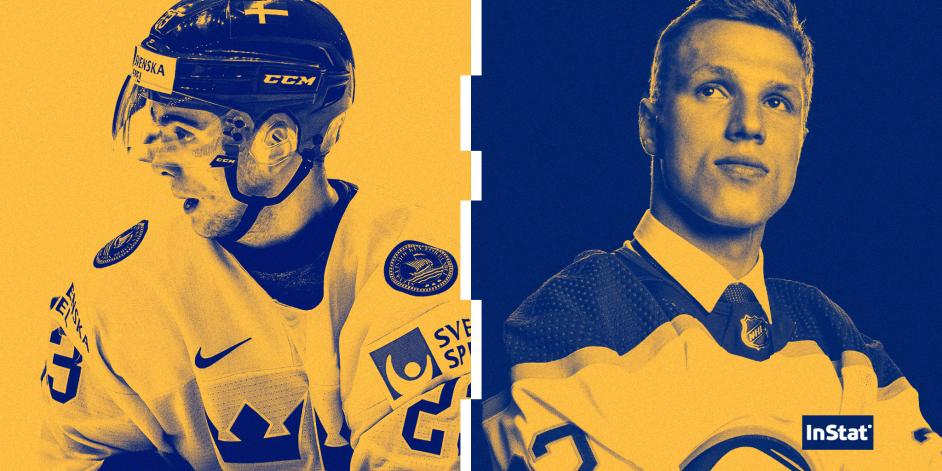 How Isak Rosén and Jiří Kulich are finding their game in Rochester
This article is about: