World Juniors 2023
EP Rinkside's 3 Stars from Day 5 of the 2023 World Juniors
HALIFAX, Nova Scotia – The World Junior Hockey Championship provides us with some of the most thrilling hockey games of the year on an annual basis, equal parts elite-level skill and sloppiness and impetuosity that has not been coached out of the young players involved.
With barely any time for practice or chemistry-building, the action is mostly fast and loose, and the mistakes are frequent and often find the back of the net.
The flip side are the blow-outs. While this tournament has included some exciting upsets and close calls, it's also come with the attendant guaranteed results where the only question is how much a team will win by.
It's a feature of the tournament; every year, a team earns promotion, but by the time the next tournament actually rolls around, many of their most important players have graduated.
There's always at least one sacrificial lamb, often more. This year, it was Austria, who lost 11-0, 9-0, and 11-0 in their first three games with a 19 percent shot share.
A lot of viewers understandably feel sympathy for the players in those games. They travelled thousands of miles to get pummelled in front of thousands of spectators in person and millions on television. These are some of the most talented hockey players in their age group, but for their two weeks in the international spotlight, they're swatted away like a fly by the tournament's top dogs.
How do the players themselves feel about this? As competitive as they are, and as devastated as they are by defeat, the World Juniors experience isn't something they would give up.
"It's a once-in-a-lifetime experience to be here in Canada, play against Canada, sold-out crowd, and every game is such a pleasure for every individual player in this tournament," Austrian captain Vinzenz Rohrer (Montréal Canadiens) told EP Rinkside.
"I always kind of sense how the group's emotion is, if I feel it's down a little bit I try to bring it up," he added when I asked whether it was difficult to keep things upbeat and positive given the circumstances.
Despite the back-to-back-to-back blow-outs, the Austrians' pride and commitment to blocking shots even in games where the results were basically a formality has gained the respect of the Halifax crowd, who have cheered loudly for them in all their non-Canada games. Tonight's 4-2 loss against Germany, in which the Austrians outshot their opponents and applied maximum pressure in a futile third-period push, was the culmination of this preliminary round love affair.
"It gives you more energy if the crowd's behind you," Austrian 2023 NHL Draft prospect David Reinbacher said. Despite the 0-4 record and lack of production, Reinbacher has had an extremely impressive tournament, and this game was his best yet.
In Mitch Brown and Lassi Alanen's manually tracked dataset, he had one of the finest performances from a defenceman in this tournament yet, coasting through the neutral zone with ease and frustrating the Germans defensively all night. A heroic effort to backcheck and break up an apparent German 2-on-0 with the Austrian net empty had the Halifax fans on their feet.
"I'm pretty thankful for Halifax, they're so behind us," Reinbacher said.
David Reinbacher against Germany (5v5 only):

- 6 shots
- 2 scoring chances
- 3 shot assists
- 9 controlled exits
- 5 controlled entries
- 75% entry denial rate
- 4 break ups
- 11 advantages created

His 2.5 game score is the 4th-best single-game mark for a blue-liner so far.

— Mitchell Brown (@MitchLBrown) December 31, 2022
"The ref came over to me, and he was like 'It's like a home game for you guys here'" Rohrer added.
Despite the late onslaught, Nikita Quapp (Carolina Hurricanes) continued to dominate. After nearly stealing his first game against Sweden and resting while Simon Wolf got shelled against Canada, he sits at a .961 save percentage on the tournament. Germany plays Czechia tomorrow, but it isn't clear whether he will get the start; in any event, he has at least secured a quarterfinal spot for his team.
Austria, on the other hand, goes to the relegation round against Latvia, which will run parallel to the elimination round in Halifax. Don't be surprised if Halifax rallies behind their underdogs.
The Daily Scoreboard
Slovakia 3 - 0 Latvia
Germany 4 - 2 Austria
1. Simon Nemec, D, Slovakia (New Jersey Devils)
(Editor's note: Nemec's star writeup is a guest submission from Elite Prospects Dir. of European Scouting Lassi Alanen)
A three-point performance in Slovakia's 5-2 upset of Team USA was almost enough to earn Nemec a star yesterday, but there's no denying the man his star after a performance like this one. The Devils' second-overall pick played a critical role in securing the win for the Slovaks, keeping the opposition in check defensively and generating offence in a game that was much closer than the 3-0 final score suggests.
Simon Nemec (NJD) with a pretty wild stat line from today's game vs. LAT (5v5 only):

• 11 shot attempts(!), 0.31 xG
• 3 controlled exits, 3 entries but "just" 60 % success rate in transition overall
• 7 entries prevented
• 8 advantages created#WorldJuniors #NJDevils

— Lassi Alanen (@lassialanen) December 30, 2022
Though it wasn't the game-winner, Nemec's 2-0 goal in the third period came at just the right moment – Latvia was pressing, and this goal took the air right out of their sails. He jumped up the middle, collected the Filip Mešár pass after he had cut back and delayed, baiting the first Latvian player with a fake shot before actually launching the puck from the faceoff dot, keeping the puck on his forehand for the entire sequence.
Simon Nemec (#NJDevils) gives Slovakia some breathing room!

Assists went to Filip Mesar (#GoHabsGo) and Libor Nemec. pic.twitter.com/QwpvzICVG9

— EP Rinkside (@EPRinkside) December 30, 2022
This was definitely one of the more prolific performances from the blue line to this point in the tournament. If Nemec got the puck in the offensive zone, he was sending it on goal. It was just that simple. In total, the Slovak defender finished with 11 attempts, and that's just at evens. The only drawback with this volume approach is that Nemec wasn't particularly selective, often opting for low or medium-danger shots, leaving value on the table in many cases.
It was a little bit more of a mixed bag from Nemec in transition. He was far more hit-and-miss than one would expect from a player of his calibre, especially against one of the tournament's least competitive teams. There were a lot of dump-out exits to go with the odd flash of poise and calm under pressure.
Aside from the shots and the goal, Nemec's strong suit in this one was definitely his rush defence, preventing seven entries at 5-on-5 and only allowing only three. Latvia had to opt for a lot of stretch passes, and Nemec's aggression in the neutral zone nipped those plays out in the bud, either disrupting the play immediately or forcing the forward to redirect the puck in deep.
2. Adam Gajan, G, Slovakia (2023 NHL Draft, re-entry)
Look, you stop 28 shots en route to a shutout, and you're getting to get a spot in the 3 Stars. It's just that simple. Gajan was excellent for the Slovaks in goal, making a few critical saves and holding steady when the plucky Latvians had his team under siege in the defensive zone.
The data that our colleagues Mitch Brown and Lassi Alanen tracked from Slovakia's 3-0 win indicated that Gajan was stopped 1.16 goals above expected, which is the fourth-highest single-game mark in the tournament (one of the other three was Gajan's performance in Slovakia's 6-3 upset of Team USA on Wednesday).
That performance now has the Slovak goaltender placed firmly in third in goals saved above expected at 5-on-5 in the tournament. A fact that's made more impressive by the fact that Gajan wasn't the Slovak's first plan in goal – Patrik Andrisík started in their first game of the tournament against Finland.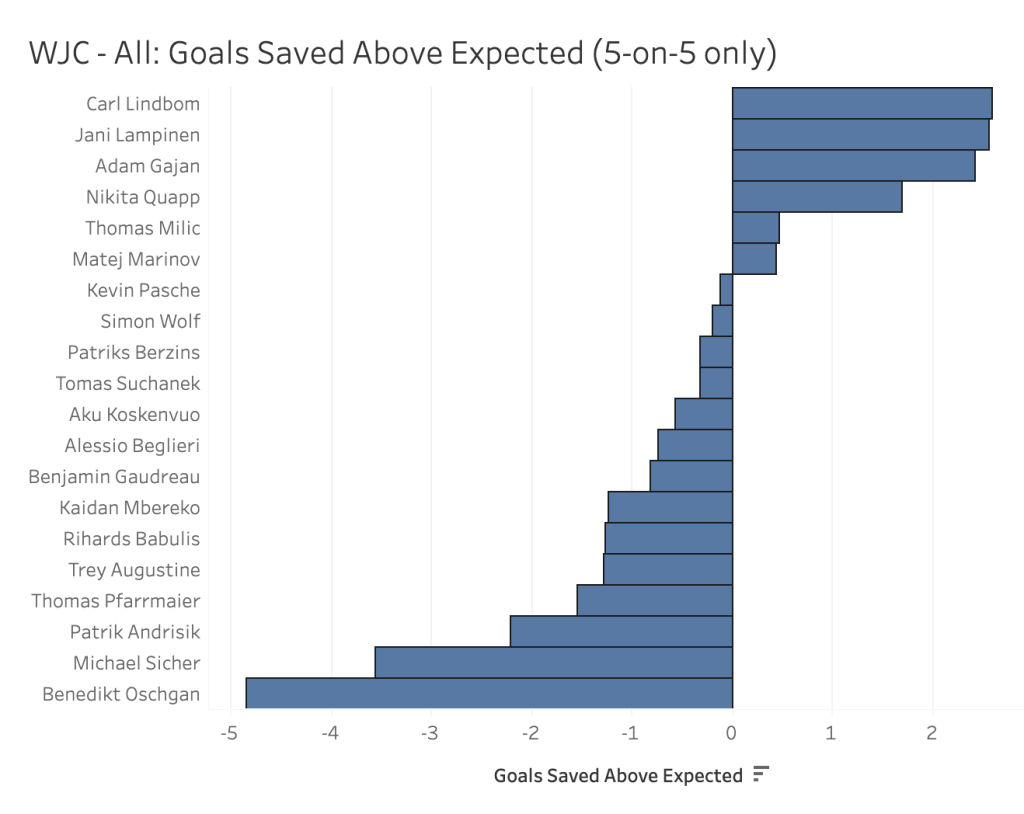 There's no shortage of scouts in attendance or watching this tournament from home. If he keeps this up, then maybe this is the year that Gajan hears his name called at the NHL Entry Draft.
3. Julian Lutz, LW, Germany (Arizona Coyotes)
He may not have found the back of the net, but there's no doubt in our minds that Lutz was Germany's best forward in this contest, if not the best skater for either team period. The Coyotes' second-rounder in last year's draft was on for the ice for three of Germany's goals (all of them at even strength), generated two assists, and was a menace on offensive zone retrievals and in transition.
Philipp Krening opens the scoring for 🇩🇪 Germany 🇩🇪 , going to the net and snapping one past the Austrian goaltender for the 1-0 goal.

Julian Lutz (#Yotes) and Roman Kechter the assists on the play.

🎥: @TSN_Sports pic.twitter.com/gAy0YHmYtD

— EP Rinkside (@EPRinkside) December 30, 2022
"I think [our effort] was good, improved definitely after the Canadian game, and it was a must-win game," Lutz told EP Rinkside after the game. "It was our goal to continue playing into the quarterfinals, and we achieved that, and now we have the whole way to go."
Speaking of going the whole way, Lutz just about scored a goal so good that it may well have held up as the goal of the tournament by the medal round, if not for the save by Thomas Pfarrmaier. The German forward hopped on a loose puck at the defensive blue line, turned on the jets, went inside-out on the Austrian defender, and sent the puck off the goalie's shoulder and out of play.
Julian Lutz (#Yotes) with some unreal dekes on the rush and the shot for the scoring chance, but Thomas Pfarrmaier stands tall for 🇦🇹 Austria 🇦🇹 to keep his team in this.

🎥: @TSN_Sports pic.twitter.com/Ep44BsgSW0

— EP Rinkside (@EPRinkside) December 30, 2022
"I think I can play better," a humble Lutz told EP Rinkside. "What matters is we won the game, I can be happy for the team. Way to go, but I think we can achieve something better."
---
Let's give it up for Austria:
Today's loss means that Austria is bound for a relegation matchup with Latvia – a best-of-three series to determine who gets to stay in the top group and who gets demoted to the second tier. Those games aren't exactly the biggest draw at this tournament, and Latvia is probably the more talented of the two teams. This could be the last we see of Austria at this tournament until the 2025 World Juniors.
So, let's give them their flowers for working their asses off and playing every shift like the stakes couldn't be higher, even as their opponent's score ran into double-digits on more than one occasion. David Reinbacher (2023 NHL Draft) impressed the hell out of our staff. Ian Scherzer showed enough that he might be someone to monitor moving forward. And our only regret with Vinzenz Rohrer (Montréal Canadiens) is that illness may have kept him from playing at his best.
David Reinbacher against Germany (5v5 only):

- 6 shots
- 2 scoring chances
- 3 shot assists
- 9 controlled exits
- 5 controlled entries
- 75% entry denial rate
- 4 break ups
- 11 advantages created

His 2.5 game score is the 4th-best single-game mark for a blue-liner so far.

— Mitchell Brown (@MitchLBrown) December 31, 2022
This team was always going to be in tough at this tournament. Marco Kasper (Detroit Red Wings) rejecting the call to play for Austria put them behind the eight-ball from the start, and then their best forward who was there, Rohrer, missed their first game with an illness and never seemed to regain his form.
Still, they tried. By god, they tried so, so hard. That's enough to earn a ton of respect in my books.
Highlight of the day
Nikita Quapp (Carolina Hurricanes) didn't face many Grade-A chances for the first two periods of this contest, but he was under siege in the final 10 minutes of this hockey game and made some absolutely massive stops to preserve the win for Germany.
The Austrians are pressing on the power play, but Nikita Quapp (#LetsGoCanes) has been up to the task thus far, making some massive saves to preserve 🇩🇪 Germany's 🇩🇪 two-goal lead late.

🎥: @TSN_Sports pic.twitter.com/q4INAQRKOm

— EP Rinkside (@EPRinkside) December 31, 2022
I wouldn't characterize this as Quapp's strongest performance – not that we think he was particularly bad either. It was a perfectly okay start. But you survive that Austrian push in the final 10 minutes and make a critical stop on the penalty shot, and that's good enough to get some shine in today's 3 Stars.
Jonas Dobnig gets sprung for a breakaway after leaving the penalty box, but he's interfered with so...

Penalty shot!

And Nikiita Quapp (#LetsGoCanes) stands stall and makes the save to preserve 🇩🇪 Germany's 🇩🇪 2-0 lead in the second.

🎥: @TSN_Sports pic.twitter.com/TGZlIqo52Z

— EP Rinkside (@EPRinkside) December 30, 2022
Your World Juniors stats for the day: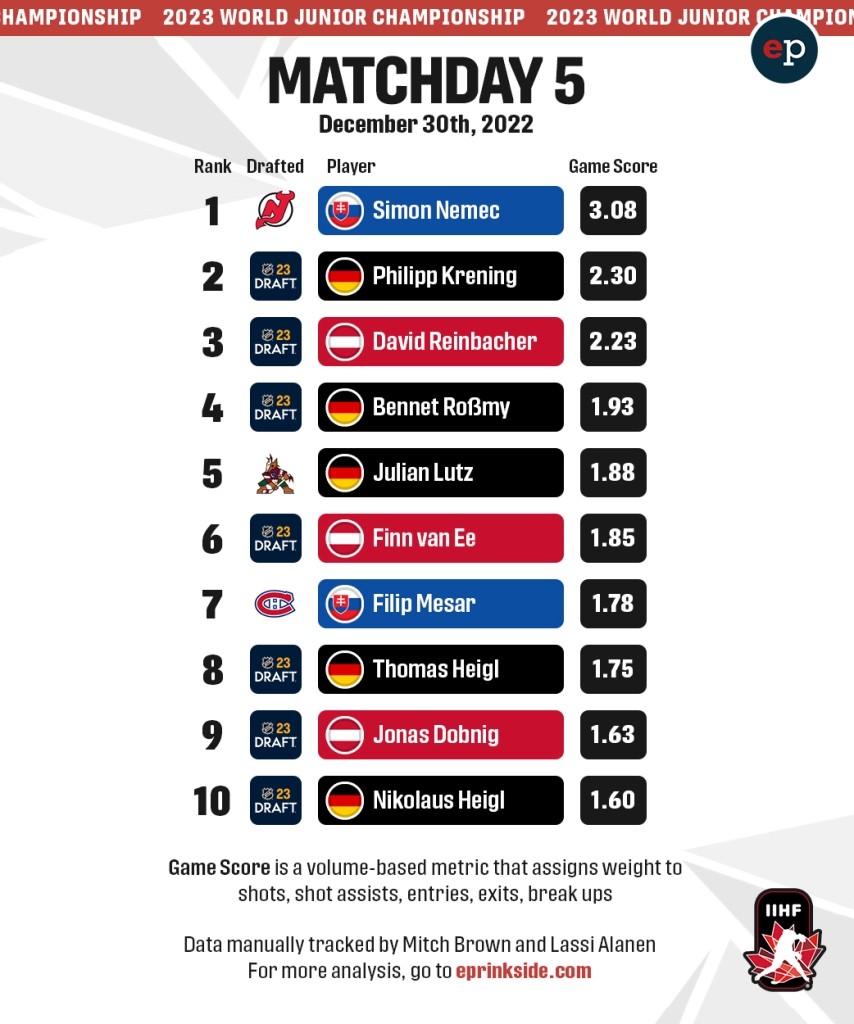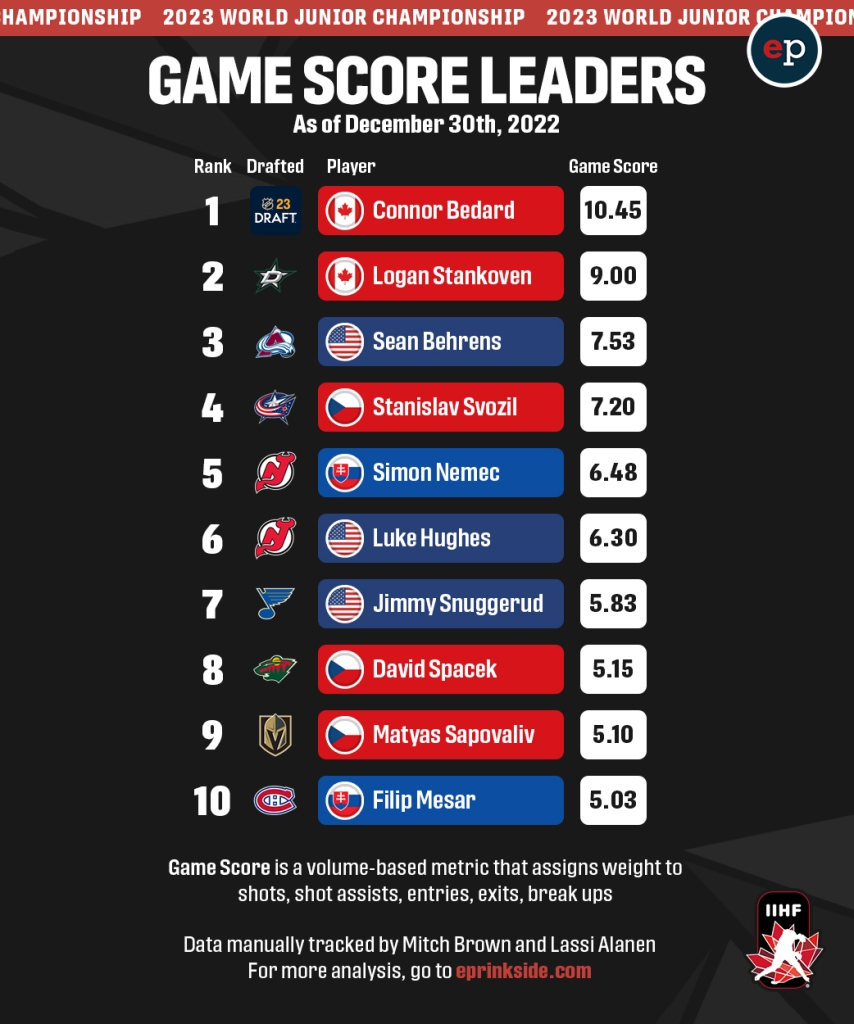 You may also be interested in: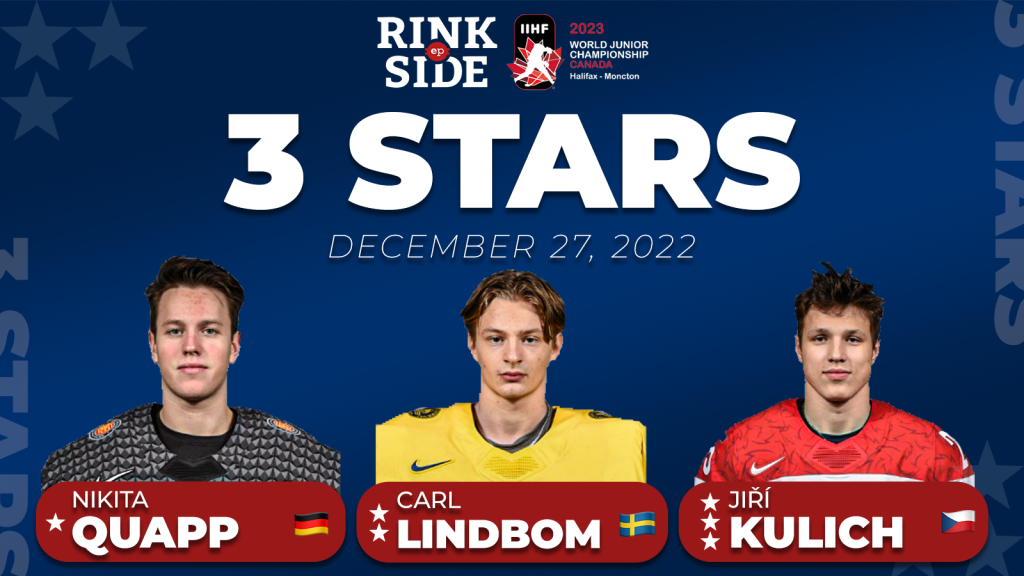 EP Rinkside's 3 Stars from Day 2 of the 2023 World Juniors
This article is about: