World Juniors 2023
EP Rinkside's 3 Stars from the 2023 World Juniors quarterfinals
HALIFAX, Nova Scotia – It's inevitable that every year we have to hear the same chatter about how the World Juniors are a relatively insignificant tournament, over-marketed by Canadian television networks with dollar signs in their eyes, eager to reap the rewards from teenagers' hard work.
It's the "Valentine's Day was invented by Hallmark to sell cards" of hockey.
As with many cynical positions, there's an element of truth to it. The last calendar year has given us many reasons to reflect on the tournament's centrality to Canada's hockey culture, certainly.
Once you get past the commercials and holiday nostalgia, that line of thought misses the core reason that hockey fans love the World Junior Hockey Championships so much: It routinely offers us the best our sport can offer in excitement, tension, drama, and ultimately catharsis.
The young players who fill out the roster of the 10 teams are immensely talented but far from "finished products." They make mistakes, and their opponents make mistakes, they make elite plays and fall prey to them as well maybe to an even greater extent than professionals.
Multi-goal leads are illusory, late-game comebacks feel inevitable, and often the result is a product on the ice that exceeds any other example. The tournament is too short for detailed practices, team systems are more sentiment than anything else, and the single-game elimination leaves no room for regression to the mean.
There just isn't time for the things that allow a more analytical perspective to prevail. Sweden was out-attempted by Finland, but an opportunistic late shorthanded goal by Swedish forward Victor Stjernborg (Chicago Blackhawks) sent their Nordic rivals packing.
Victor Stjernborg (CHI) goes in shorthanded and scores his first of the tournament to give 🇸🇪 Sweden 🇸🇪 a 3-2 lead late in the third period!

🎥: @TSN_Sports pic.twitter.com/kPFRxgHGAi

— EP Rinkside (@EPRinkside) January 2, 2023
We know that the sample size of such a unique tournament is not enough to make player projections – we have statistical evidence of that. That doesn't make 2023 NHL Draft prospect Leo Carlsson's two-goal, chance-filled performance any less heroic.
Tie game! Leo Carlsson (#2023NHLDraft) goes to the net and gets the goal to knot this one at 2-2 for 🇸🇪 Sweden 🇸🇪

Filip Bystedt (#SJSharks) and Fabian Wagner (#GoJetsGo) the assists on the play.

🎥: @TSN_Sports pic.twitter.com/BsPAdIUplb

— EP Rinkside (@EPRinkside) January 2, 2023
We know that a game where one team puts up 36 scoring chances and six expected goals at 5-on-5, as Canada did against Slovakia, will almost never go to overtime or be two scorpion stops and a defenceman's glove save away from being resolved in regulation for the opposing side.
There's a mad net-front scramble at the Canadian goal, but Thomas Milic (@SeattleTbirds) and... Tyson Hinds (?) (#FlyTogether)... team up for a pair of massive saves to preserve Canada's one-goal lead.

🎥: @TSN_Sports pic.twitter.com/SU9UTvhpex

— EP Rinkside (@EPRinkside) January 3, 2023
In 82-game seasons, we trust the process. In the World Juniors, it takes a miraculous, iconic goal from a superstar with the guts to take on all three defenders himself when a low shot for a rebound is the safe play.
The crowd, the press box, and the players on both benches and the ice were in utter disbelief. Post after post after post, pucks slipped across the crease, impossible saves, and thousands of fans kept the volume up the whole time.
Connor Bedard said that when Thomas Milic made a tough save in overtime to keep the game alive, he was "about to cry." For Milic, it was a "roller-coaster of emotions."
When Bedard himself sliced through the Slovakian trio to send the crowd to their feet, the Canadian bench was as incredulous as the sell-out crowd, whose "pop" was "definitely the loudest" that Canada's goalie had ever heard.
"I think I put both hands on my helmet. I couldn't believe it," said Caedan Bankier (Minnesota Wild), a British Columbian who has grown up with Bedard and ought to be the least shocked by anything No. 16 might do.
It was an exhilarating game, with incredible goaltending on both sides, one of the loudest junior buildings ever, and a signature moment. And it was only the quarterfinal. Canada will play the United States on Thursday night, and as difficult as it will be for the entertainment to surpass what we say in Halifax tonight it would surprise nobody if we're in for an instant classic.
The Daily Scoreboard
Sweden 3 - 2 Finland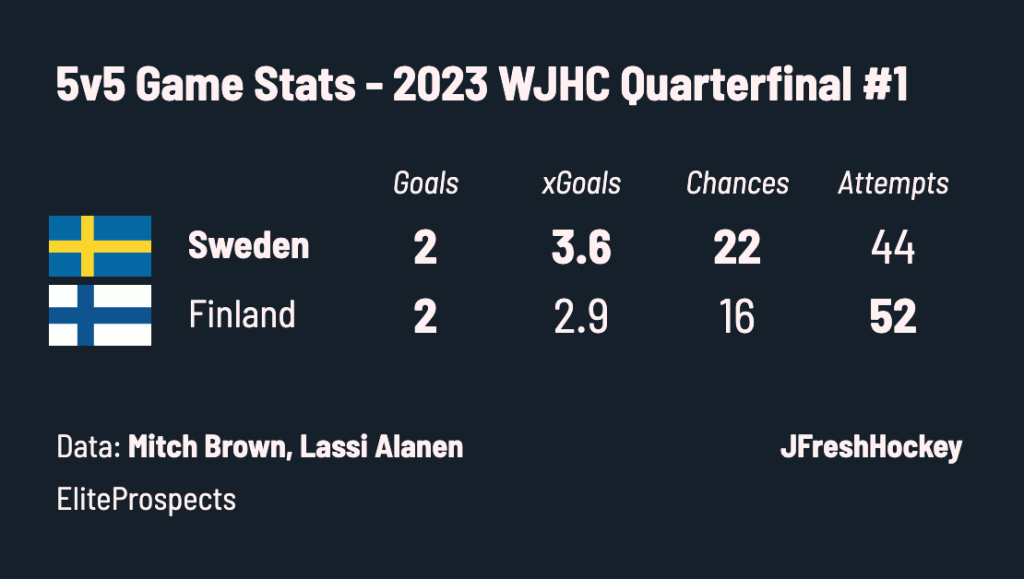 Czechia 9 - 1 Switzerland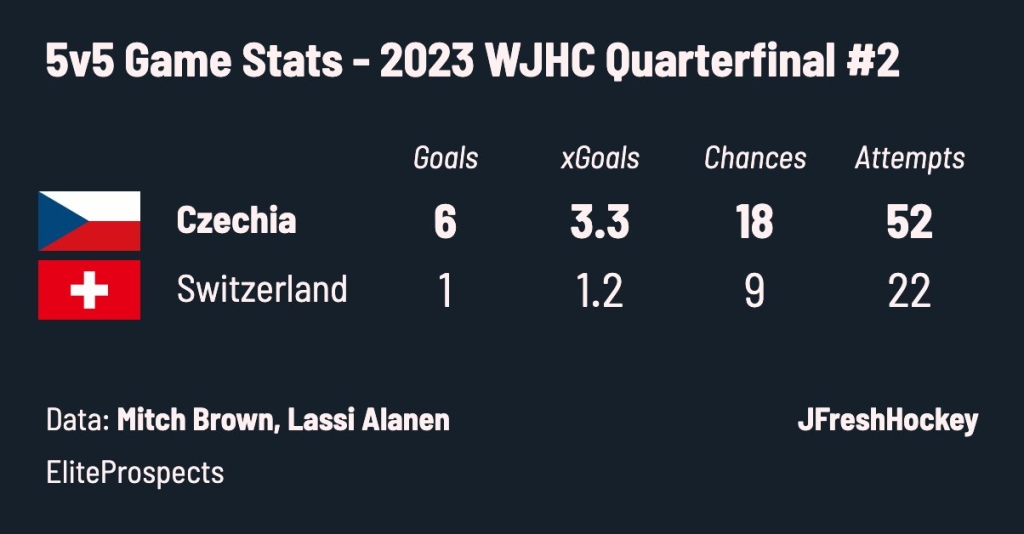 Team USA 11 - 1 Germany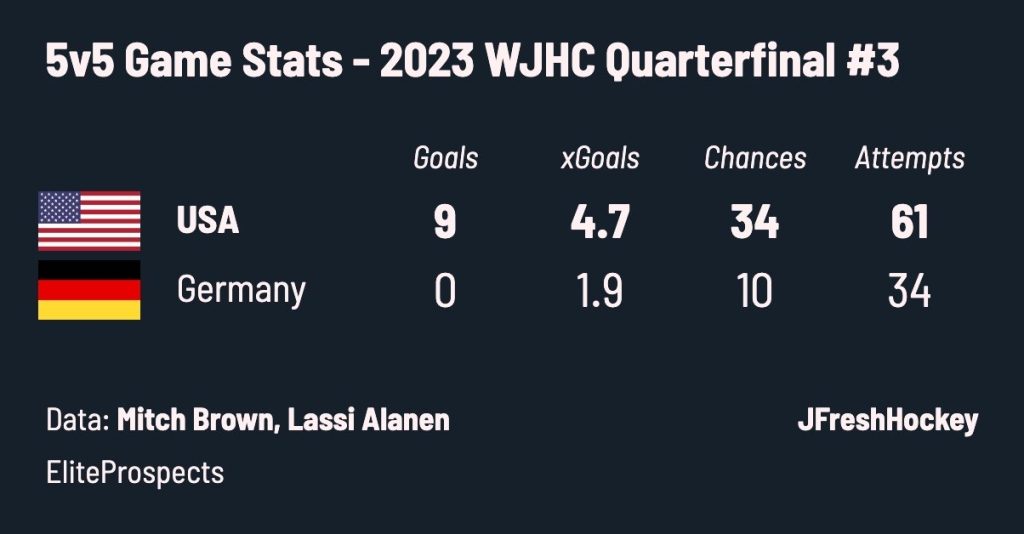 Canada 4 - 3 Slovakia (OTW)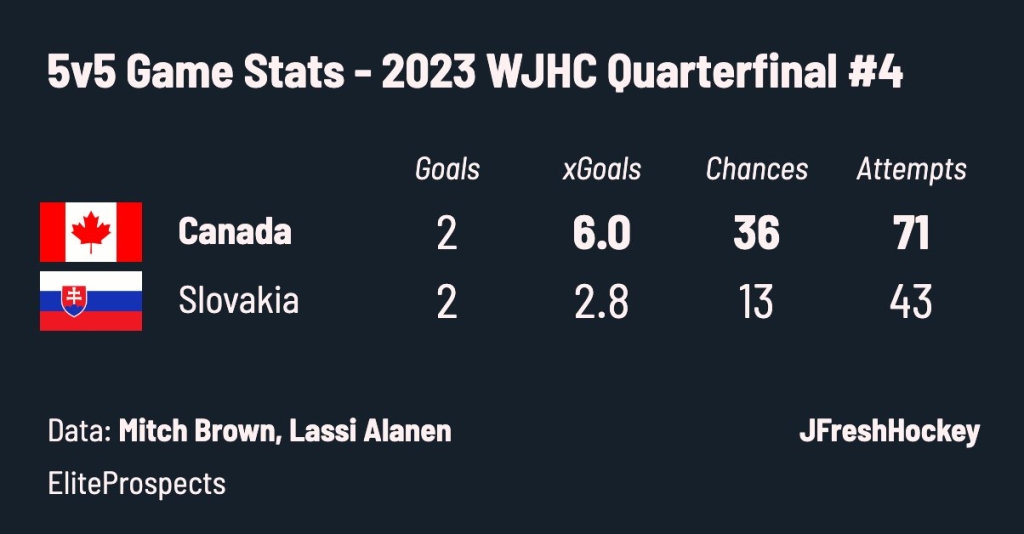 1. Ryan Ufko, D, Team USA (Nashville Predators)
I'm not sure I had Ufko's offensive breakout on my World Juniors bingo card, but he's been an absolute revelation on the American blue line. The Predators' fourth-rounder contributed five assists to the cause today, all of which were of the primary variety and four of which occurred at even strength.
Red Savage (#LGRW) gets open and snaps one past the sprawled out German goaltender to give 🇺🇸 Team USA 🇺🇸 a 3-0 lead in the first.

Ryan Ufko (#Smashville) and Jack Peart (#MnWild) the assists on the play.

🎥: @TSN_Sports pic.twitter.com/F7MoX44Xsd

— EP Rinkside (@EPRinkside) January 2, 2023
Another two points and Ufko would've tied the single-game record for points by a defenceman at the tournament. Instead, he'll have to settle for leading the Americans in assists and their blue line in points to this point in the 2023 World Juniors. Not bad for a player who one could fairly describe as a relative unknown outside of scouting circles.
He also finished today with the second-highest game score rating according to Lassi Alanen and Mitch Brown's manually tracked data set, with a 3.91 mark that only Cutter Gauthier (Philadelphia Flyers) bested. He's also been excellent, and his performance was star-worthy in its own right.
Cutter Gauthier (#FueledByPhilly) gets his second goal of the game with the one-timer on the counter play.

Logan Cooley (#Yotes) and Gavin Brindley (@umichhockey) the assists on the play.

🎥: @TSN_Sports pic.twitter.com/HqdBNNQ18I

— EP Rinkside (@EPRinkside) January 2, 2023
Was there a fair bit of luck involved? Well, yeah, but that's almost always going to be the case when you put up a gaudy stat line like Ufko's. By that same token, you don't just fluke your way to five assists in a single performance. He's been good all tournament, and he was outstanding today.
2. Connor Bedard, RW, Canada (2023 NHL Draft)
I just don't know what else you can say about Bedard at this point. He's not human. He's not of this earth. He's a unique, unrelentingly skilled, inventive, goal-scoring, highlight-reel-generating force of nature. Words cannot do justice to his game-winning goal in overtime, and they won't have to either – it will be all over your television and social media for days, if not weeks to come.
CONNOR BEDARD CALLED GAME!

What a goal in overtime to get Canada the 4-3 win and secure a place in the semis.

🎥: @TSN_Sports pic.twitter.com/n1aysPJVwy

— EP Rinkside (@EPRinkside) January 3, 2023
"I saw the one guy kind of make a move, and then you know, saw a lane to the net and tried to make another move, so I think it's just kind of instinct," Bedard said after the game.
"I always want the puck. It's still hockey. I'm doing what I love, and obviously, the moment's big, but for myself, I've done that same move and same shot a million times in my basement and in practice by myself. So that repetition and all that is good for that."
That wasn't the only goal Bedard scored either. No, the North Vancouver native set history for a second straight game, going in alone and sending a laser past Adam Gajan for his 15th goal at the tournament all-time, good for sole possession of first in Canada's history – he also leads in points with 32. At the time, it was his seventh goal through about 4.3 hockey games.
Connor Bedard (@WHLPats) makes history, going in alone on the break and sniping one past the Slovak goaltender to get 🇨🇦 Canada 🇨🇦 the 1-0 lead.

He's now 🇨🇦's all-time goals leader (15) and points leader (32)!

Logan Stankoven (#TexasHockey) the assist on the play. pic.twitter.com/ybYVql1aeD

— EP Rinkside (@EPRinkside) January 2, 2023
A record that, for his part, Bedard doesn't seem particularly interested in discussing. "It doesn't really matter," he told reporters after the win. Short, but to the point.
The future first-overall pick wasn't quite as reserved when asked to discuss the energy in the Scotiabank Centre in Halifax.
"The crowd was pretty special, and even after the goal, we could all barely hear anything or ourselves think even, so it was pretty nuts," Bedard said. "That moment was special for all of us, and it was pretty cool. But I mean it's just quarterfinals."
Well, here's the good news, Connor. You'll get to hear that crowd roar at least once more in the semifinals, and if you play even half as well then as you did tonight, perhaps again in the gold medal game.
3. Jiří Kulich, RW, Czechia (Buffalo Sabres)
Something about donning his country's colours brings out the best in Kulich. If you combine the U18s, the summer World Juniors, and this tournament, you're looking at a stat line that reads 16 goals, 10 assists, good for 26 points in 18 games — absurd production.
Tie game! Jiří Kulich (#LetsGoBuffalo) gets 🇨🇿 Czechia 🇨🇿 on the board, knotting things at 1-1 in the first.

Stanislav Svozil (#CBJ) and Tomáš Suchánek (@TCAmericans) the assists on the play.

🎥: @TSN_Sports pic.twitter.com/TCnC6oZA2a

— EP Rinkside (@EPRinkside) January 2, 2023
You can attribute four of those points (two goals and two assists apiece) to Kulich's 18:19 of all-situations play in Czechia's 9-1 throttling of Switzerland in Halifax. The underlying data is every bit as flattering. In total, the Sabres' first-rounder chipped in with eight shot contributions (shots and shot assists) at 5-on-5, four of which were scoring chances.
"I don't want to say since he's standing right next to me," Czech forward Marcel Marcel, another key contributor in their win today, said after the game. "He's a really good skater, he's so fast, and he has such good hands. Such an incredible shot."
Jiri Kulich (#LetsGoBuffalo) has his second of the game to give Czechia a 5-1 lead!

Assists to Eduard Sale (#2023NHLDraft) and Jakub Brabenec (#VegasBorn).

🎥: @TSN_sports pic.twitter.com/jrgKw2Gwh0

— EP Rinkside (@EPRinkside) January 2, 2023
Kulich doesn't want to hear it either. For the Sabres prospect, it's all about the team. It was true when we spoke to him in Munich at the U18s and at the summer World Juniors. It's true now, too.
"Yeah, we don't care. We just stay positive," Kulich said of whether Czechia is getting enough credit for their play in this tournament. "I think we have a better team now, and we have to stay humble, stay positive, and play our game,"
---
An ode to Slovakia:
If you thought last July's NHL Draft was the summit for this moment in Slovak hockey, think again. That was the start. The first wave, if you will. This small country of about 5.5 million people is re-emerging as a force on the international hockey scene after a prolonged slump, and you'd better take notice.
Juraj Slafkovský, Simon Nemec, and Filip Mešár are leading the charge, but they're hardly alone. They proved at this tournament that they're more than just their three first-rounders in last July's draft. Hell, they came within a goal of the semifinals without the highest pick of that bunch.
Sure, their stars showed up. Mešár finished the tournament in a tie for the lead in team scoring and played exceptionally well. Nemec skated for no less than 25 minutes a night in all situations and made key stops in a matchup role. That was always going to be the baseline for any success in this tournament.
That they found a way to be more than the sum of their parts is what nearly took them on an unlikely run to the semifinals though.
We've got ourselves a goalie duel in overtime between Canada and Slovakia... Adam Gajan (@ChippewaSteel) and Thomas Milic (@SeattleTbirds) trading awesome saves at opposite ends of the ice.

🎥: @TSN_Sports pic.twitter.com/Y9TJWGXlSZ

— EP Rinkside (@EPRinkside) January 3, 2023
Adam Gajan, an undrafted goaltender who primarily played in the NAHL prior to this tournament, wasn't even on the roster in their opening-day loss to Finland. He went on to lead the World Juniors in goal saved above expectation by the time he left. Peter Repčík, an undrafted 19-year-old scoring at less than half a point a game for the QMJHL's Charlottetown Islanders, finished the tournament tied with Mešár for the scoring lead on Slovakia. Libor Nemec, a 19-year-old playing in Finland's junior circuit ahead of joining Lake Superior State next season, contributed timely goals all tournament, two against Canada today the most noteworthy among them.
Dalibor Dvorský (#2023NHLDraft) snipes his first goal of the tournament to tie this game at 2-2 for 🇸🇰 Slovakia 🇸🇰

Maxim Štrbák (2023) and Peter Repčík the assists on the play.

🎥 : @TSN_Sports pic.twitter.com/2GN4VzPmDK

— EP Rinkside (@EPRinkside) December 28, 2022
Meanwhile, Dalibor Dvorský and Maxim Strbak both acquitted themselves well in prominent roles as first-time draft-eligible skaters in what many have dubbed a 19-year-old's tournament.
Canada advanced to the semifinals, but the Slovaks are winners in my eyes.
Highlight of the day:
Come on, as if there was any doubt. You already saw the play if you read Bedard's second-star entry. Here it is again for good measure.
CONNOR BEDARD CALLED GAME!

What a goal in overtime to get Canada the 4-3 win and secure a place in the semis.

🎥: @TSN_Sports pic.twitter.com/n1aysPJVwy

— EP Rinkside (@EPRinkside) January 3, 2023
Your World Juniors stats for the day: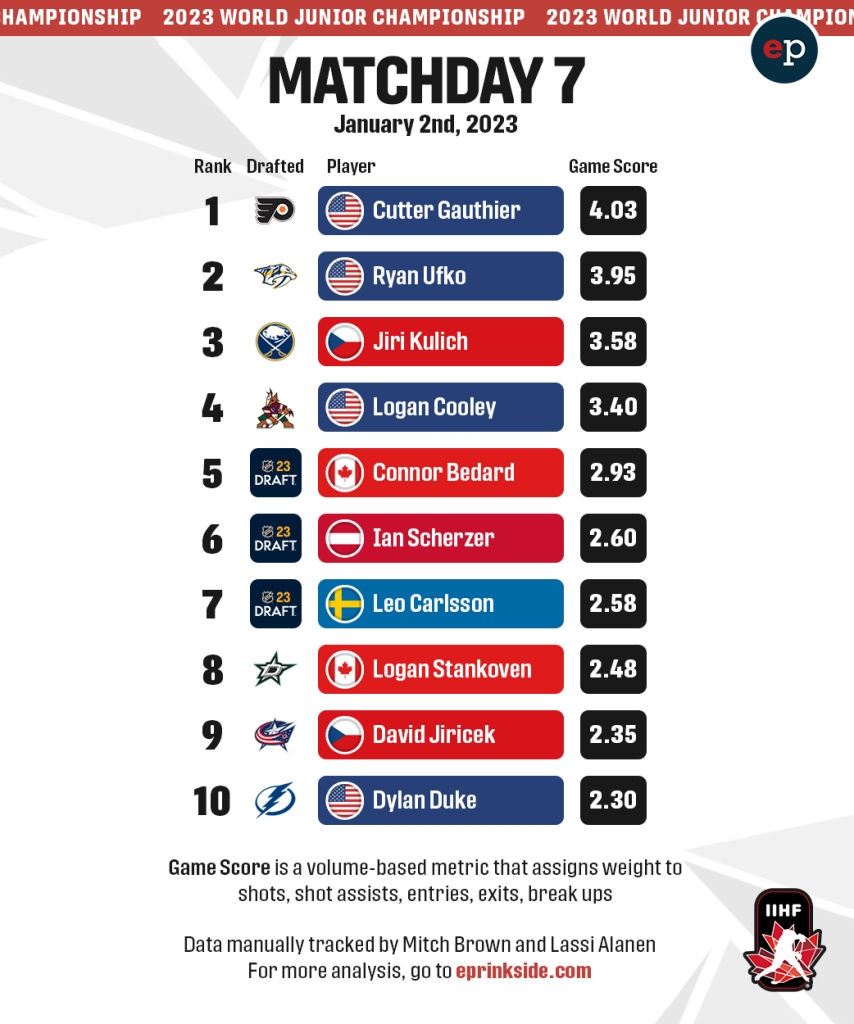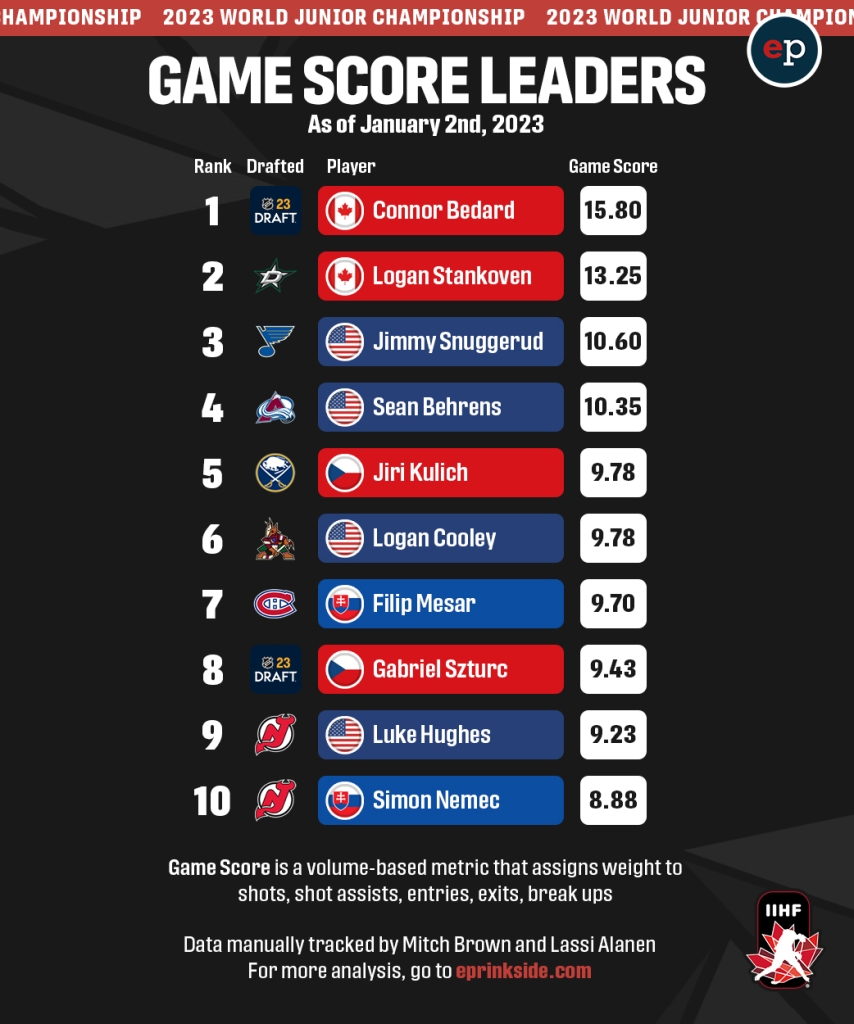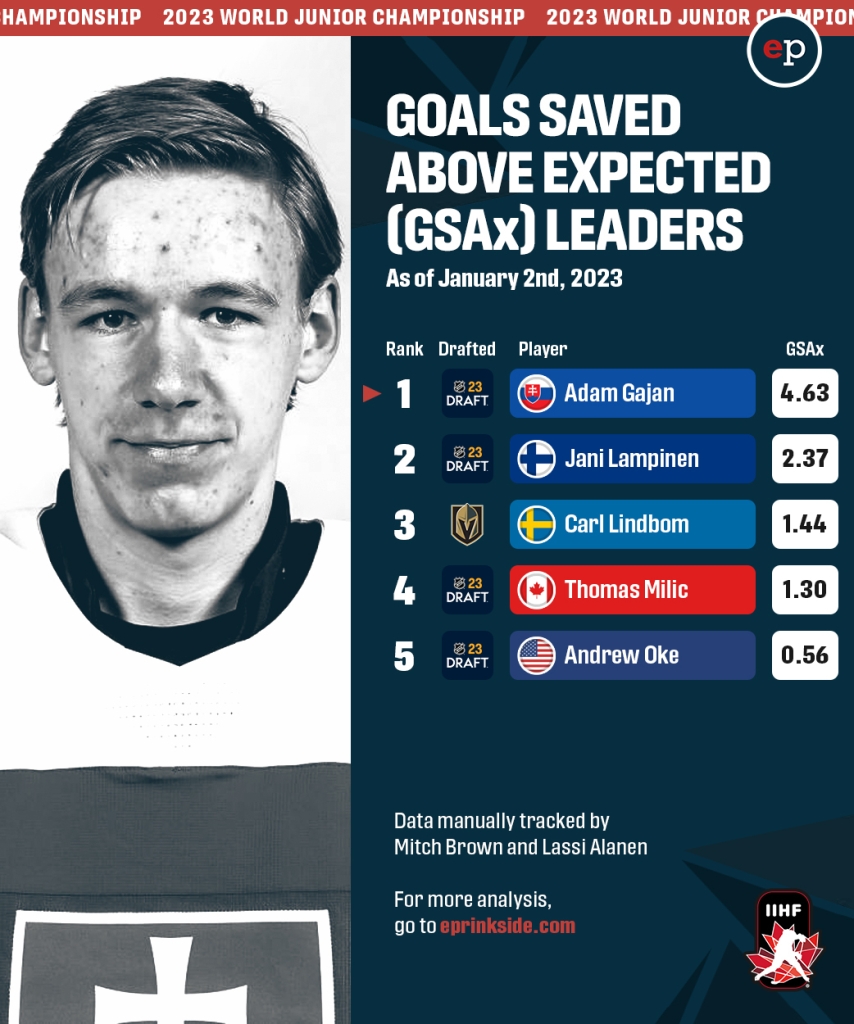 You may also be interested in: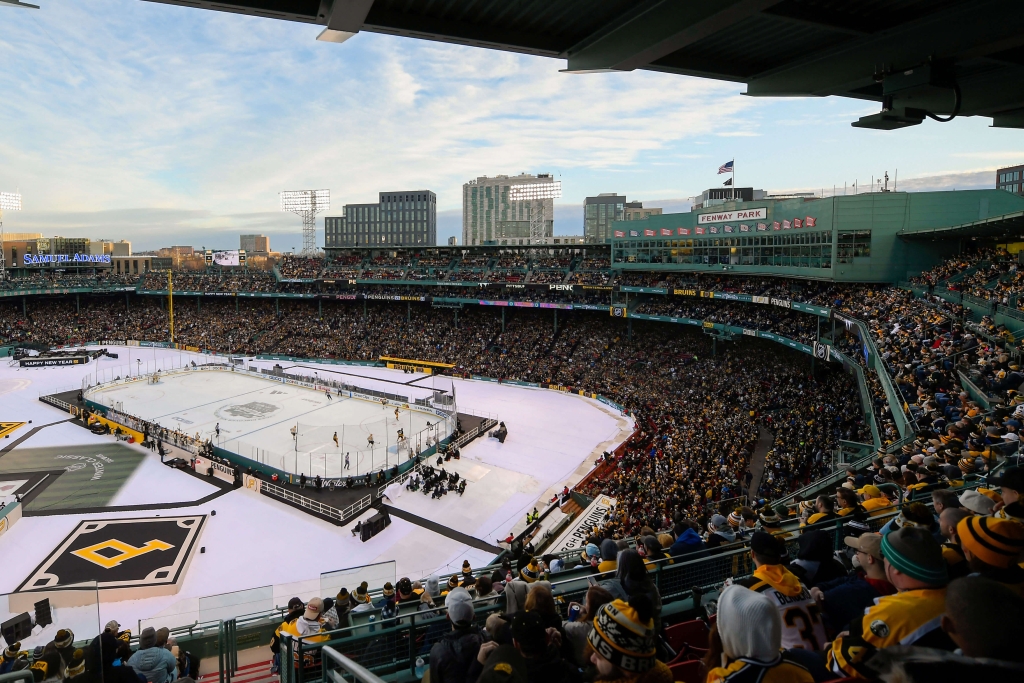 EP Rinkside Vibe Report: Is the NHL Winter Classic still 'hot?'
This article is about: