World Juniors 2023
EP Rinkside's 3 Stars from the 2023 World Juniors semifinals
HALIFAX, Nova Scotia – I've had to remind myself so many times in the last two weeks that it's the World Juniors.
That penalty you think was unthinkably soft? It's the World Juniors. These infractions aren't judged like they are in the NHL.
The goal that definitely wasn't justifiably called off due to interference? It's the World Juniors, the rulebook is different.
The Americans think they've tied this game at 1-1 with the Jackson Blake (#LetsGoCanes) goal, but a coach's challenge determined there was goaltender interference so... No goal!

🎥: @TSN_Sports pic.twitter.com/jZn35iNA20

— EP Rinkside (@EPRinkside) January 5, 2023
The temptation to curse players out for making mistakes on the ice? It's the World Juniors – you shouldn't do that anyway, but these are teenagers, and you need to get a grip.
The notion that a two-goal lead is safe? It's the World Juniors.
Team USA stormed into their first game at the Scotiabank Centre in Halifax and made Canada a few hours late for the relegation tournament. Team Canada's starts have either been brilliant or calamitous and with every pass attempt bobbled and every puck race or battle lost, this was an easy example of the former.
After only five minutes of play, the score was 1-0, and the shots were 8-0. Logan Cooley (Arizona Coyotes), Ryan Ufko (Nashville Predators), and Jimmy Snuggerud (St. Louis Blues) continued their torrid scoring early, shocking the Canadian crowd. Then Kenny Connors (Los Angeles) made it 2-0, and the rink fell quiet.
Kenny Connors (#GoKingsGo) goes to the net and snaps the rebound home to double 🇺🇸 Team USA's 🇺🇸 lead to 2-0 in the first.

Charlie Stramel (@BadgerMHockey) and Gavin Brindley (@umichhockey) the assists on the play.

🎥: @TSN_Sports pic.twitter.com/vZGc46BBSk

— EP Rinkside (@EPRinkside) January 5, 2023
Was Team USA that much more talented and cohesive? Canada's head coach Dennis Williams attributed the slow start to "a little bit of nerves."
But it's the World Juniors, and what suits the World Juniors better than a Connor Bedard goal?
"I guess it's just one of our plays, that was my position on the wall, and I'm gonna try to get there," Bedard said after the game. "They kind of got confused and left me alone, and I put my stick on the ice."
Who else?! Connor Bedard (@WHLPats) redirects the cross-ice feed past the American goaltender to get 🇨🇦 Canada 🇨🇦 on the board, trailing 2-1.

Ethan Del Mastro (CHI) and Joshua Roy (#GoHabsGo) the assists on the play.

🎥: @TSN_Sports pic.twitter.com/d4WB2KBZ5b

— EP Rinkside (@EPRinkside) January 5, 2023
The momentum began to shift. The chance to celebrate a goal by their favourite player got the energy in the Scotiabank Centre back up, and Canada never looked back.
Logan Stankoven (Dallas Stars) started the second period with a quick goal, then Adam Fantilli (2023 NHL Draft) finally broke through his tournament-long frustration with a tidy zone entry and a cathartic one-timer to take the lead. Set the numbers aside – it always seems like a two-goal lead in a big game in this tournament gives a team a roughly 50 percent chance to win.
Adam Fantilli (#2023NHLDraft) finishes off a great pass from Zach Dean (#VegasBorn) and Canada takes a 3-2 lead!

CC: @umichhockey 😉 pic.twitter.com/rrZ3N8uIey

— EP Rinkside (@EPRinkside) January 5, 2023
There were disallowed goals for the Americans, both for goaltender interference and both called off after a coach's challenge. There was a whirlwind of debate online, and the American coach expressed his displeasure after the game, but the players were circumspect.
"It is what it is. Refs made the call, can't change it now," said captain Luke Hughes (New Jersey Devils).
Rutger McGroarty (Winnipeg Jets), who put the puck in the net on the second one acknowledged "I'm a little biased, there's not too much I have to say."
They weren't the difference anyway. Joshua Roy (Montréal Canadiens) added a fourth one, and then in the third period Brandt Clarke (Los Angeles Kings) – who has born much of the brunt of Canadian fan displeasure following some defensive miscues in this tournament – celebrated a slipped-in rebound with the joyful relief of a player with a lot to prove. That made it 5-2.
Brandt Clarke (#GoKingsGo) jumps on the loose puck and snaps one bar-down for the goal to give 🇨🇦 Canada 🇨🇦 a 5-2 lead in the third.

Adam Fantilli (@umichhockey) and Owen Beck (#GoHabsGo) the assists on the play.

🎥: @TSN_Sports pic.twitter.com/dK4RD7YV39

— EP Rinkside (@EPRinkside) January 5, 2023
It is the World Juniors, but Roy gave the Americans no opening. A 6-2 empty netter shorthanded sealed it and finally allowed the heart rates to drop a bit in Halifax.
It's a devastating loss for Team USA, who out-shot and out-chanced every team they played in the tournament at 5-on-5, including Canada tonight. Thomas Milic's save after save after save, many off of irresponsible Canadian turnovers, frustrated them at every turn. They play Sweden for bronze tomorrow afternoon.
For Canada, a chance at revenge. The Czechs shut the Swedes down (and themselves in the process), and they have a huge amount of confidence after beating Canada in the first match of the tournament. But that game feels like a lifetime ago now, when the Roy - Stankoven - Bedard line that swept Canada's player of the tournament trio hadn't yet been assembled.
The gold medal game will be a battle between the tournament's best defensive team, the Czechs, and its best offensive one, Canada. Both teams have overage undrafted goalies who have been magnificent. Both teams have plenty to prove; the Czechs want their first gold medal since 2001 and Canada wants to give the crowd in Halifax the chance to cheer for a champion.
The Daily Scoreboard
Czechia 2 - 1 Sweden (OTW)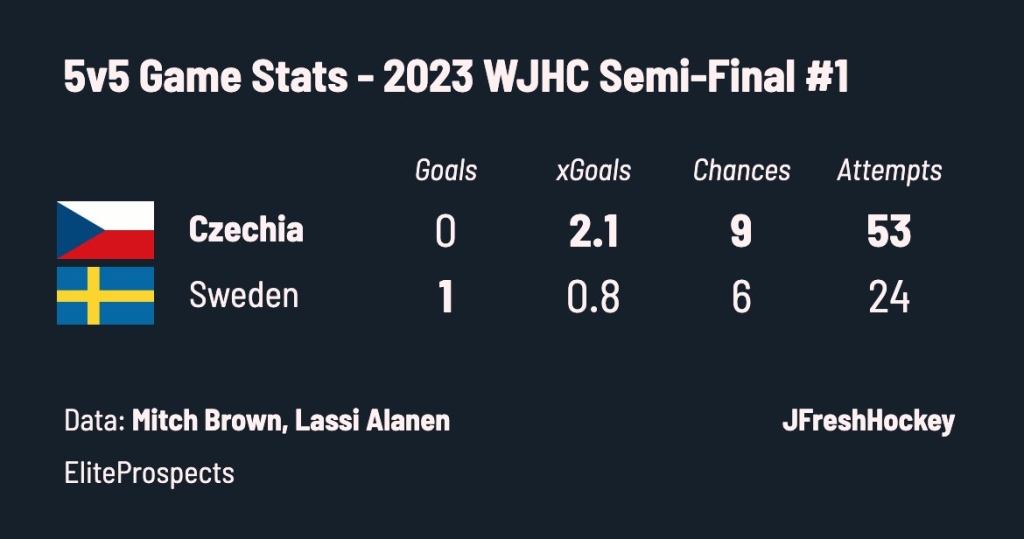 Canada 6 - 2 Team USA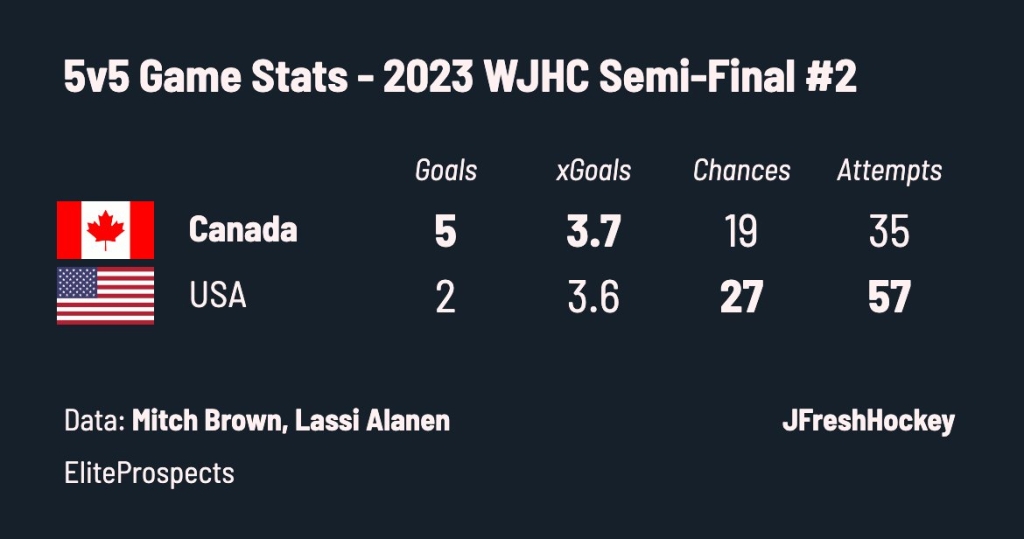 1. Thomas Milic, G, Canada (2023 NHL Draft re-entry)
It would appear that the reports of Canada's goaltending demise were greatly exaggerated. Milic has been lights out for Canada since taking over the starting job from Benjamin Gaudreau (San Jose Sharks), winning every one of his starts, posting a .934 save percentage along with 1.73 goals saved above expected (fourth-best in the tournament).
This was Milic at his best, though. This was a goaltender proving to his teammates, the thousands of fans in attendance, the dozens of scouts in press row, and anyone else fortunate enough to have this game on their television that he could steal a win when the lights are brightest.
"It's what I love, it's something I've always had in me from an early age," Milic said about playing in big games. "I love those high-pressured situations, and you know, I think as we've progressed through the tournament, it's getting better and better."
Thomas Milic (@SeattleTbirds) making some absolutely massive stops in the Canadian crease to keep this game knotted at two.

🎥: @TSN_Sports pic.twitter.com/tQv9J0KENW

— EP Rinkside (@EPRinkside) January 5, 2023
"It was awesome," his teammate Roy said of his performance. "He was there all night long."
The Americans are pressing on the power play, but Thomas Milic (@SeattleTbirds) is shutting the door to preserve 🇨🇦 Canada's 🇨🇦 two-goal lead in the third.

🎥: @TSN_Sports pic.twitter.com/Ehh6SMoTiv

— EP Rinkside (@EPRinkside) January 5, 2023
The Milic Revenge Tour really has been something to behold. He passed through back-to-back drafts when the Centre Bell emptied at the end of last July's draft, this after posting a .912 save percentage in the regular season and a .925 in the Seattle Thunderbirds WHL playoff run.
"His compete," Williams said when asked what stands out about his starting goaltender. "It's a great story. He's undrafted. He's fought his way through everything. He's just solid; his control is great."
Even if the NHL hasn't yet developed a fondness for Milic's game – and that's likely to change ahead of this next draft in Nashville – then he can always count on the Scotiabank Centre faithful.
"It was incredible," Milic said when asked about the crowd chanting his name. "Definitely the best moment of my career and maybe my life too."
2. Joshua Roy, LW, Canada (Montréal Canadiens)
Roy always had the talent. There's a reason the Sherbrooke Phœnix took him first overall in the 2019 QMJHL Draft. Still, a tough draft year saw him fall all the way to the Canadiens in the fifth round. All he's done since is remind us of his ability, putting up gaudy counting stats in the process.
"I can't believe he's a fifth-round pick, to be honest with you," Brennan Othmann (New York Rangers) said after the game. "I know he went first overall in the Q, but he's such a hard worker; he's a guy that gets us going when we're down; and he plays hard every shift and every game and knows how to play the game the right way. Montréal has got a good player in him, and we've got a great player in him as well, so we're lucky to have him."
Tonight was perhaps his best performance of all, though. Roy proved beyond any shadow of a doubt that he wasn't a passenger on the Bedard, Stankoven line – for the skeptics still out there. He won the offensive zone draw that led to Canada's first goal; He picked up a loose puck and set up Stankoven for the second one; He snapped a backhand goal past the American goaltender for insurance; and he forced a turnover in the neutral zone and scored the empty-net goal to seal the deal.
Joshua Roy (#GoHabsGo) picks up the loose puck and snaps the backhand past the American goaltender to give 🇨🇦 Canada 🇨🇦 the 4-2 lead in the second.

🎥: @TSN_Sports pic.twitter.com/Nd4J4KYSsP

— EP Rinkside (@EPRinkside) January 5, 2023
"He was unreal," Bedard said. "He's one of the smartest players I've gotten to play with, and he dominated that game and stepped up his game when it mattered most."
Safe to say that's game. Joshua Roy (#GoHabsGo) steals the puck at centre ice and deposits it into the empty-net to give 🇨🇦 Canada 🇨🇦 a commanding 6-2 lead late in the third.

🎥: @TSN_Sports pic.twitter.com/97Q9Q2vz4B

— EP Rinkside (@EPRinkside) January 5, 2023
"I'm working hard from the beginning of camp and the beginning of the tournament," Roy said. "I want to prove to everybody what I can do."
3. Jiří Kulich, LW, Czechia (Buffalo Sabres)
It's official: Kulich got that dog in him. You put him in Czech colours, and he's willing to go through a wall to make sure his country wins, even if trying to shoot his way through is the more advisable course of action with that release of his.
For most of Czech's 2-1 overtime win against Sweden, there may as well have been a wall in front of their opponent's cage. Carl Lindbom (Vegas Golden Knights) stopped more than a goal above expected at 5-on-5 alone, and it seemed like this powerhouse Czech roster was destined for defeat.
Then David Jiříček scored with less than a minute left in regulation to force overtime, and the stage was set. And you just had to know, if anyone was going to score that goal for Czechia, it was going to be Kulich. All it took was one rush down the wing, and the Czech winger fired a wrist shot that seemed to power its way through Lindbom for the win and a place in the gold medal game.
Jiří Kulich (#LetsGoBuffalo) called game and 🇨🇿 Czechia 🇨🇿 are advancing to the gold medal game!

Matyáš Šapovaliv (#VegasBorn) the lone assist on the play.

🎥: @TSN_Sports pic.twitter.com/EsxMboUfrc

— EP Rinkside (@EPRinkside) January 4, 2023
"I forget. Like, I don't remember how I scored," Kulich said when he was asked what was going through his mind when he got the puck. "So yeah, I will watch the video later, but yeah, it's like it was a dream."
The last thing Kulich remembers? "Just getting the pass, and that's all." The rest, as they say, is history.
---
Let's hear it for Matyáš Šapovaliv
I'm not going to lie to you – I was pretty happy to see the Czech's name Matyáš Šapovaliv one of their three best players at the tournament. He doesn't put up points like Kulich (though six assists in six games is pretty impressive in its own right) or string together highlight reel plays like Jiříček, but he's been sneakily quite good for Czechia this tournament.
Not good enough for one of our three stars, mind you, but that's why I'm shouting him out here. Šapovaliv can do a little bit of everything. He's defensively responsible, strong on faceoffs, adequately skilled, and cunning as a distributor – it's all there. The sharpest tool in his kit, though, is the Golden Knights' second-rounder's ability to win puck battles. He's an absolute force on retrievals.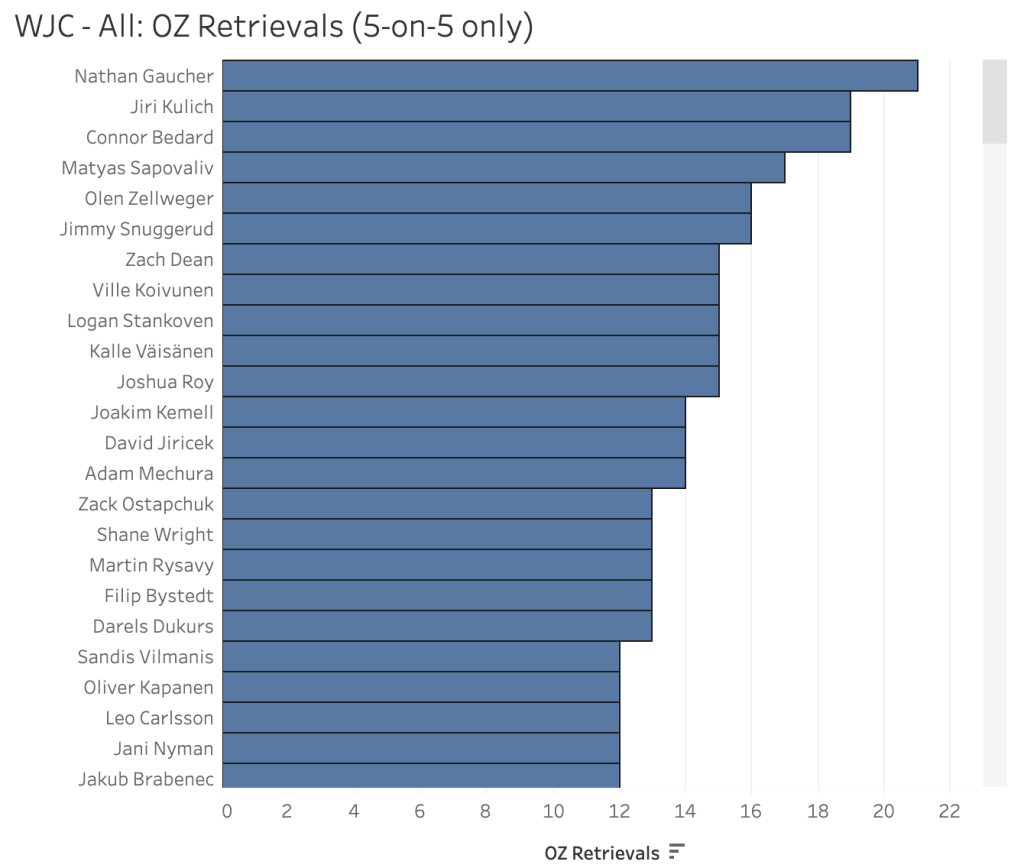 So, let's hear it for Šapovaliv, who finished today with another five (5!) offensive zone puck retrievals, won key faceoffs, played a responsible two-way game, and even assisted the overtime winner.
Highlight of the day
More than anything, I just want to give Lindbom some shine. He was excellent for Sweden today. There was a time when I wondered if his stats weren't a tad bit inflated by shutting out some of the tournament's least potent teams, but no, he's just that good.
David Jiříček (#CBJ) sends a laser of a shot on goal from the point, but Carl Lindbom (#VegasBorn) flashes the leather to make a massive save.

🇸🇪 Sweden 🇸🇪 still leads 1-0 in the third period with a trip to the gold medal game on the line.

🎥: @TSN_Sports pic.twitter.com/hdaVI2vsGA

— EP Rinkside (@EPRinkside) January 4, 2023
Your World Juniors stats for the day: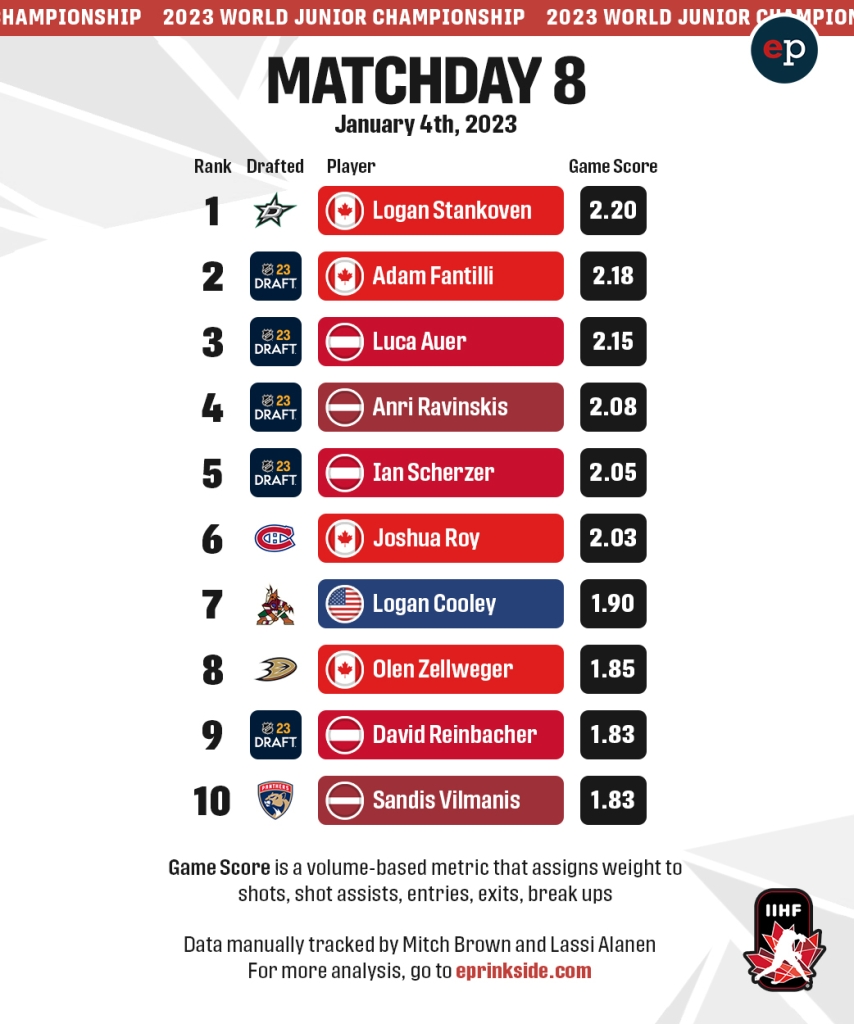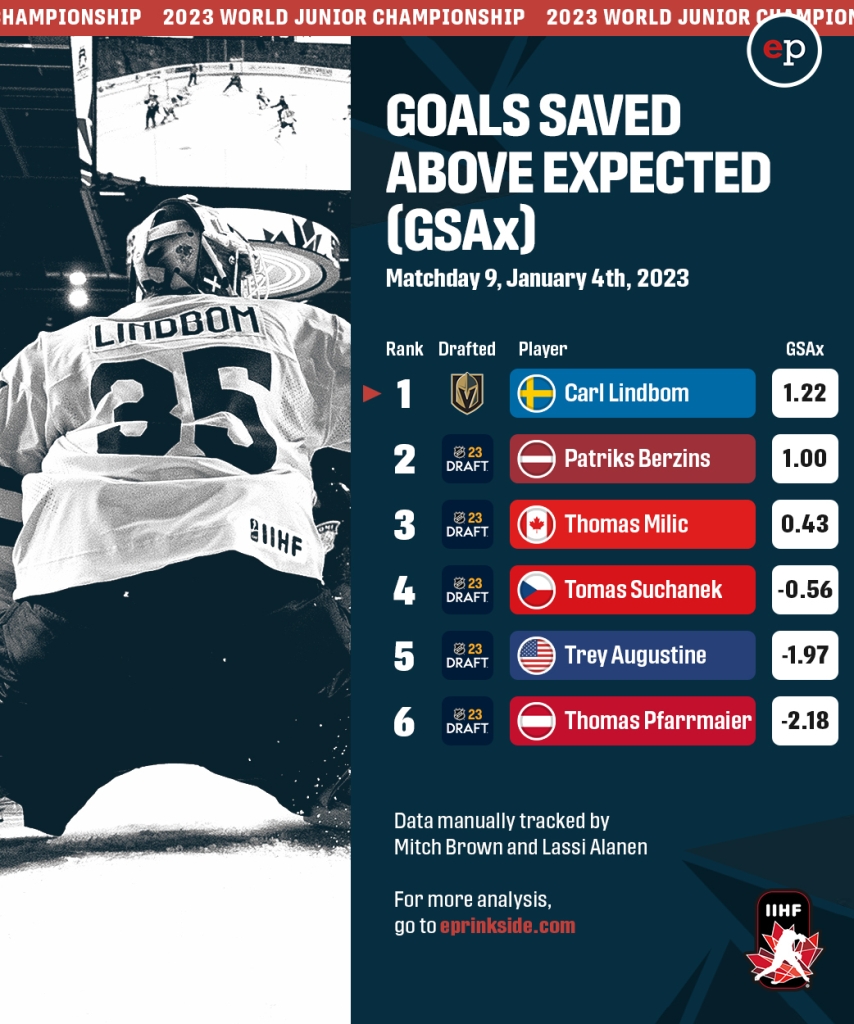 You may also be interested in: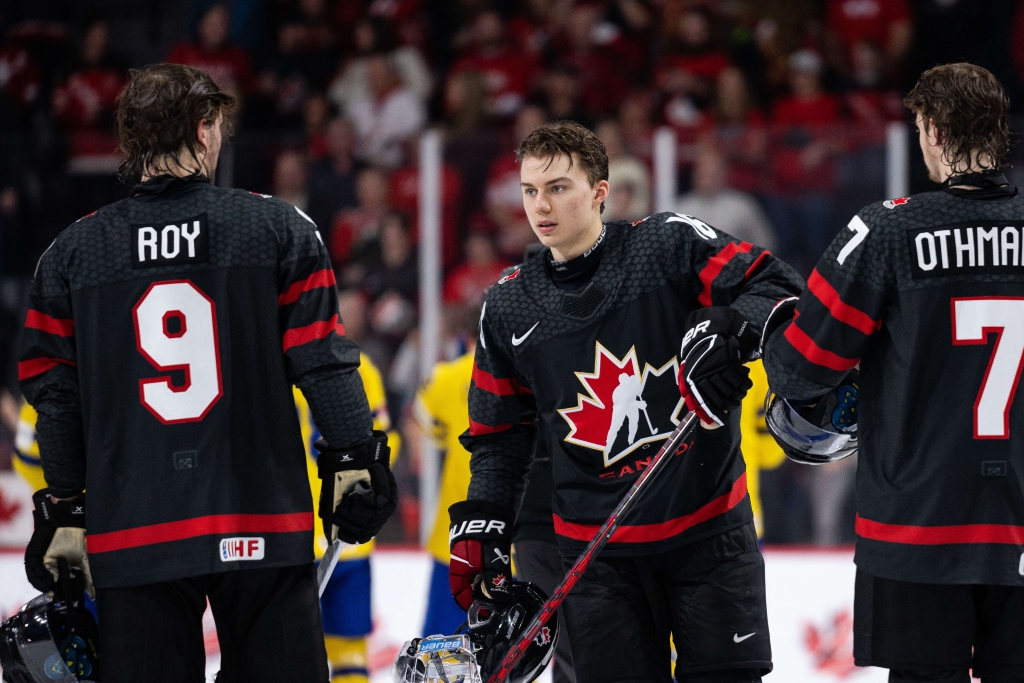 The top 10 single-game performances from World Juniors group stage
This article is about: