NHL Prospect Report
NCAA Stock Watch: Tristan Broz has found his game again at Denver
The Dec. 18 Winter Break and the slow, steady return to action that followed means that there hasn't been a ton of college hockey to follow in the month since we last checked in on NCAA hockey.
Only two teams (Bowling Green and Ferris State) played a standard eight-game month, and only Lake Superior State got to seven matches. They may make for decently entertaining teams if you're a real college hockey head, but you're not exactly rushing to your screen for the CCHA if you're in it for the draft and affiliated prospects.
Still, between the Great Lakes Invitational, Holiday Face-Off, Ledyard Bank Classic, and all of the college hockey early in the month that led up to it, there was plenty of good, high-stakes college hockey. And the fact that you got the World Juniors during this relative lull? Well, that ain't so bad either.
Our sample isn't great for this edition of the NCAA Stock Watch, but the hockey always is. Let's go.
Stock Rising
Tristan Broz, LW, Denver (Pittsburgh Penguins)
Sometimes, all a player needs is a change of scenery. That appears to be the case for Penguins prospect Tristan Broz, who transferred from Minnesota to Denver after a disappointing freshman season that fell well short of expectations. It took Broz a little time to get comfortable at Magness Arena, but he's since caught fire in December with nine points (three goals and six assists) in only six contests.
I'm not sure if Minnesota was necessarily a bad fit for Broz as a freshman, but I know that he was doomed to failure playing primarily on a line with Rhett Pitlick and Aaron Huglen in a depth role. Broz, an off-puck scoring threat, predictably struggled with a dangler like Huglen and a skilled but not particularly cunning playmaker like Pitlick. All good prospects in their own right, but as a unit, less than the sum of their parts.
Now Broz is playing with more pace, more confidence, and in an environment that highlights his best qualities without exposing the deficiencies in his game. Mostly, Broz plays left wing on Denver's first line, opposite Casey Dornbach and centred by Massimo Rizzo. They do most of their damage on the cycle, where Broz slinks away from coverage and unleashes an absolute cannon of a one-timer.
Perhaps most promising is the growth that Broz has shown as a skater. He's hardly a burner, but he's added a gear as a sophomore, and that coupled with his mean streak has made him a menace on offensive zone retrievals.
The Penguins scouting staff: Even when it seems like they may have missed, they kind of didn't.
Michael Benning, D, Denver (Florida Panthers)
Sticking in Denver, our focus shifts to the blue line, where Michael Benning racked up an absurd 10 points (three goals and seven assists) in six games, good for the third-most points among all NCAA skaters in December. Yeah, you could say that he stepped up for Denver when Sean Behrens got the call from Team USA to play at the World Juniors.
It isn't really the gaudy counting stats that have me most enthusiastic about Benning's recent work, though. Context, as always, is necessary here. For starters, only four of Benning's 10 points in that stretch were of the primary variety. He's also shooting at nearly 20 percent on the season. There's reasons for skepticism aplenty, at least in this regard.
What's really stood out in my viewings is the way Benning has developed defensively. He's playing with such aggression and decisiveness right now, particularly as a neutral zone defender. Benning makes proactive reads, cuts off stretch passes, gaps up early, and even steps up with massive hits from time to time. He's making critical stops on a shift-to-shift basis.
The result? Denver is controlling 60 percent of the shot attempts at evens with Benning on the ice this season and have a plus-14 goal differential, according to our partners at InStat Hockey.
Logan Cooley, C, Minnesota (Arizona Coyotes)
We've talked a lot about Logan Cooley in this space, and rightly so. Still, we'll keep this one brief. He's a singularly skilled centre with the sort of creativity we usually associate with only the sport's very best. Cooley's been an absolute rock star at Minnesota with his play, and though he started slowly, he eventually played every bit as well in the red, white, and blue at the World Juniors.
If ever there was any doubt, Cooley is looking like a one-and-done with the Gophers and a future star with the Coyotes. What a talent.
Honourable mentions: Cutter Gauthier (Philadelphia Flyers), Austen Swankler (NCAA FA), Collin Graf (NCAA FA), Samuel Lipkin (Arizona Coyotes), Ryan McAllister (NCAA FA), Ryan Johnson (Buffalo Sabres), T.J. Semptimphelter (NCAA FA)
Stock Steady
Rutger McGroarty, LW, Michigan (Winnipeg Jets)
Everywhere Rutger McGroarty goes, offence follows. It's been true for the Jets first-rounder at Michigan all season, and it was true when he put on his country's colours at the World Juniors in the Maritimes. He's an exceptionally smart player with shooting and passing skill that are plainly undeniable.
You'll have to forgive this most familiar refrain, but… the skating remains an issue. We're just not seeing the growth in that part of his game to make us comfortable or confident in his long-term projection. When the pace picked up at the World Juniors, McGroarty often faded into the background. The loose puck battles that he tried his damndest to win were lost before he jumped out of his stance. It's tough.
Now, there's no shortage of players who've made the NHL in spite of sub-par skating strides. There's a difference between being a poor skater and a critically deficient one. Even then, we've seen someone like Aliaksei Protas (who we once assigned a 2.5 grade on our 1-to-9 scale as a skater) play serviceable minutes in a depth role for the Washington Capitals.
McGroarty would be a no-brainer for the stock rising section of this article if not for one big but. There's so much to like there.
Adam Ingram, LW, St. Cloud State (Nashville Predators)
Speaking of freshmen who perhaps aren't the fleetest of foot, Adam Ingram's college career hasn't exactly started the way he'd hoped. Relegated to a depth role on one of the NCAA's best teams, the Predators' third-rounder has had to change his game from a highly skilled one to a more gritty one better suited to his role. And he's had to do it often at left wing, where he used to play centre in his draft year.
I've long been a big believer in Ingram's skill set, and I still think there's some great qualities in his game – the work ethic, the handling skill, and the flashes of deceptive playmaking. He's in the stock steady part of this month's article because I think circumstances are conspiring against him more so than any poor play on his part. Be on the lookout for a breakout as a sophomore.
Stock Falling
Josh Doan, C, Arizona State University (Arizona Coyotes)
It looked like Josh Doan was well on his way to rewarding the giant leap of faith that the Coyotes took when they drafted him 37th overall in the 2021 NHL Draft, several rounds ahead of where the public sphere consensus (such as one exists) expected him to go. We didn't even have him ranked at Elite Prospects. Shows what we know. He scored at better than a point a game clip as a freshman on a Sun Devils team that wasn't exactly lighting the world on fire, if you'll pardon the pun.
Arizona State head coach Greg Powers awarded Doan the captain's C ahead of this season, and the expectation was that he'd take another step forward in his development. For his part, Doan generated offence at a respectable clip through the first two months of the season, and then December happened. The Coyotes prospect only put up two points through six contests, bringing his per-game output to only about 70 percent of what it was last year.
It has to be said that Arizona State's taken a bit of a step back as a team this year, but that's not the only reason Doan's production has fallen. He's struggling to generate anything off the rush, being easily driven outside on straight-line attacks and failing to register passing options when pressured. Doan often tries to turn the corner on opposing defencemen but lacks the speed to do so effectively. When he opts for a handling move, it's often from a glide, and he's easily stopped.
At his best, Doan's been a fierce forechecker and a reliable defensive centre for the Sun Devils, combining professional-level habits and an unrelenting motor to take out opponents. They need a lot more from him than that to do any damage down the stretch, though.
You may also be interested in: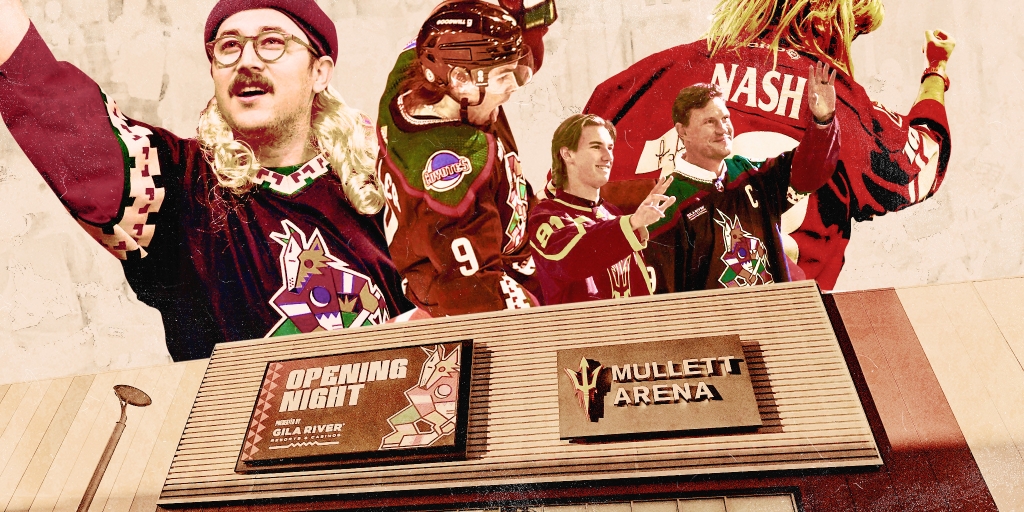 EP Rinkside Vibe Report: Is Mullett Arena a good NHL venue?
This article is about: