NHL Prospect Report
Russia Stock Watch: No stopping Alexander Nikishin with SKA
We're inching towards the finish line for the 2022-23 regular season in Russia, with just a handful of games left on the schedule.
The MHL playoffs should be fun to watch, to say the least. Loko Yaroslavl look like the early favourites with the likes of Daniil But, Dmitri Simashev, and Ilya Rogovsky leading the way. SKA-1946 St. Petersburg, meanwhile, hopes to defend their title with Ivan and Semyon Demidov driving the bus. The Eastern Conference looks like it will come down to Omskie Yastreby and Stalnye Lisy Magnitogorsk.
As for the KHL, SKA are the clear frontrunners, with top prospects Marat Khusnutdinov and Alexander Nikishin playing sizeable roles, driving that team's success.
Here is a look at who's picked up their play down the stretch, who's faltered, and who's holding steady.
Stock Rising
Ivan Demidov, RW, SKA-1946 St. Petersburg (2024 NHL Draft)
Perhaps in the shadow of Matvei Michkov lies one Ivan Demidov, a heavy challenger for the first overall pick of the 2024 NHL Draft. He may not have the same cachet as Michkov, but he may actually be Russia's top prospect as of this writing.
There are parts of Demidov's game that are, simply put, elite. He's incredibly dynamic with the puck on his stick, a gifted handler, and an electric skater. The SKA prospect has the timing and intelligence to be a high-end playmaker, and his shot is a legitimate weapon. He's even risen to the occasion defensively when his team's called on him. There's so much to like about this hockey player.
His rise hasn't been a quiet one. Demidov was one of the MHL's representatives at this year's KHL All-Star Game, and he scored a hat-trick in the spotlight. He's set a new record for assists by a U17 skater in the MHL, with 33 this season, a sizeable portion of his 55 points in 47 contests. He's third in MHL scoring as of this writing, with 50 points in 35 games. He's already suited up twice for SKA at the KHL level, too.
Alexander Nikishin, D, SKA St. Petersburg (Carolina Hurricanes)
There is no stopping Alexander Nikishin from dominating at the KHL level. He set the record for the most points in a season by a SKA defender with a two-assist game against Torpedo Nizhny Novgorod propelling him past the previous record holder, Sergei Zubov.
Next up, Nikishin will set his sights on moving up the all-time list for points per season in the KHL. He sits 10th among defencemen as of this writing, 21 points behind the leader (Chris Lee, 65 points in 2016-17), but there's still 10 games left on the schedule. He should be able to move in to the top-five.
Bogdan Trineyev, RW, Dynamo Moskva (Washington Capitals)
Bogdan Trineyev's been a slow riser since going to the Capitals in the 2020 NHL Draft. The fourth-round pick spent the past three seasons playing primarily in the MHL, generating 0.82 points per game through 90 contests MHK Dynamo Moskva. He sipped the odd cup of coffee at the professional level in the VHL and KHL before this season, but never quite found his rhythm.
On loan with Dynamo Moskva for the 2022-23 season after signing his entry-level deal with Washington, Trineyev started the season strong, picking up a pair of points in his first three games at the KHL level. That didn't last though. He failed to register a single point in his next 15 games, again bouncing between the VHL and KHL. Things are looking up again for Trineyev, though, after a very respectable start to 2023.
Trineyev has become a regular in Dynamo's middle-six and has hovered around 16 minutes a game in the month of January. This month, he tripled his overall point total with six points in nine games as he continues to build upon his very adaptable style of play – sticking to the boards, winning battles, passing pucks out, and then slipping into dangerous areas to become a shooting threat.
The production still doesn't stand out amongst the other drafted prospects playing in the KHL, but Trineyev is finally starting to show some more promise, especially given this player failed to make the EP Rinkside Prospect Pool Ranking for the second-weakest pool in the NHL.
Honourable Mentions: Nikita Artamonov (2024 NHL Draft), Dmitri Vlasenko (2023 NHL Draft)
Stock Steady
German Tochilkin, LW, Kunlun Red Star (2023 NHL Draft, re-entry)
German Tochilkin is slowly putting together a portfolio that may capture the attention of some NHL teams at this year's draft. While he remains a long shot to hear his name called in Nashville, there's been no denying the success he's had this season.
Starting the year with Khimik in the VHL, Tochilkin quickly became one of their most consistent players, with six points in his first six games and a six-game point streak later on in the season.
Despite the production being there, he was getting thrown around the Spartak Moskva system and that consistency left his game. He failed to pick up a single point in five MHL games and eight KHL games, which doesn't look great, but it at least led to him getting loaned to Kunlun Red Star. With his new club, he was eased in for the first four games before becoming a regular in the bottom-six, and he's put together some really nice performances, with four points in the six games he played more than 10 minutes.
Stock Falling
Viktor Neuchev, RW, Avtomobilist Yekaterinburg (Buffalo Sabres)
Viktor Neuchev went an entire month without a point and has seen his already limited KHL ice time slowly decrease as the year has progressed.
Neuchev has struggled to adapt his junior style of game to the next level. He averaged 6.0 shots on goal per game in his draft year with Avto in the MHL, a ridiculous number that trailed only Michkov's 6.6 over the span of the season. His volume-heavy, highly individualistic game had to be reeled back in to carve out a spot on one of the strongest teams in the KHL and he's found himself looking like a fringe player at best.
He's averaging a much more reasonable 1.3 shots on goal this season and has found the back of the net just four times in 52 games with Yekaterinburg.
He still has plenty of time to find a style of play that could work at this level, but given my concerns about his feel for the game, it'll be a tough journey for Neuchev.
Nikolai Makarov, D, Krasnaya Armiya Moskva (Columbus Blue Jackets)
The Columbus Blue Jackets selected Nikolai Makarov in a perfectly reasonable spot with the hope that the physical defenseman would add some more dimensions to his simple game. Now, almost two full seasons later, those hopes have likely diminished.
The physical base is still there for sure with Makarov. He loves using his body and getting between the puck carrier and the puck. He's just so heavily limited by the lack of any other dimensions. The skating is average at best, he gets beat for pace pretty easily and struggles on recoveries.
Slow reads in the defensive zone have Makarov chasing hits rather than making proactive stops. He's capable in transition but hardly automatic. The offensive upside, it's just not there.
He's starting to see more KHL ice time with CSKA while Artyom Duda is out, but there hasn't been any real progress in his game since his draft year.
You may also be interested in: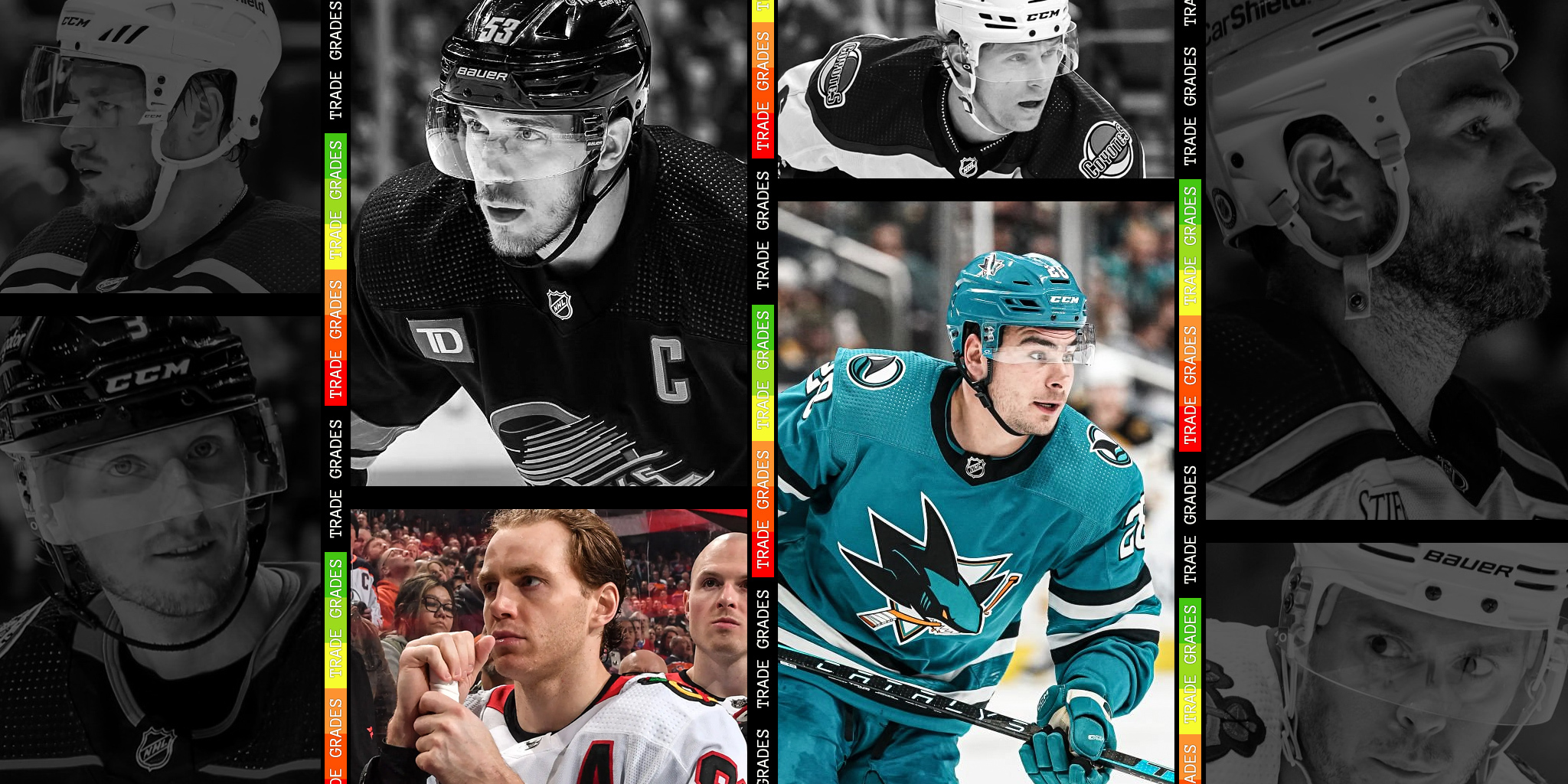 Trade grades for the 2022-23 NHL trade deadline
This article is about: