NHL Prospects
AHL Stock Watch: Danila Klimovich taking massive strides in Abbotsford
As the playoffs got further and further out of reach, the Vancouver Canucks made the decision to send their young, underutilized, and underperforming forwards back to the Abbotsford Canucks in the AHL. Specifically, Vasili Podkolzin, Nils Höglander, and Nils Åman were all reassigned by the new year.
The hope was that they'd recapture their offensive form, better learn structure, and improve their all-around games in a better environment. Given the early developmental successes of the Abby Canucks under the tutelage of Jeremy Colliton behind the bench and a player development staff that the Sedin twins highlighted – this was a no-brainer move by the team.
This edition of Stock Watch focuses on the early returns of the Canucks farm system investment.
Stock Rising
Danila Klimovich, RW, Abbotsford Canucks (Vancouver Canucks)
The man otherwise known as the "Klim Reaper" in Abbotsford is finally starting to shed the raw tag that accompanied him all the way back in his draft year. Danila Klimovich is no longer the frustrated winger who struggled with even the simplest of plays. He's refined his craft and spread his wings in the Canucks system, evolving into a legitimate professional North American hockey player – one who creates a real impact when he is on the ice.
Much more involved in all facets of the game, Klimovich's eye-popping flashes of skill are becoming more commonplace. Whether he's breaking free in transition, beating opponents with hip-pocket-protected handles, or slipping pucks through layers to linemates like Arshdeep Bains – he's a legitimate threat every time he takes the ice. He's up to 20 points in 35 games this year, despite only averaging 10:49 a game.
Touted for his overwhelming tools, the Belarusian has greatly expanded the auxiliary areas of his game like his off-puck habits and perimeter battles, adding more pro habits into the mix. A constant pass supporter who proactively sets each shot, Klimovich is thriving in high-pressure areas, finding open pockets, working the backdoor and weakside positions, and driving the middle of the ice, all in an effort to create more opportunities to leverage his shot.
A nightmare for opponents on the boards, the 208-pound winger clamps down on sticks, proactively jumps into defender's lanes to create superior body positions, leveraging that bulk to work pucks back into the cycle – the work rate he is displaying has been almost indescribably better. He lifts sticks, cuts against the grain to escape pressure, and blends passing or even activations into the middle of the ice to avoid perimeter-centric play.
There's still much work ahead with his stride and defensive game, but at only 20-years-old, it's exciting to see how much he's grown as a player in such a relatively short time.
Jesper Wallstedt, G, Iowa Wild (Minnesota Wild)
We try not to get too ahead of ourselves when projecting goalies but watching Jesper Wallstedt perform the way he has for Iowa this season, it's been hard to not crown him a future NHL starter. The goalie oozes confidence and seems to get better and better every game.
January was his best month to date. He earned the title of rookie of the month after accumulating a 6-0-0 record and a .958 save percentage. Rookie netminders don't usually post those numbers, but most don't have his professional experience in the SHL or his athleticism.
There are just too many qualities in Wallstedt's game and the way they blend together only makes him that much stronger – unbeatable in many shifts. He anticipates the flow of the play well and makes his stature works for him, but even when a breakdown occurs, he can usually catch up to the play with explosive and controlled lateral movements.
At its conclusion, Wallstedt's first AHL season will have finished turning the last of his doubters into believers.
Stock Steady
Vasily Podkolzin, RW, Abbotsford Canucks (Vancouver Canucks)
The Vasily Podkolzin that you knew at the NHL level is still very much the same Podkolzin that is carrying a top-line role with the Abbotsford Canucks – just far more confident. Still possessing his elite motor, Podkolzin has seen his minutes rise to the 20-mark in his recent games against some of the AHL's powerhouse teams the Toronto Marlies and the Calgary Wranglers.
With more opportunity and expanded puck touches across his shifts, the Russian winger has been pushing his talented playmaking constantly throughout his shifts. Backhand saucers, slips, hooks into the slot, intense lateral layering – he still catches teammates off guard, not expecting the former SKA player to even connect. Almost too charitable in his efforts, Podkolzin could stand to be more selfish, creating more advantages with his tools and physical profile instead of deferring at such a high rate.
He's been scoring more lately, leveraging his powerful wrist shot at sharp angles and in catch-and-release situations on the rush – a welcome sign after a tough start in the NHL this season. Nevertheless, Podkolzin's habits on the perimeter of the ice are still excellent and scream translatability. A tenacious battler who fends off pressure with a shielding arm and a wide base which he plants into the ice, the former 10th overall pick has shown in a couple of sequences that he can work off the walls and into the middle of the ice to create high-danger shooting opportunities.
With 16 points in 27 games with Abbotsford, Podkolzin has been a solid contributor but isn't setting the world on fire. His defensive impact has waivered at times, becoming too reactive in sustained pressure, but he still works ridiculously hard to be a disruptor. Regardless, this reset at the AHL level will only make him that much better in the long run.
Nils Höglander, LW, Abbotsford Canucks (Vancouver Canucks)
Since joining the Abbotsford Canucks, Nils Höglander has started to find his offensive spark again. Averaging 3:36 on the powerplay, the former Rögle BK forward has seven points in his last 10 games, and 11 in his last 17. Downhill attacks off the wing with occasional 10-and-2 shifts into the middle of the ice show up in his goalscoring.
Cunning as a passer, tenacious net-front battles, and a more dogged forecheck below the goal line also reveal themselves in his tape. Höglander is frankly a lumberjack with defenders' sticks as they try to work box outs. The Swedish winger is slippery on the perimeter, reading pressure off his back well to create deceptive touches in the cycle.
Great at blending deception and handling in transition, Höglander works give-and-goes and one-touch plays focused in the middle of the ice. While the lack of a high-end gear as a skater makes north-to-south play demonstratively more difficult, pace increases in his game are evident.
Höglander's in-zone defending is the biggest hurdle for his translatability into a full-time NHLer. Being more disruptive, less reactive, and overcoming physical mismatches using his lower centre of gravity to translate defence into more offence. His motor waivers at times.
A wild SO goal by Nils Höglander. Skate-to-stick Pavel Bure style. pic.twitter.com/a44NQqKOgH

— Daniel Gee (@DanielGScouting) January 21, 2023
Stock Falling
Mavrik Bourque, C, Texas Stars (Dallas Stars)
After he scored more than two points per game in the QMJHL last season and five points in six contests in his cup of coffee at the AHL level two years ago, we expected Mavrik Bourque to dominate with the Texas Stars in his first full year of professional hockey. Instead, he's taken far longer to adjust to professional hockey than we anticipated.
The ex-Shawinigan Cataractes centre's skating didn't prevent him from making highlight-reel plays in the QMJHL. Bourque protected the puck and charged through the hands of opponents, dangled through their feet, and beat them with feints. He made everyone around him better with his playmaking ability and knack for finding the right play, at the right time.
But in the AHL, where opponents get on you in a second, Bourque has had to work a lot harder to accomplish the same things. As he lacks the acceleration needed to create more space for himself, most, if not all of his decisions, have to be made under intense defensive pressure.
It's downright impressive how many scoring chances Bourque can still organize under these circumstances by anticipating the play, shielding the puck with his body, and improvising passing lanes, but the game remains harder for him than most.
His play seems to have picked up over the last 10 games or so. He picked up nine points over that stretch. Maybe, in this second half, he breaks out of the pack and earns a first call-up to the Stars, but his development will have remained a longer process than what we anticipated when we ranked him 13th overall in 2020.
To seize on his top-six upside, Bourque will have to add that extra gear to his skating. Just a bit more acceleration and speed would open up a world of possibilities for him and make his hockey sense shine even more.
You may also be interested in: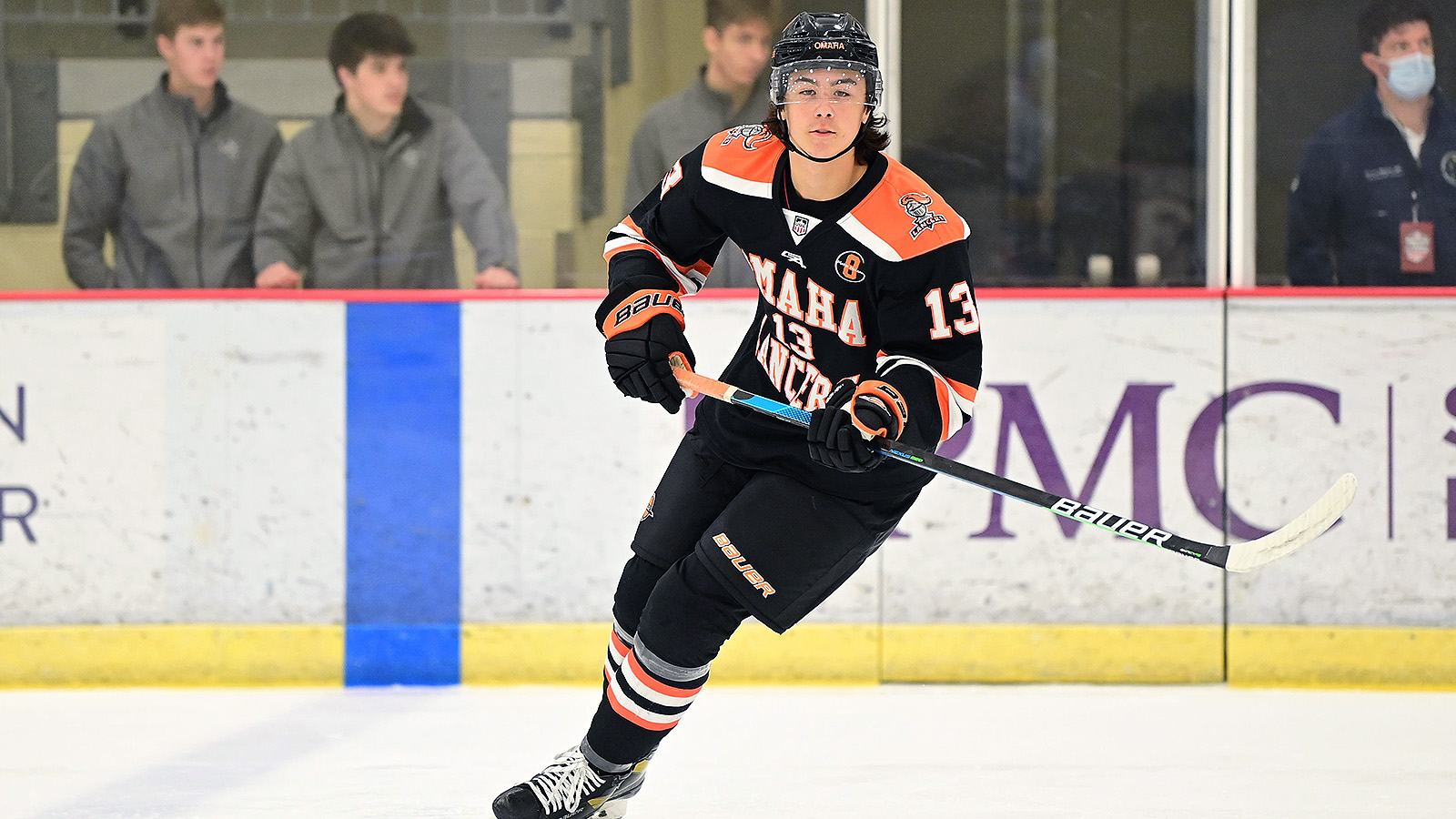 USHL Stock Watch: Daimon Gardner healthy, hitting the scoresheet with Tri-City Storm
This article is about: