NHL Prospect Report
QMJHL Stock Watch: The emergence of Evan Nause and Dylan MacKinnon
The QMJHL hasn't exactly graduated a lot of impactful defencemen to the NHL over the last few years, but the good news is that there are a handful of players ready to reverse that trend in the coming seasons.
Tyson Hinds and David Špaček both put in admirable performances for their respective countries at the World Juniors, impressing our scouting team and many other evaluators in the process. And there are others who have also been progressing well this season back in the 'Q itself.
In this edition of Stock Watch, we turn our attention toward some of those players, starting with Evan Nause, one of the best defencemen in the CHL this season.
Stock Rising
Evan Nause, D, Québec Remparts (Florida Panthers)
Evan Nause's habits on defensive zone puck retrieval continue to separate him from the pack. He scans behind him, registers forecheckers and options, and devises plans to beat the opposition and connect with teammates. His plays have a level of risk, but they rarely backfire. Nause has honed the timing of his deceptive moves and passes over the years.
His playmaking on breakouts has now translated to the offensive zone. He activates into the play more often, does so with more pace, and opens passing lanes with look-offs, cutbacks, and slip passes.
Playing for the Québec Remparts, a powerhouse in the QMJHL, Nause doesn't have as much of a chance to work his defensive details, but the opposition can rarely beat him off the rush. His strong backward skating and stickwork make it easy for him to cut access to his blue line.
Nause's processing of the play and anticipation could still improve, but his collection of refined habits on both sides of the puck could push him to an NHL role, even a top-four one with the right development. He's out for six weeks with an injury at the moment, but he should pick up right where he left off upon his return.
Frédéric Brunet, D, Victoriaville Tigres (Boston Bruins)
In the Elite Prospects 2022 NHL Draft Guide, our team projected Frédéric Brunet to become one of the very best defencemen in the QMHL this season. It wasn't a hard prediction. Looking at the defenceman's rapid growth over the past two years, it would have been surprising if he didn't become a top player in that environment.
As it stands, he leads all defencemen in scoring this season. His playmaking abilities have continued to improve over the past few months. More poised, deceptive, and precise, Brunet has made opponents pay for giving him space. A true offensive zone quarterback, he routinely feints high defenders and attacks down the offensive zone to release on net or pass the puck to the slot.
The Tigres defenceman's agility and decision-making in transition and when defending away from the puck still need work, but his recent success will definitely help him earn a contract from the prospect-depleted Bruins at the end of the season.
Dylan MacKinnon, D, Halifax Mooseheads (2023 NHL Draft)
It took our team a bit of time to appreciate Dylan MacKinnon's potential this season. At the start of the season, only playing limited minutes, he faded in the background in most games. Only his defensive game looked projectable. He killed rushes with his strong skating posture, pinched on opponents, and punished them on the boards.
But as he got more minutes, more offensive skills started to reveal themselves. He showed that he could open up forecheckers and slide the puck through them or carry the puck past them. He joined his forwards up the ice more frequently and his shots were more accurate and powerful.
The lack of finer handling skills and, at times, late processing of plays hurt his upside, but if his development keeps trending up, he will earn a spot on our board. His combination of skating, physicality, and his emerging puck-moving abilities make him an interesting project.
Vsevolod Komarov, D, Québec Remparts (Buffalo Sabres)
Unfortunately, Vsevolod Komarov lacks the technical ability – especially the agility – to execute some of his higher-end ideas. At least once per game, he pulls off a manoeuvre that surprises the opposition and creates a scoring chance, like a drive in between two opponents or a deceptive stretch pass, but the puck also gets away from him in key moments, when he tries to go around sticks or walk up to space.
But he's improving steadily. His scoring has picked up this season, especially in this second half: He's finishing more of his plays and honing the timing of his activations down the ice. He still has a long road to the NHL, but his progress is encouraging.
When the Sabres selected him in the fifth round of the 2022 draft, Buffalo knew that Komarov would require more seasoning than others. Time with a technical skating coach would help him develop the finer skills he needs to become the playmaker that he can be.
Stock Steady
Jérémy Langlois, D, Québec Remparts (Arizona Coyotes)
Jérémy Langlois' playmaking touch is better than it was last year and, because of it, he's picking up even points. He attracts more defenders on himself before moving the puck and has more elaborate ideas, especially on the powerplay.
The forecheck can still force him into poor decisions, however, and it's hard to distinguish his development curve from an average, top QMJHL defenceman. Langlois is dominant at this level; he will certainly help the Québec Remparts win playoff rounds, but the lack of standout attributes in his game will hurt him at higher levels. As he won't always be the default powerplay quarterback, he will have to work to solidify his shutdown game and becomes more efficient with the puck.
Stock Falling
James Malatesta, D, Québec Remparts (Columbus Blue Jackets)
It's still possible for James Malatesta to carve out a successful NHL career as a bottom-six forward. Few players can match his energy, quick feet, and straight-line drives. Malatesta can beat defenders wide, rush the net for rebounds, and he's improving in his ability to find space in the offensive zone to shoot off passes. As he matured, he started to use teammates more to break defences, but overall, his playstyle hasn't evolved all that much over his years in the QMJHL.
Even in the junior environment, his lack of diversity has limited his scoring. In his fourth year in the QMHL, he remains mostly a speedster.
To really take his game to the next level, Malatesta needs to work on manipulating the opposition by changing speeds instead of trying to outskate them in straight lines. He also needs to use his speed, even more, to reduce the space of the opposition away from the puck and get it back faster for his team.
You may also be interested in: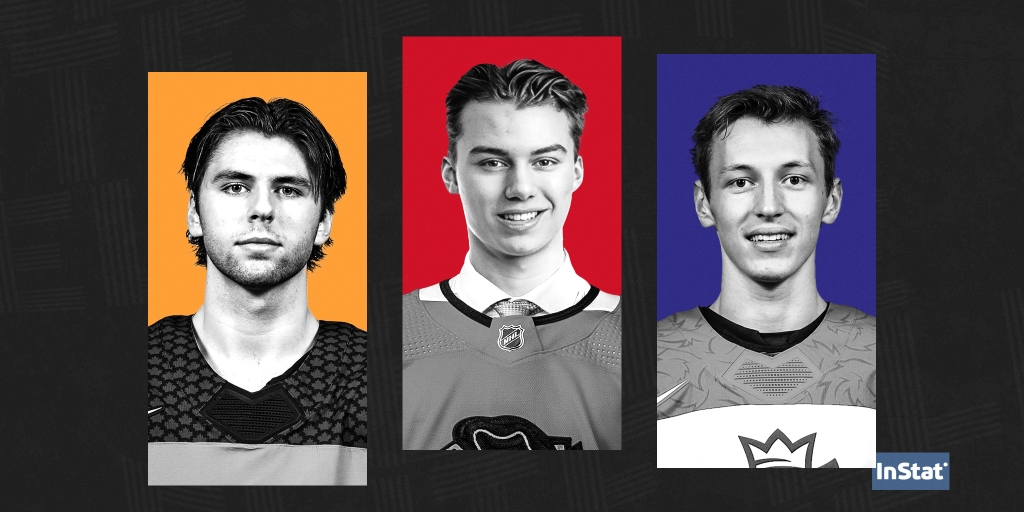 The EP Rinkside post-World Juniors 2023 NHL Mock Draft
This article is about: