NHL Prospect Report
OHL Stock Watch: Beau Jelsma making a case for himself as a draft re-entry
In a bit of a twist relative to past Stock Watches of months past, it's a number of undrafted or yet-to-be-drafted players who have stolen the show in the OHL.
Whether they are first-time draft-eligible players in 2023, re-entries who didn't hear their name called last July, or players who aren't even eligible until 2024 – these are the skaters who have elevated their games to new heights and deserve recognition for improving or maintaining their draft prospects.
Stock Rising
Beau Jelsma, C, Barrie Colts (2023 NHL Draft, re-entry)
Let's establish this right out of the gates: Beau Jelsma should have been a draft pick last summer, and I'm sure he's making more than a few teams regret passing on him with his strong play of late.
Jelsma was already one of the best puck retrievers in the 2022 draft class, a tremendous checker with an unrelenting motor, and flashed dynamic playmaking skills. Scouts questioned his ability to create in transition, and he seems to have answered them in kind.
The advanced delay game that served him well in moments last season is something Jelsma uses regularly now to stunning levels of effectiveness. He times his movements perfectly, with or without the puck. His anticipation and reads allow him to pick better lanes, attack the inside effectively, lift sticks, draw penalties, manipulate defenders off the rush and expose them with his speed.
And if Jelsma continues to perform at this level, there's no way he should go undrafted for a second straight year.
Luke Misa, C, Mississauga Steelheads (2024 NHL Draft)
Nobody has benefited more from Owen Beck and Luca Del Bel Belluz's departures from Mississauga than Luke Misa.
After being stuck in a bottom-six, checking role for a season and a half, Misa is now flourishing as the Steelheads' top-line centre and living up to the expectations that come with being a ninth-overall pick in the OHL.
In the 10 games since those trades, Misa has five goals and 16 points. He had only 10 points heading into this calendar year. He's using the middle of the ice more, creating both off the rush and the cycle, and his chemistry with Zander Veccia and James Hardie has been a massive bright spot for the Steelheads. Plus, his defensive play has remained an asset.
Misa is a late-2005 birthday, which means he won't be NHL draft-eligible until next season. It will be interesting to see what he can do with a full season of being the team's No. 1 centre, but if this recent stretch is any indication, Misa could be in for a big draft season.
Zayne Parekh, D, Saginaw Spirit (2024 NHL Draft)
Given the way Zayne Parekh has played this season, it's hard to believe he's a 16-year-old OHL rookie defenceman.
Parekh's 17 goals so far are tied for second amongst OHL blueliners, and he's just two goals away from tying the OHL record for most goals by a 16-year-old defenceman: 19 goals in 63 games held by Rick Corriveau (1987-88). Parekh has only played 37 games so far and is on pace for 27 goals by the end of the campaign, so he would smash Corriveau's record if he can keep this pace.
Parekh's emergence is likely what emboldened Saginaw to part ways with Pavel Mintyukov at the trade deadline. Parekh drives play from the back end, activates constantly, executes advanced passes, and is effective at defending the rush and preventing zone entries.
Saginaw may have slipped down the standings after going 1-9 in January, but Parekh has been a remarkable bright spot for the Spirit, and he shows no signs of slowing down anytime soon.
Honourable Mentions: Rodwin Dionicio (2023, re-entry), Matthew Maggio (New York Islanders), Logan Morrison (CHL FA), James Hardie (CHL Free Agent), Ty Nelson (Seattle Kraken), Matvei Petrov (Edmonton Oilers)
Stock Steady
Colby Barlow, LW, Owen Sound Attack (2023 NHL Draft)
Many in the public sphere view Colby Barlow as a potential top-10 pick in this year's draft, and he's held up his end of the bargain with his torrid scoring pace of late. He leads the OHL in goalscoring as a draft-eligible skater, is top-five in points, and is on pace for the first 50-plus goal season by a first-time draft-eligible skater in the OHL since Jack Quinn in 2019-20.
Barlow possesses incredibly mature on-ice habits. He plays with pace, is a physically imposing presence, plays above the puck, and doesn't cheat defensively. His shot is among the best in this class, and he's proven that his offensive game is way more than just a lethal shooter on the powerplay. He's one of the easier projections in this OHL draft class as a top-six winger.
Barlow was ranked lower on Elite Prospects' last draft ranking relative to most outlets, but we may have to revisit that at our next meeting. He's more than earned it.
Calum Ritchie, C, Oshawa Generals (2023 NHL Draft)
If you open Calum Ritchie's Elite Prospects page, there's really no solid consensus on where he should be picked. Some outlets have him in the top-15, while others (ourselves among them) see him as a late-first talent.
The hallmark of Ritchie's game is his hockey sense. It allows him to play a mature, well-rounded game, through his proactive play selection. He disrupts plays, wins body positioning, and demonstrates handling skills in tight.
Ritchie's skating has held him back from pushing the pace at times, and his offensive output can be inconsistent. But January was the most offensively prolific month of his draft year, with eight goals and 16 points in 12 games.
He now uses his flashes of dynamic skill to take over games and looks dominant both on and off-puck. Ritchie could be poised for a big second half of the season if he can continue to further his offensive consistency.
Stock Falling
Kai Schwindt, C, Mississauga Steelheads (Florida Panthers)
When the Florida Panthers signed Kai Schwindt as a free agent, it took many observers by surprise. After all, he hadn't even been drafted into the OHL, and his NHL draft-year stats weren't anything to write home about – just 17 points in a full 68-game season.
The signing made sense in some respects – he was a then-family connection with brother Cole Schwindt (who was later traded to the Calgary Flames in the Matthew Tkachuk deal), and he's a 6-foot-3 winger who, despite being mostly utilized as a checker, flashed strong puckhandling abilities and promising shooting mechanics.
At the beginning of this season, it looked like the Panthers had struck gold with their signing. One of Schwindt's more memorable games was his hat trick and five-point game back in October. His offensive timing looked a lot stronger than the previous season and he flourished with linemate Beck in a top-six role.
But the production largely hasn't improved much, and Beck's departure from the team didn't help matters either. He's not a factor in transition, struggles to push pace, and his off-puck play is inefficient at best. Schwindt has had to figure out how to work alongside new linemates, and his role has shifted to one more similar to last season's as the Steelheads embraced a rebuild.
It's difficult to imagine Schwindt can reach the level necessary to become an NHLer one day. And if he does, it likely won't be as an offensive driver.
You may also be interested in: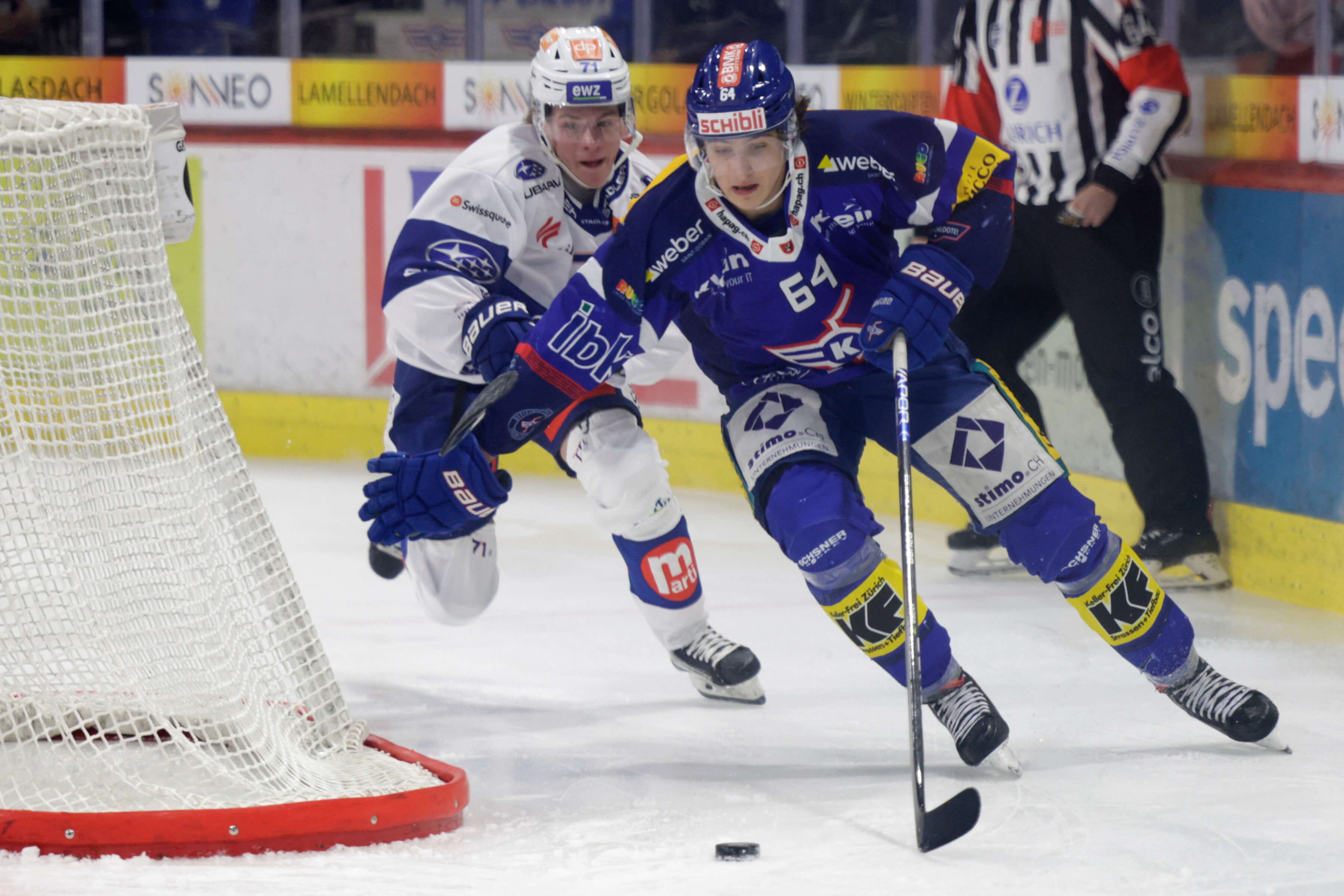 Central European Stock Watch: David Reinbacher surging up NHL Draft rankings
This article is about: