NHL Prospect Report
NCAA Stock Watch: Alexander Campbell getting hot in time for ECAC Tournament
This is when the games start to count. The college hockey playoffs have begun in earnest, and eventually, the NCAA tournament will spring forward from the series of conference tournaments already taking place as of this writing.
The whole process can be a bit complicated if you're not especially familiar with college hockey, but my colleague Ryan Lambert does a good job of breaking things down in this article that sets the stage for the balance of the college hockey season.
In this latest edition of the NCAA Stock Watch, we're going to check in on the prospects who are stepping their games up, the ones that are falling short, and those who land squarely in the middle.
Stock Rising
Alexander Campbell, RW, Clarkson (Nashville Predators)
Alexander Campbell appeared poised for a letdown season heading into February. The Predators' third-rounder had only 13 points in 22 contests, generating offence at a 0.59 points per game clip that would've represented a college career low. By a not-insignificant margin at that.
A more scrutinous look at Campbell's tape revealed that this hasn't been a letdown year in the slightest. If anything, his NHL projection looks more clear than ever. Campbell's adapted his game, developing a more refined approach during offensive zone sequences, one that better aligns with his long-term prospects as a professional hockey player.
Where Campbell used to operate exclusively as an off-puck finishing threat, his new posture has him extending possessions rather than sneaking away from the play in an attempt to finish them. His involvement rate is substantially higher, and his team generates substantially more offensive zone time because of it.
The results are starting to follow. Campbell's 11 points in eight contests through the month of February placed him near the top of the NCAA leaderboard in that span. Clarkson plays Cornell this weekend, and the Golden Knights will need him playing at his best for a chance to advance in the ECAC Tournament.
Gavin Brindley, C/W, Michigan (2023 NHL Draft)
Gavin Brindley has been Michigan's best forward for not-insignificant periods of time this season. In February, the scoresheet started to reflect that. Brindley finished the month with 11 points through eight contests, a stretch of statistical dominance punctuated by 32 shots and a plus-six goal differential at evens.
At once a straight-line, single-speed, pacey scorer, Brindley has added new layers to his game as the season's progressed. Look-offs, give-and-goes, and shoulder feints now mark nearly every puck touch, allowing the undersized 2023 draft prospect to build plays and gain the inside in a more productive, translatable fashion. The development of a change-of-pace game as a puck carrier has helped too, though that's more of a work in progress.
There was never any doubt among our staff that Brindley looked the part of a future NHLer. Even when the points weren't there, his attention to detail in the defensive zone, speed through the neutral zone, and physicality on the forecheck made his projection to at least a bottom-six role at the NHL level seem like the baseline. These new dimensions as a scorer could result in a far more ambitious outlook.
Michigan will host Ohio State in the Big Ten semifinal this Saturday at 7 PM Eastern time.
Honourable mentions: Sean Farrell (Montréal Canadiens), Ian Moore (Anaheim Ducks), Massimo Rizzo (Carolina Hurricanes), Logan Cooley (Arizona Coyotes), Jack Devine (Florida Panthers), Eamon Powell (Tampa Bay Lightning), Devon Levi (Buffalo Sabres)
Stock Steady
Mason Lohrei, D, Ohio State (Boston Bruins)
In many respects, Mason Lohrei is still more or less the same player now that he was in his freshman season. At his best, the Buckeyes defenceman can string together jaw-dropping displays of skill and creativity, swashbuckling his way through forecheckers and charging up the ice for scoring chances. At his worse, his freelancer's mentality can result in staggering blunders, particularly in the defensive zone.
You can probably live with the blunders or the occasional defensive miscue if Lohrei can translate those offensive and transitional skills to professional hockey, but that's hardly a given. Much of his transition work is limited by a lack of pace, a skating stride that matches his 6-foot-4 frame, and a lack of adaptability as a puck carrier. In the offensive zone, Lohrei is an enthusiastic activator with a deadly wrist shot but often wanders out of the play or misses passing options.
The other problem is that those mistakes aren't occasional. Lohrei's unwillingness to scan away from the puck and an inability to mirror opponent's footwork on it leave him largely out of the play defensively. There has to be a baseline level of competence in the defensive zone to hang in the NHL.
The highs are high with Lohrei, but they're also fraught. The lows are pretty damn low, too.
Wyatt Kaiser, D, Minnesota-Duluth (Chicago Blackhawks)
This was supposed to be the year that Wyatt Kaiser took off offensively. That hasn't happened. Instead, as of this writing, he's stuck at 19 points, the exact same mark as last year. Scoring is down across the board at Minnesota-Duluth, but for a junior with aspirations of playing in the NHL, it still feels like a bit of a letdown.
Things aren't quite as bleak as they seem, though. Kaiser may not be reaping the rewards on the scoresheet, but he's playing a more ambitious game offensively than in years past. It isn't quite a throwback to his high school days, but activations from the offensive blue line and the odd end-to-end rush haven't been uncommon either. He's more creative with the puck, but those plays often die on his teammates' sticks. Can't really blame him for that.
The central conceit of Kaiser's game remains his intelligent, robust defensive zone work. He's a capable puck-mover, too. Minnesota-Duluth takes on St. Cloud State in the NCHC quarterfinals this Saturday at 8 PM Eastern. Expect him to sign with Chicago when the Bulldogs' season ends.
Stock Falling
Sam Colangelo, C/RW, Northeastern (Anaheim Ducks)
Sam Colangelo hasn't been nearly as productive at the college level as anyone would've hoped. He's ending the regular season on a low note too, with two points at evens in his last five contests going into the Hockey East quarterfinals.
The culprit? Well, a lot of it boils down to Colangelo's skating. It's well below average, even at the college level, so he spends most of his game operating as a spectator – scanning and seeking out plays or threats ahead of time and still arriving late. Compounding matters is the fact that the Ducks prospect doesn't manage space particularly well away from the puck, wandering in and out of prime shooting opportunities without increasing the quality of each look.
At this point, it would come as some surprise to see Colangelo leave college ahead of his senior season. There's still plenty that he can learn at this level, and a lot that he needs to work on mechanically to get back on track to a bottom-six projection as a defensive forward.
Northeastern faces off against UMass-Lowell in a do-or-die Hockey East quarterfinals match this Saturday at 4 PM Eastern.
You may also be interested in: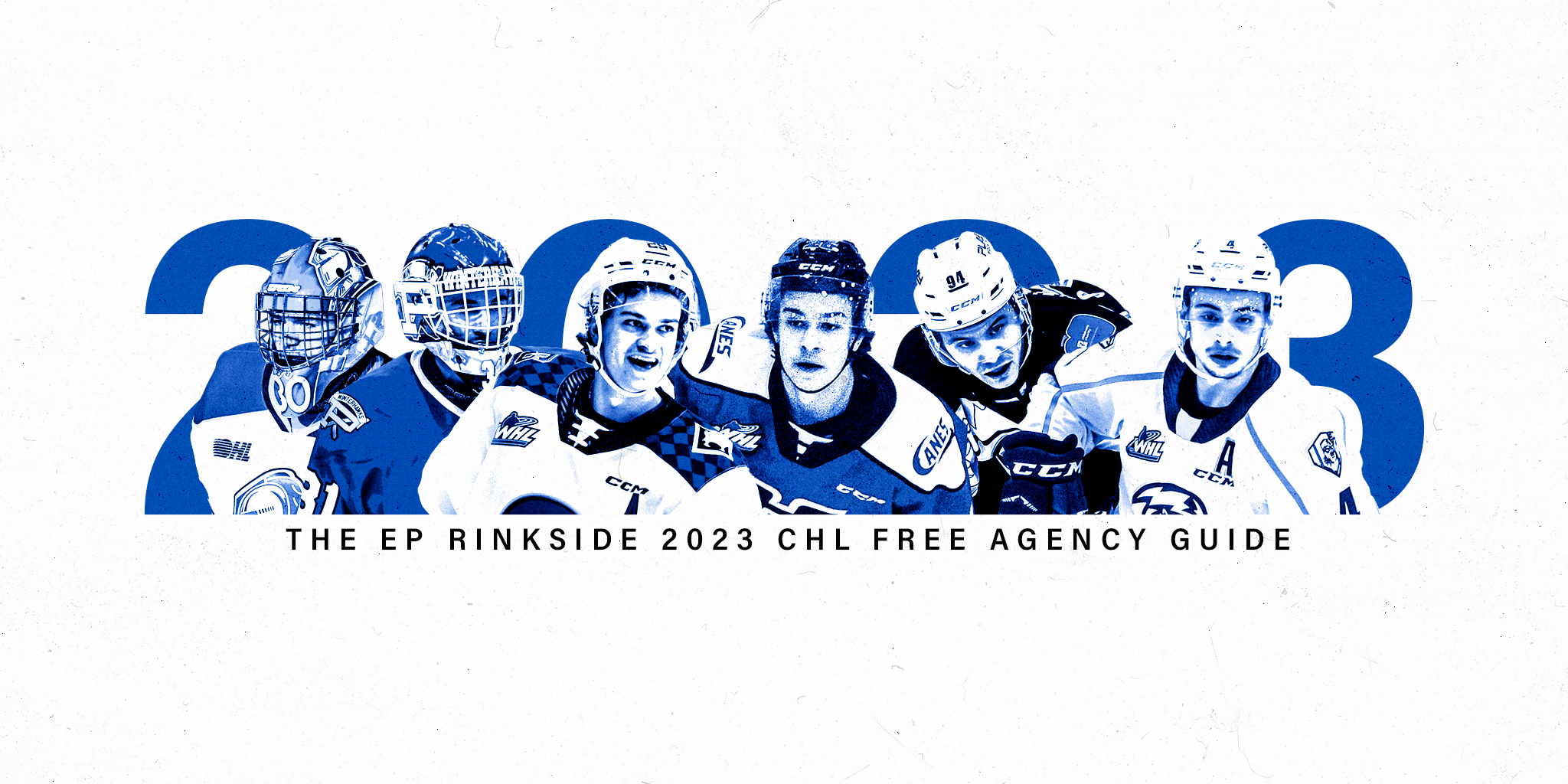 The EP Rinkside 2023 CHL Free Agency Guide
This article is about: