NHL
Where do the Winnipeg Jets go from here?
The first team eliminated from the 2023 Stanley Cup Playoffs is one with a foot in two eras.
The Winnipeg Jets are pretty squarely in the middle of the league when it comes to average age of their players this season, but the majority of their roster is on the wrong side of their aging curve, and those who aren't don't really seem to be significant players worth building around.
This is a group that barely scraped into the playoffs — and looked for awhile like it didn't have a ton of interest in even doing that much — based mostly on another elite season of goaltending from Connor Hellebuyck. And the thing is, he's one of the guys in that squishy "how much longer will this guy be a contributor?" group, because he turns 30 in a few weeks.
Also worth noting about Hellebuyck, and much of this group as a whole, is that there isn't a lot of long-term commitment here. Only seven players are locked in beyond next season, not including the numerous restricted free agents they have to sign this summer.
And at the same time as all this is going on, the Jets have a middling prospect pool (16th in the league heading into the season) but have a few young players who could be legitimate NHL contributors in the next season or two.
So the question is, do the Jets roll with the group they have, extending guys who will be eligible for extensions on July 1, or do they let those pending UFAs walk and open things up for the younger guys in the pipeline?
The other question is, "Is there a good answer to that first question?" Because while one wouldn't like to suggest that Winnipeg fans have no appetite for tanking — as long as you lay out a plan, even the most rabid fanbases have shown they'll stomach it for at least a couple years — you gotta wonder how financially viable and therefore worth doing to ownership in one of the smallest markets in the league. Put another way, is it better to maybe see attendance dip to give yourself middle- and long-term flexibility, or do you pay $84ish million bucks to see this group or a similar one limp into the postseason and get you two or maybe three home dates before they're brushed aside by an actual good team again?
Especially after the coach called out his players, saying he was "disgusted" with their effort, after being completely overmatched the entire series against Vegas, you gotta wonder how much status quo is going to be acceptable.
One has to imagine that the answer here in some way relates to what they do with Blake Wheeler, the ex-captain who was clearly unsettled last summer but wields veto power over 26 potential trade destinations, and Pierre-Luc Dubois, the pending RFA with arbitration rights who might have already set up a forwarding address to his home in Montreal.
Not that losing Wheeler would be any great blow at this point in his career (and given the cap implications, it would likely be addition by subtraction even if you have to take some bad money back), but the Dubois thing seems like it will tell us a lot about this club's future.
There are rumors they have already talked turkey with Montreal about finding a deal that makes sense for Dubois, and they could certainly keep him for one more year even knowing they have a near-zero chance to retain him beyond 2023-24. Montreal, meanwhile, would likely be loath to part with the kind of package the Jets would want for Dubois, who had a nice season for himself, since they know they'd just be getting him in 12 months anyway and wouldn't have to give up anything that would put their rebuild plan on the wobble. What would be the rush other than to mollify an impact player with whom they're gonna enter a long-term relationship.
So, if the Jets trade Dubois, who's somehow still only 24 until June, this summer — maybe even sending him somewhere that isn't Montreal since he has no trade protection — that likely indicates they don't have a lot of hope for next season, unless they're getting something significant back. (On the other hand, again, why would they?) But if they hold onto Dubois, that is likely an indication they intend to Go For It at least one more time. We would also get indications of that intent if they extend guys like Scheifele and Hellebuyck sometime this summer, but the Dubois decision would likely be the first signal.
Coach Rick Bowness and general manager Kevin Cheveldayoff are both on contracts that will, in theory, keep them in their jobs through the end of 2024-25, both with contracts signed in mid-2022. While this season cannot be seen as any kind of significant success, one imagines ownership didn't sour on either guy enough to 86 one or both of them.
All of the above having been said, there's another problem for this team going into next season: They have just 16 players signed and only about $12 million in cap space to fill in the roster gaps.
There are only five pending UFAs, and none are really moving the needle here: Vladislav Namestnikov, Karson Kuhlman, Saku Mäenalanen, Sam Gagner, and David Rittich. You can replace all of them for about $5 million. But RFAs are the focus here. There's Dubois, who won't be cheap if they retain him, as well as Morgan Barron, Axel Jonsson Fjällby, Kevin Stenlund, Dylan Samberg, and Logan Stanley. Samberg seems like he's ready for a slightly bigger role, and Jonsson Fjällby has the look of a legit lower-end NHLer. What you wanna do with the other guys is kind of immaterial because they're replacement-level. Teams aren't exactly eager to let RFAs walk, but in this case, it wouldn't matter much.
Now, the Jets do have some potentially interesting players that would be worth moving if that's the direction they want to go, mostly on the blue line. The contracts aren't always ideal, but NHL teams could definitely talk themselves into a Neal Pionk or Dylan DeMelo if the Jets are seeking that flexibility, or just want to trim down some salary.
Regardless of what they choose to do this summer, the fact is, they don't seem particularly likely to do very much in the 2023-24 season. They could make the playoffs on the back of another Herculean, or perhaps Sisyphean, effort from Hellebuyck and the handful of quality forwards they have on the roster (Kyle Connor and Nikolaj Ehlers chief among them). But to what end other than making some money for the owners and presenting the illusion of competition to the fans who really have put up with a lot over the years?
If they really want to get wild, and forward-looking, those guys who have been pushing boulders up the hill the past few years would be some of the most enticing trade pieces in the entire league. You want to talk about an interesting summer, boy, that'd get people talking. And get the Jets a haul of prospects and picks they could use to really build something for the first time in years.
This being the NHL, though, I wouldn't hold my breath. You don't get a new coach and extend your GM for years only to change horses in midstream.
You may also be interested in: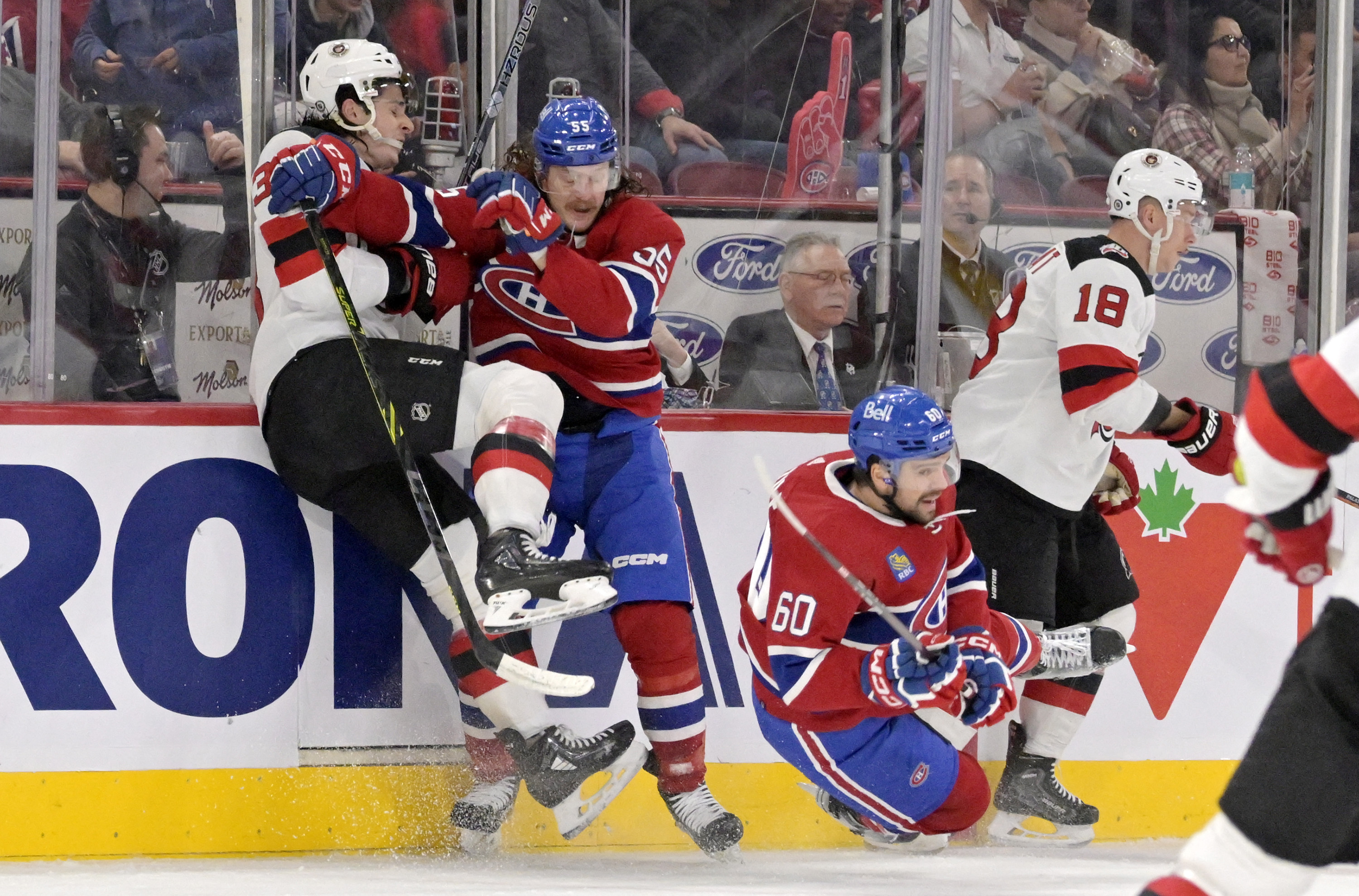 Where do the Montréal Canadiens go from here?
This article is about: